avant-match
Road race - Men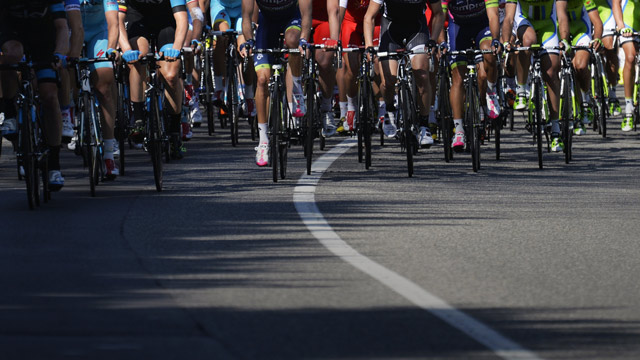 Follow the Gent - Wevelgem live with Eurosport. The Gent - Wevelgem race starts at 10:15 on 31 March 2019. Find Gent - Wevelgem results, calendar, standings and table. Get all the info on the teams to watch.
Keep up with top cyclists and big names in Cycling. Fans can read the latest Cycling news headlines, interviews, expert commentary and watch free replays. Don't miss upcoming Cycling races. Make Eurosport your go-to source for sports online from Cycling to football, tennis, snooker and more. Enjoy live streaming of this season's top sports competitions.
Get your full stage report here: https://www.eurosport.co.uk/cycling/gent-wevelgem/2019/kristoff-takes-surprise-victory-in-thrilling-sprint-finish_sto7209115/story.shtml
Wow, we'll pick the bones out of that in our report, but the headline is Alex Kristoff back to winning ways with an awesome show of strength.
The Norwegian put in some massive efforts earlier in the day to bridge the gap to the break before sitting up, only to come back and beat some of the world's fastest sprinters...
Alexander Kristoff wins it for UAE Team Emirates! That came out of nowhere....
Total mayhem. It'll be a bunch finish.
I think they might catch them!
Flamme Rouge for the leading four!
This race is escaping from the bunch!
Luke Rowe puts in a dig. Then blows up. Again. top marks for effort though.
The chase is falling apart. Still the other teams lean on Deceuninck.
It's Amund Jansen for Jumbo Visma completing the quartet off the front.
Stybar still chasing for Viviani. Epic from him.
It'll be a miraculous win if they stay away...
Attack of four! Langeveld, Bauer and Stuyven...
Nobody on earth is as tired as Zdenek Stybar right now.
They go round a big roundabout. Everybody is looking at each other. Who'll be next to take a flyer?
Oooooooh this is fraught...
They're playing the wibbly-wobbly line game...
Langeveld is back in the fold. As we pass under the 10km to go, it's all together in a very cagey-looking peloton..
And now it's Sebastian Langeveld's turn to roll the dice. The EF rider has ridden a great race today, but knows he can't beat Viviani in a sprint..
Jumbo Visma looking really strong, trying to force some gaps and shake free some fastmen, now.
And the award for least-surprising surprise attack goes to... Niki Terpstra!
The Dutchman from Direct Energie has no chance in a sprint, so he needs to go early. And go he just has...
This looks more like self-flagellation than a serious attempt to win the bike race from Rowe... he's dangling 10m off the front like a big blue carrot for the others.
And as soon as a I say that, Luke Rowe attacks solo!
You have to be a bit gutted if you're Luke Rowe, having put in an absolutely immense shift to bridge to the break only for it to be reeled in 19km out.
They're not going to make it! The peloton can practically taste the sweat off the riders in the break's brows
That time gap is dwindling now as Stybar puts everything he has left into the chase-down effort.
It's pretty much a flat run-in to the finish here, with a short rise after Ypres. It's essentially a pursuit contested by the Deceuninck-led peloton vs the five leaders.
It has been a beautiful day in Flanders...
Luke Rowe has something like a smile on his face as he moves through the paceline up front. He could only be enjoying this more if it were raining, one feels.
It looks like that effort from Stybar has been reined back in. He's on the nose of the peloton again. The five up front are just about keeping it together, still. 33 seconds.
Kristoff, van Aert and Stybar are together now as a trio chasing in the 50-second gap between break and bunch.
We have the five back together at the front now. Sagan looks pooped.
The Kemmelberg is definitively going to spell the end of a lot of riders' day.
This pair have a small gap on the peloton.
Zdenek Stybar launches an attack from the peloton! He's brought Wout van Aert with him.
Kristoff is grinding it hard, but he'll be caught.
It's Trentin and Rowe who look the strongest, while Sagan loses a bike-length.
We're back on the cobbles of the Kemmelberg and my goodness me it looks unpleasant.
Deceuninck peg back the two young phenoms. We have only the Kemmelberg to go in a couple of minutes. Gap to the break is 42 seconds.
These two are firm rivals, having contested a lot of cyclocross races in their time.
Mathieu van der Poel and Wout van Aert are attacking on the Baneberg!
Kristoff continues to power through the gap. We can make out the peloton in the distance behind him as he grimaces his way up the Baneberg.
Luke Rowe leads his new-old breakaway pals up the Baneberg.
The five leaders have 51 seconds. Kristoff is 34 seconds back from them.
Alex Kristoff has had a dig! The big Norwegian has decided that Luke Rowe had the right idea and he too is powering into the gap.
Greg van Avermaet has been barely visible today. In a good way.
On Friday at E3 the Olympic champ got leant on to do the lion's share of the chasing in the run-in to the final, and seemed to lack the energy to challenge Stybar when it came down to a sprint. By contrast, today he has quietly gone about the business of following wheels, could we see him repeat his victory of 2017?
He's almost there now, Rowe, but he looks knackered.
46 seconds back to the 'peloton'.
The Welshman has closed about half the gap to Sagan and co. already.
It's a gutsy move, one that could prove to be a masterstroke or an epic blunder...
Rowe, clearly not happy with the efforts being made by the other teams to close the gap, has decided to bridge over on his own.
Looks like we've had an attack from Luke Rowe. The man from Cardiff is feeling feisty!
Pinchazo! Flat tyre for Adrien Petit of Direct Energie.
TV graphics tell me the leaders are now on something called 'Plugstreet 3 - The Catacombs'. I'm not sure if that's a gravel sector, or an ill-fated 1990s video game.
You know what, the gap is going up again... 52 seconds now for Sagan/Trentin/Teunissen/Theuns
Worth mentioning Marco Haller of Team Katusha who has been doing a lot of weird attacks in this race, and in E3 on Friday. His heart doesn't seem to be particularly in it when he does go and I can only assume these are training efforts for something later in the season - Flanders, perhaps?
Lukas doesn't rate their chances...
Charlie makes a good point... without a Deceuninck jersey in it, is it even a breakaway?
I think we might see Sagan and Trentin start to skip some turns in the lead group. They could both still win this from a bunch sprint, and may not fancy the break's chance of staying away.
We're about to hit a trio of cobbled sections, followed by the final two bergs of the day. It will take a superhuman effort for the leading quartet to stay away.
Do you rate their chances?
The situation:
Sagan, Trentin, Teunissen and Theuns have a gap of 35 seconds on a very reduced peloton, which currently is being led by Deceuninck.
The rest of the lead group has sat up.
It's Edward Theuns and Mike Teunissen who are with Trentin and Sagan.
Elia Viviani is being nursed to the front of the peloton by big Phil Gilbert.
And we have the first serious attack from the front group. Trentin, Sagan and a Trek & Jumbo rider have forged on without their break companions.
What I can tell you for sure is that Matej Mohoric is putting in a dig and it's shredding the other chasing riders.
And as soon as I say that, it halves again to 20 seconds, then bounces back up to 37". Some telemetry issues perhaps.
The gap to the front group, which had been dwindling gradually, seems to have stabilised a bit. It's at 43" as Yves Lampaert takes up the chase behind.
They're over the first ascent of the Kemmelberg now. We have the Monteberg, followed by the Baneberg (again) and the Kemmelberg (again).
This race is unfolding beautifully. We have 75km to go, a disintegrating group of leaders and the promise of more crosswinds.
As Tim Declercq struggles to keep pace with the riders in the front group, his team mates Philippe Gilbert and Zdenek Stybar are joining in the chase effort behind.
And of course it's that man Wout van Aert putting everybody else in the paincave. He's gapped Trentin and the rest of the leaders.
Martin Wynants is also struggling on the lower (cobbled) slopes of the Kemmelberg. Degenkolb, also, looks to be pedalling squares.
Oooh now, Pascal Ackermann is losing touch with the leaders... so too is the third Bora rider, Rudi Selig.
That was a well-timed move from AG2R and Lotto Soudal. They exploited a little bit of wind and really put their rivals to the sword.
The peloton are putting the hammer down now. Oliver Naesen is leading these redoubled chase efforts and immediately the main bunch has splintered into three distinct echelons.
Gap is now down to 40". That's vanishingly small with 80 kilometres still to come.
Lionel Taminiaux, who spent a good chunk of Friday in the break, is dropping like a stone out of the back of the peloton on the Baneberg. At 22 years old, this weekend is something of a baptism of fire for the young Belgian.
First suggestions of disintegration as the climbs fly thick and fast.
They're on the Baneberg. Kemmelberg next!
Gap to the peloton dips below a minute for the first time. Van Schip has been dropped from the break.
And while we're talking about the Welshman, I think Luke Rowe could have a good shot today. He has no sprint to speak of, but he's a very tough rider and he relishes the ugly, difficult racing in Belgian classics.
Ian Stannard is prominent near the front of the peloton. He was looking pretty good on Friday until a badly-timed mechanical put him out of contention. His pal Luke Rowe is up in the leading group for SKY, but Stannard is a more than capable Plan B.
Back in the peloton, Team CCC and Lotto Soudal are working to close the gap. I can see a few Bora jerseys too - although with three team mates up in the lead, they'll be trying to disrupt, rather than aid in the chase.
The front group is working well together and, while they do look a bit knackered, they are holding their gap well...
Peter Sagan has won this race three times. If he makes it four today he will create history. No other rider has completed the mythic Gent Wevelgem Quadruple, or the 'Quadruplegem' as I have just named it.
The race leaders have just crested the Catsberg and will in short order dispatch the Kokereelberg, after which they have eight more climbs, including two ascents of the Kemmelberg.
These are the men in the driving seat. They make up the first echelon / group on the road.
Sagan, Ackermann, Selig (Bora-Hansgrohe), Declercq (Deceuninck-Quick Step), Trentin (Mitchelton-Scott), Van Aert, Wynants, Teunissen, (Jumbo-Visma), Rowe (Sky), Bol (Sunweb), Degenkolb, Pedersen, Stuyven, Theuns (Trek), Gaviria (UAE), Van der Poel (Corendon-Circus), Terpstra (Direct Energy), Van Schip (Roompot).
So, a reminder of the situation.
It's windy.
There are echelons.
Some big names have missed the move.
They are absolutely hammering the pace.
Don't forget you can hit me with your questions, comments and queries on Twitter... @tomowencc
If you like grainy videos of professional cyclists dropping water bottles, boy have I got a treat for you...
Aaaaand over in Catalunya, Davide Formolo has won the final stage, while Miguel Angel Lopez has secured the overall victory.
Kirsten Wild has just won the Women's Gent-Wevelgem, adding to her victory earlier in the week at Driedaagse. She's having a storming season.
The riders are taking a feed now. They are at about halfway through this brutal race.
In the midst of all the early echelon excitement, I neglected to run through the favourites for you...
After a brilliant tactical victory in E3 on Friday, the Deceuninck team are looking stronger and harder to beat than ever. They ostensibly are going with Elia Viviani today, in the event of a sprint at least, but as always they have a fistful of cards to play. Expect to see Stybar, Gilbert and Lampaert all involved towards the business end of proceedings.
Reigning champ, Peter Sagan, was looking a little sluggish on Friday, and Bora have brought their German sprinting prodigy Pascal Ackermann to the party as a second option. Both have made the front group today, so they are very much still in the game.
Oliver Naesen has been having a storming season, with a second place at Milan Sanremo. His AG2R squad are getting stronger and stronger in the classics, but they have all missed the first group today.
Matteo Trentin has been flying too, of late, and should be in the mix at the end of the day - particularly if he can get a bit of backup from his team. He's up front, but he's isolated at the moment.
Other riders with a serious shot of victory if Lady Luck smiles their way: John Degenkolb (Trek Segafredo), Greg Van Avermaet, Fernando Gaviria (UAE).
Ten bergs on the menu today, with the first one coming at about 100km to go. After that they fly thick and fast for a solid 80km. I wouldn't want to be chasing Sagan, Degenkolb and van Aert over this sort of parcours.
We have a long, loooong way still to go and the pace is infernal at the moment. They surely cannot keep this up.
About an hour until we bring you live pictures on Eurosport and the Player - so just time to catch up with this week's episode of The Bradley Wiggins Show. As you can see, Brad is his usual retiring self...
The riders are absolutely hooning it at the moment, with 54 kilometres covered in the second hour of racing. I get a bit wheezy riding at about half that speed for an hour.
The wind really is wreaking havok today, with as many as four groups out there right now.
Two other teams have three riders. Bora have Sagan, Ackermann and Selig; while Trek Segafredo has Degenkolb, Stuyven and Pedersen.
Jumbo Visma are doing loads of work trying to propel the first echelon along - they have three riders in that lead group; van Aert, Wynants and Teunissen.
Notably absent from this lead group are CCC's Greg Van Avermaet and all but one of Deceuninck-Quick Step, Tim Declercq.
Declercq is a very handy rider, but he's not the strongest in the Belgian squad. They'd have been happier with someone else up there too.
Back on the cobbles, however, the race appears to be coming back together - albeit slowly...
Romain Bardet and Simon Geschke are among those who won't be completing the final stage of the Spanish race.
While we wait for live pictures of the echelons in Gent Wevelgem, over in the Volta a Catalunya there has been a nasty, nasty crash...
It's a windy day in Flanders, which is what lead to the breakup of the race. That, and some serious watt bombs being dropped by Mads Pedersen...
And here they are, or some of them at least... Sagan, Ackermann, Selig, Declercq, Trentin, Van Aert, Wynants, Teunissen, Van der Hoorn, Van Poppel, Rowe, Bol, Degenkolb, Pedersen, Stuyven, Theuns, Gaviria, Van der Poel, Terpstra, Van Schip.
Or as the official race twitter account puts it, "We have race!"
Good morning and welcome to the Gent-Wevelgem live blog. We're jumping right into the action, despite still having four hours of racing to come, as we're receiving news of a 20-strong super break that has already opened up a gap on the peloton.