avant-match
Venaria Reale - Turin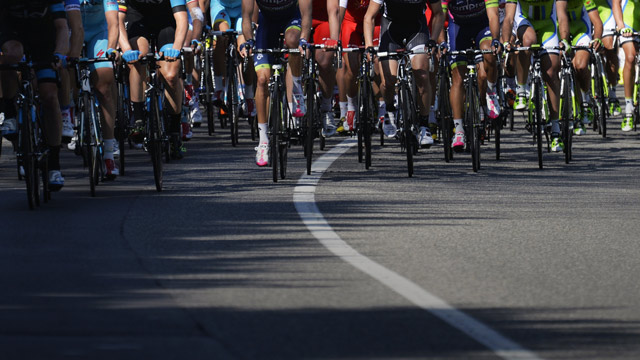 Follow the Giro d'Italia live with Eurosport. The Giro d'Italia race starts at 14:50 on 7 May 2011. Find Giro d'Italia results, calendar, standings and table. Get all the info on the teams to watch.
Keep up with top cyclists and big names in Cycling. Fans can read the latest Cycling news headlines, interviews, expert commentary and watch free replays. Don't miss upcoming Cycling races. Make Eurosport your go-to source for sports online from Cycling to football, tennis, snooker and more. Enjoy live streaming of this season's top sports competitions.
Thanks for joining us today and be sure to return for stage two from 10:30 tomorrow.
Well, with Robbie McEwen poised in 6th place in the GC (10 secs down) after leading RadioShack over the line, the scene is set for a nice battle tomorrow against Mark Cavendish.
Yes, that's it, HTC win the opening TTT and Italy's Marco Pinotti will wear the first pink jersey of the race.
Just the men from Movistar to finish now, with HTC all but assured victory.
Lance would be proud: RadioShack set the second fastest time, 10 seconds down on HTC, pushing Liquigas into third.
RadioShack enter a tree-lined promenade in central Turin. They've lost two men but are going strong. The win is unlikely but they could make the podium here.
A full quota of Vacansoleil riders enter the final straight: 9th place, 37 seconds down. Not bad. Just two more to go now...
All nine riders of QuickStep hit the final straight and set the 12th best time, 42 seconds down.
Here come AG2R to record the 12th best time. Meanwhile RadioShack are just 8 seconds down at the first check. Not bad.
All nine members of the Leopard Trek team approach the finish line. One peels off and takes it easy. And another. 11th place, 42 seconds down, in their debut grand tour appearance.
So, the final team to hit the red carpet are - naturally - Movistar. Their helmets are bright. Very bright. It makes up for their rather glum grey jerseys.
RadioShack's Ivan Rovny almost comes a cropper at a tight bend, narrowly missing hitting the barriers. A close shave.
Here come Liquigas... and they tie Omega Pharma for third place.
The Shack hit the ramp. Be interesting to see how they do over the next few weeks. Surely McEwen is too old for the sprints and Machado too inexperienced for the GC?
Almost a collision between the two back Liquigas riders there. The two in question peel off and leave the seven others to power towards the line.
Lampre down to six riders as they set the 4th bast time, 23secs down on HTC.
Vacansoleil make their Giro debut at the start ramp. It will be good to see the likes of Bozic and Hoogerland strut their stuff this year over the roads of Italy.
Just three more teams to start: Vacansoleil, RadioShack, Movistar. Meanwhile, Leopard Trek go through the check point 30seconds down.
Garmin-CVervelo are down to just five riders too as they approach the finish. They're outside HTC ... and they're just outside Omega-Pharma by a couple of seconds. Third it is - for now.
Lampre are riding at full quota, looking very pretty in pink. Meanwhile, Quick Step - or Slow Hop, given their line-up - are on the start ramp.
Liquigas are 9 seconds down on HTC through the first time check.
Disaster for HTC: they're down to just five men after Frantisek Rabon gets a flat and three others can't hack the pace. Paying the price for going too fast? Can't afford to lose another man... and they don't: it's the best time by 21 seconds. Provided their other four riders complete the course ok. Looks like it was Marco Pinotti who crossed the line first and will wear pink tonight - bar a big surprise.
BMC come in 19 seconds down to take provisional 6th.
Garmin-Cervelo shed a man as they approach the finish.
Leopard-Trek get their first ever grand Tour underway. And to be honest, it's a decidedly weak team out there. All Leopard eggs in the Tour pannier, so to speak.
Saxo Bank can only take third over the finish line. Disappointing for Contador...
The road surface of the finishing straight is almost as bad as the Arenberg - except it's meant to be tarmac, not cobbles. No doubt the local council favoured saving up for the 2011 Miss Turin competition over nice-ifying the roads for a world audience.
Off go the Liquigas team of hotly tipped Vincenzo Nibali, the reigning Vuelta champion who finished third last year while supporting team-mate Ivan Basso.
HTC-Highroad have just powered through the first check point a lavish 14 seconds to the better of Omega-Pharma's time. Nice.
Farnese-Vini finish with a near-complete quota of riders. Missed the time there, though: the Italian broadcaster failed to show it.
The pink and blue men of Alessandro Petacchi and Michele Scarponi's Lampre team get their race under way.
Geox go sixth. Very Sastre-ian result there.
Garmin-Cervelo on course now. Wonder whether Tyler Farrar still wears those Transitions lenses now the sponsorship has changed?
Team Sky take provisional third place with a time of 21:36.
The robotic HTC-Highroad outfit of Mark Cavendish get their race underway. If Cav rides on beyond stage 12 then I'll run around the streets of London naked except for a pair of Sidi Cycling shoes.
Rabobank fail to topple Omega-Pharma by four slender seconds, coming home at 21:25 to set the second best time so far.
Looked like a bit of a false start by one of those BMC riders... they're another team which has sent in a far from convincing squad this year. When your biggest name is Johann Tschopp, you have to worry...
Euskaltel struggle to stay together as they approach the finish, with six riders crossing the line before a lone extra a few second down. 22:12 is the slowest time so far.
Bjarne Riis's Saxo Bank Sunguard get their race underway. Alberto Contador has won the past five grand Tours he's entered - but preparation for this year's Giro was far from perfect. And what of Richie Porte, the young Tasmanian who impressed on his way to 7th last year?
Here come Acqua & Sapone - or more like seven of nine A&S riders. Garzelli's one of them, and he's wearing a helmet with a leopard or something painted on it, with a fixing pair of eyes. The 2000 winner will be targetting a stage win at some point this year. Not a great time - it's just over 22 minutes.
Farnese Vini - Neri Sottoli are on the 19.3km course. They're the team of Giovanni Visconti.
Slow time for Colnago, but it's still two seconds better than Katusha's effort: 22:01.
So, who are the main contender's for this year's race?
Denis Menchov and Carlos Sastre's Geox roll down the ramp in their fetching white, black and flourescent yellow shirts.
Androni Giocattoli set the second best time so far with 21:38, 17 secs down on Omega Pharma. Not bad from the Italian minnows.
Team Sky on the road. They're without a leader, in all fairness, unless you count Thomas Lovkvist, the Swede who has yet to justify his 'next-best-thing' tag.
Rabobank en route as Astana approach the finish... and they too are town on Omega-Pharma. They are also two men down, setting a time of 21:49. That's 28 seconds slower than Omega-Pharma, whose benchmark time is actually proving quite tasty.
And listen to LIVE commentary from David Harmon and Sean Kelly (this is Eurosport International not British International):
Quick reminder: the race is LIVE NOW on British Eurosport (Sky 410 / Virgin Media 521) and is also available on your PC via the Eurosport Player:
As Euskaltel zip down the ramp, Katusha cross the finish line, a very slow 22:03 - that's 42 seconds down on Omega Pharma.
David Harmon: "I'm not really sure what Omega-Pharma are aiming at in this year's Giro." Yep, their line up seems rather weak...
Omega-Pharma trot through the finish line to set a time of 21:21.
It's the soap & water boys on the ramp: down go the nine men of Stefano Garzelli's Acqua & Sapone.
It's the turn of Colnago - Csf Inox, the team of climber Domenico Pozzovivo, who will be looking forward to the last 10 days of the race.
Next up: Italian continental pro outfit Androni Giocattoli, the team of Emanuele Sella. Remember him? The bald guy who lit up the Giro a couple of years ago before being done for doping...
Bad luck for Katusha's Aliaksandr Kuchynski who has to change his bike after a chain slip. Rodriguez will need his man back in what will already be an exercise in damage limitation for the Russian-funded team...
Next up: the Astana team of Roman Kreuziger. The Czech youngster will be one of the favourites - and won't like to see one of his team-mates stutter at the start, his feet coming out of the clips. Ominous.
Conditions today are pretty good: the sun's out, it's dry and there's hardly any wind.
The Katusha team of Joaquim Rodriguez are down the ramp, which is located in the courtyard of an ornate building, and through an archway, over the cobbles, and en route to the finish in Turin. The Spaniard will be one of the favourites for the GC in this mountain-heavy 94th edition of the Giro.
The first team on the ramp is Omega-Pharma Lotto - and they're off!
The wait is over! Welcome to live coverage of the team time trial which opens this year's brutal Giro d'Italia...