avant-match
Verbania - Sestriere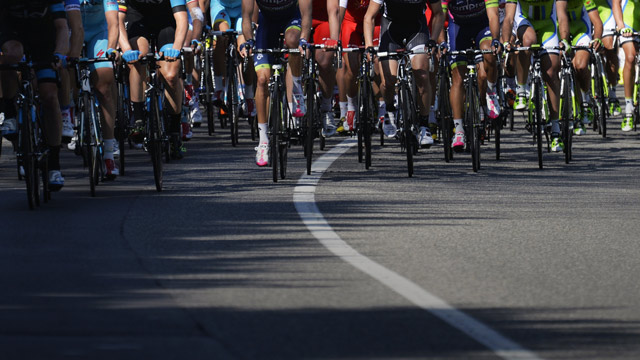 Follow the Giro d'Italia live with Eurosport. The Giro d'Italia race starts at 09:45 on 28 May 2011. Find Giro d'Italia results, calendar, standings and table. Get all the info on the teams to watch.
Keep up with top cyclists and big names in Cycling. Fans can read the latest Cycling news headlines, interviews, expert commentary and watch free replays. Don't miss upcoming Cycling races. Make Eurosport your go-to source for sports online from Cycling to football, tennis, snooker and more. Enjoy live streaming of this season's top sports competitions.
But the man of the day was clearly Vasili Kiryienka, winning in memory of his late team-mate Xavier Tondo.
Scarponi, Contador, Kruijswijk and Menchov came home at 5:59. Kreuziger at 6:16 and Nibali at 6:25.
Rujano takes second place, 4:43 off the pace, Rodriguez crosses just six seconds later. Betancourt soon afterwards.
Now Kruijswijk goes on the attack and Kreuziger can't react. Scarponi also attacks, distancing Nibali. Contador reacts and has now passed Menchov behind the other pair.
Rujano and Rodriguez continue their solo rides to the finish as Nibali ups the pace back in the chasing group.
Further back, Gadret has attacked, joining the wheel of Menchov.
Kiryienka points to his sponsor on his chest, then raises both fingers to the sky in memory of the late Xavier Tondo as he crosses the line to take the win.
Not long to go for Kiryienka, who shakes hands with his directeur sportif and then smiles for the first time today.
Kiryienka passes under the one-to-go banner - he's moments away from the best win of his career. This will be even sweeter than his maiden Giro win at Presolana back in 2008.
Rodriguez is really gritting his teeth as he continues on his path. He's being chased by Menchov and then the pink jersey group, where attrition rules supreme.
No emotion whatsoever on Kiryienka's face. Further back, Rodriguez catches Betancourt.
Kreuziger knows that Rodriguez is eating into his advantage on the GC but he can't do anything about it. He also has tomorrow's time trial to play with.
Rujano drops Betancourt in the fight for second place. He has 5km to go, Kiryienka just 3km.
It's quite a subdued finish to today's stage, with everyone seemingly content to end things as they are. Kiryienka, certainly, feels that way.
The Belarussian passes the 5-to-go banner. He has over five minutes to play with. Menchov has attacked from the chasing group, trying to catch Rodriguez.
Kiryienka just puts his head down and gets on with the job - not histrionics or dramatics, he's a simple, no-nonsense rider.
This will be the first victory for Movistar since the sad passing away of Xavier Tondo - expect some poignant dedications later today.
Rodruiguez attacks again as he passes the 10-to-go banner. Now Kreuziger reacts, taking Kriujswijk with him. Only 23 separate 7th place Kreuziger and 8th place Rodriguez - but with both Suitsov and Nieve out of the picture, one of these two riders could end up in fifth place in Milan.
The two chasers, Betancourt and Rujano, cross the 10-to-go banner. With a 3km and 5min advantage, Kiryienka is riding to certain victory today.
The climb to Sestriere has an average gradient of 5.1 per cent. It should play centre stage to some thrilling fireworks...
ATTACK: Rodriguez pulls clear, with Menchov and Gadret joining his wheel. They're onto the early part of this final climb.
Chapeau, Roman. Kreuziger returns to the chasing group after weaving his way through a tooting car cavalcade.
Kreuziger is only 20 seconds back but he has to be careful: he overshoots a bend and almost crashes into a ditch.
Rujano is still with the Columbian, Betancourt, but they're 4:27 down so this stage is Kiryienka's to lose now.
Kreuziger is riding solo in a bid to rejoin the chasing group. The Czech rider's white jersey is under threat from Kruijswijk.
Kiryienka has opened up his lead to 4:20 on Kiryienka and 5:31 on the pink jersey group.
That's interesting, the chasing group let Nibali come to the front. Suggests there is going to be a stalemate until the final climb to Sestriere.
Nibali is back with the big boys - lovely descending. Although the road is so narrow, it will be hard for him to attack here.
Points over the top went to Kiryienka, Rujano and Betancourt. So Garzelli's green jersey may be safe. Unless Contador wins today's stage.
Kiryienka is powering down the descent - and so is Nibali: he's almost caught the others already. The road is thin and there's a huge drop on the right hand side of the road, although it's largely grass.
Rodriguez leads the chasing group over the summit 5:20 down. It looked like Contador was just after him, which would mean he picks up some points in the mountains classification. Needs to be clarified though.
Nibali is fighting to limit his losses, and he'll be able to catch up on the descent, but that will make it tricky for him to stay in touch en route to Sestriere.
Rujano crosses the summit now - he's 3:44 down.
Nibali is dropping back - he's 50m back now. Meanwhile, Minguez (one of those early escapees) is caught by Rodriguez and the other chasers.
Nibali is struggling to hold on to the chasing group following that acceleration!
Kiryienka crosses the summit, takes a fresh bidon, and begins his descent.
ATTACK: Rodriguez attacks from the chasing group! Kruijswijk and Menchov follow his wheel.
Kiryienka is approaching the summit - and the fans are out in their droves! It's a sea of pink amid the green and white of the grass and snow.
So, a reminder of the chasing group: Contador, Scarponi, Nibali, Gadret, Rodriguez, Menchov, Kruijswijk, Sastre and Szmyd. This doesn't bode well for green jersey Stefano Garzelli: if Contador takes points atop this climb, and then finishes high at Sestriere, he will take over the lead in the mountains competition.
Rujano is still with Betancourt in a South American double act.
Salerno has done all he can and he's now dropped by the chasing group. Nibali still has team-mate Szmyd though, who has recovered from the illness which affected the first 10 days of his race.
Rujano now catches Betancourt as he continues his ride to towards Kiryienka. The time gap is still 3:50 to Rujano and 4:50 to the pink jersey group.
Brambilla has been dropped by the chasing group. These are wonderful images: the sun is out, the sky is blue, the backdrop is snow-capped Alpine peaks and the centre stage is this winding, hairpinned dirt track, with green verges and some delightful pine trees stretching towards the summit.
Kreuziger is now with Arroyo and Dupont as he tries to refind the pink jersey group.
Time check: Rujano is 3:43 down on the lone leader Kiryienka while the pink jersey group is at 4:45. Kreuziger is now on his own as he tries to rejoin the chasing group. Euskaltel pair Igor Anton and Mikel Nieve - both stage winners this year - are riding together a bit further back.
Rujano catches Popovych, Vorganov and Jofre. They make a quartet for the time being, but the little Venezuelan will have better ideas. Yes, there it is, he accelerates and only Popo can follow.
Scarponi shakes his head in front of the camera - surely that's his poker face to the fans?
Nibali now has Salerno as well as Szmyd. That extra man may help the Sicilian Shark a lot.
Kiryienka still has 4:40 on the peloton - it's a great effort from the Movistar man.
Rujano leaves the tarmac and hits the gravel road.
Topless old man on the side of the road. What was he thinking?
Rujano catches Liquigas man Salerno - so soon Nibali and Szmyd will have another team-mate.
Lone leader Kiryienka is onto the gravel road that goes to the summit. No time check as yet, but he looks ok, if a little out of puff.
Brambilla is back in the group but riding on the back with Geox pair Menchov and Sastre.
Kreuziger has joined forces with Tiralongo and Dupont in a bid to return to the chasing group.
Rujano has now caught his team mate Vicioso.
Liquigas pair Szmyd and Nibali on the front of the pink jersey group, with Brambilla dropping off the back.
Once again Rujano is having a dig! He just won't give up. Determined to repeat his 2005 triumph. Meanwhile, on the front, Kiryienka looks serene in the saddle. Very focused.
Rujano attacks again, but he's pulled back by Menchov and Contador. Sastre and Brambilla are in this pink jersey group, as are Rodriguez and Kruijswijk. No Kreuziger though.
Betancourt, Ulissi and Minguez ride 20 seconds down on Kiryienka. Vorganov, Seeldraeyers, Jufre and Popo are another 15 back, then Vicioso 25 back.
The 'peloton' is pretty small now, just a handful of around 15 riders. AG2R's Hubert Dupont is strugling to hold on. Menchov, Nibali, Rujano, Contador, Scarponi are all there. And Gadret. And yesterday's winner, Tiralongo. Liquigas' Szmyd sets the pace.
Kiryienka has pulled away from his fellow escapees. Vorganov is riding in pursuit, but the Movistar man is opening up a good gap.
The leaders have seen their advantage dropped to 4:10. It's still Popo, but four or five of them have dropped back. The road is very narrow here - and Kiryienka finds himself sandwiched between two motorbikes and has to bang on one to get it to give him some more space. Already a crash involving a motorbike earlier today... but no more news on that one, so couldn't have been too bad.
Now Rujano has a pop! The Venezuelan won the stage atop Sestriere back in 2005.
Now it's Popovych on the front of the group, with Vorganov right on his wheel.
That seems a bit of a futile effort from Pirazzi, who is almost reeled in by the rapidly thinning peloton.
ATTACK: Colnago's Stefano Pirazzi has jumped clear of the peloton, who are now onto the Colle dell Finestre too.
Meanwhile back in the pack it's all Liquigas now. Just as it is on the front of the leading group, where Cristiano Salerno is setting the pace as the road heads up.
The lead is 6:38 as the 13 escapees edge closer to the start of this climb. The Cat.1 Colle delle Finestre lasts for 18.6km at a average gradient of 9.1 per cent.
The leaders can now see the foot of the snow-capped Colle delle Finestre. They may or may not have butterflies, depending on their respective climbing abilities.
The gap is down to 7:20. They'll have an advantage when the first climb starts, but it may well be whittled down before the summit. That said, Seeldraeyers, Betancourt and Kiryienka aren't bad climbers.
This is very flat farming country here as Geox really ramp up the pace, clearly hoping to set up their man Denis Menchov - who has been very quiet for the entire three weeks - for a strong finish.
AG2R and Geox onto the front alongside Saxo.
The leading 13-man group are treating this like a very big team time trial, each taking a very short pull on the front before slinking to the back. The gap is now 8:45 as Bad Boy Gio Visconti munches on a banana back in the bunch. It's all Saxo Bank now.
Aternatively, you can enjoy LIVE commentary with the mellifluous and dulcet tones of David Harmon and Sean Kelly, the true voices of cycling commentary, by clicking
The race is LIVE NOW on British Eurosport (Sky 410 / Virgin Media 521) and is also available on your PC via the Eurosport Player:
After a largely flat opening 140km, the road now rises slightly but steadily until the Colle delle Finetre. And the gap has already come down to nine minutes.
Reading the comments below... and interstingly @Paula doesn't think Scarponi or Nibali will finish second on the podium. Who will, John "Mr Time Trial" Gadret??!
Keep your suggestions coming through below for who you think will win today's stage...
The break are combining well as they rode over a roundabout in the shape of a 400m athletics track. Lang is on the front, while back in the bunch, it's Saxo Bank doing the work. The gap is 9:35 now so it's coming down a touch.
It really is superb weather out there for the riders...
Lang took that sprint ahead of Veuchelen and Mazzanti.
The lead has dropped a touch to 9:50.
Omega Pharma-Lotto's Sebastian Lang takes the points at the intermediate sprint in Turin.
The gap is down to 10 minutes with AG2R on the front of the peloton after a stint by Lampre. John Gadret (AG2R) and Michele Scarponi (Lampre) both will have cards to play out there on the final climbs, fourth and second respectively in the GC.
The leaders are approaching the outkirts of Turin with the sun still out. It's about 26 degrees now.
CRASH: There's a crash involving a motorbike back in the peloton. More on that as soon as possible.
On that earlier comment about Popovych and the prize for the Giro's most-travelled escapee, Eurosport commentator David Harmon has just posted this interesting tweet: "Popo is leading the Fuga Pinarello, the prize for time in the break but sadly it has to be in a break of 10 or less, no more points today."
The gap is hovering around the 10:30 mark.
That crash came in the feeding zone - a place highly conducive to spills.
CRASH: There was a crash a little bit earlier in the break involving Miguel Minguez and Eduard Vorganov. The Russian has form here: he crashed in stage two when riding ahead in a break.
This leading group has two stage winners from this year's race - Vicioso, who won stage 3, and Ulissi, who took stage 17 after that controversial run in with Giovanni Visconti.
The last time the Giro rode the Colle delle Finestre and Sestriere was a real nailbiter: in 2005, Paolo Salvodelli was defending a slender lead in the GC as both Gilberto Simoni and Jose Rujano went over the Colle delle Finestre with a 2:18 lead, making Simoni virtual pink jersey. But Salvodelli used his expert descending skills to cut the deficit, before returning to the leaders on the final climb. In the end, he was just 28 and 45 seconds ahead of Simoni and Rujano in the GC.
Lunch time at Cigliano. Now careful with those musettes...
It's interesting to see so many of this Giro's serial escapees in this break. Perhaps this group formed as a matter of pride - you see, every year there's a prize (the "Trofea Fuga") awarded to the rider who clocks up the most breakaway kilometres. Yaroslav Popovych was in the lead yesterday, but Kevin Seeldraeyers can't be far behind. Nor, for that matter, can be Eduard Vorganov. Last year, the winner was Jerome Pineau...
The feeding zone is coming up with the lead now 11:20.
The gap keeps on growing: 11:18 at the latest check.
Saxo Bank are fronting a rather relaxed peloton, currently riding 10:36 down on the 13 leaders.
The lead has broken the 10-minute mark now. So, who do you think will win today's stage? Will one of these 13 riders hold on? Will Alberto Contador gift the victory to another former team-mate? Will there be a ding-ding battle between Nibali and Scarponi for 2nd place? Send in your thoughts below...
This group will certainly stick for a while: the gap is up to a large 9:40.
The best-placed rider in this group of 13 is Kiryienka - but at 01:07:33 down on Alberto Contador, the Belarussian is practically a day's racing off the summit.
This break is a kind of Who's Who from this year's Giro. With the exception of Jufre and Mazzanti, and possibly Salerno, I think they have all been involved in previous breaks - and many of them at least on four or five occasions. The gap has ballooned to 4:25.
Breakaway - full names: Yaroslav Popovych (RadioShack), Kevin Seeldraeyers (Quick Step), Eduaord Vorganov (Katusha), Angel Vicioso (Androni), Frederik Veuchelen (Vacansoleil), Luca Mazzanti (Farnese Vini), Josep Jufre (Astana), Vasil Kiryienka (Movistar), Sebastian Lang (Omega Pharma-Lotto), Cristiano Salerno (Liquigas), Diego Ulissi (Lampre), Carlos Betancourt (Acqua & Sapone) and Miguel Minguez (Euskaltel).
Yes, some very familar names in this group: the likes of Popovych, Kevin Seeldraeyers (Quick Step), Eduaord Vorganov (Katusha) and Angel Vicioso (Androni) have been involved in many breaks so far in this year's Giro. We also have stage 17 winner Diego Ulissi (Lampre) involved. The time gap is 45 seconds.
ATTACK: As expected, the stage is animated with a large break from the bunch. There are about 13 riders involved - including, yet again, Yaroslav Popovych (RadioShack). Full details coming up.
Still no break from the bunch, although it's getting rather animated on the front so expect a move soon.
Britain's Russell Downing (Team Sky) also crashed during the stage. The 32-year-old crashed over a barrier while descending the Cat.1 Mottarone and plunged 20 metres down a ravine. "Fortunately I hit a tree, which stopped me falling even further," he said. Downing was helped back onto the road, got back on his bike, crashed for a second time, suffered a puncture, needed a bike change, was coughing up blood - but still managed to finish the stage in the grupetto.
Yesterday's stage was marred by a large crash 45km from the finish which ended the race for HTC-Highroad pair Craig Lewis and Marco Pinotti. On a fast, wet and slippery descent, the pair collided with an unmarked traffic sign in the middle of the road. American Lewis fractured a femur while Pinotti hurt his knee and suffered a suspected broken collarbone.
Contador's second place was his fourth so far on this year's Giro - surely some kind of record? While the Spaniard has also picked up two stage wins, it's hard to deny that he hasn't picked up a few friends gifting stages to others.
No movement as yet from the peloton, content to ride along as one, taking in the sun, after yesterday's horrific conditions. Friday's stage 19 was won by Paolo Tiralongo - with a little help from a former team-mate...
There are two climbs on this final road stage of the race, the Cat.1 Colle delle Finestre and the Cat.2 hike to Sestriere. But before that, there is 190km of flat racing which should see a breakaway forming.
Sestriere first appeared in the Giro 100 years ago so it celebrates its centenary today with what should be an explosive finish. Alberto Contador may be all but assured of the pink jersey, but the podium places are far from set in stone, what with Italians Michele Scarponi and Vincenzo Nibali split by just 34 seconds.
They're off! After yesterday's heavy rain, the sun has come out at Verbania.
Welcome to live coverage of this, the penultimate stage of this year's Giro d'Italia, a huge 242km largely flat slog... which finishes with two massive climbs, including a summit finish at Sestriere. A brutal way to end what has been a fairly hellish three weeks in the saddle.