avant-match
Foligno - Arezzo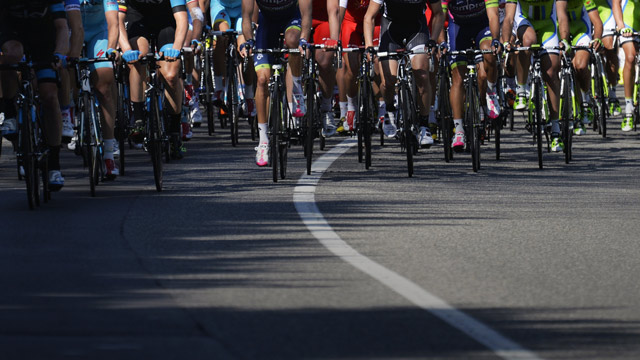 Follow the Giro d'Italia live with Eurosport. The Giro d'Italia race starts at 11:25 on 14 May 2016. Find Giro d'Italia results, calendar, standings and table. Get all the info on the teams to watch.
Keep up with top cyclists and big names in Cycling. Fans can read the latest Cycling news headlines, interviews, expert commentary and watch free replays. Don't miss upcoming Cycling races. Make Eurosport your go-to source for sports online from Cycling to football, tennis, snooker and more. Enjoy live streaming of this season's top sports competitions.
There's no denying that the day belonged to this man, Gianluca Brambilla.
And the new GC - with Brambilla on top of the pack and Dumoulin out of the top ten...
Here's confirmation of the stage result...
And here's the moment Gianluca Brambilla won today's stage...
Another big group arrives, led by Diego Ulissi. And still no Dumoulin... and here he comes - he's 2:50 down and so lost 50-odd seconds to his GC rivals.
Montaguti takes second at about 1:10 before the lives of Moser, Venter and De Marchi come home... and then Valverde leads the favourites over at about 1:40 and Zakarin shortly after. So Brambilla will be in pink!
0km
Brambilla knew that pink is a possibility because he drove right to the line before celebrating... We'll find out soon, but he looks to have done it...
Brambilla celebrates his first Grand Tour stage win and it's a third this year for Etixx-QuickStep!
Under the flamme rouge goes Brambilla and he starts that series of ramps to the line...
2km
It looks like Brambilla will win this stage but it's whether or not he can get the pink jersey. He'll lose time on the final rise to Arezzo, although gain 10 second in the bonus at the finish. Touch and go. He'll need to finish about 1:20 ahead of Zakarin.
2.5km
Movistar continue to drive the pace in this group of favourites - they have three men there now because Rojas has been caught.
Nibali's trying to get others to lend a hand, but the likes of Zakarin and Pozzovivo are doing nothing, ditto Majka and Uran.
Brambilla passes through the 5km to go banner and he has completed this descent. He has about 45 seconds on Montaguti now.
It looks like Dumoulin has had a helping hand by Trentin on the descent, the Italian patting the Dutchman on the back as is to give him a boost. Either that or he was snapping out at him, which would seem unlikely.
Now Nibali comes forward on this descent, putting the others under pressure. Brambilla still leads the stage, with Montaguti in pursuit. He has 1:55 on the Nibali group and 3:20 on Dumoulin.
10km
Kruijswijk and Chaves take it up ahead of Valverde. Zakarin has been very canny - he's not doing any work and he's a very solid time triallist. If the Russian's not in pink tonight he could well be tomorrow.
11km
Valverde has some words with his fellow escapees, perhaps imploring them to help out a little. It's in all their interests to further distance Dumoulin, who is currently 1:30 behind his GC rivals.
Brambilla locks up the rear wheel and skids on a tight left-hander. But he saves it despite the scare.
12km
A life line for Dumoulin - he has caught Nikias Arndt his Giant-Alpecin team-mate, who was in that earlier break.
Brambilla has got over a little uphill lip which breaks up the descent. Meanwhile, it's Kruijswijk who leads the chase in the chasing pack - until Amador and Valverde come through for Movistar.
Dumoulin taking risks on this descent and he'll have to be careful or he'll come off and end his race completely.
Chaves leads the group of main favourites over the summit 2:20 behind Brambilla. Meanwhile, Dumoulin passes 3:30 down. He was with Manuele Boaro of Tinkoff and they caught Trentin near the top, but then both Italians put in an attack to drop the Dutchman. Dumoulin won't only lose the pink jersey, he'll plummet down the standings tonight - may even be out of the top ten.
Almost complete isolation for Dumoulin - he's doing this climb with a Tinkoff rider sandbagging him, but no one else.
Gianluca Brambilla approaches the summit and he has 2:40 on the Valverde group and 3:20 on the Dumoulin group, which, to be fair, Dumoulin has been dropped from... Montaguti passes over 25 seconds down. Brambilla could be gunning for both stage and pink.
Another attack by Valverde! Nibali matches it but Fuglsang has been distanced again, so soon after he bridged the gap.
Most of the break have been caught now - Trentin the latest. Just Brambilla and Montaguti ahead, it seems. Perhaps De Marchi as well.
Dumoulin is being dropped by many riders - even some journeymen domestiques. He has no team-mates and is isolated. A terrible day for the Dutchman.
Pozzovivo is back with this main group now. Dumoulin is riding in a second group about 30 seconds down. Hesjedal is there too. Dumoulin looks terrible on the dirt - he's riding out of the saddle and slipping all over the place. It looks like he's bonked.
21.5km
Andrey Amador has joined this group so Valverde has a team-mate. Landa has managed to latch on - he's been struggling on the climbs so far, but seems to get there once warmed up a little.
The favourites group is now seven strong: Valverde, Chaves, Nibali, Majka, Kruijswijk, Zakarin and Uran. A few are fighting back but no Dumoulin, Jungels or Landa...
Remnants of the break have been caught now, including Kadri. Brambilla is on the false flat in the middle of this climb. The gap is 2:55 for the Italian.
There's no individual reaction from the others, but Astana are riding a high tempo and the Movistar man won't be able to get away. But the pink jersey has been distanced! Nibali, Valverde, Chaves, Kruisjwijk, Uran, Zakarin, Majka and Fuglsang are all there in a select group, but Landa and Dumoulin have been dropped!
Sky and Astana have come to the front now in the peloton ahead of the dirt track section, which they have just hit. And then Alejandro Valverde attacks from the gun!
They're on the steepest 14% section and Brambilla is doing a good job but not opening up a huge gap. Just over three minutes back, the peloton is about to hit the dirt track too...
They're onto the strade bianche gravel section of the climb and Brambilla has attacked! The Italian catches De Marchi, Berlato and Montaguti and is soloing clear towards the summit.
Alessandro De Marchi has attacked in pursuit of Montaguti and Berlato. Here's what the climb looks like...
The break is on the climb and the first attack comes in from Montaguti, who has Berlato in his wake. They're on the tarmac section to get warmed up before the gravel, which comes in a few kilometres.
The gap is coming down fast now. It's 3:30 as they approach the start of that all-important Cat.2 climb of Alpe di Poti.
28km
Oddly, Etixx-QuickStep have come to the front of the pack. They do have Bob Jungels well place in fourth place on GC but it may be more of a case of trying to disrupt the chase and slow things down, to give their men Brambilla and Trentin a better chance.
32km
The break - led by Kadri - is passing through Arezzo and tackling the finishing sector for the first time ahead of this loop out into the countryside. The bell sounds as Kadri and his Ag2R-La Mondiale team-mate Montaguti pass through the finish ahead of this 31.5km loop, which includes the ascent (and descent) of the infamous Alpe di Poti. The gap is four minutes as LottoNL-Jumbo lead the chase.
It's sunny now - despite the looming rain clouds - so we should really update the photo of Alpe di Poti which Bennati put up earlier today... How about this one? Although, to be fair, it may have been taken months ago, perhaps even last summer...
Besides Brambilla, who is 1:56 down on GC, the best placed rider in this break is Montaguti, who is 3:22 down.
40km
Trentin takes the time bonus and points at the intermediate sprint ahead of Txetevitvh and Kadri. The peloton passes through at 4:45 so it looks like it's coming down a bit now that Giant have upped the tempo.
We're approaching Daniele Bennati's hometown of Indicatore, which is where we'll see the second intermediate sprint which has 3-2-1 bonus seconds.
Yes, it appears that they peloton - although rolling along at a ferocious pace - is happy to let this one go. The gap is up to 5:30 and we may have two races on - for the stage and for the GC, even if, ironically enough, the pink jersey may go to someone outside that GC battle...
The gap's up to five minutes now so perhaps Giant-Alpecin are happy to let the pink jersey to be taken by Brambilla before Dumoulin takes it back tomorrow in the time trial. After all, he's not losing any time to any of his big rivals out there - just the Italian, who although finishing 13th in the 2012 Giro, shouldn't be a factor come the mountains.
When Peter Sagan won in Arezzo in the 2014 Tirreno-Adriatico the best placed rider on this race to finish was Austalian Simon Clarke, now of Cannondale, who took third place in a group that also included... Andre Greipel of Lotto Soudal.
60km
LottoNL-Jumbo have come to the front to help out Giant with the chase. They're having a quiet but assured race so far, with their man Steven Kruijswijk poised in fifth place overall, and Maarten Tjallingii having worn the blue jersey for a day or two.
The pack cross the summit led by Giant-Alpecin at 4:45. They have a fight on their hands because this break has some real quality in it.
Sean De Bie (Lotto Soudal) beats Giacomo Berlato (Nippo-Vini Fantini) for the points atop the climb, both riders fighting in proxy of their team-mates Tim Wellens and Damiano Cunego, who top the blue jersey mountains classification (Wellens in the hot seat by one point).
The break is on the Cat.3 climb to Scheggia. They're combining well and are 4:50 ahead of the pack for now, with Trentin setting the tempo.
The best placed rider from the Giro on that Tirreno-Adriatico stage to Arezzo won by Van Avermaet in 2015 is ... Filippo Pozzato, who took fourth place while at Lampre-Merida ahead of Fabian Cancellara. Perhaps we'll see the Wilier-Southeast and Trek-Segafredo veterans try their hands today?
The peloton are onto that climb now and it's Giant-Alpecin still setting the pace with a bit of help from Australian national champion Jack Bobridge of Trek-Segafredo. It's a hefty double-digit climb even though it's not categorised. At the back, the pace is almost stationary.
The break is on the punchy climb up to the old town centre of Anghiari - it's a straight ramp flanked either side by fans and pink balloons. It's very steep but not categorised. In fact, it's a warm up for the Cat.3 climb coming up a few kilometres later on. The gap is 4:35.
The gap is up to 4:20 for the 13 leaders so Brambilla is still very much in the virtual maglia rosa. The rain has stopped and the sun is back out as they pass through the town of Anghiari.
When the Giro last came to Arezzo the win went to world champion Mario Cipollini but that was a very different, flat finish. Today's finish is up at the top of town and is a repeat of a finale that ran in Tirreno-Adriatico in both 2014 and 2015, with the wins going to Greg Van Avermat and Peter Sagan, neither of whom are here today.
On Giro Extra now Juan Antonion Flecha is riding the Alpe di Poti and it looks like that it's very muddy and riddled in potholes. The approach may have been covered with some fresh tarmac but the 6km section is riddled with obstacles - as is the twisting descent, which includes sections where the water runs across the road in rivets. There are a few hairpins towards the bottom too. Crashes are more than likely.
The leaders have passed through the feedzone at Monterchi with a gap of four minutes on the pack, which is being led by Giant-Alpecin. The average speed after the second hour of racing today was 46.9km/h so they're riding fast out there.
It's that old cliche: the race may not be won today on the strade bianche but it could well be lost - particularly is cretins throw nails and tacks on the key Alpi di Poti climb and you get a puncture. Local rider Daniele Bennati also took this picture today - as well as photos of fans picking up the tacks. Hopefully they'll get them all up before the race passes through.
The gap is up to 3:20 for the leaders but you sense Giant-Alpecin won't be too keen on letting it get much bigger because Brambilla is only 1:56 down on Dumoulin, making the baby-faced Italian the virtual maglia rosa for now.
110km
Confirmation of the result of the intermediate sprint at Umbertide earlier on: Matteo Trentin took the spoils ahead of Alexey Tsatevich and Giacomo Berlato. The presence of both Trentin and Brambilla in this break suggests Etixx believe that Marcel Kittel stands no chance in thos one today. And they'd be right: not only is there that dirt track climb before the finish, the final 3km include a punchy ramp into the centre of Arezzo. Kittel has also been off the boil since the race entered Italy following his two wins in the Netherlands.
Here's a snap of the break - and as you can see, it's raining. That dirt climb could get rather messy - echoes of the 2010 Giro d'Italia when world champion Cadel Evans won in Montalcino caked in mud...
Today's stage passes through the town of Indicatore, the home of Tinkoff's Italian veteran Daniele Bennati, on the way to Arezzo. Bennati knows the dirt track climb of Alpe di Poti well and posted a photo of what the riders can expect later on - and it looks fairly daunting. The whole thing is about 10km long with an average gradient of almost 7% but there is over 3km at 9% and it peaks out at 14%. Only 6km of the climb are the famous strade bianche - or dirt, gravel tracks - of the region. And if it rains then it could be a whole lot harder...
So, here are the 13 riders in full: Blel Kadri and Matteo Montaguti (both Ag2R-La Mondiale), Alessandro De Marchi (BMC), Moreno Moser (Cannondale), Jaco Venter (Dimension Data), Gianluca Brambilla and Matteo Trentin (Etixx-QuickStep), Sean De Bie (Lotto Soudal), Jose Joaquin Rojas and Jasha Sutterlin (Movistar), Giacomo Berlato (Nippo-Vini Fantini), Nikias Arndt (Giant-Alpecin) and Alexey Tcatevitch (Katusha). The lead is 2:45.
We now join the race live ahead of the first intermediate sprint at Umbertide, beyond the city of Perugia, which the race skirted. Things have calmed down somewhat with the peloton back together and the 13-man break now riding with an advantage of two and a half minutes.
The reason why the break struggled to establish itself is that a split occurred in the peloton behind and Tom Dumoulin, the maglia rosa, reportedly got caught up in the second group, while Vincenzo Nibali of Astana was in the first.
Despite the large size of the group they struggled to open up much of a gap. In fact, after 15-odd kilometres out in front the gap was only 25 seconds so some teams clearly weren't happy at missing out on the split.
A dozen or so riders had managed to open up a gap after that climb, including Ag2R-La Mondiale pair Blel Kadri and Matteo Montaguti, Italians Alessandro De Marchi (BMC), Moreno Moser (Cannondale) and Gianluca Brambilla (Etixx-QuickStep), Spaniard Jose Joaquim Rojas (Movistar) and serial escapee Giacomo Berlato (Nippo-Vini Fantini).
It was a very feisty start to this stage with numerous riders trying to force a break ahead of the first uncategorised climb towards the famous hilltop town of Assisi.
It was sunny as the remaining 190 riders rolled out of Foligno this morning to get the stage under way.
The four classification leaders at the start today in Foligno: Bob Jungels in white, Tim Wellens in blue, Tom Dumoulin in pink and Andre Greipel in red.
Dutchman Tom Dumoulin (Giant-Alpecin) finished safely in the pack to retain his grip on the maglia rosa after the opening week of the 99th edition of La Corsa Rosa. The only GC casualty was pint-sized Colombian Esteban Chaves (Orica-GreenEdge) who lost nine seconds in a split and dropped out of the top ten.
12:05
Yesterday, Germany's Andre Greipel took his second victory - and a third successive scalp for his Lotto Soudal team - in a fast bunch sprint at the conclusion of stage 7 at Foligno. In the absence of compatriot Marcel Kittel, who punctured with five kilometres remaining of the 211-kilometre stage from Sulmona, Greipel reminded the world of his enduring class with an imperious display of power, panache and positioning to deny Italians Giacomo Nizzolo (Trek-Segafredo) and Sacha Modolo (Lampre-Merida).
Andre Greipel doubles up as Lotto Soudal purple patch continues
12:00
Hello and welcome to live coverage of stage 8 of the Giro d'Italia - an unpredictable 186km ride from Foligno to Arezzo, which includes a 6km dirt-track climb near the finish.