avant-match
Road race - Men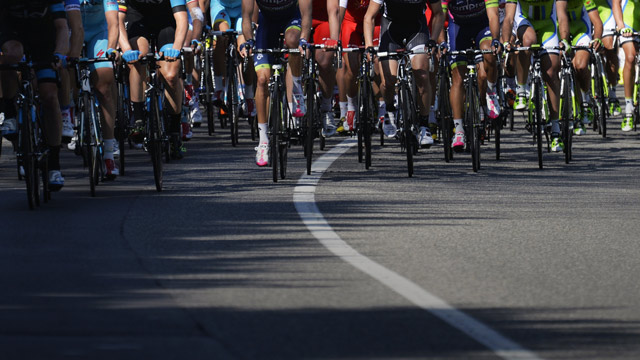 Follow the Liège - Bastogne - Liège live with Eurosport. The Liège - Bastogne - Liège race starts at 09:25 on 22 April 2018. Find Liège - Bastogne - Liège results, calendar, standings and table. Get all the info on the teams to watch.
Keep up with top cyclists and big names in Cycling. Fans can read the latest Cycling news headlines, interviews, expert commentary and watch free replays. Don't miss upcoming Cycling races. Make Eurosport your go-to source for sports online from Cycling to football, tennis, snooker and more. Enjoy live streaming of this season's top sports competitions.
The livemap is currently unavailable. Please come back later to follow the riders in real time.
Race report here: https://www.eurosport.co.uk/cycling/liege-bastogne-liege/2018/bob-jungels-storms-to-victory-in-liege-bastogne-liege_sto6723841/story.shtml
And Alaphilippe and Jungels embrace across the line. The Wolfpack strike again.
Alaphilippe took fourth there.
Woods comes round Bardet for second with Alaphilippe closing behind...
Bardet and Woods pass Vanendert.
Bob Jungels crosses the line and throws his arms aloft. He is the winner of Liege-Bastogne-Liege 2018.
Bardet and Mike Woods are so close to Vanendert they can smell him... they're third on the road right now.
The only man who might catch Jungels is Vanendert, but he's running out of road. Flamme Rouge!
Jungels has got this, surely! The Luxembourg national champ has 30 seconda and just 1.8km to go.
All sorts of top-tube squatting going on here now.. they're all at it!
Formolo and Alaphilippe chase after Vanendert and Valverde tries to close that gap.
Davide Formolo is going really well here in the chasing group, but Jungels is over the top of the climb and charging for the line.
As it stands we have Jungels out front, Vanendert just ahead of the chasers and then eight more riders.
And Alejandro Valverde slips off the wheel of the other chasers!
Alaphilippe lurks as Vanendert of Lotto Soudal - third on Wednesday remember - puts in a huge dig.
The bunch hit the Cote Saint Nicolas, but is there enough time to bring back Jungels?
Still in the front group are Valverde and the other big names.
Here's Bob Jungels swooping down that descent.
Disaster for Dan Martin. He's had to take a wheel change there from neutral service and that's his race over.
Jungels has one more classified climb and the uphill run to the finish in Ans to negotiate.
As we've seen so many times this classics season, the chasers aren't working together and the gap is yawning out. Jungels has 42 seconds.
Jungels is putting more and more time into the pursuers. He gets into that incredibly uncomfortable looking aero tuck that is so de rigeur these days as he plummets downhill at upwads of 80km/h. He has 38 seconds.
Dan Martin gives it another dig. Dumoulin follows the move.
Jungels powers along as his gap grows to nearly 30 seconds.
These moments are vital. The pursuers have to work together to bring back Jungels, or that's it. Game over. Valverde sees this and takes up the chase.
Dan Martin has a go at lighting it up now. He's really blowing hot and cold today. Tim Wellens is with him and they are motoring!
This is tactically a perfect situation for Quick-Step. Alaphilippe can sit in, while the other favourites chase down his team-mate.
Jungels, who can TT with the best of them when he wants to, is leading Liege Bastogne Liege. He has 20 seconds on the pursuing favourites.
And as soon as I say it, the favourites are back together. Bob Jungels is away off the front through.
This is a huge move. Tim Wellens, Alaphillippe, Dan Martin and Valverde are together off the front.
Michael Matthews has also lost contact, leaving his super-domestique, Tom Dumoulin, up front with something of a free role.
It's super strung out now as the leaders crest the climb. Geraint Thomas loses contact.
Valverde is riding the wheels, not too bothered seemingly by this flurry of attacks. Dan Martin is still there.
This is chaotic. Bob Jungels attacks now, followed by an EF rider, and behind him one from Astana.
Henao bridges to GIlbert and forges on alone, while Tom Dumoulin pulls the bunch across the gap.
We have a Quick-Step attack here from Philippe Gilbert. Now, where have we seen this before?
WaWa Barguil is dropped as soon as they begin the Côte de Roche-aux-Faucons
I reckon you'd get very poor odds right now on a Nibali long-range attack. This situation is perfect for the Italian who won Milan-Sanremo with just such a move.
We're about 4km from the Côte de Roche-aux-Faucons now, with Vicenzo Nibali's Bahrain-Merida team taking up the pace-setting.
With no serious attacks on La Redoute, it seems increasingly likely we'll have a bunch finish. There are about 70 riders in the pack now, and our leader Jerome Baugnies has 24 seconds of advantage remaining.
Mark Christian is eking out his final few moments off the front as the peloton lurks behind him. The British rider has performed brilliantly and bravely today.
We're into the final 30km.
The bit of furniture they hit was in fact a hay bale strapped to a road sign. It looked dangerous as soon as the break passed it. It would be a terrible shame if that ends either rider's race.
Quick-Step now five-strong up front and eating the gap.
Ouch, Larry Warbasse and Natnael Berhane are involved in a crash with a bit of road furniture. Berhane is badly scuffed up, but they're both up and riding.
Baugnies has 29 seconds on his old breakaway buddies, with the peloton another minute or so back.
Despite Poels' travails, Team Sky are visible up front now with Kwiatkowski seemingly pulling for Geraint Thomas. Before he became a mountain domestique deluxe, Thomas was known as a potential future classics star. Could he roll back the years and bag Sky's second ever win at this race?
Jungels joins Enric Mas and Alaphilippe up front now, as Baugnies forges on solo over the summit.
Dan Martin is totally isolated on the climb here.
Wout Poels is struggling on La Redoute, somewhat to be expected after his terrible, injury-stricken season so far.
And in a stunningly predictable turn of events, UAE have melted from view at the front as EF, Mitchelton and Bahrain all muscle for space.
Huge crowds lining La Redoute as Quick-Step take to the front of the peloton. Alaphilippe looks to have one mate with him.
And Jerome Baugnies goes solo. Interesting move here from the 31-year-old Belgian.
We're onto La Redoute. It would be really, really fun if somebody attacked here. Three hills left.
Trek are up at the front now. They'll be pulling for Bauke Mollema who, despite a quiet season so far, could go very well here.
Less clear leadership on the front of the bunch than we've seen most of the day so far. UAE now allowing other teams to have some time in the wind.
It's just Christian, Perez, Baugnies and Ourselin up front now. They have 2'33".
It seemed like the Cofidis rider wasn't too keen on getting back on his bike. We've all been there Danny, mate.
Daniel Navarro crashes in the peloton. He looks annoyed. Many shrugs. Lots of hand wave.
Winner Anacona is on the front now for Movistar. Rory Sutherland is no more.
Very strange. Massons was not in the breakaway, and yet he has just been overtaken by the peloton. Possibly a wrong turn? Or possibly an earlier abandon. Whatever it is, it's the broom wagon for him now.
Christophe Masson is standing on the grassy verge. It's unclear why exactly, but he seems pretty relaxed about the whole thing.
For my money, some of the other teams need to start throwing some attacks in this last 50km. A steady pace suits the favourites, while the more disruption there is the better it'll play out for the others.
We have seen absolutely nothing of Julian Alaphilippe today, which is almost always a sign of a rider keeping his powder dry.
Could the young Frenchman do the double and win Liege after Fleche Wallonne? No rider has done that since, well, last year when Valverde did.
We have the Col du Maquisard up next, followed by the Cote de la Redoute. Redoute would be the tougher of the two, averaging 8.5% over 2.1km. We'll see the peloton whittled down further there for sure.
A bit of peace in the peloton now as they go down the other side of the Col du Rosier.
Rory Sutherland has opened his mouth everybody, he could be about to blow up in an hour or so.
An interesting point. Is a bunch finish really to the advantage of Martin? Or should UAE be working harder to drop the puncheur-sprinters like Matthews?
This breakaway is cooked. Four men left of the original nine now and 3'12" ahead.
Here are your vital statistics for the Col du Rosier.
As the gap comes down to around three minutes, Sutherland remains impassive on the front. He has the look of someone wondering what to have for dinner, not splintering a WorldTour bike race into bits.
It would be very, very bad if Dan Martin were to get dropped about 10km from the finish after Rory Sutherland has spent the better part of two hours grinding out this savage pace. Imagine the atmosphere on the team bus this evening...
Gorgeous weather for a bike race this, but we heard reports earlier today that there may be rain in the finale.
With a little under 65km to go, things are pretty much 'as you were'. UAE still driving on the front, the breakaway still yo-yoing around 3 minutes of advantage. We have five more classified climbs and the next one, the Col du Rosier, is a bit of a beast.
Will we see the race come to life on its slopes, or will the teams keep watching each other that little bit longer?
Movistar massing their forces near the front of the bunch. They have five men there, with Winner Anacona scooting up the side of the peloton to complete an impressively-strong quintet.
Michael Albasini was one of the ones dropped from the peloton on that last climb. The Swiss journeyman was excellent in the Ardennes last year, so that's a bit of a surprise.
There's only five men left in the breakaway now. They caught and dropped Pedersen, who no doubt enjoyed his 10 minutes in the spotlight, and will enjoy the ensuing 75-kilometre slog even more.
They're tackling the Cote de la Ferme Libertat now and this is causing major damage in the peloton. Rory Sutherland, meanwhile, remains impassive on the front of the bunch. He loves putting a bit of hurt on when he can.
UAE Team Emirates' presence at the front has not gone unnoticed today. There are four of their jerseys in the front five riders on the peloton.
Casper Pedersen leads the race solo as he soars through the sun-drenched streets of Malmedy.
And Casper Pedersen has attacked the break, one of those Aqua Blue riders we just mentioned. Does he feel so strong he thinks can outrun the peloton for 85km, or has his DS told him to get up the road and his jersey on the TV cameras?
The break is really splintering now as the hills come in quick succession.
And two riders have lost touch with the break. Van Gompel and Warnier are adrift of the leaders as their erstwhile companions push on.
The break is on the Cote de Pont, which will be followed almost immediately by the Cote de Bellevaux. It doesn't let up from here and I'd be surprised if they hold their lead for long.
They are gunning it now. The break completed their fourth hour of racing at 44.2km/h.
The nine in the break have 4'11" now with not one but two boys from Aqua Blue Sport up there (Casper Pedersen and Mark Christian). The Irish team have had a rum deal this year as far as invites to the big races, so it's vital they capitalise as much as they can on any top-level exposure they can get.
95km
We've just seen some shots of Michal Kwiatkowski among a bunch of Sky jerseys. They've had a really dire classics campaign so far in 2018, but is this the day that changes?
UAE are still up there one the front setting the pace, with the token involvement of one Lotto Soudal rider. UAE must be very confident in their man Dan Martin today.
Ouch. Looks to be a very nasty crash for BMC's Alberto Bettiol. It would appear he's collided with a spectator.
Back in the men's race things are starting to get bumpy. They've got a serious number of climbs to contend with and from now until the finish they come thick and fast.
That was a thrilling finale to the women's race. Let's hope the men can deliver something equally exciting in about 100km time.
Anna van der Breggen of Boels Dolmans takes the victory with Spratt second. Behind her Moolman-Pasio is with Annemiek van Vleuten and they will contest a sprint for the final podium spot.
And Anna van der Breggen has left Spratt behind. She is going to solo to the victory.
van der Breggen is looking the stronger as the pair push on to the line. Will it be heartbreak for the Aussie after all?
Flamme rouge in the women's race!
Spratt is sitting on van der Breggen's wheel, letting the Dutch rider do the work as they come into the finishing kms.
With 3km to go, Spratt and van der Breggen are together.
van der Breggen is just so strong to close that 20 seconds so rapidly. She won all three Ardennes races last year, remember.
And van der Breggen drops Pasio and crosses to Spratt!
It's Ashleigh Moolman-Pasio and Anna van der Breggen doing the chasing behind.
Spratt has got 25 seconds now. 30 seconds vanishing from her advantage in a few kilometres.
Spratt has 55 seconds now. She's climbing steady and her gap continues to grow.
Amanda Spratt hits the Cote Saint Nicolas alone. There are 6.5km to go and she's still off the front by some margin.
10 kilometres to go for Spratt who has 40 seconds on the chasers behind her. Can they bring her back? You'd have to back the Santos Women's Tour winner here...
The women's race is into its last 20km, with Ferrand-Prevot back in the front group and Amanda Spratt on the attack this time. They have just the Cote de San Nicolas to tackle now.
A bit of early news you may have missed, Alexis Vuillermoz has abandoned the race. He climbed off very soon into the day, a real blow for his AG2R leader, Romain Bardet, who could well excel on this sort of course.
The gap just edges back out to 4'45". It hasn't really ever got beyond five minutes today, as the UAE / Movistar-led peloton keeps them on a tight leash.
In the women's race Pauline Ferrand-Prevot is away off the front with 40 seconds and 30km to go. It'll be one hell of an effort if he makes it all the way there.
On Wednesday there were attacks flying throughout the race, making life really difficult for Valverde and Movistar. If they are to unseat him today, the other teams will have to create chaos and create it early. If the race comes to the finale all together, it will play beautifully to Valverde's fast finish.
Carlos Betancur is on the front right now, controlling the break at 4 minutes for his boss.
UAE Team Emirates have been doing a fair bit of work on the front of the peloton so far. Ostensibly they are working in the interests of Dan Martin, a previous winner of this race (2013).
UAE have had an odd beginning to 2018, after spending a huge amount of cash bringing top names like Martin, Alexander Kristoff and Fabio Aru on board. So far, that aggressive spending hasn't exactly paid off.
Can Dan deliver the goods today? He was 61st in Fleche on Wednesday and didn't finish Amstel Gold...
One of the weirder sub-plots of Liege-Bastogne-Liege is 'the Pimp of Liege'. Every year at about 5.8km to go he appears in a different fancy dress outfit and runs alongside the riders. US journalist Dan Wuori is trying to track the guy down for an interview, after bringing him to the wider cycling world's attention over the last couple of editions.
So... can you ID this hirsute chap???
A helpful reminder today from Rob that the weather is very, very good outside and you should probably be outside somewhere. A mere 140km to go.
This is the final time Liege-Bastogne-Liege will finish in Ans, with a planned return to the centre of town next year. The Ans finish is believed to be a large factor in Valverde's dominance over the last four years, with the race organisers perhaps deciding that five wins would be enough for everyone's favourite peloton panto baddie.
They've flown through that first 100km, with the break still 4'55 up the road.
BMC today are racing in the name of their late team owner, Andy Rihs. The 75-year-old Swiss billionaire, who passed away on Wednesday evening, bankrolled the team to a victory in the 2011 Tour de France with Cadel Evans, undoubtedly the squad's highpoint.
Our regular live text commentator Felix is away in Italy today, participating in the Gran Fondo Michele Scarponi, an event created in memory of the Italian rider who died a year ago today. Scarponi was a beloved rider among the peloton and his Astana team mates will be going full gas to bring home a win in his honour. Their main men today are Jakob Fuglsang and Michael Valgren.
The race situation at the moment is pretty subdued, with a fairly unthreatening four-man breakaway about five minutes up the road. They have 160km still to race.
Cofidis rider Anthony Perez is one of the quartet up front and it is his birthday today. Joyeux anniversaire, Tony.
I'm interested to hear your predictions today. Will Valverde double down after his defeat midweek, or will Nibali attempt another long range shark attack? Is Alaphillipe the new king of Ardennes week, or will Michael Matthews make it over the hills and all the way to the finale?
Reach me on Twitter at @owentcharles!
The big question today is whether or not the peloton can disrupt the work of Alejandro Valverde's Movistar team as the Spaniard pursues a record-equalling fifth L-B-L title.
On Wednesday 'Bala' was beaten in La Fleche Wallonne by Julian Alaphilippe of Quick-Step, and all of a sudden he looks far from invincible in the Ardennes Classics.
Alaphilippe holds off Valverde to win Fleche Wallonne
At the moment the race is heading towards Bastogne on the relatively benign outward leg. Things get interesting as they turn around and head back towards Liege, via lots and lots of lovely hills. The total ascent for the day is around 4,500m (14,700ft) packed into 258 kilometres.
Good afternoon all!
Tom Owen here, standing in for Felix Lowe and we're live with text commentary of the 104th edition of the world's oldest bike race, Liege-Bastogne-Liege.
We'll have live pictures for you on Eurosport from 1pm, but until then I'm afraid you're stuck with me.