avant-match
LIVE
Jurançon - Pau
Vuelta a España - 3 September 2019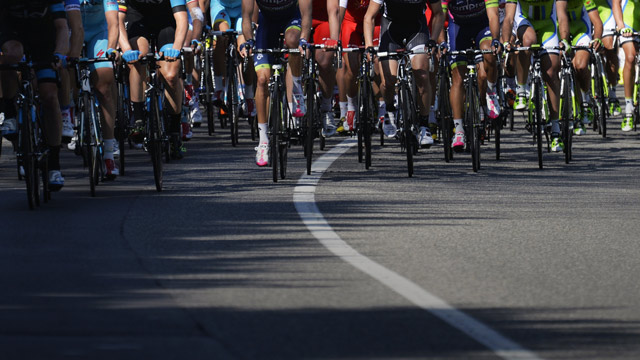 Vuelta a España – Follow this cycling race live with Eurosport. The action starts at 12:41 on 3 September 2019. Our live coverage lets you follow all the key moments as they happen.
Get all the latest on Cycling: the big races, schedules and results.
My word, what a belter of a Vuelta.
Wrong again. Quintana has clung onto fourth by just a whisker.
Sorry, that's Lopez third, Pogacar fourth.
More than three minutes lost by Quintana there. That effectively puts him fourth on GC with, by my cigarette packet calculations, Valverde second, Pogacar third and Lopez fourth.
Roglic goes into red. Quintana slips out of the top three. He still hasn't finished.
With an air of grim inevitability, the camera pans to red jersey, Nairo Quintana, still ploughing on with a whopping 2.4km to go.
Lopez crosses 2'00" down.
Roglic passes the Colombian. Awesome power from the Slovenian.
It's a new best time for Roglic by 25 seconds. Absolutely huge.
Roglic is going to catch Lopez, who started with a two-minute head start. That's a killer psychological blow to be dealt by your closest rival.
Graphics are showing Lopez as 1'52" down on Roglic at the moment, as we see Valverde stop the clock in 48'43".
Pogacar is into the finishing hoardings. He has faded massively in the second half of the course and crosses 1'04" down on Bevin. We can expect Roglic to nudge past that time.
A strong day at the office for the young Slovenian, nevertheless.
That's about the size of it....
If Quintana cedes 19 more seconds to Pogacar he will have tumbled from first to fifth in the course of 36km.
Quintana sets a time of 35'19". That's 2'12" down on Roglic. He is all over his bike already, taking absolutely ages to take a drink from his water bottle. God he's making this look hard.
33'07". Roglic goes through Checkpoint Dos with 48 seconds on Pogacar, 58 on Valverde and 1'32" on Superman.
Struggling to get an exact time on Roglic at Checkpoint Dos but it was around 33 minutes.
Roglic absolutely hurtling through this course. He's hit Checkpoint Dos about 30 seconds after his two-minute man, Lopez.
34'01" for Valverde at Checkpoint Dos. Six seconds slower than Pogacar, but he's measured his effort much better than the less-experienced Slovenian.
Lopez follows hot on the World Champion's heels, setting a time of 34'39". He's down, but not as down as he could be.
Valverde should be next through Checkpoint Dos, while further back it looks from our telemetry like Roglic may have Miguel Angel Lopez in his sights.
Pogacar might just be fading here. At the second time check he's 29 seconds down on Bevin.
Esteban Chaves is coming home now. It looks like he'll be about 4'00" down on the winner once everyone has finished. We might see him switch to stage-hunting mode from now on - that's an irretrievable time loss for GC.
Slovenia are, apparently, very, very good at time trials now.
Pogacar has just overtaken his two-minute man, Carl Frederik Hagen.
Majka and Kelderman are through Checkpoint Dos in 16th and 20th, respectively.
And as we expected, Primoz Roglic sets the new best time - and by no small margin. The man from Jumbo-Visma has gone through in 18'13", eclipsing the time of even his compatriot, Pogacar (18'34").
With all of the overall favourites through Checkpoint Uno, it's Roglic in first, Pogacar in second and Quintana already 1'26" behind. That's bad.
Valverde has lost 17 seconds to Pogacar at Checkpoint Uno. Lopez is next up.
Phenomenal from Pogacar. The Slovenian is burning up the tarmac here, but can he sustain this sort of effort for 20 more kilometres.
New best time at Checkpoint Uno for Tadej Pogacar!
The difference in styles between Roglic and Quintana is just massive. The former looks as through he was born on a pair of TT bars, while Quintana looks like he first met his TT bike earlier this morning.
Decent enough result for Majka at Checkpoint Uno, he's somewhere around 15th. The Polish climber can shore up his GC top ten today if he rides well.
Wilco Kelderman is not going to trouble the scorers today. That's a 16th best time for the Dutchman at Checkpoint Uno.
Dylan Teuns is through Checkpoint Uno with the tenth best time of the day. As the tenth man on GC, that seems about right for the Belgian on Bahrain Merida.
Today is not just about winning the stage for Roglic, so say his team.
Roglic is off! The out-and-out favourite for the day is straight into the aero tuck and flying. Just Quintana to come now.
Superman Lopez is off the ramp too now. He's not a great time triallist, so today is all about damage limitation.
Lopez was unfortunate on Sunday's rainy stage in Andorra not to take more time on his rivals. He crashed during the gravel section, which cast him adrift off the back of the other GC men and he had to use a huge amount of energy to get back in touch, after looking like the strongest man on the mountain.
We haven't seen many people challenging the top times in the last few minutes. Luis Leon Sanchez has just crossed in tenth place.
Alejandro Valverde hits the tarmac. His performance today might very well determine his status within the Movistar team. Is he a deluxe domestique for Quintana, or should he be the top dog? We'll edge a bit closer to the answer of that question in 36 kilometres' time.
The fifth man on GC, Tadej Pogacar, heads off the start ramp like a bullet!
The youngest man in the race is giving it full beans right from the gun. He must be feeling superb.
We're into the last ten riders off the ramp. Kelderman of Team Sunweb is on course now, as are Dylan Teuns and Mikel Nieve. Next off is Rafal Majka.
This is where the race comes to life, folks. Nairo Quintana, as race leader, is the final man to take on the 36km. He's due to start at 3:45pm.
Patrick Bevin says the course is a dream for climbers, which probably means he won't hold the hotseat for long. There's a lot of mountain-busting firepower still to roll off the ramp.
"It really suits the climbers. It's a small road, there's no point where you can really go full power except for the final run in where you can take an edge. It's a harder course than the Tour de France. The climb is longer. It's good for climbers. I tried to hold the power and deliver a nice performance 10 days into La Vuelta. We'll wait and see if it's enough."
Craddock has set the third best time on the day. A great showing from the Texan. Better make that 3077 days...
Ion Izagirre is on the course. The Basque rider is a great TTer when he is on form, but is another of these 'domestique deluxe' riders who may not be allowed to give today his all.
Thomas De Gendt has crossed the finish like 55 seconds down, with his early promise at Checkpoint Uno not quite translating into a great final time.
Bevin is looking very pained out there as he enters the finish hoardings. He brings it home with a huge final effort and...
...sets a new best time! He's beaten Cavagna by 2 seconds there, remarkable work.
Looks like there's something wrong with Valverde's TT bike in the paddock. We're seeing him having a chinwag with his team mechanic. Valverde, you may remember, had a hideous crash in the Tour prologue a couple of years ago.
De Gendt, meanwhile, has lost ground. He's at 29 seconds down at Checkpoint Dos.
Sepp 'General Kusster' Kuss is making ready... he'll have his thoughts firmly on the mountains to come.
Big pop, confirmed. Ludvigsson is shipping mega time to Cavagna after starting extremely well.
And as I say that, Bevin posts the new fastest time at Checkpoint Dos!
Nobody likes a show-off, Remi.
Especially not one who has the likes of Thomas De Gendt, Lawson Craddock and Patrick Bevin breathing down his neck.
Craddock has just gone same-time at Checkpoint Uno, while De Gendt was only 3 seconds down.
Tobias Ludvigsson started brightly, but has shipped a lot of time between the Checkpoints Uno & Dos.
It is, apparently, 3076 days since Lawson Craddock won a time trial.
Doesn't fill me with confidence in the Texan, have to say.
We're really entering the realm of broken GC dreams now in the start order. David 'El Yoyo' De La Cruz is off and rolling for Team Ineos, while Fabo Aru who (I know, I know, it's impossible to believe) is a former champion of the Vuelta and is underway too.
Wow, Patrick Bevin has gone just one second slower than Cavagna at Checkpoint Uno.
But can he maintain?
Wout Poels is a rider who might conceivably do well here. He's no slouch when he's at his best, but his form has looked about as erratic as one of Simon Cope's expense reports of late.
The lanky Dutchman is out on course.
Tsgabu Grmay is off the ramp, the Ethiopian rider is having a decent Vuelta so far but will surely be saving himself today for more promising breakaway stage victories. He is the first man from his country to ride La Vuelta.
And Cavagna has smashed that to bits. The Frenchman has knocked nearly two minutes off the time of Benjamin Thomas.
The new best time to beat is 47'32".
Everybody's favourite Belgian breakaway behemoth, Thomas De Gendt, is on the road.
We have a new leader! Benjamin Thomas has beaten Barta's time by six seconds at the finish.
However, his compatriot Cavagna is steaming through the course and was a whole minute faster at Checkpoint Dos.
Patrick Bevin is about to head down the ramp and - if he can deliver at his absolute best today - the Kiwi could have a chance to upset the applecart.
Bevin hasn't enjoyed much success this season, a reflection of his team's fortunes generally. He won the New Zealand national championships, the second stage of the Tour Down Under and since then, nada.
Cavagna has beaten Will Barta's time at Checkpoint Uno.
Cavagna goes past Angel Madrazo, our current king of the mountains. He's going well, the Frenchman, he just needs to keep that bicycle rubber side down for the remaining 14km.
Ooof and just as I say that Cavagna goes very close the hoardings. That was squeaky bum time for the Frenchman.
As we join live pictures, some of the first images we're seeing are - rather hair-raisingly - of Remi Cavagna going downhill. Who could forget his terrifying display in California, where he eventually won the stage?
Gorka Izagirre is off the ramp. He's the lesser of the two brothers when it comes to the TT, but still a powerful rider and he will prove to be an invaluable lieutenant to Miguel Angel Lopez later in this race I have no doubt.
Exactly half of the riders have started now.
Barta finishes the course in 49'17". The first and only rider so far to go sub-50. It might be a marker that stands for some time.
Most recent rider to come through the first timing point is Tim 'El Tractor' DeClercq, but he's already two minutes down and won't trouble the scorers today.
And Barta is on a flyer here. He has breezed through Checkpoint Dos some 57 seconds faster than Kiryienka. The man from Michigan is headed for the hotseat and could be the man to beat for much of the afternoon.
Felix, who is supposed to be having a day off today, suggest that perhaps Tony Martin is not so much 'taking it easy' as 'struggling to keep up.
The man Thomas replaced in the tricolor skinsuit of the French national TT champ, Remi Cavagna, is starting soon.
Cavagna has had a marvellous year, grabbing a stage victory at the Amgen Tour of California and getting involved in a few breakaways throughout the season. He even tried his luck with a long-ranger on stage four of La Vuelta, which ultimately set up his team mate, Fabio Jakobsen, for the victory.
French National TT champion, Benjamin Thomas, is optimistic about his chances today.
"This time trial is a big goal. It's the best stage for me to shine. I hope I've recovered well from the stage in Andorra and I can have a good day. It's a big coincidence to be in France for the ITT on a Grand Tour that is not the Tour de France. I'll seize this opportunity, furthermore because I have family in Pau. I'm very happy to wear my French national champion jersey for the first time, since I only rode the Tour of Poland since the championships and there was no TT there, and we don't wear the jerseys for TTTs."
Bernas, meanwhile, has finished the course. A time of 50'55 is the benchmark for the rest of the day. How long will it be until someone goes sub-50?
As expected, Kiryienka knocks Bernas from the top spot at Checkpoint Dos. New best time is 35'27".
Now this is interesting, young American rider Will Barta just posted the fastest time at Checkpoint Uno. The CCC man is just 23 years old, but managed an eighth place in the Tour du Romandie TT earlier this year.
That TT was won by, you guessed it, Primoz Roglic.
News of a DNS, Nathan Van Hooydonck has not taken the start ramp today.
Bernas flies through Checkpoint Dos in a time of 35'40. He might just make it to the hotseat in time to watch Kiryienka smash his time to smithereens.
Boom! Somebody who is definitely not taking it easy is Vasil Kiryienka. He's just set the fastest time at the first timing point, 19'38!
It's not going to be a Panzerwagen victory today. He recorded the fourth-fastest time at the first timing point and is clearly keeping his matches for another day.
Bernas is a kilometre or so from the second intermediate timing point. He was about a minute faster than the next fastest rider when he went through timing point numero uno.
Logan Owen is on the course for EF Education First. The young American is having a bit of a baptism of fire in this Vuelta, his first ever Grand Tour.
Looks like Hofstede is going very easy here, he's been passed by Bernas and Juan Sebastian Molano - and we're only just through the first intermediate timing point.
It would be fair to say that both Kiryienka and Martin took things pretty easy on Sunday's stage 9. They both rolled in about 35 minutes behind the winner, Tadej Pogacar.
A sign that they were conserving energy for today, or an indication that the old warhorses are absolutely knackered after a crazy first week?
Current European TT champion, Vasil Kiryienka is also on the course now. The Belarussian doesn't get many opportunities to ride for himself as he's almost always carrying the bags for Team Ineos' GC candidate.
However, with Ineos hopes for the overall in absolute tatters, this could be Kiry's day in the sun.
Now then, our first proper contender is on the road. Tony Martin of Jumbo Visma could absolutely blow the doors off this if he wants.
It's been a while since the glory days of 'Der Panzerwagen' when he won the World Championships, and he may be under team orders to hold back so he can better support team leader Roglic in the coming days. Nevertheless, the prospect of Martin going full-gas on a course like this is a tantalising one.
Hot on Hofstede's heels is Pawel Bernas of the much-maligned CCC team. He's climbing pretty well right now, but this won't be a stage he's targeting. His Kiwi team-mate, Paddy Bevin, on the other hand might be a very, very dark horse.
Lennard Hofstede has rolled down the start ramp and is tackling the day's first climb.
It's quite a tough introduction, it must be said, with a climb almost immediately after the start.
The favourite for today, if it even needs to be said, is Primoz Roglic. The Slovenian rider has been imperious in TTs all season, notably clawing his way back onto the Giro podium with a final day charge through Verona to knock Mikel Landa out of third spot.
Roglic has won a staggering eight individual time trials this year... and another (former)top TTer reckons he's the favourite for the whole race.
This is really top stuff from Cillian Kelly, Twitter statistician of note. We won't ask exactly what his method is, but these numbers - if anywhere close to accurate - would see a seismic shift in the GC at the end of today.
There were some absolutely horrible stories of the transfer post stage 9, including a grounded helicopter and a massive traffic jam.
The riders were delayed until 5am, after a brutal stage of climbing in torrential rain. Don't ever let anyone tell you professional cycling is a glamorous sport.
Afternoon all, it's the second week of what has already been a thrilling, tumultuous La Vuelta. Today, we have a time trial in Pau to contend with - which the geographically astute among you may have spotted, is not actually in Spain.
The course is 36km long, contains a fair bit of up-down and round-the-houses, so promises to be lively and eventful from the start. First down the ramp is current last-placed rider, Lennard Hofstede of Jumbo-Visma in about 30 minutes.