avant-match
LIVE
Pravia - Alto de la Cubilla
Vuelta a España - 9 September 2019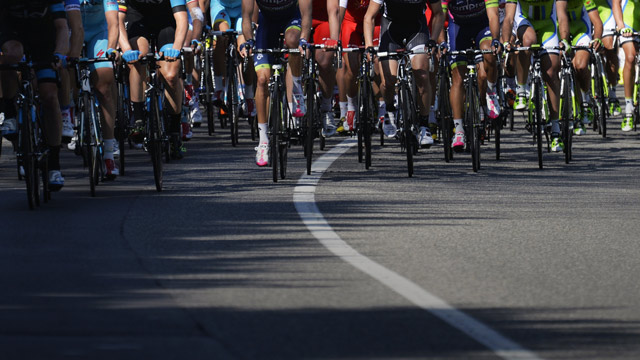 Vuelta a España – Follow this cycling race live with Eurosport. The action starts at 12:28 on 9 September 2019. Our live coverage lets you follow all the key moments as they happen.
Get all the latest on Cycling: the big races, schedules and results.
Astonishingly, that was Fuglsang's maiden Grand Tour stage win - at the 14th attempt.
Nairo Quintana comes to the finish 8'32" down and so he will concede his fifth spot on GC by a matter of seconds to Majka.
Big final dig for Pogacar but he can't shake Lopez or Roglic. The come over the line 6'03" down. Valverde comes to the line 6'22" down and in the wheel of Soler and ahead of Majka.
Back to the result and Brambilla took fifth with De Gendt, Bizkarra, Ghebreigzabhier, Gilbert and Bouchard completing the top 10. Bouchard will be in polka dots tonight.
Valverde won't lose second place today - he'd have to concede well over a minute - but he's against the ropes. Pogacar is emerging as the biggest threat to his countryman's crown as this race progresses. Meanwhile, Majka will move above Quintana and into fifth.
Meanwhile, there's still over a kilometre left for the big guns. Roglic is back with Pogacar and Lopez, with Valverde a bit behind. Could we have Slovenians in the top two spots on GC tonight?
It's second place for Britain's Teo Geoghegan Hart (Team Ineos) who comes home 23 seconds down. It's one better than yesterday, but not the result he wanted. Spain's Luis Leon Sanchez (Astana) is a distant third, at around 52 seconds, ahead of James Knox of Deceuninck-QuickStep, who will rise up the standings today, perhaps into the top 10.
Victory for Denmark's Jakob Fuglsang (Astana). It's his first on the Vuelta - and the latest in a stellar season.
Fuglsang within touching distance now...
Into the last misty kilometre for the leaders... Behind, Lopez puts in another dig. He takes Pogacar with him, but Roglic sits up and rides with Majka, while Soler drops back to help pace Valverde, who is feeling the pinch.
Meanwhile, back on the front of the race, and Geoghegan Hart looks pretty cooked. He's 18 seconds down on Fuglsang now and so he's probably going to miss out again having finished third yesterday.
Soler is now caught by Majka after it allears there's a stalemate between the top four riders in this Vuelta. Indeed, they slow up so much that they're caught by another six riders. Soler doesn't have a clue what's going on behind him, and sits up to let Majka ride clear.
Another attack from Lopez, but Pogacar, Roglic, Valverde and Majka can follow. Soler could have - but he's further up the road after being given leave from Valverde to zip ahead.
ATTACK FROM LOPEZ! Slovenian duo Pogacar and Roglic stick with him, while Movistar's Marc Soler helps pull Valverde back into contention along with Rafal Majka of Bora.
Fuglsang's Tour ended early after that crash in Belgium. He soldiered on but was never really in the mix before crashing out again with a broken collarbone. He came to the Vuelta to support Lopez, but here he has the chance to get a maiden Vuelta stage win.
Fuglsang has dropped Brambilla, who is now back with Sanchez and Knox, replacing Geoghegan Hart's place in the chase group after the Ineos rider rode clear. Can he catch the Dane?
Astana now bossing it on all fronts! The boys in baby blue come to the front of the main pack for Miguel Angel Lopez and they've exploded this red jersey group. Roglic still has Kuss and Bennett, but Quintana has popped. Pogacar and Valverde still there.
Sanchez joins the two British youngsters under the 6km banner. They trail the two leaders by 10 seconds. Fuglsang has never won a stage on the Vuelta before - but finished second in Stage 14 of the 2009 Vuelta, his maiden Grand Tour. As for Brambilla, he won a stage on the Vuelta in 2016 so is looking to double up.
Fuglsang and Brambilla go clear! British duo Geoghegan Hart and Knox chase behind, with Sanchez not far back.
Bouchard, Siegle and Gilbert are riding in a chase trio but it looks like they won't see this five-man move again. Make that six-man move because Ghebreigzaghier is closing in, with Bizkarra not too far behind.
Now the move goes: Sanchez, Knox, Geoghegan Hart, Fuglsang and Brambilla ride clear of the other escapees, who have been blown apart by that acceleration. It was the Spanish veteran Sanchez who instigated that. It seems they are giving up on the Lopez card and going for the stage win today.
Cavagna, Siegle and Conti on the front of the break ahead of Gilbert and Knox. The likes of Geoghegan Hart, Fuglsang, Sanchez and Brambilla are sticking back and letting them go at it, biding their time before they make their own big efforts. De Gendt and Bouchard are on the back with Barcelo. Meanwhile, Sunweb's Kelderman is back with the main peloton after his mechanical.
Esteban Chaves, who crashed in the finale a couple of days ago, has been dropped by the main pack. He's already down to 18th on GC so the Colombian could drop further today.
Tony Martin has peeled off the front of the peloton but red jersey Roglic still has four Jumbo teammates in Bennett, Kuss, Powless and Gesink. They're riding tempo and making it hard for anyone else to do anything. The gap is 8'25" now.
Cavagna and Gilbert still drive the pace of this break for their man Knox. The Briton is room-mates with Gilbert, who won his sixth Vuelta stage last week. Can Knox make it three for QuickStep following Gilbert and Fabio Jakobsen?
We're hearing Wilco Kelderman has a puncture. The Dutchman was eighth on GC going into today's stage so that will be a severe test of his resiliance.
De Gendt is finding it hard to maintain the pace being set by Cavagna, who has Geoghegan Hart on his wheel. There are no double-digit ramps in this climb, which is fairly gently and quite steady all the way to the top. The issue is the length and - in this case - the speed at which it is being tackled.
Poor Madrazo, he's being dropped on this climb already. Erviti, too, is feeling the pinch. It's QuickStep's Cavagna who is setting a fast tempo.
James Knox, if things stay this way, could well move up from 17th to 10th on GC today, which would be a huge coup. QuickStep will hope he can even win the stage. He is one of the big favourites along with Bouchard, Fuglsang, Sanchez, De Gendt, Brambilla and Geoghegan Hart.
18km
With the gap back to the pack at 9'10", our 18 escapees start the Cat.HC Alto de la Cubilla (17.8km at 6.2%). Apparently this one is known as the Asturian Galibier, which should give you an idea of the scale.
And with 20km to go - and that final climb looming - the break appears to have come back together. So, take your pick from these 18 riders...
Behind we have Erviti, Cavagna, Howson, Ghebreigzabhier, Brambilla, Eg, Madrazo and Bizkarra. They are 25 seconds down, with Padun, Richeze and Arndt somewhere between them and the pack, which is now eight minutes down.
The break is split in two now with 10 riders out ahead: Geoffrey Bouchard (Ag2R-La Mondiale), Jakob Fuglsang (Astana), Philippe Gilbert (Deceuninck-Quick Step), Romain Seigle (Groupama-FDJ) and Thomas De Gendt (Lotto Soudal) were joined by Luis Leon Sanchez (Movistar Team), James Knox (Deceuninck-Quick Step), Tao Geoghegan Hart (Team Ineos), Valerio Conti (UAE Team Emirates) and Fernando Barcelo (Euskadi-Murias). They have 20 seconds on the remainder of the break.
Fuglsang bridges over to the leaders with Bouchard. Geoghegan Hart is trying to join them. This break is in a bit of disarray - as captured by the state of Mikel Bizkarra's saddle.
De Gendt attacks and is joined by fellow Belgian Gilbert. They open up a small gap ahead of the intermediate sprint, which De Gendt wins without knowingly contesting it.
Ghebreigzaghier, Geoghegan Hart, Bouchard and Siegle have joined Knox off the front - but the gap back to the chasers is only a handful of seconds.
James Knox has pushed on on this descent to open up a decent gap over his fellow escapees. The Briton is the best placed rider here on GC, 18'42 down in 17th place.
Jumbo-Visma take on bidons before the summit while Astana in turn take on newspapers to stuff down their jerseys ahead of the descent. The gap for this main pack now is 6'55" so we're going to see two battles over the next hour or so - for the stage and for the GC. The summit is clad in cloud and fog as they go over the top.
Bouchard jumps from the front and takes Madrazo with him - but the Spaniard doesn't have enough zip and the Frenchman takes another 10pts, extending his lead over Madrazo to 6pts now in the virtual standings. Bouchard should be in polka dots tonight baring something very unexpected.
De Gendt managed to close the gap ahead of the summit - and now the tussle commences for the points...
Bouchard and Madrazo have resumed their preemptive polka dot battle at the front of the break with the summit now 1.5km away. The increase in tempo leads to some splits with De Gendt one of the riders to be caught out - along with Eg and Erviti.
Geoghegan Hart continues to set a decent pace to stretch out the break and put more riders in the hurt locker. The gap back to the pack is 5'35" now.
Padun, who was seventh yesterday from the break, is feeling the pinch, too. He's with Richeze and Arndt now off the back. Geoghegan Hart, third yesterday, takes a small pull. The Bouchard comes to the front. 3.5km from the summit. When the race last came here in 2016, De Gendt was first over the top - but then lost out to Dario Cataldo for the stage win.
Brambilla decides that it's time to push on a little - perhaps to get rid of some of the deadwood. As a result it strings out in the break and a handful of riders are distanced, including Richeze and Arndt.
Fuglsang now taking a pull. What a season he's had with those wins in Liege-Bastogne-Liege and the Dauphine before crashing out of the Tour. The pack is 4'50" down still.
De Gendt, who knows how to pick them, is setting the tempo in the break ahead of one of the Euskadi boys and Brambilla, who looks in good nick. Richeze, meanwhile, is on the back, as could be expected for the lead-out man. Sanchez and Gilbert also take pulls. This is a stellar group.
Mechanical for Cavagna, who will need to sort things out before rejoining further up the climb, because, indeed, the leaders are onto the Cat.1 Alto de la Cobertoria (8.3km at 8.2%).
Willie Smit, with those 16 stitches in his knee, is riding on the back of the peloton. Amazing that he's still in the race, all things considered. This is the South African's Grand Tour debut for Katusha and he's clearly motivated to get to Madrid.
So far, so good for Primoz Roglic, who has six Jumbo-Visma teammates with him, including Tony Martin, who was dropped on the climb, but fought back on the descent and now sets the tempo. The gap is 4'57" with the break about to hit the second climb in 4km.
Luis Angel Mate's time stuck in between comes to an end, the Spaniard reeled in after his attack on the previous climb. Jonathan Lastra, too, has been caught.
With four riders in this break, Deceuninck-Quick Step are driving the tempo, doing their best to ensure the stage spoils will be contested by the current leaders - and not the GC riders behind. The gap is pushing five minutes now for our 21 leaders.
Bouchard and Madrazo are back with the break after their polka-dot party off the front. Spanish chasing duo Mate and Lastra are still in no-man's land between the break and the Jumbo-led pack, who are now 4'40" in arrears.
It's a long descent and then a bit of valley-gorge riding before it kicks up again - firstly, for a steep ramp that precedes the climb, then for the Alto de la Cobertoria itself. The riders are currently on a stunning road that's lined both sides by towering, jagged cliffs.
Bouchard has been joined by Madrazo on the descent. They have 25 seconds on the break, 1'20" on Mate and Lastra, and 3'05" now on the main pack.
Some pre-stage thoughts from Tadej Pogacar, currently third on GC in his maiden Grand Tour.
Bouchard has kept on going after riding clear near the summit. The Frenchman has a small gap on the descent. It's worth adding, perhaps, that it was Bizkarra who took third over the top, Gilbert fourth and Knox fifth. Bouchard has 40pts now with Madrazo on 38pts.
The pack go over the top about 2'30" down. Brambilla and Bizkarra managed to join the break on the climb although Mate was dropped and is in no-man's land.
Against the ropes, Madrazo puts in a stinging attack to open up a gap on Bouchard, but he slows up and looks over the wrong shoulder, allowing his rival to dart past on the left. Even though there's still another 100m, Madrazo throws in the towel. He's clearly running on empty at the moment - and that's that, he's now behind Bouchard on the standings after the latter secures 10pts and the Stage 5 winner settles for 6pts.
Bouchard goes early. Madrazo latches on but looks very uncomfortable. The Spaniard has been in polka dots since day two and he'll want to put up a fight - but if the Frenchman pips him here, he'll be in the virtual lead of the competition...
With the summit one click away, both Madrazo and Bouchard come to the front of the break in anticipation of their KoM tussle.
Ther's a momentary split in the break and the KoM contenders Madrazo and Bouchard are caught out. They close the gap, but it's sure that there will soon be a shake out and a whittling down. 17 men is too large. Behind, meanwhile, it's Bennett, Powless, Gesink and yesterday's winner, Kuss, who tap out tempo for Roglic, who has five Movistar riders - including Quintana and Valverde - in his back wheel.
Sergio Higuita, the whipped climber from EF Education First, appears to have been dropped from the main pack, which is a surprise. The gap for the leaders is 1'57".
We're not 100% sure if Madrazo is still with this lead group. He was off the back and we haven't seen him since. Ah, there he is! The Sparrow is still there. Phew. Behind, Movistar test the waters with an attack from the main pack - and instantly it's covered by three attentive Jumbo-Visma riders, who are having nothing of it.
So, my mistake, Madrazo wasn't struggling off the back of the pack, but the break. It seems like he attacked to get in the mix, and that move was covered by Bouchard. And now the Spaniard in polka dots is feeling the pinch. Lastra is also struggling to keep up with the leaders, who have 2'20" on the pack. Mate meanwhile has been joined by Gianluca Brambilla (Trek-Segafredo) and Mikel Bizkarra (Euskadi-Murias). They have about 20 seconds on the main field.
The 20 leaders are: Imanol Erviti (Movistar Team), Geoffrey Bouchard (Ag2r La Mondiale), Jakob Fuglsang, Luis León Sánchez (Astana), Mark Padun (Bahrain Merida), James Knox, Remi Cavagna, Max Richeze, Philippe Gilbert (Deceuninck-Quick Step), Romain Siegle (Groupama-FDJ), Thomas De Gendt (Lotto-Soudal), Damien Howson (Mitchelton-Scott), Amanuel Ghebreizhabier (Team Dimension Data), Tao Geoghegan Hart (Team Ineos), Nikias Arndt (Team Sunweb), Nikias Eg (Trek-Segafredo), Valerio Conti (UAE Team Emirates), Angel Madrazo (Burgos-BH), Jonathan Lastra (Caja Rural-Seguros RGA) and Fernando Barceló (Euskadi-Murias).
The first attack from the red jersey group comes from Luis Angel Mate of Cofidis. The Spaniard has had a very quiet Vuelta by his standards, perhaps suffering from illness or poor form, because characteristically, he's an aggressive rider who, last year, was involved in many breaks.
The four leaders have been joined by the chasers so we have 17 riders out ahead now, with a gap of two minutes on the red jersey group.
Talking of Madrazo, he's struggling to keep up with the pace of one of the groups on the road. Indeed, the red jersey looked to be badly placed in the main pack - but he perhaps had a mechanical, for he's now back among the likes of Valverde, Pogacar, Lopez and Quintana.
Geoffrey Bouchard is just 2pts down on Angel Madrazo in the polka dot jersey standings so if he can pick up something today he could well move into the lead of the KoM classification. The problem for the Frenchman is that behind him, Tadej Pogacar is 5pts adrift and Alejandro Valverde is 8pts adrift - and both could pick up points on the final climb.
Some big names in the break with Astana placing Fuglsang and Sanchez, Movistar getting Erviti in the mix, and the polka dot jersey candidate Bouchard there for Ag2R-La Mondiale. The 15 chasers are 30 seconds down on the leading quartet. If they come together, QuickStep will have four riders involved in Knox, Cavagna, Gilbert and Richeze. The Wolfpack are hungry...
We're onto the first climb of the day, the Cat.1 Puerto de San Lorenzo (10km at 8.5%). It looks like the peloton has sat up so we can expect all those disparate groups ahead to join forces on this ascent, perhaps.
The four leaders have 32 seconds on the chasers - De Gendt and Fuglsang have been joined by Philippe Gilbert and Max Richeze (Deceuninck-Quick Step) as well as Geoghegan Hart of Ineos. The larger chase group are about 45 seconds back and they include Luis Leon Sanchez of Astana. The peloton is one minute in arrears.
We have a 10-man chase group now which is riding in pursuit of Fuglsang and De Gendt, who themselves are trying to join Knox, Cavagna, Padun and Siegle. It's all happening: riders from that 10-man break keep on attacking each other, and more are trying to join from behind.
The four leaders are Rémi Cavagna and James Knox (Deceuninck-Quick Step), Romain Seigle (Groupama-FDJ) and Mark Padun (Bahrain-Merida). De Gendt and Jakob Fuglsang (not Sanchez) have about five seconds over the front of the strung-out chasing peloton. They're powering up this scenic gorge ahead of the climb, which begins in a few kilometres.
More riders are trying to bridge over to this four-man move, which holds a slender lead of 10 seconds. It looks like Thomas De Gendt is leading the chase with an Astana rider, perhaps Luis Leon Sanchez.
Interesting move: it's James Knox who's with Cavagna. Padun is there once again as well as Romain Siegle. They have a small gap over the pack.
The peloton is all strung out now ahead of this climb, with that man Cavagna doing his best to ride clear with a few others. He has another QuickStep teammate with him, plus a rider apiece from Bahrain-Merida and Groupama.
It's all over for the four escapees, whose brief foray off the front comes to an end.
Doull and Rossetto's move comes to nothing, sparking a counter from Remi Cavagna (Deceuninck-QuickStep) and Tomasz Marcczynski (Lotto Soudal).
Owain Doull (Team Ineos) and Stephane Rossetto (Cofidis) are trying to bridge over now. Safe to say that Doull was perhaps not the rider Ineos would have hoped to try place in this break...
Still Ineos are trying to get a rider over to this move - this time with Mitchelton-Scott and Euskadi-Murias in the mix. But a man from Movistar latches on, then Tony Martin gets involved for Jumbo-Visma, and hey presto, it comes to nothing. Some very hard racing out there as they continue this false flat towards the foot of the first mountain. And still, those four riders out ahead only have 20 seconds to play with.
... but it comes to nothing after EF Education First and Bahrain Merida close the door. Now it's little Louis Meintjes of Dimension Data trying his luck, but he has big Sam Bewley right on his wheel. The gap for the four leaders is 20 seconds so they have not been given full leeway quite yet.
Ineos, Movistar and Ag2R-La Mondiale have a rider each who open up a small gap on the pack...
Team Ineos and EF Education First have men lurking on the front of the pack looking to get involved. They'd have to close down a 28-second gap if they want to bridge over to the four leaders.
The four riders out ahead are Mark Padun (Bahrain-Merida), Jonas Koch (CCC Team), Zdenek Stybar (Deceuninck-Quick Step) and Casper Pedersen (Team Sunweb). The Ukrainian Padun was in yesterday's 17-man move, finishing fifth at the Santuario del Acebo.
Third yesterday, Tao Geoghegan Hart was impressed with the performance of his fellow escapee Sepp Kuss on the final climb.
It's a cloudy day in the Asturias with the temperature a clement 18 degrees.
Bernas has been reeled in and now there's another move off the front - this time featuring four riders.
Here's the new-look top 10 with Roglic and Valverde pulling away from the others after yesterday's summit finish.
The first move that sticks comes from Poland's Pawel Bernas (CCC Team) following numerous thwarted attempts from the gun.
They're off! They remaining 159 riders get this short and exciting stage under way...
For coming right ahead of the second rest day, this stage could catch some legs already in downtime mode. And while hardly steep, the final 27km climb of the Alto de la Cubilla is a real grind which could hold some hostages. In short: the views from the top will be spectacular but not every GC rider will be in a frame of mind to enjoy them.
If the profile makes this stage look quite tricky, a glance over the stats should make the riders sleep easy the night before. The two opening Cat.1 climbs may both contain some tricky double-digit segments, but they're nothing compared to the goat-tracks of Los Machucos or the Mas de la Costa. And then there's that final climb with its average gradient of just 6.2% which could well lull many into a false sense of security.
Here's what's on the menu today, with three large climbs looming...
Here's how the lithe youngster Kuss opened up his Grand Tour account...
Yesterday, a Jumbo-Visma bonanza in the Asturias saw the American Sepp Kuss win Stage 15 atop the Puerto del Acebo from the break while teammate Primoz Roglic strengthened his grip on the red jersey. Slovenian sensation Roglic extended his lead over all his big rivals except the world champion Alejandro Valverde, the pair riding clear of the main pack to finish 2'14" down on Kuss, who triumphed from a strong 17-man break.
La Vuelta 2019 news - Sepp Kuss soloes to Stage 15 glory as teammate Primoz Roglic strengthens lead
Hola and welcome to live coverage of Stage 16 of La Vuelta - a 144.4km ride from Pravia to Alto de la Cubilla for the sixth summit finish of the race. Just two more to go...