Their recent form, and the manner of their steady progress up the table and improvement in performances means that against a slow and predictable Manchester United, they will be confident of victory. Unfortunately, just saying Liverpool are better than United is not at the moment considered a sufficient preview of a match.
Following a long discussion with the editors of this site, which involved metal bars, threats to family members, and thrown food, the following reasons for Liverpool's confidence have been produced.
Football
Ansu Fati grateful for Messi's advice after leading Barca to victory
Chris Smalling played well against Spurs. Now, he might have done that because Harry Kane was isolated, and Spurs' midfield sat deep and gave little support to their strikers and put no pressure on the United defence. In this match, he was composed, occasionally attacking, and capable with the ball at his feet. He deserves to start against Liverpool, if only because the other options are scarce.
Compare that to Jones. Despite playing against the same Spurs side, he almost set them up with a goal in the opening minutes - he miscontrolled the ball, and fired a heavy goal-bound back pass that had David De Gea scrambling. Against any team, in any circumstance, this is just what Jones does. He has utterly failed to progress and there is no sign he will ever progress. It is time for United to cut their losses and bin him ahead of next season, and buy at least one more central defender. Marcos Rojo is unlikely to return to fitness ahead of the match - Jones is his replacement. Liverpool, be very, very afraid. That you will not get your names on the score sheet because of the number of own goals Jones is going to score.
Michael Carrick, Marouane Fellaini and Daley Blind
Against Tottenham, Blind featured for United at left-back, a position he has played many times before. He was used there because Luke Shaw had a minor fitness problem, but he is expected to return on Sunday. That means Blind and Carrick are likely to start in midfield, with Ander Herrera the casualty - Van Gaal has rarely favoured Herrera when given the chance to use someone else.
Fellaini scored in the match, and was a constant physical presence for United, able to disrupt the Spurs defence, and was, for the first time in many matches, an effective target man.
They will likely be the starting three midfielders. The problem with all of these players is that they are slow to track back, and just slow. They could well be overrun by speedy players with technical ability. Daniel Sturridge, Philippe Coutinho, Raheem Sterling and Adam Lallana could all make them look particularly daft.
Angel Di Maria and Juan Mata
Angel Di Maria has been rightfully criticised for his middling performances and his ridiculous red card. Juan Mata has been criticised, too, for failing to live up to expectations. And yet there remains a valid worry that the reason they've struggle is down to Van Gaal's use of them. Mata has been isolated on the wing, or played deeper in a midfield battle to which he is not suited. Di Maria has been tried across the pitch, relied on to provide a spark to a team that rarely breaks into a jog around him. The problem with both these two players is that while it is true that they would need to be in a better, quicker side to play at their best, their personalities are not those which allow them to transcend their surroundings, as Gareth Bale or Luka Modric did at Spurs. In any game at all, but particularly such a feverish one as against Liverpool, these are the kind of personalities that lose you matches, and the types of physiques that don't win you fights.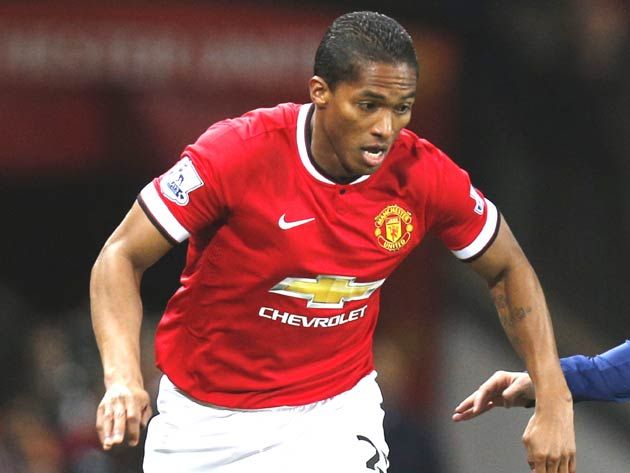 He's been dreadful for at least three years. So that's just the three weak links in defence then: an armour that has more chinks than actual armour, a piece of chainmail that looks more like a string vest.
Van Gaal is the man with the power to change all this. As the season progressed, United got more conservative. The optimism was replaced only briefly by realism, as fans realised that the squad was not one to mount a title challenge with, no alchemy had taken place. Nevertheless, the slip into pessimism has become pronounced. The lack of pace, goals and aggression is obvious to almost everyone, and few expected the opening 45 minutes against Spurs.
Something like that had been hinted at by Van Gaal, but for so many times the words seemed empty. That he returned to his old ways for the second half suggests one of two things - that he was trying to control the game and seize the points, still scarred by the 5-3 loss to Leicester, or just as likely, the first 45 minutes was simply a fluke. It is further complicated by the fact that as good as United were in the opening stages, it might still be, for once, the best approach to take a slower, more considered approach to a game they cannot countenance losing, but that is a method which risks the defensive weaknesses above being even more crucial.
In attack and midfield, he has to accommodate the various problems and strengths of Blind, Young, Mata, Di Maria, Herrera, Carrick, Fellaini and Adnan Januzaj, all while worrying about those behind them. These are all things he should have addressed long ago, having misjudged the wriggle room he had for a top four finish. Good luck with that, Louis!
Alexander Netherton - external@lxndrnthrtnhttps://twitter.com/lxndrnthrtnNone
Football
On-off debacle highlights challenges of football's return in Brazil
transfers
Man Utd launch audacious attempt to sign Kante - Paper Round