No, Sherwood is a mild cheddar man, and there's nothing the law can do about it. The second is that he wears gilets, the most pointless of all clothing items. Of course, the gilet keeps the body warm, but the extremities are left exposed, which as we all know, is a colossal surface-area-to-volume-ratio disaster.
Premier League
Sports minister Dowden: Premier League clubs must support lower leagues
But Sherwood won't mind people making fun of his illogical body heating decisions. He won't mind people suggesting that his limited ambition when it comes to fermented dairy is holding back the pure pleasure that cheese affords us all, because he is schooled heavily in the ways of banter. If there was a banter college, Sherwood would not only have gone there, he would have then become a teacher there a few years later, and he'd have been a teacher who would swear, who would rip out a piece of paper from a textbook to impress the kids, and he would have bought the six formers a pint of beer if he saw them out on the town on a Saturday. He is in and around, for, at, to, when and which when it comes to banter.
With that in mind, let's skip the heavy padding and move onto the substance of the blog. Now, let's just hold on a minute. Is this, in fact, a metaphor? Was the casually excellent style of the first two paragraphs, which essentially meant nothing, meant to leave you, the audience, well disposed to the article while distracting you from the nothingness at its heart? Surely only a genius could do that, and so it remains for you to comment. But if it was, and if this blog is written by a genius, that would by extension be a way to describe Sherwood himself as a genius.
Let's appraise this footballing genius. He had the highest win ratio of any postwar Spurs manager, which did little more than make you question just how bad other postwar Spurs managers had been. What he did do, though, was take a mentally broken Spurs squad from the sacked Andre Villas-Boas, and get many of them to enjoy life again. It appeared that at Chelsea and then at Spurs, Villas-Boas might not have been an abrasive manager with his players, but he was certainly an alternately alienating and alienated one.
There are enough stories of players being cut out of squads off the pitch. On the pitch, the players often appeared to not entirely grasp, or be prepared to grasp, his methods of high pressing. He fatally held back his side by using Emmanuel Adebayor or Roberto Soldado, both players with their own qualities, neither of them being able to chase across the opponent's defence. His midfield, with Paulinho and others, lacked intensity. The high defensive line left a Spurs defence with no great pace at risk of counterattacks when the ball was lost.
To improve on that did not take an incisive mind. Nabil Bentaleb's dynamism was a huge help for the side, and added balance to a less sophisticated, but more effective, approach to the game. A less high defence gave opponents less room to attack behind. Requiring his strikers to focus on being strikers, with those available to him, made sense. As impressive as the job done by Sherwood was, there is a sense that anyone would have enthused a squad left cold by Villas-Boas.
Consider that since Mauricio Pochettino took over, his tactical approach has been far closer to Villas-Boas' than it is to Sherwood's. Harry Kane is in startling form, but he also has the youth and energy to press the attack. Ryan Mason's introduction similarly allows for more running, even if it is at the expense of often losing the ball. The defence is far higher than Sherwood's, but they cope with it far better than they did under Villas-Boas. It is hard to argue that they are not more sophisticated, more effective and fitter than under Sherwood, and it was the correct decision to replace him.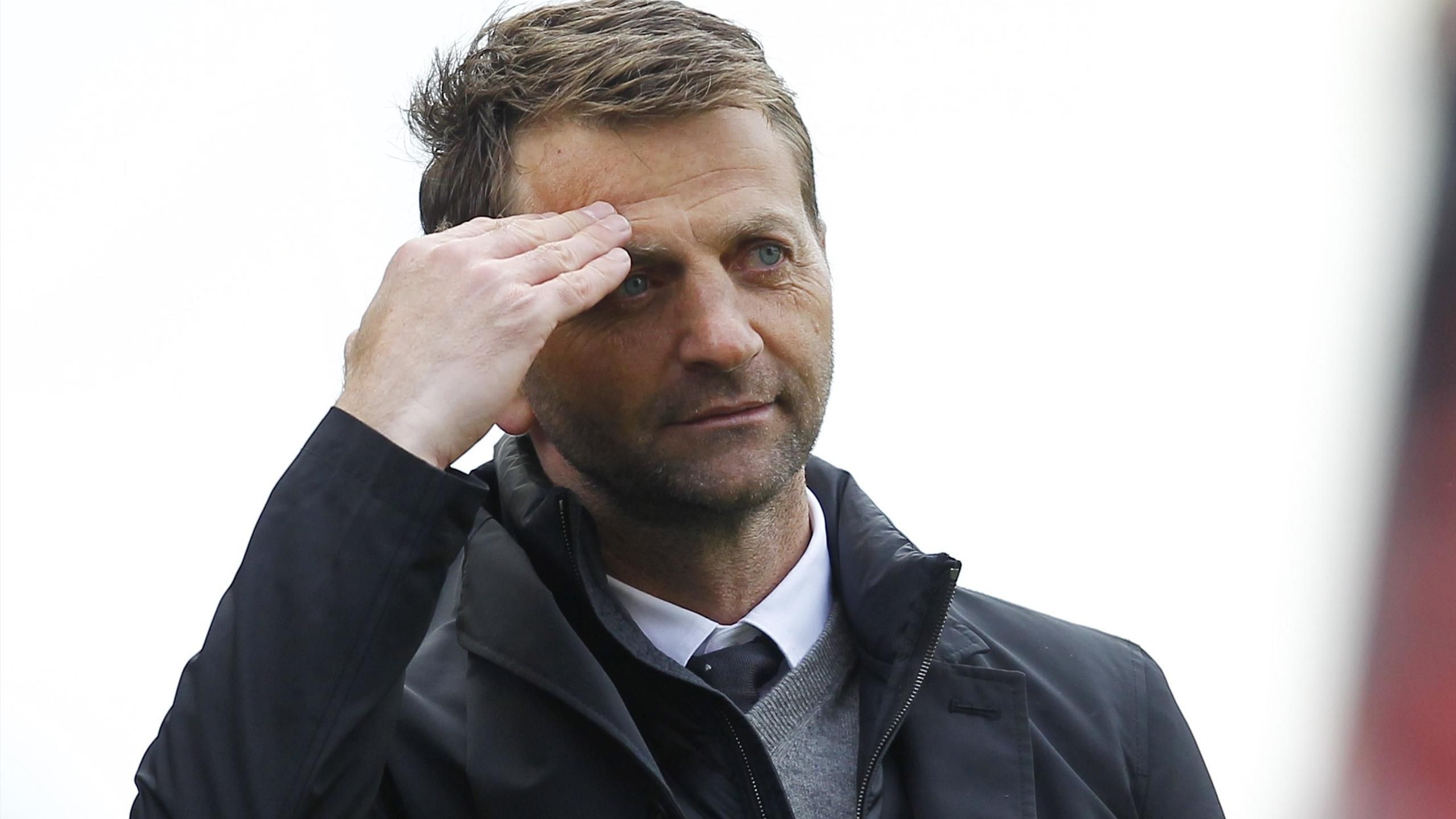 Compare the situation at Aston Villa. Paul Lambert is not, on the surface, much like Villas-Boas. Nevertheless, the squad appears psychologically depressed, and bereft of fight. They do not approach games with any impressive intensity. The manager was also cold, and invoked a feeling of mild peril. One journalist said of him, "Since I moved to England, I've never felt as close to being headbutted as when doing post-match with Lambert". After a couple of months of Roy Keane, too, with his surtextual menace and zero tolerance approach for even trace amounts of b******t, the chipper Sherwood should get the benefit not just because he is a new manager, but that his specific personality is such a change from Lambert's too.
But there are differences from the situation at Spurs. Villa have the joint-best defensive record of teams in the bottom half of the league. Aly Cissokho, Alan Hutton, Philippe Senderos, Kieran Richardson and Alan Hutton have enough experience to make up an experienced back four, and bring any younger players along with them. They are also not struggling with a sophisticated style up front - Gabriel Agbonlahor and Christian Benteke lend themselves to the traditional British way of attack.
Fabian Delph has promise, but even he is a standard English midfielder. The concern will be that, after a years of light investment, Villa are playing at or near their potential as it is, it is just that their potential isn't anything impressive. And while Sherwood may also have benefitted from taking over from a side that was finally starting to bed in after a huge change in the summer, Villa haven't undergone a great overhaul of late, they are simply in need of one.
Sherwood will probably do better than Lambert would have with the rest of the season, but it remains to be seen if he can show why he merits a three-and-a-half-year deal.
Alexander Netherton – on Twitter:external@lxndrnthrtnhttps://twitter.com/lxndrnthrtnNone
You can buy Alex's book, A Diary of the 2013/14 Premier League,here.
Football
Premier League Top Scorers
Football
Premier League Standings