2nd Half
Kolár

90'

Kúdela

84'

Masopust

Provod

82'

Hušbauer

82'

Busquets

Rakitic

68'

Dembélé

Fati

65'

Stanciu

Hušbauer

63'

Traoré

Tecl

57'

Stanciu

48'
1/2 Time

Alba

Roberto

45'
1st Half
Busquets

43'

Semedo

32'

Olayinka

21'

Piqué

14'
avant-match
LIVE
FC Barcelona - Slavia Prague
Champions League - 5 November 2019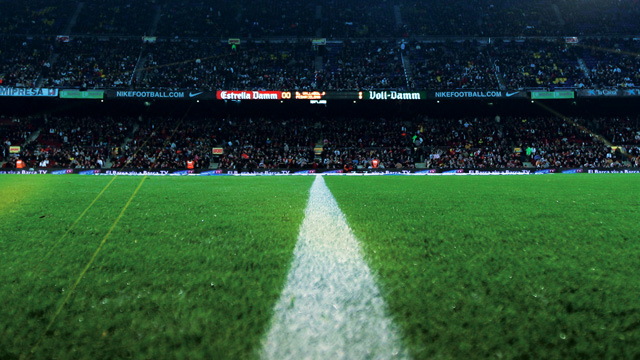 Champions League – Follow the Football match between FC Barcelona and Slavia Prague live with Eurosport. The match starts at 17:55 on 5 November 2019. Our live coverage lets you follow all the key moments as they happen.


Have your say by voting on who will win between FC Barcelona and Slavia Prague? Enjoy some pre-match reading with related articles about these two Enjoy some pre-match reading with related articles about these two Football teams.
Head-to-head: see historical stats and visit our detailed profiles for FC Barcelona vs Slavia Prague. Get all the latest on Football: fixtures, results and tables.

So, thanks all for your company - stick with us for the rest of the games!
That's an excellent result for Slavia and, in the end, not a disaster for Barca. Inter or Dortmund will need to beat them to progress ahead of them.
Full-time: Barcelona 0-0 Slavia Prague
Amzing footwork from Messi, skipping across the face of the box and feeding Rakitic, whose cross is a beaut. But no one can apply the decisive touch, so Vidal dives in search of a penalty and does well to avoid a yellow card because that is cheating.
There'll be three added minutes.
There is no reason for Barca to be this bad - their players are better than this.
Rakitic plays to Sergi Roberto outside him, and the cross goes into the middle but eludes all Barca's towering centre-forwards.
Messi tries to play into Fati but in pursuit of the return, he falls over. No foul.
He's not had great service, but Griezmann is doing nowt.
There's no reason to think Barca will score. Sooner or later, they'll sack Valverde, and that being the case I'm not sure what they're waiting for. He is not the man to make them the best team in the world.
Provod replaces Masopust.
Husbauer is late on Semedo; he's booked.
Eeek. Pique and Soucek contest a corner. Pique getting head to ball then head to head. That looked a right sair yin and he goes down for treatment, but he's fine.
Luis Suarez has a cap on backwards. Luis Suarez is 32 years old.
Lovely from Fati! he curves a cross with the outside of his foot which finds Messi in the centre... on the run, he pokes goalwards ... and again Kolar denies him!
Olayinka finds Masopust who beats Lenglet! But Pique comes across quickly to help his mate, conceding a corner which Pique up and unders clear.
Boril humps one down the line and Olayinka chases with no chance of getting it, forcing pique to put into touch. But Barca quickly win it back and off we go again.
Lovely from Fati, attracting to men to him, rolling studs over the ball, and dashing between Masopust and Coufal. The former fouls him, and Barcelona build again.
Rakitic finds Messi, who sees Vidal making eyes at the huge space in behind Slavia's high line. He tries to find him,but Fredrych intercepts.
In St Petersburg, Leipzig lead Zenit 2-0. if they hold on, they'll be pretty close to qualifying from Group G.
Busquets though, what a player - not just a great of his era but a great of the game.
I hate saying this, and like Suarez he's not useless, but Busquets is done. He's replaced by Rakitic.
Barca get it away but immediately Slavia win it back and beginagain.
Slavia are in the ascendancy now, and Semedo panics into giving a way a corner...
Slavia are absolutely loving this.
Change for Barca: Fati replaces Dembele. Griezmann is a lucky man,because Dembele has had a much better game than he has.
Still, Husbauer is looking energetic - Slavia aren't just going to take their point.
And there's your chance son! Sevcik's cross is deflected into Husbauer's path, running across him onto his left foot, but it's clearly his swinger and he can't line it up to shoot properly.
Change for Slavia, Husbauer replacing Stanciu.
For a second it looks like Barca have scored, De Jong sliding Messi in - he's a breath offside - so when Vidal taps home his square pass, it doesn't matter.
Change for Slavia, Tecl replacing Traore.
The first time I saw Dembele, playing for Dortmund against Man United in a pre-season friendly, I was convinced he was a star - I could not believe how good he was. I really hope he can get as good as he could be.
And here Sergi Roberto, is, meeting a lovely dink-pass from Dembele on the half-volley and sweeping it straight against Kolar.
I missed them telling us that Sergi Roberto replaced Jordi Alba at half-time.
Greizmann wriggles a bit of space outside the box and moves across it before scooping a ball into it for Vidal, who dives as soon as Kudela glances at him. No penalty says the ref.
Van Persie's rig, oh I say!
Slavia charge through Barca's midfield again, but Olayinka whacks over the top.
Swear down BT's commentator said that Messi's free-kick-taking prowess is underrated.
Messi curls the free-kick over the top.
Dembele finds space down the right and he finds Messi inside; Stanciu hacks him down and is booked.
Barcelona pass sedately, then Busquets lifts one over the top for Dembele and Kolar comes out to collect.
That was a great half, absolutely loved it. Barca have had chances - the better ones - but Slavia brought it and with better decision-making would be ahead. The second half should be a bazzer.
Barcelona 0-0 Slavia Prague
Busquets is booked for something.
Stanciu shoots, it's deflected, and Boril shoots - Ter Stegen saves - then Boril heads home. But he was offside in the first instance.
We have a clock! There'll be one added minute.
Slavia just need to see this half away now, but obviously they're trying to score in the process.
In comes the corner and Pique meets it on the run with a thumping header ... but Kolar is there to tip behind! That's a great save!
Traore gives it away and Griezmann collects. but his ball is behind Vidal. Still, Vidal opens his body to play in Messi, who drives ... and Kolar shoves behind!
Semedo has had so much joy, and Dembele slides him in again, but Kolar rushes to the edge of his box to see away the danger.
Vidal bumps Stancu form behind and for no reason, ceding a free-kick 25 yards out. Stanciu then crosses to the far post but misses all his men.
Kolar gets wide with Vidal and almost pays for it, but he escapes and Slavia counter in numbers! But Stanciu is lost in the supermarket, unable to find the correct option and his cross goes to no one.
Have a look! Vidal takes the ball as Barca look to counter and he bends a ball in behind for Messi, who zooms in from the right leaving Boril choking on the dust. He could open his body to tee up Griezmann but either decides not to or the angle disappears because he hangs on too long, so he bends a rasper that absolutely clatters the bar, close to the corner. He's quite good at football.
De Jong finds Vidal, who falls, and while he's there, flat-out, he heads a pass to Messi. Where Phil Jones leads...
De Jong and Busquets are not controlling this game, and really you'd expect that to be the case.
Lovely from Dembele, beating two men before Boril fouls him; not free-kick apparently, and suddenly Olayinka lanks away, forcing Semedo to shove him over. Semedo is booked, and Stanciu curls the free-kick low and wide of the far post.
In commentary they're discussing the precariousness of Valverde's job, but let's say Barca fire him, then what? Who can they get who they know will be good?
Barca should score! They ping passes from De Jong to Griezmann to Messi ... who could shoot but then plays an extra pass and Kudela gets in the way. Soucek then inserts body between ball and De Jong, penalty appeals immediately waved away by Michael Oliver.
Olayinka is giving Barca plenty and he totally diddles Semedo inside and out before picking a lovely disguised cut-back for Stanciu, who sweeps a fine shot that looks like it's going in, until it flicks off Masopust and goes high. Lovely stuff.
Gorgeous from Griezmann, finding Alba, taking it back and playing him back in. The cross is in the air and aimed at Messi, who launches into a scissors kick which flies high and wide.
Lovely turn from Griezmann, who then slides ball into Dembele's path. He thinks he should cross and should, but only if there's someone to cross to, which there isn't, in which case he should shoot. He crosses.
This is a really fun game. It's a shame that, most likely, Slavia won't qualify for the Europa League.
Messi bends towards the near post, seeking a runner most likely, but there is none and Kolar punches behind then catches the corner.
Semedo is finding a lot of space, an chasing a bouncing ball, Olayinka shoves him, gets nowhere, so trips him. He's booked and Barca have a free-kick just outside the box, right-hand side.
Dembele slides a fine ball inside Boril for Semedo, who has Vidal peeling away but chooses to cross low and straight, allowing Frydrych to block.
On which point, I wonder if something is building in Czech football.
Sevcik, by the way is staying with Slavia till the end of the season - it had been thought he'd be off in January.
Olayinka slides a ball inside Smedo, for Sevcik, but he can't quite reach it. Good idea though.
Messi turns up for the first time and darts a ball into Dembele, but Kudela steps in to challenge.
Olayinka is making it really difficult for Barca, running the channels and also pulling wide. Usually it's Barca who want to make the pitch big, but here it's working against them.
Olayinka isolates Pique on the touchline and skips away from him! Pique hauls him back but the ref lets it go because Stanciu has the ball! He wins a corner which yields another corner which yields another corner comes to nothing, and in between times, the ref goes back to book Pique. He'll now miss the game against Dortmund.
Slavia properly know what they're doing, and get right back to playing their game.
NOW THIS IS A CHANCE! Pique clips a ball directly into Semedo's path, and he's in! Sevcik is behind him but he's not going to catch up, and he shoots at the keeper goes down .., but directly into his studs. He needed to go for power there, or to lift it, Peter Beardsley-style.
Slavia aren't messing about when they get the chance to attack and win a corner, but Sevcik sticks it straight into Ter Stegen's arms.
Dembele beats Boril, but Soucek is there to help out.
I ought to have noted that Umtitit is on the bench for Barca tonight. He's played just once since June.
Here come Slavia again, another ball into the channel for Sevcik opening Barca up as Semendo plays everyone onside. Sevcik then moves along the by-line, crossing low, and when the ball flicks off Lenglet's hand, Ter Stegen needs to scoop away.
Stanciu picks up a weak header from Lenglet and threads a nice ball into the channel for Sevcik, and his cross only just eludes Olayinka at the back post.
Nice turn from Masopust - he'll need to do a lot of that - and Semedo knocks him down. The free-kick ends up going backwards.
A nice backflick from De Jong sets Semedo away down the right, but he decides to check and come back inside.
Oh, helpful. There's no clock on the screen. Anyway, Slavia are sitting very deep to begin with.
Other things I did not know: such is the clash of colours that Slavia are wearing their fourth kit.
Ah, I didn't know that: this is the first time Dembele, Messi, Griezmann have started a game together.
Griezmann's hair is done in what, on accoiunt of having a daughter, I know to be a "half-up, half-down".
On BT, Raf Honigstein says he thinks players in the Barca dressing room were wondering whether they really needed Griezmann. I have not a clue how they could think Suarez didn't need replacing, nor how they could be sure that Dembele was reliable.
The players are tunnelled...
People also have blankets. I don't know, I really don't, though I do recall that when I went to my first game, in August - yes, it was in Manchester, but it was a sunny day - my mum insisted I wear a woolly polo neck.
People are snogging in the ground. It's what Cruyff would've wanted.
Just watching highlights of the game two weeks ago - I was watching Inter-Dortmund at the time - and Slavia really should have put Barca away. They're third of all the teams at winning back possession - I think this might be one of those occasions where a so-called smaller club has a great crop but the team breaks up before it can do anything.
On BT Sport, they're talking about the other game in this group, which is huge: Dortmund v Inter. Apparently Mats Hummels said of their previous meeting that it was a 0-0 game, except they lost 2-0, which is a great line and mainly true. I would say, though, that average though inter were, Dortmund were even worse.
Also, this. I've no idea how the video officials can defend what went on here. Ok, Martin Atkinson reacted in the heat of the moment - though he shouldn't have done - but the whole point of VAR is for it to be dispassionate.
Football news - Heung-Min Son red card overturned after Tottenham appeal
Other football news. I remember 18 years ago tonight, I watched Manchester United lose 4-0 at Arsenal in the League Cup, the day after I'd seen them lose 3-1 at Anfield in the Premier League. I've had better starts to the season.
Football news - Liverpool fixture clash means they will play twice in two days on two continents
Nothing whatsoever to do with football, but not bad.
In fact it's hard to look beyond Liverpool and Manchester City when seeking potential winners. Juventus also have a good chance, and in a cup competition plenty can happen, but those three look the best placed. City's best is the best but their defence is a joke, while Liverpool and Juve have less flair but greater solidity.
Obviously Barca have the players to beat anyone on a good day, but it's hard not to think this team are forever scared after consecutive collapses against Roma and Liverpool. When their defence needs to strong stand, there's no reason for its members to think it possible.
I don't know about you, but these always get me going.
Oh, and thern there's Pique. He's fine for most games, but now he's not playing in a team that denies opponents the ball, and now he's lost whatever pace he has, is he good enough against the best? I daresay the better strikers will look to play on him.
I wonder where Barca are going. They've got the bones of a team deserving of Messi, but it just doesn't look like they've got the right manager. Does he know how to drill fast, attacking football, or which players will make it happen for themselves? Is he brave enough to replace Busquets with a more attacking player? Will he give Dembele the confidence he needs, via a run in the team?
Slavia, meanwhile, are a mere nine points clear at the top of the Czech first league after 15 games. They beat Banik 4-0 at the weekend - remember them, Dr Jozef Venglos fans? - and are nice and settled.
This final change is the interesting one. Griezmann has improved recently and, let's be real Suarez is finished influencing games on the reg. Obviously he can still do good stuff, but his lack of gas is holding this team back and tonight's front three is far more sensible.
Barce makes three changes from their weekend defeat at Levante. Jordi alba continues his comeback from injury, replacing Sergi Roberto; Vidal comes in for Arthur, who is rested; and Dembele takes Suarez's place. I'm guessing he'll play on the right and the Griezmann the left, though it's possible he plays left, Messi right and Griezmann central.
A win tonight and Barca are more or less through. It's hard to see another outcome, but worth remembering that Slavia haven't folded against anyone, taking a point off Inter and pushing their hosts all the way last time out. Somehow, Barca are top of La Liga, but they look just as much a mess as they did in winning it last year - they don't really have a style, never mind one that fits their players - they just have a lot of good ones and the very best one.
Evening all - it is evening, right? - and welcome to Barcelona v Slavia Prague!