But regardless, United's stumbles against Southampton, Stoke, Spurs and Aston Villa all came when Fellaini was not fit enough to make the squad, save for the last 20 minutes against Southampton. His introduction against QPR, from the start of the second half, saw him score the winner for United.
However, it is not just the personnel that matter, but the spaces they occupy on the pitch. After all, the goals for United only came once Manchester United moved to four in defence and in midfield. It wasn't Mike Bassett, but it was a relief for fans and players alike to play with a more straightforward approach.
Premier League
Sports minister Dowden: Premier League clubs must support lower leagues
United had dominated possession for the first half, against QPR, and in each of the matches against Spurs, Villa, Stoke and Southampton, they were hardly ever truly stretched by any of the sides. Defensively, there was never a reason to panic as they have in the past. Except, of course, for the presence of Jonny Evans, Phil Jones, Tyler Blackett, Rafael Da Silva and Paddy McNair on various occasions.
It did not matter whether or not there were three or four hapless players on the pitch, particularly, because one is enough to give the opposing side hope, and for United's team to always carry with them the worry they were vulnerable.
With the switch to four against QPR, it meant that Marcos Rojo and Daley Blind were able to use their calmness and ability to pass the ball longer than ten yards on the left of the pitch, and on the right, Jones and Evans at least kept their limited abilities to one side. Ahead of them, the removal of Juan Mata meant that, with Fellaini's presence, there was someone able to clatter a few opponents.
Michael Carrick's return has been overstated in terms of importance, but the two of them are not as flimsy as Mata and Wayne Rooney were together, and Rooney was moved further forward, where his conspicuously terrible passing was less of a defensive worry, and where his attacking skill is far more useful.
Similarly, the shift to four also allowed Antonio Valencia pose more of a danger to QPR with his inconsistent crossing than he did with his sloppiness further back did to his own side. It was these changes - Rooney around the box, sliding a ball to a more advanced Valencia, who slid a pass for Fellaini to punt into the net - that brought United their opener. It allowed United to play with some speed, and width, just as they and most other clubs have when at their most dangerous, and something that 3-5-2 had prevented them from doing.
But the point is that 4-4-2, 3-5-2, 4-3-3 or whatever you prefer are not inherently better or worse than another formation, it is that the qualities of the players need to be balanced in a side, and a formation should not go out of its way to limit the presence of the most effective players. Right now, Fellaini might not be elegant, but he is probably the most effective Manchester United midfielder right now, in an attacking sense, anyway.
Angel Di Maria probably would be, but his gifts of pace from deep and direct attacking cannot be used when he is leading the line. He is shoved off the ball too easily, and too weak to control high balls. His move to the wing gave him the chance to use his talents more easily. But again, that's not because one formation is any better than another - it was in a 4-3-3 that he used these talents for Real Madrid last year.
Let's not also forget that it is the return of Marcos Rojo that saw United keep a clean sheet. He is by no means brilliant, but his experience and calmness - and willingness to scrap with Bobby Zamora - gave an example for the eminently flappable younger defenders to his right to follow.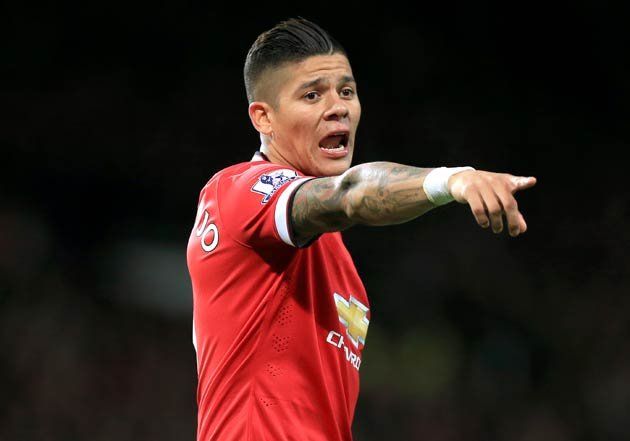 Not every success can be put down to diagrams, but clearly they play their part. Four at the back allows United the security of familiarity, even if it is not essentially a better system. Four in midfield takes away Rooney from the base of the team and puts him closer to where his skills can be maximised. Taking wingers away from the defence, or removing them from striking positions and sticking them on the wing, is just common sense. It is perplexing that Van Gaal often appears to lack that.
Lastly, the introduction of Wilson was a fairly straightforward positive move. Teams need pace to stretch the opposition and make the most counter-attacks, just as United did in the dying minutes of the game against QPR. But Wilson was introduced in the second half, as a result of an injury to Evans. Pace is not just essential in the last half an hour of a game, but for the hour before it, too.
Di Maria has demonstrated that right now he is unable to play up front, despite offering the required pace, whereas Wilson clearly knows the role. Van Gaal has talked about the power of speed, but rarely set his squad up in a way to make the most of that. Even though it is QPR, Van Gaal has been shown now what to do.
The presence of Rojo is essential, just as Wilson's is, if only for a lack of better options for their positions. Rooney is not a defensive of deep-lying midfielder. Blind has the positional discipline and passing ability that United often lack. Fellaini has the strength to be required in the middle, and Carrick the reliability.
Right now, Van Persie, Falcao, Mata and Rooney have been the players to struggle to justify their selection despite being initially lauded for their reputation. Van Gaal says often enough that reputations mean nothing to him - it is the time for him to show it now.
Alexander Netherton – on Twitter:external@lxndrnthrtnhttps://twitter.com/lxndrnthrtnNone
You can buy Alex's book, A Diary of the 2013/14 Premier League,here.
Football
Premier League Top Scorers
Football
Premier League Standings