With a tough run of games coming up in the scrap for Champions League qualification, United could not afford to drop points. That goes especially for their finances. However, this was only a marginal improvement in performance.
Football
Ansu Fati grateful for Messi's advice after leading Barca to victory
Had Wes Brown not been sent off, it is entirely conceivable that United might not have made a breakthrough. Indeed, given Radamel Falcao's form this season, John O'Shea, who actually brought down Falcao in the box despite Brown receiving the red, might have been better served by simply allowing him to shoot unfettered, and then presumably miss. Before then, United had been playing as they had for most of the season. They were utterly dominant in possession, and also seemingly bereft of ideas with what to do with it.
They focussed their attacks down the wings. With Angel di Maria on the right, a relatively rare position for him, he struggled. Di Maria did a good impression of Antonio Valencia's right foot, sending plenty of crosses against any Sunderland player that happened to stand in front of him. This was not his only failure. He was easily nudged off the ball, played a witless backheel to Wayne Rooney in his own half, and towards the end of his 45 minutes, he fired a ball well ahead of Falcao when the in-form Ashley Young was in a superior position. Di Maria's wastefulness was not an aberration - this is generally how he has played for United.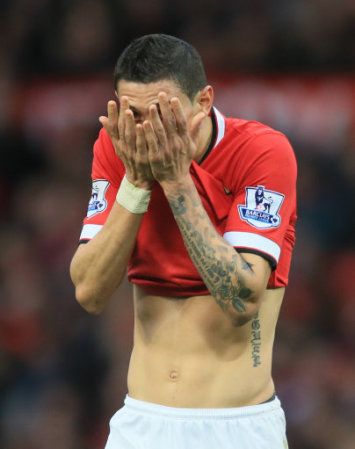 Just as Di Maria was as poor as usual, so were the rest of the side. Daley Blind and Ander Herrera didn't embarrass themselves especially, and kept the ball better than Marouane Fellaini and Rooney did in their appearances, but they offered no intelligence when faced with the massed ranks of Sunderland ahead of them. That was particularly problematic when the man in the number 10 position, Rooney, was having another of his off days. Or 'days' as they are for him now, after years of poor displays. His inability to play simple passes, or quick passes, or trap the ball, meant that with Di Maria useless on the right, Rooney useless behind Falcao, only Young contributed to the attack in the first half. And he was let down by Rooney and Falcao's failure to attack any of his crosses.
To be fair to Rooney, he showed that he is still the best striker at the club. His penalty was ruthlessly converted, and his second, to head in a loose ball, showed Robin van Persie and Falcao what they should have been doing all year to be Louis van Gaal's 20-goal-a-season striker. His description of himself as a number 10, and Van Gaal's use of him as one, is one of major follies of United's season, and one of the most damaging ones.
That's because United have shown that they can dominate possession and have a player to exploit that. Against almost any side, they are capable of retaining the ball. They may be shaky at the back, but they have grown into their approach to defending, and are about as good as you might expect their current back four to be. With Blind and Herrera ahead of them, they probably have the best shield they have all season, even if that is not quite good enough should they come up against sides as good as Spurs, for example, who they play in their next league home match, or Arsenal, who they will play in the FA Cup. Their most conspicuous failure now is that they struggle to break down sides who are only slightly well organised. There was a glimmer of hope today on that front, but even that must be qualified.
Adnan Januzaj offered more threat than Di Maria had - but let's be realistic, a dog in a United shirt would have offered more than Di Maria today. Still, he was able to take on his man without being shrugged off the ball, and was capable of causing trouble with crosses from outside, and shots from inside the area - one of which gifted Rooney his second. When Rooney was substituted, it was to be replaced by Juan Mata, who has shown that he is capable of controlling a ball and passing over 10 yards. Both of these players represent clear upgrades on Rooney as the playmaker.
Like last week's game against Swansea, there were small signs of improvement. Playing with Young and Januzaj gave the side width, and Van Persie's lethargy wasn't missed. Rooney showed his best (only) quality. Herrera started again, and United look better for playing midfielders in midfield. But there are problems - Fellaini is the first and only back-up plan for United, and Di Maria is still misfiring. James Wilson appears unlikely to get a chance any time soon. Slowly, Van Gaal is improving United, but it's probably not enough to win the FA Cup, nor is there a convincing case to be made for Champions League qualification. There remain clear ways to improve, what is not clear is Van Gaal's willingness to use them.
Alexander Netherton - external@lxndrnthrtnhttps://twitter.com/lxndrnthrtnNone
Football
On-off debacle highlights challenges of football's return in Brazil
transfers
Man Utd launch audacious attempt to sign Kante - Paper Round