avant-match
Free Practice 1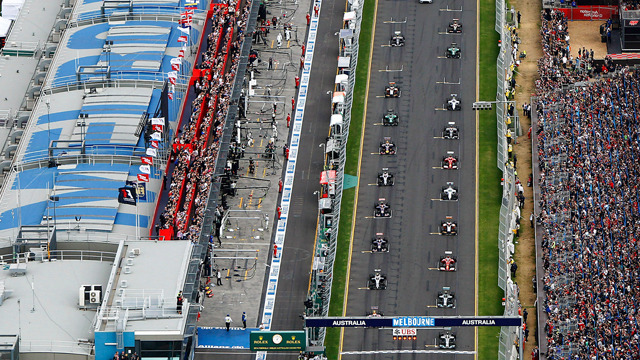 Follow the Australian Grand Prix live with Eurosport. The race starts at 01:30 on 25 March 2011. Find race results, standings, stats, scores and track info. Keep up with the top F1 drivers and teams including Lewis Hamilton (Mercedes), Valteri Bottas (Mercedes) and Max Verstappen (Red Bull Racing).
Formula 1 fans can read breaking Formula 1 news, interviews, expert commentary and watch free replays. Don't miss the upcoming Formula 1 events. Make Eurosport your go-to source for sports online from Formula 1 to football, tennis, snooker and more. Enjoy live streaming of this season's top sports competitions.
The second free practice session is scheduled for later today... be sure to join us again for that one!
Top 10: Webber, Vettel, Alonso, Rosberg, Barrichello, Button, Hamilton, Schumacher, Kobayahshi, Petrov.
Webber pinches it from Vettel at the death with a 1:26.831! And there we have it! The Red Bulls come out on top after the first practice session of the 2011 season but it was a decent outing for Mercedes, Ferrari and McLaren too.
Same old story then: the Red Bulls pushing each other to the limit!
Webber goes quickest to trump Vettel! 1:27:450 but Vettel hits back immediately with a 1:27.156!
Webber is pushing as the session comes to a close... he could put in one of the quickest laps of the day here...
Mercedes' Rosberg moves into third to mark the team's intentions for the weekend.
Into the last 10 minutes of the first practice session and still Vettel's time of 1:27.739 is the quickest of the day so far.
Alonso moves up to second place ahead of Webber, Button, Hamilton, Barrichello, Massa, Robserg, Schumacher and Kobayashi.
Vettel's car has a problem with the front wing and engineers are busy working away on it in the garage.
Massa locks his right front and he slips off the track.
So, with 20 minutes left in the first practice session of the 2011 season, Vettel and Webber top the timesheets, with Button and Hamilton behind. Barrichello, Massa and Rosberg follow.
Sutil flies off track as a television image shows one of Vettel's tyres missing a large chunk - after just eight laps.
Rosberg looks good here in his new Mercedes... there's a quiet confidence about him and Schumacher this weekend.
The track temperature is still only 22 degrees despite the number of laps put in today.
Webber runs off as he too pushes the new Red Bull to its limits. Nothing serious though.
Vettal then goes a tenth quicker with a 1:27.739 as the Red Bull driver continues to push his car.
Vettel is pushing hard now... and he posts the quickest time of the day so far: a 1:27.869!
Vettel into second now, ahead of Button and then Hamilton. The Red Bulls are setting the pace early on this weekend!
Hamilton, Button and Massa complete the top four.
Car change 6: Car weight. Minimum car weight has been upped by 20kg to 640kg, meaning larger drivers will not have to pay the weight-distribution penalty they once did in a KERS-equipped car.
Webber shaves more off his quickest time to post a 1:28.217. He's still quickest of the lot.
Car change 5: Gearboxes. As part of the sport's cost-saving and environmental initiatives, gearboxes must now last for five race weekends instead of four.
Home favourite Mark Webber currently tops the timesheets with a 1:29.522.
Alonso slides off at turn 3 as he just locks up his rear wheels! Not quite as dramatic as Chandhok's earlier skid, but nevertheless a far from ideal start to his weekend.
Car change 4: KERS. Energy recovery system to be reintroduced in 2011 after the teams mutually agreed to suspend its use in 2010. KERS captures the energy generated under braking and turns it into additional power which can then be used as a turbo boost.
Maldonado exhibits one of the those changes to his car this season as the rear wing opens up to give him a bit of extra speed.
Just three cars are yet to hit the track in this first practice session.
Vettel is out on the track now in his car, which has been dubbed "Kinky Kylie". Apparently.
Nick Heidfeld is spotted in the garage - of course he's only here because of Robert Kubica's accident. Our thoughts go out to Robert as he continues his recovery from that awful crash.
Nico Rosberg is out on track with half an hour of the first practice session gone.
Car change 3: Wheel tethers. Teams must now place a second tether on every wheel to improve safety. The two tethers must be housed in separate suspension chambers.
The sun's just beginning to peek out from behind the clouds in Melbourne, which should make the practice session all the more enjoyable for those fans who have made it to Albert Park.
Car change 2: Weight distribution. For 2011 only, the weight applied on the front and rear wheels must not be less than 291kg and 342kg respectively at all times during the qualifying practice session.
Car change 1: First up, those adjustable rear wings. Drivers of suitably-equipped cars can adjust the rear wing from the cockpit, altering its angle of incidence through a set range. The benefit of this can be about 15km/h.
With nothing much happening out on track, let's run through some of the car changes allowed this season.
Nothing much has happened out there yet - apart from Chandhok's crash - and we're still waiting for a car to actually set a lap time. It's just been installation laps so far.
Not a bad crowd at Albert Park for the Friday practice session, considering the drab weather.
Data collected by Chandhok's team apparently suggests nothing untoward technically. So can we assume that means his accident was due to driver error or something on the track?
The course at Albert Park is 3.295 miles long and Sunday's race will be held over 58 laps.
And Daniel Ricciardo, Toro Rosso's young gun and Aussie favourite, is out on track. The reserve driver may be from the other side of the country - Perth - but he'll be cheered on during this session by the Melbourne crowd.
World champion Vettel heads out for his first lap of the 2011 season!
Alonso heads back into the pitlane in his new look Ferrari with it's sleek form. It really is a beautiful machine.
It's overcast and the track is still drying out from some morning rain.
Melbourne lap record: Michael Schumacher (Germany) Ferrari, 1:24.125 (2004).
The back end just stepped out as he turned a corner. "Don't know what happened, I just lost it," he says on team radio.
Oh dear! What a terrible start to the weekend for Lotus! Chandhok slams into the wall just seconds after getting onto the track! Disastrous start for the team!
90'
Here we go! Under way at last! It seems like an age since the final chequered flag of last season, but finally we're ready to go!
But before race day, there's plenty of things for the teams to look at: new aerodynamic parts, KERS for some teams, new tyres... this practice session should reveal a great deal.
Last year Button made the right tyre call and timed his pitstop to perfection to chalk up his first win for McLaren in a rain-hit race. Vettel, starting on pole, was pitched into the gravel mid race by a brake failure. Renault's Robert Kubica was second. Ferrari's Fernando Alonso roared from last to fourth, finishing behind team mate Felipe Massa, after a first corner spin.
There's a real buzz about Melbourne as we await the big start to the new season. So many questions on the lips of race fans - can McLaren's Jenson Button make it two wins in a row Down Under? What can Sebastian Vettel do this year after failing to finish 12 months ago? What about Michael Schumacher with his new Pirelli tyres? All will be answered over the course of the weekend!
It's grey and overcast in Melbourne today - but that could change in an instant, such is the temperamental nature of the weather down there.
Hello and welcome to our coverage of the season-opening Australian Grand Prix in Melbourne!