avant-match
Free Practice 1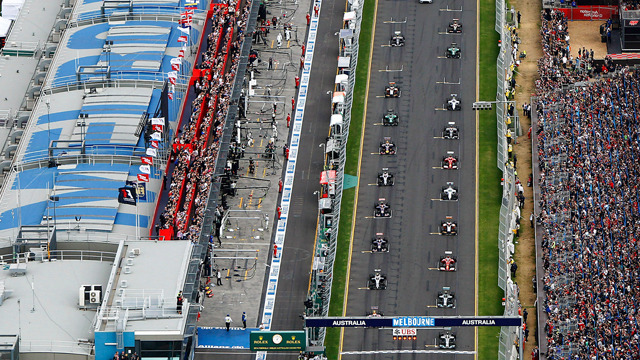 Follow the Australian Grand Prix live with Eurosport. The race starts at 02:30 on 15 March 2013. Find race results, standings, stats, scores and track info. Keep up with the top F1 drivers and teams including Lewis Hamilton (Mercedes), Valteri Bottas (Mercedes) and Max Verstappen (Red Bull Racing).
Formula 1 fans can read breaking Formula 1 news, interviews, expert commentary and watch free replays. Don't miss the upcoming Formula 1 events. Make Eurosport your go-to source for sports online from Formula 1 to football, tennis, snooker and more. Enjoy live streaming of this season's top sports competitions.
Second practice starts in two and a half hours. Join us again then.
So, that's that for this opening session and it's Sebastian Vettal, three-times world champion, who tops the timesheets.
Di Resta clips the grass with his left rear and spins off track. He manages to keep his car going and get back onto the track, but that should be the last action of note this session.
Just under three minutes to run in this session and it's unlikely any faster times will be set with most tyres feeling a bit of wear and tear now.
An oil flag is brought out - probably after Massa's little excursion.
Massa loses control now and the Ferrari man heads across a grassed area at Turn 6.
Maldonado kicks up a cloud of dirt and dust as he runs slightly wide. He's not the first to do that today, and he won't be the last.
Out come several cars including Vettel and Webber with just over 10 minutes remaining in this opening session.
Phew! Time to relax a little now. Just Maldonado out on track.
So, after the flurry of activity, it's Vettel from Massa, Alonso, Hamilton, Webber, Raikonnen, Rosberg, Sutil, Button and Perez making up the top 10.
Vettel hits back as the reigning champion clocks 1m27.211s to better Massa.
Massa now sends Ferrari back to the top of the timesheets with a lap of 1m27.289s. Good stuff from the Brazilian.
Gutierrez informs Sauber team radio of some degradation to his tyres.
Vettel jumps into top spot as the German lays down a benchmark of 1m27.320.
Here goes Vettel, what has he got? 1m28.433 and eighth place.
Dutchman Van der Garde locks up on a turn and takes a trip over the grass.
Alonso, who hasn't spent much time out on track today, climbs to the summit of the timesheets with a 1m27.547. Boom! Take that! And his time is better than the best effort from the equivalent session 12 months ago.
It's pretty dusty out there today as Hamilton clocks a 1m28.266s to claim P2.
Local hero Mark Webber jumps up into second place before he is displaced by Rosberg.
With just over half an hour remaining in this session, we can expect some of the big guns to start laying down a few markers.
Raikonnen improves to 1m28.095s as Hulkenberg goes second quickest. Sutil goes third. Button has also set a time and the Brit is down in 11th at the moment.
Kimi Raikonnen is out on a timed lap... and the Finn lays down the benchmark with a time of 1m29.029s.
Bottas briefly claims fourth spot before he's bumped down by Maldonado with a 1m31.489s.
Vergne sorts out his problems and goes quickest with a 1m30.947s on his next lap.
Vergne locks up slightly on his way round. The Frenchman is joined by Chilton, Pic and Bianchi in setting times so far.
Ricciardo now throws down a 1m30.969s to go top of the timesheets.
Vergne chips in with a lap of 1m36.123s.
Track temperature increases to the 33 degree mark as Ricciardo clocks 1m36.089s! On yer Dan!
Ricciardo is going to be the first man to set a timed lap this season.
Ricciardo makes the home fans sit up and take notice as he hits the track for a second time today.
Bright sunshine now all over the Albert Park track.
Red Bull boss Christian Horner: "I have no idea what will happen this weekend. But I think we'll be there or thereabouts. It's going to be so close. No one revealed their hand in winter testing so it won't be until tomorrow afternoon until we get the first glimpse of what the running order will be like."
It promises to be a thrilling season this year, with more of a level playing field leading optimists to believe the best driver will win the championship!
The track quickly falls silent again as Alonso heads back to the Ferrari garage having done just one installation lap.
Okay, the noise levels suddenly spike as Alonso's Ferrari heads out.
It's important for the teams to give their cars a run over after just a couple of laps, given the length of their journey over to Australia.
There's a lot of sitting about happening at the moment and a real relaxed feel in the paddock. Would it be anything other than laid back in Australia?
Track temperature has already reached 29 degrees - still cooler than recently in Melbourne, but much much warmer than the European winter tests in Spain.
Every driver has now completed an installation lap, bar Alonso, as the track falls silent for the moment.
Button takes his McLaren back into the garage as he gets it checked over.
Patches of blue sky are now appearing across the impressive Melbourne skyline. And there's a decent crowd in already to enjoy it the sun.
Button, now without Hamilton as a team-mate is on a second installation lap, just like his new team-mate Sergio Perez.
Here goes Lewis Hamilton for the first time at Albert Park in his Mercedes!
Jenson Button: "Morning guys! Getting a little rub from @mikeycollier before P1 here in Melbourne.. Time to get this season underway!"
Marussia: "Guess what?! It's almost time for the very first practice session of the brand new season here in Melbourne *yay*"
Ricciardo, around whom there has been quite a buzz in Australia, heads back into the Toro Rosso garage after completing his installation lap.
Van der Garde, Grosjean and Vergne are also out there early in the session.
It's young Aussie Daniel Ricciardo who has the honour of getting out on track first!
Fernando Alonso: "Changing weather conditions for tomorrow and Sunday, we will try to maximize the information on the dry track today..."
There goes the green light and the new season is up and running! An hour and a half of practrice to start with...
There has been a heatwave recently in Melbourne, but that has now passed and temperatures are a great deal cooler than previously. It's a bit cloudy at the moment, clearing later with a top temperature of 26 degrees.
This is where the talking stops and the action begins, starting with the first free practice session in Melbourne.
It seems like yesterday when Sebastian Vettel was celebrating atop of the podium in Brazil but we're set to go again already!
Hello and welcome to our coverage of the 2013 season-opening Australian Grand Prix at Albert Park!