avant-match
Qualifying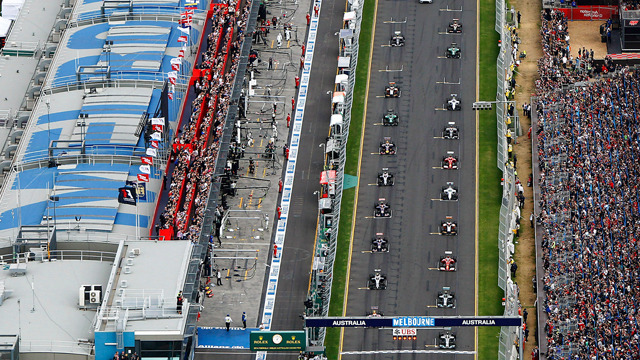 Follow the Australian Grand Prix live with Eurosport. The race starts at 07:00 on 16 March 2013. Find race results, standings, stats, scores and track info. Keep up with the top F1 drivers and teams including Lewis Hamilton (Mercedes), Valteri Bottas (Mercedes) and Max Verstappen (Red Bull Racing).
Formula 1 fans can read breaking Formula 1 news, interviews, expert commentary and watch free replays. Don't miss the upcoming Formula 1 events. Make Eurosport your go-to source for sports online from Formula 1 to football, tennis, snooker and more. Enjoy live streaming of this season's top sports competitions.
The race starts at 06:00 GMT, and we'll see you here for lap-by-lap coverage. Until then...
Plus ca change... a new year, a very familiar front row. Red Bull look in great shape for the Australian GP - and only Webber and Hamilton could get within a second of Vettel. That was impressive stuff.
Top 10: Webber, Vettel, Hamilton, Massa, Alonso, Rosberg, Raikkonen, Grosjean, Di Resta, Button
Rosberg a disappointing sixth... and Button cannot improve his time, staying 10th.
Raikkonen fourth, then Alonso nabs that place - then Massa takes it from him!
Webber into second - Hamilton can only manage third...
Button has enough fuel, apparently, to keep on going - and these times are flying downwards - Vettle crosses the line on 1:27.407 and will get one more flying lap...
Hamilton is on fire here - more than a second quicker than Button at sector two... and 1:29.184 at the line! That's more than three seconds!
The concern is that Button, having gone for slicks first, is too early. The track still improving. He's tentatively into first position, but there's a bevy of faster cars behind him.
Looks like Raikkonen bumped over a jack as he pitted and he is quickly wheeled into the Lotus pits to see if there is any damage to the floor.
Button, surely, will be lightning around the first sector, but the second will be the clincher. The rest of the teams are following Button's lead - Mercedes and Ferrari switch over to slicks.
Vettel, despite a wobble a couple of corners from the end, a full second quicker than the rest of the field. Button has made a big call and gone out on slicks. Is he right?
1:33.6 from the two Mercedes (Hamilton narrowly ahead of Rosberg) - that's a good two seconds clear of the times in Q2 already...
The second part of the lap is still wet, but the times will be instructive....
Intermiedates are still the order of the day for now, however. Rosberg the first to begin a qualifying lap. Button and Di Resta biding their time.
Drivers out early. The track almost bone dry in the first sector.
Perez got the slicks gamble wrong in Q2, but don't be surprised if it's something the drivers have to gamble on again in Q3. The track is getting quicker and drier all the time, but it may still be too early for it to pay off.
Eliminated - Hulkenberg, Sutil, Vergne, Ricciardo, Perez, Bottas
Top 10: Rosberg, Webber, Hamilton, Button, Massa, Alonso, Vettel, Di Resta, Raikkonen, Grosjean
"We got that tyre decision slightly wrong," Perez told over the radio. They're not wrong...
Massa jumps up to fourth - then Button takes that same spot. But Perez is stuck where he is....
Massa and the two McLarens both currently out of the top 10.
The chequered flag is down. Finish those laps... Di Resta up to fourth and even that might not be enough.
Sutil, who was last, leaps up to seventh. Your position on the track matters - the last man to start their lap will be in a very good position to make Q2.
Rosberg slices his best time down to a 1:36.194 - the Red Bulls and the Merecedes, who occupy the top four places, are the only teams who look safe for Q3 at present.
Button goes off as well and comes in to change tyres. As it stands, the men who are missing out are Massa, Ricciardo, Di Resta, Perez, Bottas and Sutil.
What's Perez doing? He's into the pits, suggesting he's given up on the super-soft experiment, but swaps for another set of the same compound.
Button joins him on super-softs, but Perez is wobbling around the track. Alonso by contrast goes for another session on inters.
Constant state of flux on these tyres - the track getting quicker all the time. Rosberg takes the lead again. Two Red Bulls behind him - and Perez has risked slick tyres.
1:37.640 for Vettel! Superb! Button slots into second, but nearly a second behind. Perez the only man in the pits.
Vettel nails one - 1:38.647 - as it's not raining any more the racing line is just beginning to offer a little more grip... Alonso and the German out in front now.
Track temperature around 13C at the moment. It's not dry, and so going out on slicks would be a gamble. But there are some big names, like Button and Massa, who need to improve to qualify.
Rosberg drops his time down to 1:38.930 - Hamilton improves but still more than a second behind.
Perez, who turned in a superb drive or two in the wet last year, slots his McLaren into second. Raikkonen pictured sliding wide at the end of his flying lap. Vettel lost time to a skid as well...
Rosberg's 1:40.423 by some measure the quickest man on track - two seconds quicker than Hamilton! Webber and Raikkonen separate the two Mercs... Vettel down in 8th!
Looks like the fastest man on track at the moment is Kimi Raikkonen, but we're still waiting for those lap times to come in...
Rain levels the playing field somewhat. McLaren were considered a doubt for Q3 this weekend - this may help them.
Cars just coming around to begin their hot laps - Rosberg wobbles off at the first corner - it's not easy out there....
A flurry of cars straight out, intermediate tyres the order of the day. Spots of rain on the driver cameras - these early laps could be the most important ones of the session.
Q2 is go! Lotus and Red Bulls also in the queue! Bit of a scramble ahead at the start of this session!
You know the drill - in Q2, there's 15 minutes and six cars will be eliminated. Interestingly, the Toro Rossos have been waiting at the edge of the pit lane on intermediate tyres for about three minutes. Mercedes follow them. They must sense rain is coming...
The weather forecast for today is changeable, but for now it's overcast and, perhaps crucially, not raining at the moment. We might have completely different conditions for the race, which is scheduled to begin in six hours.
We got through Q1 on Saturday, and those results will stand. So the racers who are already eliminated are Charles Pic, Giedo van der Garde (both Caterham), Max Chilton and Jules Bianchi (both Marussia), Esteban Gutierrez (Sauber) and Pastor Maldonado (Williams)
Hello again and welcome to live text commentary from the Australian Grand Prix. Q2 and Q3 scheduled to take place from midnight UK time.
Qualifying will be concluded at midnight GMT tonight - join us then for live timings.
So, what a disappointment after such anticipation. See you back here tomorrow when hopefully the season will get under way properly.
Stewards' decision: Q2 and Q2 will be completed at 11am Sunday morning. Action called off the day.
There's another shower forecast for 7pm local time. Difficult circumstances for all concerned.
If indeed we don't get through Q2 or Q3, the grid will reflect results from Q1. And that means Nico Rosberg will start in pole position alongside Romain Grosjean on the front row. Sergio Perez will line-up on the second row with Mark Webber ahead of Felipe Massa, Sebastian Vettel, Jenson Button, Jean-Eric Vergne and Lewis Hamilton.
Oh no, confirmation that the session will be delayed a further 20 minutes. That means it's very unlikely we'll see any more action today. Fading light is the issue at the moment.
Around 10mm of rain today. Just 2mm expected tomorrow. That should give an indication of how much it's raining in Melbourne.
The medical car is tearing around the track, checking things out.
Race director Charlie Whiting is "not 100 per cent confident" of the session resuming at 6:30pm.
The weather forecast is not good. The showers are here to stay and the wind is strong.
Marussia driver Max Chilton: "The conditions are pretty challenging, but these cars have so much downforce and as soon as they get out they clear the [water off] track. My visor was clear pretty quickly, but when you're behind a car the visibility is pretty bad. The target tomorrow is to bring the cars home in front of the Caterhams."
Ten minutes to go before the scheduled restart but if it gets delayed again, it's not looking good.
Caterham driver Giedo van der Garde: "It's very, very slippery. Everybody was spinning off - also me. Last lap I had double yellows so I had to back off. It's very exciting, you work all your life for this."
A further delay is announced and we're not starting until at least 6:30pm local time. But light isn't great and we're in danger of not getting Q2 done today.
At least this delay gives the marshals a chance to clean all the debris from that spate of crashes near the end of the opening session off the track.
Oh dear, the rain has come teeming down once again. And Q2 will be delayed once again by a further 10 minutes.
Rosberg's benchmark that session was 1m43.380.
So Rosberg paces the session as Maldonado, Gutierrez, Bianchi, Chiltern, Van der Garde and Pic are all sent packing.
Out comes the yellow flag and that will be that for Q1!
Bottas lifts himself out of the bottom six as Charles Pic crashes! His car takes some damage to the front wings! Gutierrez too crashes and he's stranded on the track!
Alonso now goes top ahead of Grosjean, Button, Massa and Di Resta.
These times are going to improve drastically now. Everyone going faster.
Button lays down the benchmark time now with a 1m45.192. The bottom six are still on wets - they need to change soon if they're going to keep an interest in this session.
The damage to Hamilton's car is merely cosmetic. That's why he was able to stay out.
Several cars come in now. Still the same six are in danger of getting bumped out.
Vettel goes quickest now with a 1m46.188! Di Resta and Button switch to intermediate tyres.
Chiltern, Bianchi, Bottas, Pic, Maldonado and Van der Garde currently occupying the final six spots.
Hamilton seems to have ignored his team's orders - he's still out there trying to improve his time. He's currently in 11th. Hang on, he's just gone third!
Woah! Massa spins round violently! He ends up facing the right way though, and with everything in tact!
Hamilton is told he has damage to his rear wing end plate and asked to come back into the garage.
So, to the times: Rosberg is top with a 1m46.539, followed by Vergne, Grosjean, Vettel and Gutierrez.
Van der Garde has already been into the pits where his team has mended the damage to the car and sent him back out! This is a baptism of fire for the debutant!
Already, the weather conditions are playing havoc!
Rosberg lays down a benchmark time as Hamilton comes to a grinding halt after a spin. He's beached himself on the grass. But he gets out of trouble by keeping his engine going, reversing and getting back on the track!
Van der Garde looks like he's met the wall and he'll limp back to the pits.
So, six drivers will drop out after this initial 20-minute session.
Hamilton runs across some turf at Turn 3, kicking up debris.
With the cars out on the track now, it might dry out quicker if the rain eases off.
It's difficult to make out the cars, given the amount of spray! At least we're up and running.
Here we go then! The lights go green and the 2013 season finally begins in earnest!
Yes! It looks like we're going to get under way. The cars are starting to queue up!
Wow, there are small lakes on the track which stewards are attempting to sweep away.
Everyone's just going to have to sit this out. Of course, qualifying could be delayed until Sunday morning local time, but a decision like that will not be taken for some time. The sun sets around just after 7:30pm local time - it's now almost 5:30pm.
Oh dear, a further 10-minute delay has been announced. It doesn't look like the rain is going anywhere for the time being.
The session is now scheduled to start at 5:20pm local time, in about seven minutes time.
This is frustrating. You wait ages for the season to start, and then the weather delays it!
OptaJim: "64.7% - The percentage of race winners that have started on the front row whilst the Australian F1 has been held at Albert Park. Importance."
Out goes the medical car to take a look at the track. There are hi-vis workers beavering away on the track, sweeping as much standing water away as possible.
The problem with the Albert Park track is that it's a street circuit, not a purpose-built track, meaning the drainage is only designed for 'civilian' use and not good enough. The best option will be to let the cars dry out the track themselves.
The start of Q1 will be delayed for 10 minutes, due to the adverse weather.
Look at the rain now! It's teeming down and this is a proper storm now!
The problem with Vettel's car in free practice three was a sensor issue. No issue with the car as such, so the German is raring to go this session.
This, of course, is a knock-out qualification session and it could throw up a few surprises, given the inclement weather. It's tipping it down at the moment.
Just as for much of the previous session, it's raining at Albert Park. Tyres will therefore be a major factor here today, notably when teams decide to switch from wet to intermediate.
With three practice sessions under the drivers' belts - the last one a bit of a damp squib - it's time to get serious with the first qualification session of the new season!
Grosjean tops times as rain disrupts practice
Hello and welcome back to our live coverage of the season-opening Australian Grand Prix in Melbourne.