avant-match
Free Practice 1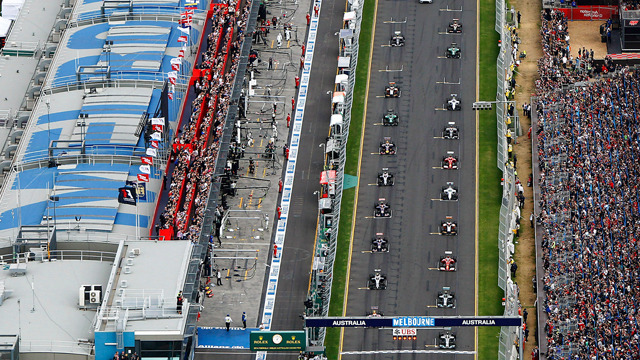 Follow the Bahrain Grand Prix live with Eurosport. The race starts at 08:00 on 20 April 2012. Find race results, standings, stats, scores and track info. Keep up with the top F1 drivers and teams including Lewis Hamilton (Mercedes), Valteri Bottas (Mercedes) and Max Verstappen (Red Bull Racing).
Formula 1 fans can read breaking Formula 1 news, interviews, expert commentary and watch free replays. Don't miss the upcoming Formula 1 events. Make Eurosport your go-to source for sports online from Formula 1 to football, tennis, snooker and more. Enjoy live streaming of this season's top sports competitions.
We'll be back at 12pm for the second free practice session, so we'll see you then!
So, confirmation of the three fastest drivers after the first free practice in Bahrain: Hamilton is quickest on 1:33.572, then Vettel +0.305 and then Paul di Resta +0.578. Good show from the Force India driver.
The flag is out and this will be the final lap for everyone still pon the track.
Vettel is back up to second with a time of 1:33.877. Only he and Hamilton has clokced in sub-1:34 times thus far. Early indications are that we should be looking at around 1.31 in qualifying.
The McLaren's are back in the pits as the team go through a practice pit stop on Button's car. Hamilton still the leader of the session with just a few minutes remaining.
Di Resta's great morning session just got better: he's up to third with a time of 1:34.150 after changing tyres for more grip.
Mercedes duo Rosberg and Schumacher have also spent plenty of time out on track this morning as they gather tyre data. Most teams have gone for medium cpompounds in this session, saving softer tyres for later in the day when the track conditions have improved.
Four teams - Toro Rosso, Caterham, Marussia and Hispania - make up the bottom eight places so far. Hispania's drivers are the botom two.
Both McLarens are back out on the track now as they have one more sustained run in this session.
Britian's shadow home secretary Yvette Cooper is one of several British politicians who have called for the race to be cancelled, or at least for British drivers to boycott it. What do you think?
Vettel remains in second after a six-lap fly around the track. He is still .305 behind Hamilton.
Ferrari's Alonso has covered plenty of distance in this opening session. Red Bull's Webber goes back inside after a seven-lap run, while Button is back out in his McLaren now.
Apparently there are just 58 people watching this in the main grandstand, according to ESPN's Mark Gallagher. Fair to say that local appetite for this race is rather low.
So as the final 20 minutes approach the leader is Hamilton, with Vettel, Rosberg, Button, Schumacher and Webber all within a second of the McLaren man.
Vettel is back out and right back into the groove with a lap of 1:34.293. Not quite the sub-1:33s he was posting before but he'll be back there soon enough.
Paul di Resta has been going well this morning in his Force India, and he moves up to eighth place with a time of 1:34.701. The Scot has earned points in two of the three races so far this season.
Felipe Massa, who is yet to score a point in this season's championship after three races, is more than two seconds off Hamilton's pace at the moment, way down in 15th.
Webber heads out again for his second run out in the morning heat. He does so as the sixth fastest driver currently.
Hamilton has now overtaken Vettel as the quickest man on track this morning, clocking up the quickest split in the final sector so far en route to posting a lap of 1:33.572.
The two Red Bulls are both back in the pits after completing eight laps each. Vettel is still the fastest in this session, although Hamilton has now gone sub-1:34 too.
This is one of the few circuits on which Vettel has never won. His best result was second behind Button in 2009.
Nico Rosberg has looked in fine fettle early in this meeting, and he goes second fastest again with a lap of 1:34.249
Button is fourth-fastest with his first flying lap, clocking in at 1:34.519.
Vettel carves a big chunk out of his previous fastest lap time, setting a new overall quickest mark of 1:33.877.
Back on the track, Jenson Button is out in his car now while McLaren team-mate and championship leader Lewis Hamilton is on his way too.
Obviously this weekend's action has been overshadowed by protests in the city against both the government and the staging of this race. Last night, protests flared in villages surrounding the capital, far from the circuit where the race will be held. Police fired tear gas and stun grenades to disperse demonstrators in clashes that have been building in the week leading to Sunday's race.
Lotus F1 chief Eric Boullier says he is confident that the dusty atmosphere in Bahrain will not affect his drivers, and that his pit team are well prepared for the unique conditions in Manama.
Both Red Bulls are out now, too. Mark Webber goes seventh fastest with a lap of 1:36.029, but then team-mate and world champion Sebastian Vettel eclipses that with a new fastest time of 1:34.311.
Ferrari's Fernando Alonso is about to head out on to the track. The Spaniard won this race two years ago, the last time it was held. That was his third win in Bahrain.
We join the action with about 35 minutes of the allotted 90 in this session gone. currently Team Lotus' Roman Grosjean has posted the quickest lap, with a time of 1:34.847.
It's a balmy 28 degrees celcius in the Bahrain capital this morning and a toasty 37 degrees on the track as the drivers finally begin work after what must have felt like a long week in the Middle East.
Welcome to Eurosport's live coverage of the first free practice session at the Bahrain Grand Prix!