avant-match
Race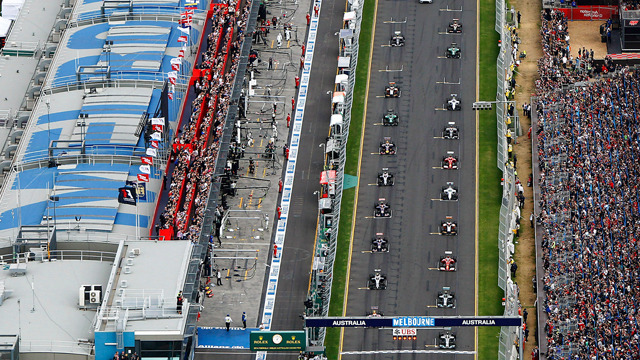 Follow the Belgian Grand Prix live with Eurosport. The race starts at 14:10 on 1 September 2019. Find race results, standings, stats, scores and track info. Keep up with the top F1 drivers and teams including Lewis Hamilton (Mercedes), Valteri Bottas (Mercedes) and Max Verstappen (Red Bull Racing).
Formula 1 fans can read breaking Formula 1 news, interviews, expert commentary and watch free replays. Don't miss the upcoming Formula 1 events. Make Eurosport your go-to source for sports online from Formula 1 to football, tennis, snooker and more. Enjoy live streaming of this season's top sports competitions.
LECLERC WINS THE BELGIAN GRAND PRIX! It's a victory for the Ferrari. "It feels good, but difficult to enjoy a weekend like this," says Leclerc on the team radio. It's an emotional victory for him! What a drive from the 21-year-old at Spa. He started on pole and took the chequered flag.
Giovinazzi crashes out! The Alfa Romeo has gone into the barriers and that means we are now behind a safety car and Leclerc is going to win his first ever Formula 1 race! A great moment for him!
Last lap! Hamilton is throwing down one almighty challenge to Leclerc. The difference between the two is under two seconds now! Hamlton is closing the gap with every turn of the track and it seems that Leclerc is losing grip!
Leclerc is coming into traffic now and this is playing into Hamilton's hands. There's just 2.5 seconds between P1 and P2. This is going to be tight. Are we building up to one last duel for the race win?
Hamilton going for it! One last push from the Mercedes on Leclerc. He has closed the gap on the Ferrari to under four seconds with just two laps left. Leclerc is going to have to fight for this. Is this Austria all over again?
PICTURE: Is Leclerc set to win his first F1 race?
Time is running out! With just four laps of this race to go, it seems that Hamilton might not have the grip to catch Leclerc. He's 5.5 seconds behind the Ferrari. Leclerc is closing in on his first race win.
This has been a boring race for Norris, but a fifth place finish would be his best result in F1 so far. He has been in a race of his own, too far behind the front four, but well ahead of the rest.
Vettel's race is as good as over now. The German has not won a race since last year's Belgian Grand Prix and now he trails Bottas in third place by nearly 19 seconds as he runs wide.
Albon up into P8! It was a difficult start for the youngster in his first drive for Red Bull, but he has made his way through the pack nicely in the last 10 laps or so and is now set for a good finish.
Vettel re-pits! The German is into the pits again and has no intentions of getting involved in a scrap with Bottas for P3. Vettel still comes out in front of Norris in fourth position.
Hamilton is six seconds behind Leclerc. His tyres are one lap younger than the Ferrari's. Will that be enough to give Hamilton an advantage? He has 10 laps to hunt down the race leader.
Gasly v Albon! This is interesting. This is the battle for 10th place and it's been Gasly, who just lost his Red Bull seat, and Albon, who just took it. Albon easily passes Gasly and is up into the points.
Fight for second place! Hamilton gets ahead of Vettel! The Mercedes had been hunting down the Ferrari for a few laps and now Hamilton is finally ahead. It's game on for the Brit. It's Leclerc v Hamilton for the win.
Change of plan?! Ferrari have told Vettel that he's going to have to come in because his tyres are not going to last until the end of the race and the German isn't too happy about this. Is this a Plan B from Ferrari?
The front four now looks as it did off the grid... 1) Leclerc 2) Vettel 3) Hamilton 4) Bottas. What will be the strategy of the Silver Arrows in the final stretch of this race? Hamilton is a second behind Vettel.
30/44
Vettel lets Leclerc pass him! There's been a change in race leader. The German lets the youngster pass him. That explains why Ferrari told Leclerc not to worry when he questioned the team strategy with the timing of the pit stops.
PICTURE: Vettel is the race leader, but Leclerc is closing on him.
This isn't the first time that Hamilton has challenged his team's strategy. However, when he did so in Hungary everything worked out just fine for Mercedes and Hamilton took the chequered flag.
Bottas into the pits! The Finn's pit stop is a quick one and he comes out on the tail of Hamilton, who doesn't seem too happy with his team's strategy for him on the radio. Interesting to see how this pans out.
Hamilton into the pits! Mercedes pull the race leader into the pits and that wasn't their finest moment. Bottas is then told on the team radio to push as he has clear track in front of him as the race leader.
Leclerc into the pits! The youngster has changed on to the medium compounds and has come out BEHIND Vettel. Leclerc has reason to question the strategy from his Ferrari team there.
There was a standing ovation for Hubert on lap 19. He was car number 19. This race weekend has been extremely sombre. It's fitting that he has been given such a poignant tribute.
Vettel into the pits! It's the German who Ferrari pull into the pits first. Vettel emerges out into P5, putting Hamilton up into second place for the time being. Have Ferrari got their strategy right?
PICTURE: Hamilton is pushing hard.
Hamilton is very nearly on the tail of Vettel. He is close to being within DRS zone of the Ferrari and now Mercedes have got on the team radio to demand that Bottas join the party from P4.
Albon takes 11th! The new Red Bull driver sees the opportunity to dive up the inside of Magnussen and he takes the place. Albon will need to make his way through the pack. Not far away from the points now.
"Vettel's struggling," Hamilton asserts on the Mercedes team radio. The Brit smells blood. The stewards have also taken note of an incident which saw Leclerc go wide a lap or two ago. Let's see what comes of that.
Albon has moved up four places off the grid to P14. This is the youngster's first race as a Red Bull driver after replacing Gasly. He is Red Bull's only hope here after Verstappen's retirement.
This has been a good start by Leclerc. He is looking for his first victory in F1. Leclerc has come close couple times this season, but this might be the best start he has made. Looking good.
PICTURE: Leclerc leads Vettel by 2.4 seconds.
Hamilton on the team radio... "Vettel isn't that fast." Indeed, the confirmation comes back from the pit wall that the Ferrari's straight line speed isn't that impressive. Hamilton fancies his chances.
The pre-race tribute to Hubert.
Norris is up in fifth place! It's been a good start for the McLaren. Grosjean is also in P3 and Perez up to P8. They have taken advantage of the chaos we saw in the opening lap.
We are racing again! Finally, the safety car has returned to the pits and the racers are unleashed after the incident that occurred in the first lap. Leclerc and Vettel stretching their legs.
Safety car staying out! This is unusual. Sainz Jr has an issue and so the safety car is staying out for the time being. The McLaren seems to have stalled on the run-off into the pits. Weird.
Safety car ending! Okay, we are about to go racing again after that incident involving around four cars in the first lap. After all that, the front four remain the same, but it's all change behind those guys.
All change... 1) Leclerc 2) Vettel 3) Hamilton 4) Bottas 5) Norris 6) Grosjean 7) Magnussen 8) Perez 9) Gasly 10) Stroll
Replays show that Raikkonen was also involved in the clash between Verstappen and Perez. Anyway, we're still under the safety car as the stewards clear the track.
Verstappen out! The Red Bull driver's race is over. There was contact between Verstappen and Perez. He made a poor start and then his steering seemed to go, sending him into the wall.
Leclerc still leads! Vettel went wide on P1, allowing Hamilton to pass him, but then the German got back at the leader of the drivers' championship and the Ferraris have P1 and P2 again!
LIGHTS OUT! We are racing at Spa! It's the 2019 Belgian Grand Prix!
Formation lap... just a matter of minutes away from getting started at Spa. The build up to this race has been sombre, understandably, but the race itself could be a compelling one.
The standings... Hamilton is way out in front at the top of the drivers' standings. Behind him is Mercedes teammate Bottas and then Verstappen. Ferrari have yet to win a race this season. Will it come here?
Leclerc is on pole after edging out his Ferrari teammate Vettel in qualifying yesterday. Hamilton will be having a look at the two Ferraris heading into Turn One, though. He's in P3.
First thing's first... we have to express our deepest condolences to the family of Anthoine Hubert, the Formula 2 driver who was killed at Spa yesterday. Our thoughts are also with Jean-Manual Correa who remains in intensive care after surgery.
THE GRID... 1) Leclerc 2) Vettel 3) Hamilton 4) Bottas 5) Verstappen 6) Raikkonen 7) Perez 8) Magnussen 9) Grosjean 10) Ricciardo 11) Norris 12) Hulkenberg 13) Giovinazzi 14) Gasly 15) Russell 16) Sainz Jr 17) Stroll 18) Albon 19) Kvyat 20) Kubica
Good afternoon and welcome to Eurosport's LIVE coverage of the Belgian Grand Prix. We'll bring you all the action as it happens from Spa. Lights out is at 14:10 GMT. Not long to go until we get started.