avant-match
Free Practice 1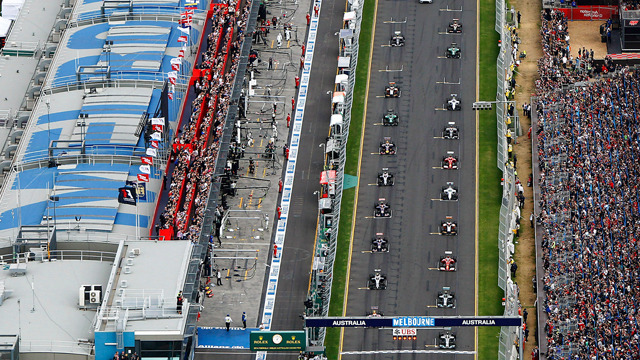 Follow the São Paulo Grand Prix live with Eurosport. The race starts at 12:00 on 23 November 2012. Find race results, standings, stats, scores and track info. Keep up with the top F1 drivers and teams including Lewis Hamilton (Mercedes), Valteri Bottas (Mercedes) and Max Verstappen (Red Bull Racing).
Formula 1 fans can read breaking Formula 1 news, interviews, expert commentary and watch free replays. Don't miss the upcoming Formula 1 events. Make Eurosport your go-to source for sports online from Formula 1 to football, tennis, snooker and more. Enjoy live streaming of this season's top sports competitions.
We will be back at 4pm for FP2. Thanks for joining us for FP1.
Hamilton quickest with his 1:14.131 lap. Vettel, Webber, Button, Alonso, Massa, Grosjean, Di Resta, Maldonado and Hulkenberg make up your top 10 from FP1. Schumacher makes up time on the 2013-spec tyres to move up from 18th to 11th with Alonso improving during the session, but remaining fifth some 0.284 seconds behind Hamilton's pace.
Onto the final lap of the sesssion with Hamilton, Vettel, Webber, Button, Alonso and Massa your main runners and riders from FP1. Another fast session then for McLaren with the Red Bulls tucked in behind.
Paul di Resta and Kamui Kobayashi battling for a spot of supremacy as the Scot refuses to let the Japanese driver go beyond him. Kobayashi needs to lock his front wheels after almost colliding with Di Resta.
A spin for Massa after he makes a mess of turn nine. The Brazilian burns some rubber. Spins his car before setting off again. Meanwhile, Schumacher is toiling out there in 17th place. The German is lapping two seconds off the pace. Looks like a sedate ending to his F1 days this weekend.
Alonso back in the garage at the moment. Looks like Hamilton is going to post the fastest time of this FP1 session.
Raikkonen is 21st on his first timed lap but is held up by Hamilton on his second lap and fails to improve his time. All the drivers are now on heavier fuel loads.
Alonso continues to occupy fifth spot with Hamilton seemingly set to post the fastest time of the day. Alonso yet to to use the experimental rubber.
McLaren on Twitter: "Lewis has been very reflective and thoughtful. This weekend is when it all comes to an end - it will be emotional, for sure."
Hamilton continues to air his concern over overheating problems with the tyres. Hamilton continues to hold sway over the rest with Vettel, Webber, Button and Alonso behind him. Webber up to third 0.067 seconds behind Hamilton.
Raikkonen suddenly back in the pits as he lets his team know that engine problems continue to be a source of real frustration.
"I see some unpleasant things happening after this race.­ Force India might not be there next year... HRT will not find a buyer for more than a­ dollar...Di Resta needs to get his act together and­ better look at another team. Hulk timed it perfectly­ and moved very well," comments Yahoo reader Rob.
Karthikeyan is back out there, but is well down the standings +3.922 behind Hamilton which leaves him in 23rd position at the moment.
Perez is going to be missing for the next 15 minutes or so why the Sauber team sort out brake discs and brake pads.
With 30 minutes left of the session, this is the situation: 1 Hamilton 2 Vettel 3 Button 4 Alonso 5 Massa 6 Grosjean 7 Webber 8 Di Resta 9 Hulkenberg 10 Maldonado
Raikkonen heads out for another crack at this. Only his fourth lap of the morning after an engine issue. Life not running smoothly for Lotus.
Alonso goes fourth, but remains 0.474 seconds off the pace with Hamilton pointing out again that his tyres are overheating as he sets about improving his fastest time of the day so far.
The two HRTs completed the installation lap before disappearing from view. Where is Narain Karthikeyan and Pedro de la Rosa? Uncertain times for the Spanish team that is up for sale.
Vettel a strong favourite to take the world title this weekend. He is posted at 1/4 with Fernando Alonso out at 39/10 if you fancy a bet. Hamilton is 14/5 to win this race. He continues to hold the fastest time of the day as we dip below 40 minutes left of the session.
"Life is about sharing passions..thank you for sharing mine..."Schumacher with a nice message on the side of his helmet to his fans as he speeds through FP1.
"You can do it vettel!!!! Go for the championship! Make­ Germany proud!" says Yahoo reader Jeascon. Would be a brave man to bet against those happenings over the next few days.
Alonso continues to rise through the standings as a quickish run enables him to improve to fifth fastest - 0.6 seconds behind Hamilton with Vettel, Button and Massa all ahead of him.
Felipe Massa is on the 2013 tyres with Alonso using the 2012 spec hard tyres. His first timed lap comes in at 1:18.029. Expect him to pick up from there considerably.
Hamilton still fastest of the session, but others are beginning to gather behind him. Vettel, Button, Massa and Di Resta are your top five of FP1.
We can expect to see the double world champion Fernando Alonso soon as he climbs off his chair watching television to mount his steed. First time the big two are on the track together this weekend.
Jenson Button is also on the 2013 tyres. He flies through the earlier sections of the circuit, but can only come third in his McLaren, a praiseworthy 0.034 behind Hamilton's fastest lap.
Massa moves up to third in this session with a lap of 1:15.230. Massa of course has tasted success in these parts claiming victory in 2006 and 2008 in Brazil.
No sign of Fernando Alonso on the track so far this morning. He continues to wait for his moment to bound onto this track. Alonso remains in the garage studying the goings on.
Vettel quickly up to third. Fairly powering around these corners. Going through the gears like a world champion. Which he is. Vettel comes in with a run of 1:14.443 to go second behind Hamilton.
Hamilton is alerting his team that his tyres are overheating. Slightly concerning, but that is what these practice sessions are all about.
Felipe Massa paying tribute to his dad by wearing the helmet that his father donned in touring cars as he eases himself into his Ferrari. The farewell figure of Schumacher fourth fastest this morning behind Hamilton, who has just come in with a run of 1:14.131.
Perez getting his braking spot on at the first corner. And it pays off handsomely. The Mexican driver beats his previous best by 1.3 seconds to increase his fastest run of the day only for Lewis Hamilton to weigh in with a run of 1:14.374. The Brit is fastest so far.
Bruno Senna of Williams about which car he may or may not be in next season: "We are still working for next year for sure. The object is to be in a competitive car. Hopefully, we can be in a good place."
Renault are supplying all its teams with a new specification alternator for this weekend's race. Meanwhile, Perez of Sauber has just posted the fastest lap with a run of 1:15.869. Will try to keep you abreast of the latest developments there. But expect a fair bit of change at the top before the session is out.
The majority of drivers have opted to go with the new orange side-walled 2013-spec tyres for these installation laps.
"I think we have no reason to be afraid of the rain. I like the circuit, I like this place and I like the food. We have to focus when the weekend starts which is tomorrow for the first practice sesssion," comments Vettel. He has no reason to be afraid of the rain at the moment. Scorchio out there.
Paul di Resta was the first man out on track in his Force India with the two Toro Rossos following him, but Bottas continues to hold the fastest time.
Bottas of Finland with the first posted time of the day as he weighs in with a 1:21.218 in his Williams. Nobody in any rush to go quicker at the moment.
We are off and running then as the first few drivers make their way onto the track. Temperature is posted at 33 degrees and rising. Just like some of the corners on this track.
Almost ready to go then. A gorgeous morning in the Brazilian city of Sao Paulo. Michael Schumacher getting ready to bid farewell to Formula 1 this weekend.
"We have to be fresh and ready to attack. You try to achieve your maximum," says Sebastian Vettel as he bids to defend his world title in the last race of the season. He leads by 13 points ahead of the final showdown at Interlagos. He only needs to follow Fernando Alonso home to take the title, but that is easier said than done.
Here is our resident Formula 1 expert Will Gray analysing the potentials goings on in Brazil this weekend.
Good morning and welcome to LIVE coverage of Free Practice 1 for the Brazilian Grand Prix. The drivers get their first taste of the track from 12pm. Stay with us for the best of the early running at Sao Paulo.