avant-match
Qualifying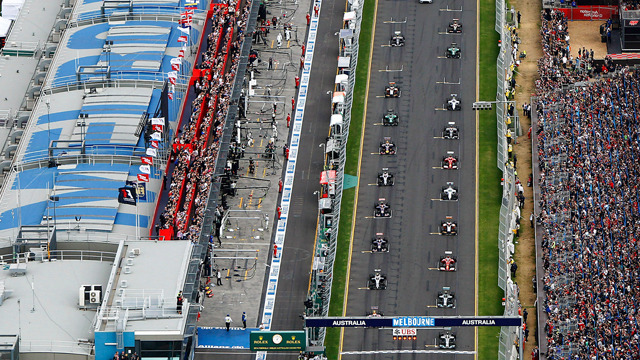 Follow the British Grand Prix live with Eurosport. The race starts at 13:00 on 9 July 2011. Find race results, standings, stats, scores and track info. Keep up with the top F1 drivers and teams including Lewis Hamilton (Mercedes), Valteri Bottas (Mercedes) and Max Verstappen (Red Bull Racing).
Formula 1 fans can read breaking Formula 1 news, interviews, expert commentary and watch free replays. Don't miss the upcoming Formula 1 events. Make Eurosport your go-to source for sports online from Formula 1 to football, tennis, snooker and more. Enjoy live streaming of this season's top sports competitions.
Your top ten for Silverstone: Webber, Vettel, Alonso, Massa, Button, Di Resta, Maldonado, Kobayashi, Rosberg, Hamilton
No! Rosberg almost loses the car as he approaches Stowe - there'll be no changes to position, and qualifying ends in slightly mute fashion.
Maybe not - Rosberg looks like he might be improving his time on a brave lap...
Button backs out a couple of corners into the lap - couldn't risk it - will that cost him? Or is that the end of the session as the rain falls?
Seven cars back on track now - will the others follow? There's a huge amount at stake. Button told of 'light rain' on the south side of the track...
The teams are back on the move to get a second set of tyres on the cars and get out again. Is there a bit of rain in the air?
And now Hamilton is tenth - Kobayashi comes round to put his Sauber 8th.
Exciting stuff - Ferrari very close - Alonso just a tenth adrift in third, Massa a bit further back in fourth. Button in fifth more than a second away. Di Resta a braver effort in sixth, Hamilton the slowest of all those who have posted a lap.
Webber finds time in sector three! He's four-hundredths quicker than Vettel with a 1:30.399!
Webber just behind Vettel on track, but he's a tenth behind after sector two.
All eyes on this season's king of qualifying, Seb Vettel. Can he plunder pole again?
Only Kobayashi stays in the pits for now, perhaps eyeing just one run.
10 minutes on the clock! Drivers out immediately for this one - it's been a tale of different strategies to each one of the three qualifying sessions...
Eliminated - Kovalainen, Heidfeld, Barrichelllo, Petrov, Schumacher, Perez, Sutil
Button's time, by the way, a 1:32.2 - so only four-tenths separated 4th and 13th...
The casualty is Schumacher - his 1:32.656 only good enough for 13th.
Button coming through - he's safe! Shoots up to fourth just in time.
Hamilton pits sitting seventh - is he safe?
TIME UP - Just the final laps to finish...
Rosberg shoots up to fourth, trouble for McLaren, Button is stuck in 13th...
Sutil down to 12th now - a sign of just how quick things are improving.
With the conditions ever-improving, whoever goes over the line last could be at a huge advantage. Massa top now, Webber second.
All 17 cars out on track - this is going to be a very tense few moments. Vettel into second.
Alonso top with a 1:31.727 - that's the benchmark for some frantic minutes ahead. Hamilton into second seven-tenths behind.
Hamilton out on a quick lap - he's well clear of the 10th place marker, and Alonso might be going faster still...
Sutil 1:33.672 - now 1.4 seconds clear of the field. He looks as if he might just be safe - but is anyone else?
Five drivers - Alonso, Rosberg, Di Resta, Massa, Kovaleinen - yet to post a lap. Others like Hamilton yet to post a meaningful time. The clock is ticking.
Sutil the latest to top the timesheets - the Force India man on a 1:34.872
Barrichello romps to a 1:36.408 - but the times are dropping fast.
There's a long way for these tyres to go, and the times will improve considerably. But for now the drivers are still tiptoeing through certain sections of the track.
That Hedifeld mark soon smashed by the Williams pair, who are first and second. Maldonado a full second and a hlaf quicker than Barrichello on a 1:37.703.
The hope appears to be that the showers are out of the equation for now. Rosberg dives into the pits - Heidfeld posts the first lap - 1:41.657.
Alonso out on intermediate tyres too. It's all very tentative as the second session starts - none of the urgency which marked out Q1.
Heidfeld, by contrast, opts for dry tyres. Rosberg (and Schumacher) taking the track on gently, assessing the track before their assault on qualifying.
Q2 begins! Rosberg straight out on a set of intermediate tyres. Safety first...
Catch your breath - Q2 is about to start, and in changeable conditions anything is possible.
That is indeed how Q1 finishes. Ignore Lotus' weather telemetry - it's stopped raining!
'Rain set to get worse' says Lotus - 'We'll go for intermediates straight away in Q2'
Little to report - all 24 cars now in the pits - this session effectively over.
The seven set to miss out - Alguersuari, Buemi, FLock, Trulli, D'Ambrosio, Liuzzi, Ricciardo.
McLaren have sent out Hamilton and Button on slicks in the rain. Why? Are they checking something in the set-up? It's surely the only reason - they are safe enough.
The rain is getting worse, and that makes the biggest losers almost certainly the Toro Rosso team - they are stranded in 18th and 19th places, and only a miracle will save them now. Great news for Kovalainen in the Lotus - he's 16th!
Heavy rain on the start/finish straight starting to fall - bad news if you're in the bottom seven...
Alonso in the 1:32.9s, and that's good enough for fifth. Rain really does look close. Button now the only top-running driver anywhere near trouble in 11th. In midfield, Heidfeld is teetering in 17th.
Alonso appears to be alright, and he's back out on track.
Webber nips back on top - just three hundredths of a second ahead of Maldonado, but the 2010 champion looking good.
Maldonado takes top spot on a 1:32.702 - Massa in second behind him. Hamilton not on the option tyres, but up to sixth. Button 11th - a little more disconcerting.
Strong lap from Webber! 1:33.044 takes out half a second on the rest of the field, and that ought to be enough for now.. Or will it? A clutch of guys coming through on flying laps and soft tyres...
Flag lifted, Barrichello and Vettel nip in ahead of Alonso on the timesheets!
Yellow flag! ALONSO HAS A WOBBLE! He loses all grip and has to wrestle the car to get back on track? Has he damaged the floor of his Ferrari?
A reminder of free practice three - Vettel was the quickest, but Red Bull far from happy as team chiefs discuss the new rules.
It's as simple as this; if the rain comes, nobody will be improving their lap times. That's craeting anxiety, even for the bigger teams.
Alonso quickest! Followed by Massa - a good start for Ferrari. Webber in third, Barrichello fourth. McLarens 10th and 14th.
Red Bulls, McLarens and Ferraris all on track. First lap times coming in...
It is dry at the moment, but the skies are dark overhead. There's plenty of action on course already.
20 minutes on the clock - seven cars to be eliminated. You know the drill, and so do the teams - in the uncertain weather, the cars set out early to make sure of dry laps.
Afternoon everyone, and welcome to LIVE coverage of qualifying from Silverstone!