avant-match
Free Practice 1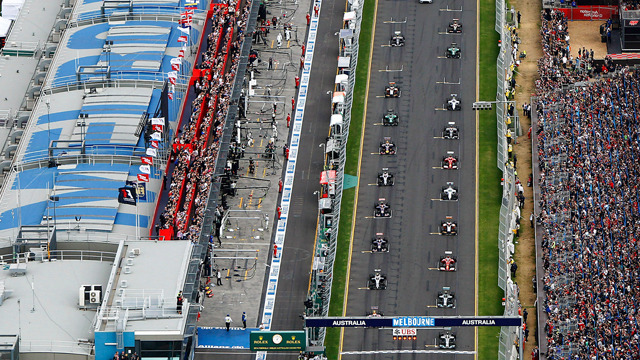 Follow the British Grand Prix live with Eurosport. The race starts at 10:00 on 6 July 2012. Find race results, standings, stats, scores and track info. Keep up with the top F1 drivers and teams including Lewis Hamilton (Mercedes), Valteri Bottas (Mercedes) and Max Verstappen (Red Bull Racing).
Formula 1 fans can read breaking Formula 1 news, interviews, expert commentary and watch free replays. Don't miss the upcoming Formula 1 events. Make Eurosport your go-to source for sports online from Formula 1 to football, tennis, snooker and more. Enjoy live streaming of this season's top sports competitions.
You can follow FP2 with us LIVE at 14:00 UK time right here.
SESSION OVER! A damp squib of a session. The rain never stopped, and in the second half it got worse. Grosjean leads on the timesheets, but quite how much anyone learned from that 90-minute spell is unclear. They'll be hoping for better conditions for FP2.
As the last few seconds approach, the Brazilian rolls gently into the pits...
Time running out, and Massa is going to have the last moments of this session to himself.
Massa goes for a practice start, as the cameras pan to a bird searching for worms by the side of the track. He doesn't have much to worry about in the way of cars...
Practice starts concluded, Alonso ducks back into the pits, as does Michael Schumacher. By my count, that leaves just Massa out on track.
Before the moment passes, Felipe Massa rushes out to catch the last five minutes of the soggy practice.
Webber: Conditions are 'pretty dodgy to say the least'.
The championship leader complains about a lack of grip over the radio, which, given the water on track, is not exactly a revelation.
Spoke too soon - looks like Alonso just went for the stop-start practice, and has resumed his run.
A time would mean precious little, mind - the conditions are considerably worse than they were about half an hour into the session.
Alonso has seen enough - he too comes back in without a time to his name.
One man who doesn't look like he has any intention of going anywhere is Seb Vettel, who seems very relaxed deep at the back of the Red Bull garage.
No time set by di Resta, but he returns to the pits having at least spent a couple of minutes in the car.
Another man returns to the track - Sergio Perez the latest to have a quick run out. Kobayashi, his team-mate, must be a sucker for punishment, because he goes as well.
Schumacher has returned to action, while it looks like Fernando Alonso is braving the track for the first time today.
Grosjean just behind Di Resta, following at a safe distance despite probably possessing a faster car.
Good news for Paul di Resta - the steering has been sorted on his Force India and he's now ready for his first run of the weekend.
Grosjean glides into the pits, stops, and continues onwards for a little more running.
In the Mercedes garage Michael Schumacher is limbering up, helmet on, for a tour of Silverstone.
Kobayashi has been the busiest man in this session by some measure, with 18 laps to his name. But it looks like he and Raikkonen are coming back in.
Grosjean currently fastest in this session, Kobyashi 7th, Raikkonen 16th.
Raikkonen returns to the track - and surprisingly Grosjean and Kobayashi follow him out. Don't they know better?
No - Grosjean has seen enough, and comes back in without setting a time.
The teams will be praying for better conditions in the afternoon session. It remains to be seen whether they'll get them.
Cometh the hour, cometh the Lotus! Grosjean goes out to assess the conditions.
Scratch that - the Japanese driver follows Vergne in. So for the first time in the session, we have nobody running.
Vergne has given up the game and comes back into the garage. Kobayashi a one-man band out on track.
Jenson Button's father looks surprised to see himself on camera, but it's the most excitement we've had for a few laps. The cameras then pan to Lewis Hamilton's brother, Nick.
Kobayashi comes through in a 2:06, Vergne lapping around four seconds slower still.
Want some good news on the weather? I can't give you any - the radar indicates the rain won't stop in this session. At least on Centre Court at Wimbledon today they have a roof...
Company for Vergne - Kobyashi ventures out for some more laps.
Vergne operating at a relatively snail-like pace, coming around in 2:09 in his latest lap. Will he stay out for another?
We can see the rain falling more heavily now as we near the final half an hour of the session. It's going to be a real challenge for the teams all weekend long.
And as if to confirm that, Ricciardo has seen enough and is back in the sanctuary of the Toro Rosso garage.
Vergne joins his team-mate out on track, but it's a very quiet spell at Silverstone.
And sure enough he posts a 2:05, suggesting that it's not getting any easier for the drivers. Unless Ricciardo has a huge fuel burden at the moment.
Ricciardo going through at a very ginger pace - abour seven seconds down on his earlier best at the second time checkpoint.
Looks like plenty of mud and grass to clean off Kovalainen's car after that detour.
A wet race would, you'd think, play into the hands of someone like Lewis Hamilton. Mind you, the last person to win a rainy GP was Fernando Alonso in Malaysia earlier this year.
Kovalainen in, but we do have some action, because Ricciardo comes back out.
Pictures of the Sivlerstone crowd now - they look cold. Switching the GP to London wouldn't fix that...
Grosjean waves to the camera as he sits in the car with the fastest time of the day so far.
With wet tyres counting towards the weekend's allocation, running might just be very limited for the rest of the session.
Only Kovalainen is out on track at the moment, and he's just taken a grassy detour as he struggles for grip.
Di Resta complained of some steering issues when he did his installation lap, so he's having the steering rack replaced. Might not get a run in this session, then - not sure why Alonso has stayed in the garage - not a fan of the weather?
The three remaining drivers yet to post a time in this session are: Alonso, di Resta and Bianchi.
Since Raikkonen left the sport, however, the configuration of the Silverstone circuit has changed somewhat, so he also has a bit of track-learning to do.
Raikkonen another man to put in a first time, sitting currently 16th. It doesn't look like it's getting much easier out there.
For now Button is into 18th place with a 2:02 - room for improvement, then, as cameras show Rosberg running wide as he struggles for grip.
Glock is the latest man to spin, as conditions remain treacherous. The rain is light, but even several cars pounding around the circuit doesn't appear to have cleared much water yet.
Button, one of five men yet to post a lap, now begins what should be his first timed effort.
A top 10 now that 19 drivers have posted a lap: Grosjean, Ricciardo, Perez, Hamilton, Massa, Webber, Kobayashi, Schumacher, Rosberg, Vergne
Hamitlon's first lap puts him fourth, although so far we've seen that drivers have improved their times lap by lap as they learn where they can push.
Replays show De La Rosa loses the back end at Copse, while Kobayashi spins as Grosjean comes past him.
Perez improves his time for third, Massa for fourth. Meantime, Lewis Hamilton begins a quick lap - will he give the home fans something to celebrate?
Maldonado just shy of the two-minute mark at his second attempt. His highly-rated team-mate Bottas, the Williams test driver, has gone quicker in both his laps so far.
Grosjean finds a little extra speed on his second lap, and goes top with a 1:56.552 - still raining at Silverstone.
A few more drivers braving the elements now. Grosjean up to 13th, while Massa and Maldonado also head out.
Clos caught out by a bit of standing water and has a mighty wobble. Somehow the car ends up pointing the right way, on the track, and he's able to carry on.
Six laps for Webber, before he returns to the pits. He's now third, behind his fellow Australian and Perez, who's returned to the track.
Kovalainen and Petrov are out on track now for Caterham, while Dani Clos and Pedro de la Rosa have also surfaced.
Vettel and Webber still out there, but neither driver able to match Ricciardo's session-leading mark.
The top 7 as it stands: Ricciardo, Webber, Vergne, Kobyashi, Vettel, Perez, Pic.
Normally as we approach the hour I'd give you a quick rundown of the top 10 - we don't have enough completed laps to do that.
Strike that - Webber has just posted a 1:58.581. Rain can be quite a leveller - if the weather persists we could have a fascinating qualifying and race ahead.
Webber breaks the two-minute barrier - 1:59.719 is the new time to beat.
Vettel down in fourth at the moment, while Kobayashi suffers a big wobble aeroplaning at the Aintree corner.
Webber's 2:01.153 is the new fastest time of the session. Ricciardo swiftly follows him into second place.
Wet tyres do count towards the allocation for the drivers this weekend, although a set of intermediates have also been made available for practice only. No chance of running inters at the moment though.
Webber is also on track, as is the Toro Rosso of Ricciardo.
Vettel is back out and running, although he's progressing very gingerly - some four seconds down on Kobayashi after sector one.
Charles Pic becomes the third driver to post a lap time, several seconds down on Kobayashi.
Button looks altogether more comfortable chatting in the paddock.
The rain may just hold off in the second practice session today, but don't count on it being a dry track - it's not drying weather....
Kobayashi improves again - down to a 2:02.254 as he ploughs manfully on in the wet.
Very difficult conditions for the drivers, however - it's going to be a long session (or, by another measure, a short one)
Kobayashi comes around to post a lap, but despite losing the rear of his Sauber a couple of corners from the exit, he is still seven seconds quicker than his team-mate's earlier lap.
A couple of test drivers are getting outings today - the now familiar Bottas for Senna swap at Williams, and Bianchi running for Force India.
Perhaps unsurprisingly, McLaren have been making sure their front jack works properly with a couple of simulation pit stops. Surely they won't make more mistakes this weekend?
The seven-times world champion is back in the garage, as is Sergio Perez, who doesn't look like a man in a hurry to get back behind the wheel.
Michael Schumacher would 'welcome a wet race', apparently. Your wish, Michael, is our command....
But Hamilton dives into the pits before he can complete his lap. Schumacher is the latest man out on track.
Hamilton also out to provide some British interest early on in this session. Around the second sector, he's about four seconds clear of Perez's early mark.
We've collated an epic British GP preview - get all the links you need
2:11.163 from Perez - which makes him the session leader for now. Meantime Button is out on track for McLaren.
Perez tottering around the track at a very gentle pace so far, but the back end of his Sauber still wobbling.
There's time to get yourselves up to speed with Silverstone, which has undergone something of a major redesign in the last couple of years.
Installation laps the order of the day so far - several drivers out getting an inital set-up sorted.
Every incentive for teams to get some running today, however - it looks like rain could be a factor all weekend - no value waiting it out for drier conditions.
A Marussia gets out early - they are still reeling, of course, from the terrible news about their test driver Maria de Villota.
SESSION STARTS! 90 minutes for the drivers and teams to get some running in, and plenty of activity in the pit lane already.
The weather forecast? Not good. The umbrellas are up and the rain is falling. It could take a little while for this session to get going today.
Welcome everyone to live text commentary from the first free practice at Silverstone ahead of the British Grand Prix.