avant-match
Qualifying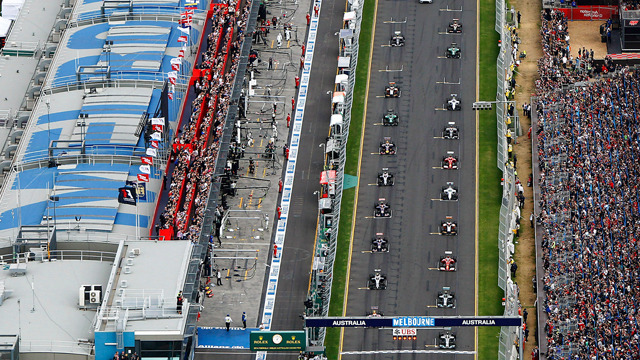 Follow the Canadian Grand Prix live with Eurosport. The race starts at 18:00 on 11 June 2011. Find race results, standings, stats, scores and track info. Keep up with the top F1 drivers and teams including Lewis Hamilton (Mercedes), Valteri Bottas (Mercedes) and Max Verstappen (Red Bull Racing).
Formula 1 fans can read breaking Formula 1 news, interviews, expert commentary and watch free replays. Don't miss the upcoming Formula 1 events. Make Eurosport your go-to source for sports online from Formula 1 to football, tennis, snooker and more. Enjoy live streaming of this season's top sports competitions.
Join us at 6pm UK time on Sunday as Sebastian Vettel goes for yet another Formula One race win!
VETTEL ON POLE: 1-Vettel, 2-Alonso, 3-Massa, 4-Webber, 5-Hamilton, 6-Rosberg, 7-Button, 8-Schumacher, 9-Heidfeld, 10-Petrov.
Alonso goes second ahead of Massa but it's going to be Vettel on pole...
Here's Vettel again... no quicker, but he is still fastest. Chequered flag but cars on track.
Webber nearly hits his wall on the way on to the start-finish straight and stays fourth...
Ferrari have kept their drivers out... they think you need three laps to get the tyres up to full temperature.
McLaren are not going well... they are currently occupying both spots on the third row.
1-Vettel, 2-Massa, 3-Alonso, 4-Webber, 5-Hamilton...
Vettel's on a fast one - 1:13.014! Boom! Fastest lap of the weekend.
Heidfeld is the first man with a lap - it's slow, 1:15.2... Hamilton with a 1:13.9, not great either.
It is very overcast but no rain is expected within the next half an hour...
It's Q3! Ten minutes to decide the front of the grid for the Canadian Grand Prix!
So, we're down to the business end of things - it's time to decide the top 10 positions on the grid.
Can anyone make a late move? No, they can't. Eliminated: 11-Di Resta, 12-Maldonado, 13-Kobayashi, 14-Sutil, 15-Buemi, 16-Barrichello, 17-De La Rosa.
Di Resta stays 11th, but he just got through before the chequered flag so has time for another lap...
None of the top nine have gone out again... there's confidence for you.
Kobayashi locks up and takes a short excursion over the grass - he's got time for one more quick lap if he can clean up the tyres.
Di Resta is going well, but finds himself 11th... a quarter of a second behind Heidfeld.
A bit of a lull ahead of the final flurry...
Massa on a quick lap... 1:13.431. That's the fastest lap of the day! Well, he's in Q3...
And the drivers in danger: 11-Kobayashi, 12-Di Resta, 13-Sutil, 14-Buemi, 15-Maldonado, 16-De La Rosa, 17-Barrichello.
Six drivers have gone under 1:14 - Vettel, Webber, Alonso, Hamilton, Rosberg, Button.
Massa appears to block Schumacher on the start-finish straight - the stewards may want to have a look at that.
Jenson Button clocks 1:14.209 and Vettel immediately bests it with a 1:13.690 - the fastest lap all weekend.
Everyone is out - it's a short session, so not much time to make your mark....
OK, we're into Q2 - 15 minutes to eliminate another seven drivers.
That's the end of that, and the eliminated drivers are: 18-Alguersuari, 19-Trulli, 20-Kovalainen, 21-Liuzzi, 22-Glock, 23-Karthikeyan. Jerome d'Ambrosio was outside 107% of the fastest time, and unless the stewards make a special dispensation he will take no part in tomorrow's race.
The flag is out and that is the end of Q1... and last-second movers?
Kobayashi recovers! He goes 14th and that drops Kovalainen back into the drop zone!
Karthikeyan is inside 107%! Relief for him...
Against the odds, Alguersuari is up to 17th and that puts Kobayashi in danger...
The frontrunners are safetly ensconced in the pits, with the rest of the pack preparing for a final scramble. Alguersuari locks up yet again...
In danger: 18-Kovalainen, 19-Alguersuari, 20-Trulli, 21-Liuzzi, 22-Glock. Karthikeyan and D'Ambrosio outside 107%.
Karthikeyan and D'Ambrosio are outside 107% of Alonso's quick lap. They need to improve to below 1:19 to get inside that margin.
1:13.822 from Alonso who has found some serious pace... and Hamilton goes third.
Ooh, ragged from Alguersuari! He is all over the grass, and this is not the most prepossessing display from the Spaniard.
Vettel takes over at the top of the timesheets, with a 1:14.318. Hamilton goes third. No lap yet from Nico Rosberg. Jenson Button's dad is quaffing white wine in the pits. And why not?
The lap times starting to flow now - 1:14.994 is the fastest so far from Fernando Alonso.
Alguersuari wrecks a set of tyres, locking up and flat-spotting his rubber. D'oh!
The weather is distinctly overcast, although the air temperature is a pleasant 22C. This session is forecast to stay dry, but there is a 60% chance of rain tomorrow.
Mark Webber has come straight out - he missed the entire practice session this morning due to a KERS issue.
Jerome D'Ambrosio is the first man to post a lap - 1:25.366. That's 12 seconds slower than some of the laps we have seen this weekend.
Off we go! Q1 is under way - 20 minutes, at the end of which the seven slowest drivers will be eliminated.
Welcome to LIVE coverage of Canadian GP qualifying from Montreal!