avant-match
Free Practice 1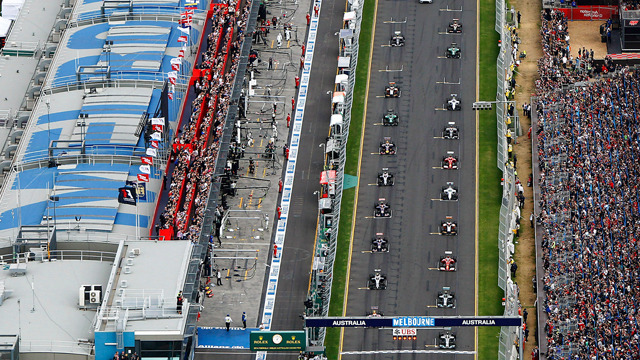 Follow the Canadian Grand Prix live with Eurosport. The race starts at 15:00 on 7 June 2013. Find race results, standings, stats, scores and track info. Keep up with the top F1 drivers and teams including Lewis Hamilton (Mercedes), Valteri Bottas (Mercedes) and Max Verstappen (Red Bull Racing).
Formula 1 fans can read breaking Formula 1 news, interviews, expert commentary and watch free replays. Don't miss the upcoming Formula 1 events. Make Eurosport your go-to source for sports online from Formula 1 to football, tennis, snooker and more. Enjoy live streaming of this season's top sports competitions.
And Di Resta goes quickest from Button and Grosjean right at the death. Alonso jumps to fourth. Session over.
A flurry of cars out for the final minute as Maldonado's car has been cleared away.
That has brought out the yellow flags so that could well be that!
Maldonado has spun and seems to have hit the wall at turn four and taken the nose off his Williams!
4'
And Jenson Button goes quickest with a 1:21.551.
Raikkonen gets caught in a little traffic and has a bit of a tank slapping moment. Nothing serious though.
Vettel leads from Raikkonen and Rosberg now. This could well change...
Little over five minutes remaining and mediums seem the order of the day.
Esteban Gutierrez has enjoyed a competitive day. He's third quickest again.
Button also out on the mediums so these lap times should improve.
Vettel and Raikkonen on the regular medium tyres.
Alonso, Massa and Perez all out on the prototype Kevlar slicks.
The track is still not absolutely made for slicks but it's getting dryer all the time.
So what of Ferrari? Alonso has completed only 7 laps and Massa 6. They are 16th and 21st respectively.
Vergne didn't like it with the new slicks. He only lasted one lap.
So with little over 15 minutes remaining, Vettel still heads Rosberg, Grosjean, Hamilton and Hulkenberg.
Rossi now runs wide into turn 14 so it's not significantly easier just yet.
His headrest came loose, so that explains it!
Vergne going slow into turn one, not pushing the limits yet.
Vergne has gone out on the Pirelli prototype Kevlar tyre. Will be interesting to see how it goes...
And Vettel is now the fastest man. He clocks a 1:23.047 to leapfrog Rosberg and the new third fastest man, Grosjean.
For McLaren fans, Button is 11th with the under fire Perez 17th.
Vettel being told he needs to work on sector 1 where he's losing the most time.
Now Vettel goes second fastest with a 1:23.680s lap.
Teams have the new Kevlar belt tyres, intermediates and super soft to play with but we won't see the softs until the circuit dries considerably more.
Half an hour to go and Ricciardo and Vergne have ventured out on intermediates. Expect the lap times to tumble.
Behind the Mercedes duo, it's Hulkenberg, Ricciardo and Gutierrez.
Rosberg is the man on form today. He betters his mark with a 1:24.438s.
Only Hulkenberg currently out on the circuit as teams evaluate date with just over half an hour remaining.
DRS is in use this session and that's a decision made by race control. The racing line bone dry now.
Now Button runs wide at Turn 14 as he pushes for more on this drying track. He's okay though.
@MyCaterhamF1: "Reasonable level of understeer in entry and mid-corner, and a bit of on power oversteer, but all ok for the conditions"
Of course, it may not be plain sailing for Mercedes in the future, depending on the decision of the tyre furore hearing!
Hamilton has had a mixed run of results in Canada. He either crashes or wins!
So with 40 minutes to go, Rosberg and Hamilton are at the top of the lap times. All good so far for Mercedes.
Hamilton clattered over the speed bump too but it looks as though there's no damage done.
A moment for Hamilton into the final chicane caused by a bit of traffic. He goes over the grass.
@clubforce: Especially many fans of Scottish heritage coming to support @pauldirestaf1 - we expect a lot of saltires on the stands on Sunday!
Less and less water on the circuit now. Rosberg tops the times from Ricciardo, Vergne and Button.
The yellow flags are out as Jules Bianchi spins his Marussia into turn three. He turns off his engine.
Jenson Button is now third quickest and he is hoping for a wet weekend.
Button pins victory hopes on rain.
And Monaco Grand Prix winner Nico Rosberg leaps to the top of the timesheets with a 1:26.051s lap.
Max Chilton being told to cool his tyres on the straights by his race engineer with a dry line developing.
Currently getting extremely busy, most of the cars out on a drying circuit. Still some spray being thrown up though.
And Alonso jumps to fifth fastest.
A dry line clearly being established on the circuit now. Rosberg and Hamilton 7th and 8th fastest currently.
Raikkonen now the fastest man on the track. He goes quickest with a 1:27.334 from Mark Webber.
Di Resta exits the pits. Force India celebrating their 100th grand prix this weekend.
A bit of a twitch into turn 3 from Bottas who has a jaunt over the grass.
Ricciardo now goes third quickest from Hulkenberg and Vergne.
So half an hour in, the track is drying out. Webber heads the times from Raikkonen, Gutierrez and Vergne.
Vergne does set a time, well off Webber's with a 1:33.073s.
Vergne and Raikkonen now join the circuit on inters. Still Webber and Gutierrez the only men to set times.
Webber improves significantly to a 1:27.909s.
Mark Webber: 'There's an opportunity to get a top result here but we'll have to see where the others are. It's interesting why we haven't had a great run here but we'll have to stop that.'
Mark Webber, on inters, is the new fastest man on the circuit. He clocks a 1:29.412s.
The notorious 'Wall of Champions' could well come into play at some part this weekend. May a driver has come a cropper on the final corner exit.
@OfficialSF1Team: #Guti at 1:30.224 we have a full program to get through so it's #pushpush
@MyCaterhamF1 "Even just in one lap the amount of grip you have in the wet compared to GP2 is huge. It's amazing, really good..."
Certainly looks dry enough for inters at the moment. No real wobbles for Vettel on that lap but still tricky conditions.
Vettel and Di Resta out on the intermediate tyres.
Esteban Gutierrez is the first man to set a lap time. He crosses the line in 1:34.113s.
Sergio Perez is a man under fire this weekend after his overtaking moves were criticised by many, not least Kimi Raikkonen.
Raikkonen expects Perez discussion.
Alonso takes to the track as well so that leaves just Di Resta and Ricciardo yet to go out.
Massa is the first of the Ferraris to venture out. Check out his race weekend preview.
Inside Track: Massa previews Canadian GP
Large rooster tails of spray coming from the back of the cars on the circuit. The Ferraris still yet to venture out.
Teams are allowed only three sets of full wets and four sets of intermediates per driver for the entire weekend.
@MercedesAMGF1 No rain expected during the actual FP1 session.
It's obviously full wets to start with as the cars complete a lap and return to the pits. It may be a bit of a waiting game for a while.
The first cars have ventured out on full wets for installation laps. Vettel is amongst them.
The track temperature is 16 degrees. Nobody venturing out just yet. Still a lot of puddles on the circuit.
It has been tipping down with rain in Montreal and the track is currently wet although the rain has eased off somewhat. It means that we won't see the new Pirelli compound just yet.
The pitlane is open and the session is underway.
Pirelli was due to introduce a new structure of rear tyres in tome for the Canadian Grand Prix but that has been postponed after facing opposition from the paddock. Instead, teams will have the opportunity of testing the new tyres featuring a stronger Kevlar belt during today's practice.
All the pre-race talk has revolved around the tyre debate after the FIA called a hearing into an alleged illegal Mercedes tyre test conducted after the Spanish Grand Prix. Sebastian Vettel was among many drivers to voice their concerns that the test gave Mercedes a significant advantage.
Mercedes to explain tyre test
Hello and welcome to our LIVE coverage of the first free practice session for the Canadian Grand Prix.