avant-match
Free Practice 2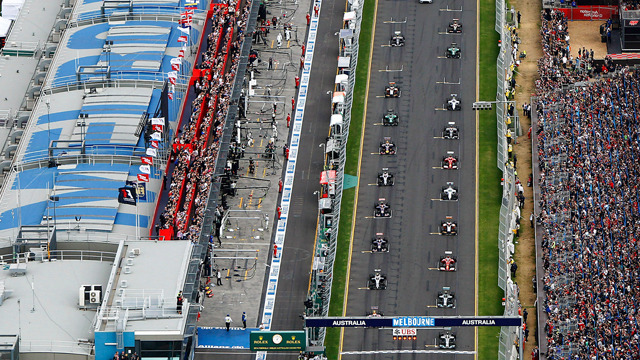 Follow the Chinese Grand Prix live with Eurosport. The race starts at 07:00 on 13 April 2012. Find race results, standings, stats, scores and track info. Keep up with the top F1 drivers and teams including Lewis Hamilton (Mercedes), Valteri Bottas (Mercedes) and Max Verstappen (Red Bull Racing).
Formula 1 fans can read breaking Formula 1 news, interviews, expert commentary and watch free replays. Don't miss the upcoming Formula 1 events. Make Eurosport your go-to source for sports online from Formula 1 to football, tennis, snooker and more. Enjoy live streaming of this season's top sports competitions.
If you want to talk racing, why not join me, Mark Patterson on Twitter @Mark_Eurosport?
That concludes the action from practice for the day - we'll be back tomorrow at 4am UK time for free practice 3, with qualifying at 7am.
The top 10: Schumacher, Hamilton, Vettel, Webber, Rosberg, Button, Kobayashi, Di Resta, Hulkenberg, Alonso
Drivers are finishing their current laps and heading back in after a busy 90 minutes.
Either Raikkonen has more pace than his headline time suggests, or he's running very light on fuel - a 1:39.5 as the session draws to a close.
In comes Hamilton to end his session, while Button relays his struggle with the front wheels to his engineers - he too has struggled at turn 14 - another nasty lock-up.
That's a much better time from Schumacher - a 1:42.5. Button and Hamilton rattling along at a comparable pace.
Schumacher and Rosberg both do a quick stop in the pits to test the time-loss for the drivers when they make a stop. The Sunday strategy being considered from every imaginable angle.
Alonso, by contrast, lapping in and around 1:44 - a clear second and some adrift of the times we've seen from McLaren.
The only thing that you can say with any certainty is that the McLaren times are not showing any signs of a drop-off. That's encouraging for the British team.
The cameras trying to compare Button's lap with Vettel's, but given how long each driver has been out it's hard to draw any conclusions.
At last - the Red Bulls emerge. Time for around five laps before the session draws to a close.
A lock-up for Lewis going into turn one - the same point at which Glock lost his front wing - but the lap times are still relatively consistent.
Hamilton changes his nose cone, leaves his tyres as they were, and heads out again.
Webber now talking to Adrian Newey, Red Bull's chief engineer, rather than running any further laps.
Fuel loads and so on mean it's not an exact comparison, but it does bear out against some of the racing we've seen this season to date.
The McLarens are quicker though, much quicker. They're holding steady at around 1:43 per lap, while the Mercedes laps started at a similar level and subsequently dropped away to around 1:45 per lap.
Still no sign of the Red Bulls, but Schumacher and Rosberg powering along in their race simulations.
Perez has another huge lock-up on a new set of soft tyres - tough day to be a tyre on the Mexican's car.
The Top 10 with 15 minutes remaining: Schumacher, Hamilton, Vettel, Webber, Button, Kobayashi, Di Resta, Hulkenberg, Alonso
Grosjean puts in his best time of the day and goes 15th - but that's some way off the pace he's shown earlier in the season.
The Red Bulls are still in the pits, as are Kobayashi, Di Resta and Raikkonen. The rest of the field are punching in some laps with heavier fuel loads, however.
Looks like Schumacher has set the quickest lap of the session - it's all about race simulations from here until the end of the practice.
Perez in the pits after flat-spotting his front right tyre. Another thing he has in common with Massa then - the Brazilian did exactly the same earlier in the session.
Hamilton returns to the track - he's on softs and looks like running a race stint - the same sort of set-up he might expect to use on from the starting line on Sunday.
A helpful offering on Twitter from the Lotus Team on Twitter: "A raft of general set-up changes to Kimi's car. Technical stuff with numbers and everything"
Red Bull return to the pits, Mercedes back out.
Weather still very overcast, but no rain is forecast to interrupt the remainder of the session.
If you need a refresher of the Shanghai International Circuit, why not have a quick look at our race guide?
Cameras pan to Vettel locking the tyres as he carves his way through the track on a longer run. Webber also out on a longer stint too.
Di Resta improving, however - he nips past Alonso, as does Hulkenberg, and they take P8 and P9 respectively.
Button improves his time but not his position - 1:36.711 keeps him sixth, though he had a bit of traffic to contend with. And he reports too much oversteer straight away on the radio.
Glock confirms in a pit-side interview that he is ok - but he's still unclear about the cause of the accident. It will be a busy night for his Marussia engineers.
Button now out on the softer tyres, perhaps looking to see how out-and-out fast the McLaren is.
Half an hour to go and the top 10 is: Schumacher, Hamilton, Vettel, Webber, Rosberg, Button, Kobayashi, Alonso, Perez, Di Resta
Di Resta, who had a bit of a wobble in his 16-lap stint earlier, runs off wide turning into the final straight. He's wearing a helmet camera, which provides some lovely pictures of a bumpy moment for the Scot.
Alonso and Massa are well off the leading times. Alonso down in eighth, while Massa is 17th and still struggling desperately. He reports a 'strange feeling' in his car over the radio.
The Mercedes duo return to the pits after four-lap stints.
Schumacher may not have the results to show for it so far this season, but he looks like a much more competitive driver this year - certainly back on terms with his team-mate Rosberg after two years in his shadow.
Hamilton not able to match Schumacher for pace - he ends the lap in second to the German on a 1:36.145. Mercedes as quick as ever.
Hamilton sets the quickest time through the first sector. Rosberg is held up by Alonso in the final sector and that restricts his pace - he has to settle for fourth place with a 1:36.617 for now.
But if you need a reminder of how quick the Mercedes is, Schumacher delivers it by topping the timesheets with a 1:35.973. Rosberg to follow shortly, as is Hamilton.
Rosberg and Schumacher backf out in the Mercedes. They've shown excellent one-lap pace all season, but they need to improve their race-day set-up, because they've been going backwards on Sundays.
Glock heading for a check-up by the medical team, while his Marussia team try to work out what happened to the nose of his car.
Button up to fourth, seven-tenths of a second adrift of the world champion - and still behind his team-mate.
Button more than four-tenths down on Vettel by the end of sector two. He is on harder compound tyres, however, so his time will reflect that.
Button is out on a clear track - and looks like he'll be trying to set a flying lap. Will be worth watching to see how much he can improve from his current position of eighth.
The yellow flags have been lifted.
Looks like it - the nose was gone as he hit a bump before the first corner. That's a disconcerting failure for Marussia - not one to inspire confidence in the car.
Eventually Glock lifts himself out of the car, but it's still unclear quite what happened to the car. Did the front wing really fall off so early?
Glock tells his engineer that he is OK, but is in no rush to get out of the Marussia. Yellow flags being waved.
CRASH! Glock is off the track at turn one - after a nasty looking shunt. Goes very straight off the barrier - and has lost his front nose long before he hit the barrier.
Webber and Vettel are both running different exhausts, and both seem happy enough with their own choices.
For the first time in a while, the top drivers and teams are in the pits and taking stock. Fastest man still on the track is Perez in 7th.
Vettel is back into the pits after some sharp times - but Webber has moved into second with a 1:36.433, albeit on a different set-up with, we understand, a higher fuel load.
A 16-lap run for Di Resta comes to an end. That's more than any driver managed in the entirety of the first session.
And as for Felipe Massa, the man Perez has been linked with replacing at Ferrari? 15th at the moment. No sign of that improvement just yet.
Perez makes a big improvement after that earlier wobble - up to seventh. Man of the moment in Formula One after that second place in Malaysia.
And Webber makes a significant improvement as well - up to third.
Vettel improves again! Down to a 1:36.160 - very fast indeed.
Perez sliding in the Sauber! Like Grosjean moments before he loses the back end but manages to avoid going off.
A new leader! Vettel sets a 1:36.578 on soft tyres. Impressive.
WOBBLE FOR GROSJEAN! Whoops! He loses the back end at turn eight, but he will be mighty relieved to just about keep it together after a grassy detour.
After half an hour of the session the top 10 is: Hamilton, Rosberg, Kobayashi, Vettel, Schumacher, Webber, Alonso, Ricciardo, Button, Hulkenberg
Di Resta looked to be making good progress on his latest run in the Force India, but lost time behind Glock on sector three.
As if to illustrate that, Kobayashi jumps up to third in the Sauber on the soft tyres.
There's still scope for the times to improve as the track rubbers down a bit.
Vergne up to 12th with a 1:37.930 as Hamilton returns to the track. Lewis on hard compound tyres, however.
Rosberg out in the Mercedes for his second run of the day, and Vergne tries out the soft tyre.
And as I type that Senna understeers at turn one to put an end to a first lap before it ever really began.
Maldonado has jumped up to 12th position with a 1:38.176 - nothing electric from Williams so far today after a bright start to the season, but safely in mid-table.
The cameras pan to a rather enormous flat spot on Felipe Massa's front right tyre after a locking up. Those won't be worth using again.
No great times for Lotus today, however. Raikkonen down in 17th, Grosjean in 20th. Plenty of room for improvement there.
Given how many free practice sessions have been hamstrung by the rain, that's perhaps no surprise. There's very little opportunity to fine-tune these cars.
Looks like soft tyres for the Toro Rosso of Ricciardo. No let-up on the running in this session.
Early signs are that everything is much as it was in races 1 and 2. In sheer pace, it's McLaren, followed by Mercedes and Red Bull. Of course, the defending world champions Red Bull seem to be on a more level-footing in the race.
Alonso jumps up the standings with a much-improved 1:37.586 - that's good enough for sixth position.
And the key news filtering through during the day in China -
Hamilton won't be top of the grid come Saturday, however - he has a grid penalty looming.
Hamilton into the pits after a job well done. McLaren very much on top so far.
Elsewhere on the timesheets Vettel jumps up to third, Schumacher a tenth behind in fourth. Hamilton and Rosberg still out in front.
Not one to write home about - Alonso into 11th with a 1:38.175.
Mind you, as Ferrari would no doubt remind you, Alonso currently leads the world championship.
Alonso is trying to set a time as well; will be interesting to see how much Ferrari have caught up with their rivals.
Still a little bit wet on the side of the track - as Kovalainen discovers almost to his cost as he veers off but just about avoids a scrape.
Plenty of jostling for position - Robserg, Webber, Button, Di Resta filling out the top five.
Hamilton blitzes that with the best time of the day - 1:36.814 - more than a second ahead of the field.
It's refreshing to see some times at this stage in a free practice. At the moment Ricciardo's 1:37.859 is the best of the bunch.
Lots of activity early in the session. That's down to a slightly limited run yesterday. No driver managed more than 15 laps in FP1.
Senna posts the first meaningful time of the session - a 1:40.3 - still plenty of room for improvement, however. Hamilton set a 1:37.106 this morning.
Interesting choice from Alonso, who looks to be out on medium compound tyres - normally those only come out later in the session for a quicker run.
Installation laps for the drivers at the moment - Karthikeyan, Senna, Grosjean and Alonso all heading out.
Weather update: It is not wet, as it had been in the morning, but it is cold. Very overcast, air temperature of around 16C.
Away we go! 90 minutes available to the teams - Heikki Kovalainen the first out.
And of course the talk hanging over the paddock in the last few hours has been all about Bahrain.
We're just about to get going in Shanghai. Earlier this morning Lewis Hamilton set the pace in a soggy first session.
Good morning everyone and welcome to live text commentary of the second free practice session ahead of the Chinese Grand Prix.