avant-match
Free Practice 2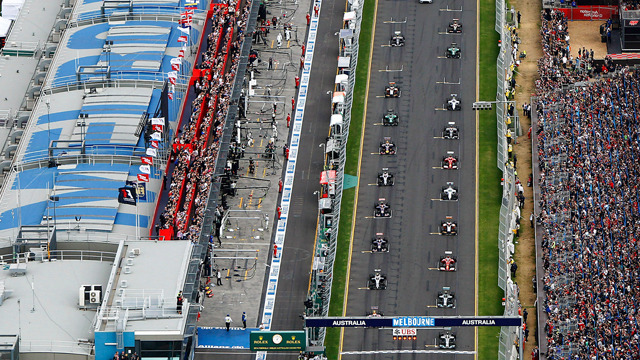 Follow the German Grand Prix live with Eurosport. The race starts at 13:00 on 22 July 2011. Find race results, standings, stats, scores and track info. Keep up with the top F1 drivers and teams including Lewis Hamilton (Mercedes), Valteri Bottas (Mercedes) and Max Verstappen (Red Bull Racing).
Formula 1 fans can read breaking Formula 1 news, interviews, expert commentary and watch free replays. Don't miss the upcoming Formula 1 events. Make Eurosport your go-to source for sports online from Formula 1 to football, tennis, snooker and more. Enjoy live streaming of this season's top sports competitions.
The chequered flag is out as the drivers finish their final lap.
There are two minutes of this second free practice remaining and the times aren't going to change. Webber still leads.
Alonso makes a not-too-impressive pitstop as he switches to primes for the rest of his run.
Heidfeld is back out after only completing 13 laps this afternoon. He's in at eightht with a lap time of 1:33.098
Alonso is told to head back into the pits. Button's issue wasn't KERS related. They were testing an experimental exhaust system which didn't work. There's not enough time to change back to the regulation exhausts and that is why the Brit will not reappear.
Vettel's back out and produces a 1:37.411. Alonso has a wobble through the hairpin.
When Webber set his fastest time he was using his DRS overtaking device everywhere he could around the lap, which means he was running in qualifying spec. During the race, DRS is limited to the back straight - and then only if the driver is close enough to the car in front to activate it.
Hamilton's team tell him that he's quick in sectors 1 & 3 but it's section 2 that is the main difference.
Button is having a mechanical problem. The Brit returns to the pits. Could it be KERS related? Either way, he won't be back out this session.
Kovalainen does exactly the same as Rosberg did previously. (See 26') There's a bit of a head wind and it's giving a few drivers a problem.
Webber is still leading. Massa is fourth (1:32.354), Schumacher fifth (1:32.411) and Rosberg sixth (1:32.557). Hamilton is seventh with 1:32.724 while Button is ninth after a 1:33.225
Glock spins out on turn 5. The German attempts to stay on top of his mistake but spins the car out again before getting it back on track. He's lucky not to catch the front on the kerb on his way out...
Vettel improves on his time with a lap of 1:32.084. He is now third but 0.384s down on teammate Webber
Jensen Button sets a ninth quickest time. The Brit puts the car into neutral on the first turn. Strange.
Rosberg dips a wheel at turn nine and subsequently takes his car through the gravel at a very high speed. The vehicle fish-tails but he manages to hold it and continue. Phew.
A few of the drivers have had a bit of a problem with the hairpin at turn seven. Alonso runs wide into the gravel but is able to get it back on track.
Good news for Vitaly Petrov. The Renault driver had a leak on his radiator but it's now been changed for a left-sided model.
Webber is using the soft option and has been getting progressively. He hangs in there and then, bang, he's on top. That's a 1:31.770.
Former World Champion Michael Schumacher bumps Britain's Hamilton down to fourth. The German sets a lap time of 1:32.411 and is on a lighter fuel load.
Hamilton is up to third with a lap time of 1:32.724.
He's back! Alonso is flying and sets the fastest lap time so far. He comes in at 1:31.879.
Kovalainen is complaining of vibrations at the front when breaking. There's a fair chance that he'll be back in the pits to rectify that problem.
The radar hasn't picked anything up but it looks like there are a few drops of rain over the circuit in Germany. Massa, by the way, was on the soft tyres when he set that lap time.
No wonder Buemi was putting his coat on! He's reporting a mis-fire between 16,000 and 18,000 revs. He won't be making it out this afternoon.
Maldonado's not too happy with his car. He's on the radio stating that he feels disconnected to the vehicle and that it's not doing what he wants.
Pastor Maldonado locks up in a big way on the final turn and subsequently enters the pit lane.
The Toro Rosso mechanics are working on the rear of the STR 6 and it may be some time before he is able to continue. Massa is now the fastest out on the track. He's set a time of 1:32.466.
Buemi is in the pits and puts on a jacket. It doesn't look like he'll be coming out any time soon. He's just completed three laps in this session so far and is still to set a lap time.
Hamilton is now back on track and is using the hard rubber tyres. Let's see if he can get near Alonso's time.
Renault's Vitaly Petrov is now above Hamilton in fifth with a 1:34.265. Jenson Button is all the way down in 22nd with a best of 1:41.377.
Apparently, the Renault team weren't altering the rear-facing exhaust on the Heidfeld car. Instead, they were changing the anti-roll bar linkages.
Massa can be seen flatspotting on the entry to the pit lane. He locks up majorly and you can physically see the vibrations caused. That won't have been all too comfortable.
Nick Heidfeld is back in the pits and is having the rear-facing exhaust on his car seen to. He's spent a fair part of the day in there...
Massa is on the radio to his Ferrari team. The Brazilian is complaining about understeer.
The top five consists of: Alonso, Webber, Vettel, Massa and Hamilton but there is still a long way to go in this practice yet.
Adrian Sutil is facing the wrong way. He spins out in an unusual area but is now back on track.
Paul di Resta is now up to 12th with a lap time of 1:37.576. This is his first run of the event.
The Mercedes team have just been on the radio to Michael Schumacher. They tell him that he's staying on the throttle when breaking in turns 1, 3 and 7.
Mark Webber is now the second fastest man in this session. The Aussie posts a lap time of 1:33.642.
Nico Rosberg's team have been in contact with him. They'd originally lost GPS but the problem has been sorted and they now know where he is. They have lost telemetry though so he'll probably need to enter the pits.
Jensen Button - the slower of the two McLaren drivers this morning - struggled with a lack of rear grip and has now reverted to the conventional rear wing.
Virgin struggled getting their tyres up to temperature in the first session and are trying different methods to rectify that for this afternoon's session.
Daniel Ricciardo is blowing out of the back of his HRT. The Australian pulls over at turn 6. Not good.
Alonso is quickest again. The Spaniard flies around the circuit in 1:32.990.
The drivers are still struggling to find the right zone of where to start their breaking for the first corner. Hamilton locks up early on.
Hispania's Vitantonio Liuzzi posts a time of 1:43.762 but it is immediately slipping down the order.
Ferrari have continued on their impressive performance at Silverstone where the DRS worked in their favour. However, Ferrari's tecnical director Pat Fry doesn't believe that it will make much of a difference here.
The second practice is under way.
The Toro Rosso team have said that Sebastien Buemi should be back out this afternoon after he flew through the air and beached his car in the gravel at the end of first practice. The mechanics have repaired any damage and the floor is back on. Good news.
Reports suggest that Michael Schumacher will be testing out an experimental front wing in this afternoon's session. Shall be interesting to see how he goes!
So, how is this free practice going to pan out? Ferrari's Fernando Alonso set the pace in the earlier session but there were a few drivers nipping at his heels. The weather has brightened up too, so it should be a good one...
Welcome back all! We are around a quarter-of-an-hour away from the second free practice of the German Grand Prix at the Nurburgring.