avant-match
Free Practice 3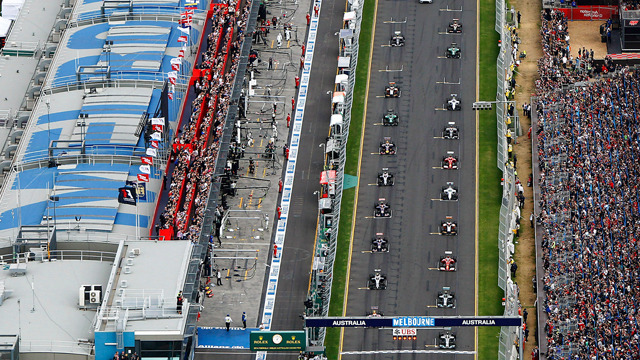 Follow the German Grand Prix live with Eurosport. The race starts at 10:00 on 23 July 2011. Find race results, standings, stats, scores and track info. Keep up with the top F1 drivers and teams including Lewis Hamilton (Mercedes), Valteri Bottas (Mercedes) and Max Verstappen (Red Bull Racing).
Formula 1 fans can read breaking Formula 1 news, interviews, expert commentary and watch free replays. Don't miss the upcoming Formula 1 events. Make Eurosport your go-to source for sports online from Formula 1 to football, tennis, snooker and more. Enjoy live streaming of this season's top sports competitions.
It's a Red Bull one and two. Vettel leads Webber with a 1:30.916. The chequered flag is out.
Webber's fastest with a minute to go. He posts a 1:31.049.
The Pirelli medium tyres are approximately two seconds slower per lap than the softs but the weather should play a part some time over the qualifying and the race.
The leader of the Championships, Vettel, is up to third with a 1:31.463.
Quick times being set now. Webber is right up there and is just 0.040s slower than Alonso. Exciting stuff.
Hamilton is in second now. He joins the aforementioned three with a 1:31.578, but he lost 2/10s on the last section.
Alonso and Rosberg are the only two racers with a lap time under 1:32....Oh, wait, Button joins them both with a 1:31.623
Massa is nearly a second-and-a-half down in his Ferrari team mate. Mistake? Fuel? Easing himself in on the softer option tyres?
Rosberg is knocked off the perch. Yesterday's first session leader, Fernando Alonso, puts in a stormer with a 1:31.138.
It's very, very cold in Germany today. The track temperature is a reported 22 degrees. I don't know how these lot are driving on ice. Kudos!
The top five looks like this: Rosberg, Sutil, Schumacher, Di Resta, Vettel.
Vitantonio Liuzzi gets a 5 place grid penalty for a change of gearbox. Looks like he'll be starting at 29th place. Ricciardo will definitely out qualify his team mate now
The word from the weather folk (I do believe that is their job title) is that there will be no rain for this session. Are we going to see some faster times now?
Schumi's up to third with a 1:32.912. Sutil is 7/10s of a second behind the rapid Rosberg.
He's improved upon his time again, Rosberg. The Mercedes driver sets a 1:31.694. He leads Red Bull's Webber and Vettel.
Quick time from Rosberg. Very quick, indeed. The German flies round in 1:31.911.
After trying an experimental exhaust system yesterday which didn't work, Button is driving well today and is briefly on top with a 1:33.106, before Alonso beats him by 0.007s.
Yesterday's second session leader, Webber, takes it easy on his first lap. Sitting in 11th he sets a time of 1:35.208
Vettel and Webber have been pretty quiet so far. They're back on track with timed laps now. Alonso is leading with a 1:33.302.
It's a McLaren and British one-two. Button is leading with a 1:33.646 followed by Lewish Hamilton, who was fined for speeding in the pit lane yesterday.
Force India's Adrian Sutil overtakes his team mate and is into third. The German improves upon his previous lap time with a 1:34.998.
Maldonado is up to seventh with a 1:36.042 and Alguersuari is now at eighth place in the Toro Rosso.
OK, scrap that. Schumacher's team mate Nico Rosberg is on top of the leading table for this session, getting round in just under two hundredths of a second quicker. 1:34.240
Here he is. Schumacher's fastest now. One of the home favourites sets a lap time of 1:34.418.
Chandhok puts another flat spot on his tyres. The Indian spins out by the entrance to the pit. He takes a little detour over the grass before finally getting back on track.
Mercedes' Nico Rosberg sets the fastest lap time today with a 1:34.872. Perezis just behind him after getting round in 1:35.743.
Webber's back in. The mechanics are bleeding the brakes on his car. Hmmm.
Heidfeld is struggling through the turns at the minute and his team have been on the radio to tell him that his tyres will be at their optimum performance by lap 3.
Perez is the fastest man out there at the minute. He posts a 1:36.851. That's followed by Heidfeld and Chandhok.
Kobayashi and Perez are out on the track and are both using harder tyres.
D'Ambrosio posts the first lap time of the day. It's a 1:46.020.
Heidfeld has reverted back to the original Renault floor with the forward exhausts after testing out the rear-facing model yesterday.
The fastest lap during yesterday's two sessions was 1:31.711 set by Mark Webber. Will we get anywhere near that today?
All drivers, except Kovalainen, have completed their installation lap.
Michael Schumacher's team are on the radio and are telling him that he has a KERS error and needs to switch to default mode 01.
Red Bull's Vettel and Webber are back in the pits after their checking lap.
Barrichello, Maldonado, Sutil, Webber, di Resta and Schumacher are on track for an installation lap.
Kovalainen's Lotus has a hydraulic problem. They're hoping to get him out there within the next 20 minutes.
The radar says that there will be no rain for the start of this session but we could have some later. There may just be a wet qualifying session.
The cars are out and the practice session is off!
It's a bit windy in Germany today. There is a head wind on the main straight and a tail wind into turns 7 and 11.
Today's POA will go something like this: We'll have an hour practice session - instead of the usual 90 minutes - at 1000 BST, before the qualifying which starts at 1300 BST.
And before that, Ferrari's Fernando Alonso was the leading man in the opening session. Read that here too!
Red Bull's Mark Webber was the fastest around the track in the second session. But just in case you missed it, have a read here:
So, after yesterday's two very entertaining free practices, how is today going to pan out?