avant-match
Free Practice 1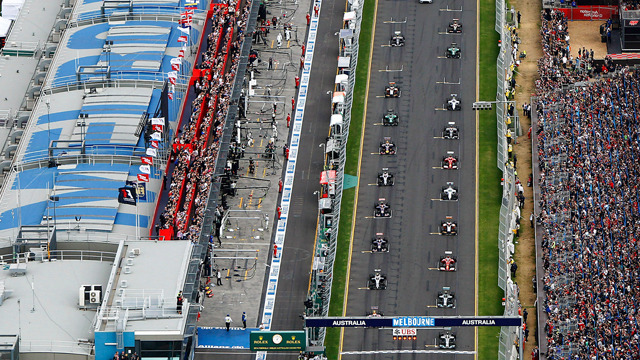 Follow the Hungarian Grand Prix live with Eurosport. The race starts at 09:00 on 27 July 2012. Find race results, standings, stats, scores and track info. Keep up with the top F1 drivers and teams including Lewis Hamilton (Mercedes), Valteri Bottas (Mercedes) and Max Verstappen (Red Bull Racing).
Formula 1 fans can read breaking Formula 1 news, interviews, expert commentary and watch free replays. Don't miss the upcoming Formula 1 events. Make Eurosport your go-to source for sports online from Formula 1 to football, tennis, snooker and more. Enjoy live streaming of this season's top sports competitions.
We'll be back with second practice from 1pm UK time, so join us then.
The session is over with no further changes in the top order. McLaren begin the weekend well.
The chequered flag out to end the session. Drivers will finish their existing laps.
Maldonado up to 12th. Vettel is 15th and Webber 13th. Most drivers are on medium rubber.
Traffic is a problem on this short 4.381km track as the session ticks away.
Glock also off at turn four. Almost every driver now on the circuit.
Schumacher runs wide but not into the gravel.
Maldonado's Williams back on the circuit following checks related to his gravel trip.
Alonso clocks 1m23.503s to go third fastest.
World champion Vettel, down in 14th, back out after changes to his RB8 set-up.
Alonso fourth and lapping with intent. He is 0.8s off Hamilton. The team have told him to perform a constant-speed test as they evaluate front wing developments.
Rosberg back out while the other top five drivers sit in the garage. /// Rob: "Looks like recent updates have improved the Macs about­ time they were made more competitive, Alonso and his­ luck will now be tested!"
Briton Paul Di Resta unhappy with his Force India. The team work on it after he reported understeer issues.
Button now a tenth behind leader Hamilton after bettering his time to 1m22.922s.
Dani Clos has been off at turn 12 and rejoined while Massa goes ahead of Alonso and into fifth. They are looking at long runs rather than fast laps.
Nico Rosberg now ahead of Mercedes team-mate Schumacher in third with a time of 1m23.628s.
@WilliamsF1Team: "#BOTTAS heads back out - mainly aero evaluation runs & data gathering for us this morning."
@insideferrari: "Felipe is still running, basically doing also more aerodynamic work to do."
Maldonado runs off track at turn 10 and rejoins, albeit through the gravel trap. Those stones can get inside an F1 car and cause problems.
Vettel betters his existing time to 1m24.634s but stays 11th. Webber's Red Bull is being worked on at the front.
Hamilton and Button back out in the McLarens. Alonso has completed his run.
Schumacher third in the Mercedes behind the pace-setting McLarens. /// KAE: "Sadly Massa just cant do it these days......very nice­ guy and a shame but the accident has affected his­ driving now days.....time to retire me­ thinks.......jump before your pushed." So will you be watching the F1 or the Olympics on Sunday?
Kamui Kobayashi runs wide at turn one. Alonso up to fourth with 1m24.055s. /// @Lotus_F1Team: "Out goes @RGrosjean, now using invisibility cloak front tyre imaginary devices. And medium tyres."
Alonso now fifth with an effort of 1m24.205s.
Massa, also out and about in the Ferrari, moves up to fifth with a 1m24.539s. Perez then leaps ahead of him with 1m24.316s.
Most of the top drivers are in the pits.
Grosjean is optimistic of another frontrunning performance for the Lotus team at this weekend's race.
The top 10 at the halfway point of the session: 1.Hamilton 2.Button 3.Schumacher 4.Rosberg 5.Webber 6.Bottas 7.Maldonado 8.Raikkonen 9.Vettel 10.Ricciardo
Webber moves up to fifth with 1m24.546s as Alonso begins his morning.
Test driver Bottas improves to 1m24.574s in the Williams but remains fifth.
Webber sixth with 1m25.407s before Rosberg jumps fourth with a lap of 1m24.178s.
Hamilton sets a new benchmark of 1m22.821s before coming in. Button also back in the garage after a run of laps.
Romain Grosjean has run wide in the Lotus.
McLaren are looking very quick already this weekend. As @AussieF1Fans points out: "McLaren with purples (fastest) all over the timing screen right now, sector after sector."
Schumacher second with 1m23.960s before Button puts the McLaren back into second spot with 1m23.753s.
Big improvement from British star Lewis to 1m23.522s.
54'
Hamilton goes P1 with 1m23.941s and Schumacher goes third with 1m25.049s.
56'
Button goes top from fifth with a second effort of 1m24.137s.
Hamilton, never one to start slowly, immediately goes P2 with a lap of 1m25.289s.
Daniel Ricciardo sixth of six with 1m30.202s.
Webber second with 1m25.673s. Both McLarens out on track.
Vergne into second with 1m26.932s as Raikkonen continues to lead the early timesheet.
Before Webber takes that spot with 1m27.094s on his first timed lap.
Jean-Eric Vergne puts the Toro Rosso third with 1m28.430s.
Webber, all limbered up, heads out to start his weekend in earnest. Red Bull keen to fight back against Ferrari.
65'
Raikkonen now leading the way with 1m25.117s.
Kovalainen improves to 1m28.508s as fellow Finn Raikkonen enters the fray.
Mark Webber jogging on the spot and stretching while Alonso chills out on a seat in the Scuderia garage.
70'
Heikki Kovalainen sets the first timed lap of the weekend, a 1m29.977s.
Massa straight back out in the Ferrari. Yesterday Spanish test driver Maria De Villota, seriously injured in a crash at the start of this month, was released from hospital.
Raikkonen takes the car out as Perez, Petrov and also Felipe Massa come back in.
Lotus are testing the 'double DRS' on Raikkonen's car, seeking a speed boost.
Sergio Perez and Vitaly Petrov the first drivers to return to the track.
Hamilton says he took some comfort from McLaren's improved pace at the German Grand Prix - but admits his title charge cannot afford too many more non-points finishes.
Pedro de la Rosa talks with his race engineer as adjustments are made on his car. The track quieter now.
Button and Hamilton are out early, which is not always the case for McLaren. And Alonso also completes his tentative first laps of the Hungaroring.
Before the action gets properly under way, familiarise yourself with the unique characteristics of this circuit.
Jean-Eric Vergne is first out and is far from alone as many drivers complete their installation laps.
The hour-and-a-half-long session begins.
The summer break arrives after this race. Fernando Alonso will be keen to consolidate his championship lead heading into it.
The weather as the session start approaches is sunny and already hot. We could have storms later and on race day, though, according to Yahoo.
The Hungarian Grand Prix weekend gets under way with Friday morning practice.