avant-match
Race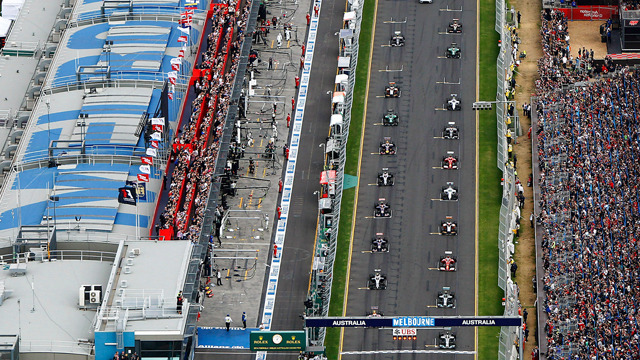 Follow the Indian Grand Prix live with Eurosport. The race starts at 09:30 on 27 October 2013. Find race results, standings, stats, scores and track info. Keep up with the top F1 drivers and teams including Lewis Hamilton (Mercedes), Valteri Bottas (Mercedes) and Max Verstappen (Red Bull Racing).
Formula 1 fans can read breaking Formula 1 news, interviews, expert commentary and watch free replays. Don't miss the upcoming Formula 1 events. Make Eurosport your go-to source for sports online from Formula 1 to football, tennis, snooker and more. Enjoy live streaming of this season's top sports competitions.
Thanks for joining us for what turned into yet another Vettel victory procession - congratulations to both Vettel and Red Bull, a quite amazing driver in a quite brilliant car. See you in Abu Dhabi next week!
Kimi Raikkonen pulled off a bit of a cheeky finish: he came into the pits on the final lap, put on fresh tyres, and blitzed his way round to the fastest lap of the race on fresh rubber. Just to show what he could do, I guess... And to cock a snook at the new champion, no doubt.
Vettel then finishes his celebration by bowing down in front of the car that took him to the title, and doing the "we're not worthy" thing before it. Quite right too.
Sebastian Vettel celebrates in fine style by coming round into the start-finish lane and doing doughnuts for the delighted crowd.
SEBASTIAN VETTEL IS 2013 F1 WORLD CHAMPION WITH A PERFECT VICTORY AT THE INDIAN GRAND PRIX!
Vettel comes round the final lap looking imperious...
Grosjean now being told to short-shift - i.e. save fuel by limiting revs - as much as possible or face not making it to the end. Massa, in fourth, might just have a chance of taking him...
Great battle for fifth as Hamilton comes up on Raikkonen - but Perez, right behind Hamilton, takes both of them in once go! The McLaren storms clear of the two drivers who are facing total rear tyre grip loss.
Raikkonen has lost all grip on his rear tyres - Felipe Massa now goes past him too.
Grosjean and Raikkonen now in a tussle for third spot - and the two cars come together! No harm done, but Raikkonen struggling, and he loses the spot to his team-mate..
Lewis Hamilton has complained that his rear tyres have gone and he's lost all grip.
Lewis Hamilton is still down in 6th place today, way off his team-mate's pace, and with Serio Perez all over his rear wing.
How fitting would it be for Vettel to cross the line, literally with his car on fire!? Surely there's no chance that he would obey an instruction to stop the car now, regardless of risk...
Red Bull come on the radio again - and they're urging Vettel not to use his electical drinks bottle! Any strain on the alternator could jeopardise this victory, though the title is secure either way.
Vettel's pit crew come on the radio and tell him to back right off - are they worried about him suffering the same problem as Webber? Or maybe they're thinking, hey, the race is in the bag so why risk anything?
Nico Rosberg has been gaining over a second a lap on Raikkonen - and he goes through! Rosberg takes second place in the Indian Grand Prix.
Alonso is up to 12th, but being held off by Ricciardo at the moment. No prospect whatsoever of him getting that second-place finish he'd need, even if Vettel's car was abducted by aliens.
Raikkonen is all over the shop, but he has no choice but to stay out and make the most of it.
Raikkonen now losing a second a lap on Vettel, who has the luxury of being able to have another pit stop if he fancies it. He's 26 seconds clear at the front.
Lotus currently have Raikkonen in second and Grosjean in fourth - both cars can just about get to the end, though Raikkonen is fighting on tyres that are wearing out and a fuel problem which means he's told to take it easy. What a battle he's got on his hands!
There's now five cars in a row from Sutil to Alonso, 10th to 14th, with barely two seconds separating the lot of them.
Lewis Hamilton is close in on Felipe Massa now - both cars running well and setting best laps.
Sutil is 10th and in a huge battle with four cars behind him since that stop.
Red Bull explain to the technical correspondents in the pit lane that it was actually Webber's alternator that caused him to stop - when they fail they inevitably catch fire after a few laps, which ignites the oil tank, which in turn wrecks the engine.
We're just getting a replay of what happened to Mark Webber - he appeared to be going along fine and was completely nonplussed by the instruction to stop the car. Will be fascinating to see what if any fall-out there is to that.
Sutil has 18 laps to go on the soft tyres - it'd be a minor miracle if he gets to the end in one piece on those, but hey, it's surely worth a gamble...
Vettel now leads from Raikkonen by 25 seconds - as Sutil goes into the pits at last.
Mark Webber has now failed to score in three of the last four races.
There's a yellow flag out despite Webber being in a pretty safe spot - Vettel now being told on the radio that his team-mate has suffered a failure.
Disaster for Mark Webber: "We have lost gearbox synch" hit pit crew tell him on the radio. WEBBER IS OUT OF THE INDIAN GRAND PRIX!
Can only think that Sutil is hoping to get to lap 48 or so on these tyres, and manage his way to the end on the soft tyres from there on in.
Adrian Sutil still yet to stop - and his pit crew come on to the radio to tell him to push harder! He's being caught by Rosberg, Massa and Hamilton, that's why.
Fernando Alonso's race couldn't really have gone worse. That crash early on - which called for a change of tyres and a new nose cone - ruined his strategy. He's just stopped again, down in 16th place.
Vettel is on course for his sixth consecutive win - he can equal the record of 13 wins in a season if he keeps on like this.
Mark Webber told on the radio not to push since he, too, has to make his tyres last until the end. Considering that he'd love to put Vettel back in his box by catching him, that's a big call. And one that will probably be ignored.
After the second round of stops, Hamilton is back in ninth - but Sutil, Raikkonen and Ricciardo ahead of him haven't stopped twice. Sutil hasn't even stopped once!
Vettel's pit crew come on the radio as he sets a quickest lap of the race once more: stop going so fast and save your tyres, he's told. You need to save those tyres so they last til the end of the race.
It's time to start engraving the name on the trophy: Vettel is 12 seconds clear of effective-second-place-driver Webber, with no more pitstops to make. Only some catastrophic misfortune can stop him now.
Webber comes into the pits for his next change of rubber - and he comes out third, behind Daniel Ricciardo, who is still yet to stop.
Down in the pack, Alonso and Button get into a great battle, switching the lead back-and-forth between themselves three times.
Webber's tyres are already staritng to degrade - he won't make up any more time on Vettel now, despite having clear track ahead of him.
Vettel comes into the pits! A 2.8 second stop, and that will be his last pit stop of this race!
We're beyond half-way, and there's now no doubt that Vettel will get to the end with onre more change of tyres...
Vettel is 10.7 seconds ahead of Webber, but Webber is on the soft tyre for this stint and is trimming that gap all the time.
Stewards investigate Gutierrez for weaving about, but Grosjean's weaving around behind him was far crazier...
Daniel Ricciardo running in third place at the moment - while back in the pack, Grosjean is infuriated over the radio as he accuses Gutierrez of weaving across the track to block him.
MARK WEBBER COMES INTO THE PITS! He's back out in second place, and with Sergio Perez stopping as well, Sebastian Vettel leads the Indian Grand Prix!
Rosberg comes into the pits, and rejoins in 13th place.
Webber expected to pit at any second now... It'll be crucial to see if Vettel can manage an extra half a dozen laps or so before coming in.
Lewis Hamilton in 8th now closes on Rosberg - looks like being a three-way battle for this spot ahead of the next round of pit stops.
Massa and Rosberg having a good battle for 6th spot at the moment.
Alonso still 13th incidentally - he's three seconds adrift of Paul Di Resta in 12th.
"Don't worry about being overtaken by Vettel" McLaren's pit crew tell him. "What you're doing is very good."
Vettel sets yet another quickest lap - he's under 12 seconds from his team-mate now.
Alonso finally gets past Gutierrez, but it's taken him a while. No time wasted at all for Vettel by contrast, whose lap while overtaking Perez was just a third of a second slower than his previous one.
Vettel has caught right up on Perez as the two come round past the main granstand - and he takes him at the end of the start-finish straight!
Alonso and Gutierrez are both coming through traffic at the moment - that gives Gutierrez the benefit of DRS to keep Alonso at bay, since he can use it to lap back markers.
Lewis Hamilton has fought up to eighth place - Alonso still down in 14th, but right on the tail of Gutierrez.
Vettel has just taken another second out of Perez in that lap - another two laps and he'll be up behind the McLaren.
Vettel has just set yet another fastest lap - 1.31.008. The gap to Webber is just over 12 seconds now, while Perez is 3.6 seconds ahead of him.
Perez's pit crew tell him on the radio that "we're still on plan A" - which presumably means running as long as possible on the medium tyre before coming in for a stop.
Webber needs to put soft tyres on at some point today - but given that they'll only last a few laps, he'll likely leave it to the last possible minute. The big question is whether Vettel - who had his softs on at the start - will be able to get to the end with just one more stop.
Webber still going strong on what are quite old medium compound tyres now. Is there an outside chance that he could try an outlandishly long stint to try and take one less stop than Vettel? Remember, Vettel was in after just three laps...
Sergio Perez running second incidentally, only because he's not had to pit.
Vettel is now up into third with another brilliant lap - the gap 13.8 seconds, and as soon as Webber pits Vettel will be in total control of this race.
Alonso is down in 15th place at the moment. The title race is surely as good as over - even if Vettel does something unspeakable, it's almost impossible to see Alonso winning or coming second from there.
Esteban Gutierrez is being investigated for a possible jump start. Whoops!
Vettel has clear air at the moment and celebrates by setting the fastest lap. Gap now 14 seconds.
Vettel gets past Grosjean as well and is up to fourth - the gap to Webber around 15 seconds now.
Webber has around 18 seconds advantage over Vettel at the moment - unlikely to keep him in front when he stops, but Vettel is still being held up in traffic. Vettel is all over Sutil, but has only just got past after a lap and a half.
Vettel is in sixth after that round of pit stops - but Webber, on the hard tyre, is clear at the front and putting in great laps all the time.
Felipe Massa about to come in - with Rosberg in too, and Hamilton, Webber becomes the race leader.
Webber has fought his way back up the field and into fourth place - but now Nico Rosberg comes in, and he's third.
Felipe Massa, Nico Rosberg and Lewis Hamilton are coming to the end of the lives of their soft tyres - all the drivers on that tyre beginning to struggle, Kimi Raiikkonen more than most as he slides all over the track.
Alonso's pit crew come on the radio to warn him that he might also have wheel damage - if he does, and has to retire, the championship is officially over.
Vettel is down in 16th after that stop - Alonso was forced to stop as well after that collision early on. That's a game-ender for Alonso, who must win or come second and pray for disaster for Vettel: the Spaniard started on the medium tyre, hoping to get ahead of the game compared to those on softs stopping early. He's lost that advantage.
A replay of the start shows Mark Webber failing, yet again, to get off the line properly. He's had a season of dreadful starts.
Rosberg still second, Hamilton third - Massa took both of them on the inside in one brilliant move back on lap one, incidentally, making the most of a tight start.
Massa leads, Alonso into the pits as well - it seems he got a puncture in that tussle with Webber.
Several cars pit after that chaotic start - and VETTEL IS ONE OF THEM ! THE LEADER IS IN THE PITS!
Vettel is 3.5 seconds clear - several hundred yards ahead.
Vettel already a mile clear at the front...
Raikkonen on the radio - he's worried he has a puncture. Webber down to seventh!
Mark Webber haemmorhaging places already, while Massa is charging through - and he's up to second!
AND WE'RE OFF! Great start for Vettel and Hamilton, Alonso and Webber both involved in minor scrapes!
The cars are lined up and the lights are on,....
The parade lap is under way and the cars will shortly be lining up on the grid...
Good morning and welcome to our LIVE coverage of the Indian Grand Prix.