avant-match
Race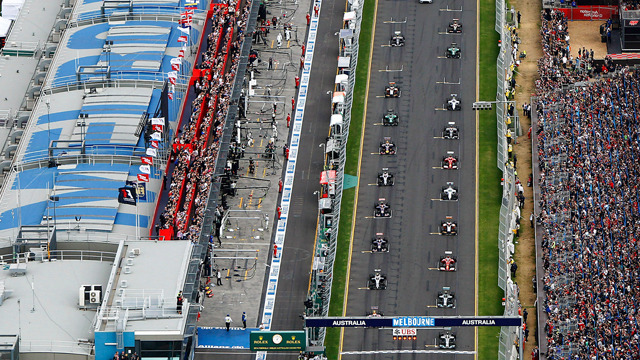 Follow the Italian Grand Prix live with Eurosport. The race starts at 13:00 on 9 September 2012. Find race results, standings, stats, scores and track info. Keep up with the top F1 drivers and teams including Lewis Hamilton (Mercedes), Valteri Bottas (Mercedes) and Max Verstappen (Red Bull Racing).
Formula 1 fans can read breaking Formula 1 news, interviews, expert commentary and watch free replays. Don't miss the upcoming Formula 1 events. Make Eurosport your go-to source for sports online from Formula 1 to football, tennis, snooker and more. Enjoy live streaming of this season's top sports competitions.
Next up on the calendar it's Singapore in two weeks. We'll be there - see you then!
Fascinating race - disastrous for Red Bull, excellent for everyone on the podium. You can chat with me after the race with me on Twitter @Mark_Eurosport.
Rosberg, di Resta, Kobayashi and Senna round out the top 10.
Massa fourth, Raikkonen does just enough to hold off Schumacher.
A superb second for Perez, Alonso into third.
HAMILTON WINS THE ITALIAN GP!
Raikkonen at threat from Schumacher on the final lap - can the German pinch another place?
Meanwhile Hamilton at the front is sauntering through to a big victory. He's driven superbly well in a good car. Perez, though, will just wish he had another five laps...
Looks like flat spots on the tyres were his undoing as well. Miserable day for Red Bull.
NO! Webber is stuck in seventh gear, nowhere near the limit - he's lost the points places, and his race is to all intents and purposes over.
MORE DRAMA FOR RED BULL! WEBBER LOSES THE CAR AT ASCARI! Lack of grip, perhaps, and a vicious swerve takes him into the grass. Webber can at least continue...
Pictures on television of Red Bull principal Christian Horner with his head in his hands at that Vettel exit - it was very costly.
Hamilton's lead has been trimmed to 9.4seconds - but it looks like too much for Perez to close before the chequered flag.
Schumacher charging - up to sixth now - Raikkonen may not be able to hold on. Rosberg looking to eke out an extra place or two as well.
'STOP THE CAR - WE NEED TO SAVE THE ENGINE!' - panicked warning to Vettel as his race ended. It's a sorry end to a tough weekend.
VETTEL STOPS! Well, we had been warned - could be the alternator, but it's a big blow for the German's title aspirations. And that means Hamilton would move up to second in the standings.
Raikkonen is going to stay out in fifth to keep Vettel at bay.
Hamilton told to put his foot down. The gap around 12 seconds and if Hamilton cannot pick up his speed he would find himself in a bit of trouble.
PEREZ PASSES ALONSO! Easy! Alonso wisely doesn't fight too hard, and next up the road is Hamilton.
The Mercedes duo, also on fresher rubber, making good progress now - Schu up to 9th, Rosberg up to 11th.
Hamilton has 13 seconds on Alonso - but he might have to step on the gas a little if Perez comes through to second. Another fastest lap from the Sauber, down into the 1:27s.
Alonso would be well-advised not to fight too hard with Perez - he's going round the track around 1 to 1.5s slower than his rival. The Spaniard needs to take the points in the championship race.
Perez right on the back of Massa now - the move is so easy - he's up to third!
Webber told that 'Vettel has a problem that may cause him to stop' - that's bad, bad news for the world champion.
Hamilton, however, driving around very comfortably at present. So long as he avoids whatever gremlins beset Button's car, he is on track for a race win.
Alonso has to do 33 laps on this stint - Perez stopped around 10 laps later. Second not out of the question at this rate.
Perez unhappy with backmarker Charles Pic as he continues to close the gaps on Ferrari. Massa looks a sitting duck at the moment.
Projected championship standings - Alonso would leap to 34 points clear of Vettel as it stands, with Hamilton six further points back in third.
There it is - quick, and if you're Felipe Massa, probably a bit painful. Alonso jumps Massa for second. Jean Alesi, guest in the Ferrari garage today, shrugs.
Perez is taking chunks out of both Ferraris on fresher rubber. Superlative drive from the Mexican.
Alonso is now 0.9 seconds behind Massa, and the Brazilian is told exactly that over the radio.
Meanwhile Perez has made his way through beyond Raikkonen, and with Schumacher in the pits, the Sauber is into fourth and flying.
AND HE DOES! Big pass, and it's all about damage limitation for Vettel now in the championship race. Every point counts.
No chances of team orders at Red Bull, however - so while Alonso is set to gain a place from Massa in due course, Vettel will have to find a way past his team-mate on merit.
Button announces over the radio that he had 'just lost drive' - he needed every point possible if he was to remain in the title race. A real disappointment for McLaren, but Hamilton still leads.
Perez now the fastest man on track. He's past Raikkonen, but carries a little too much speed into the chicane and has to lose the place. Surely inevitable he will take it back, however.
Vettel rejoins the race in P9 after serving his penalty, just behind his team-mate Webber.
Hard to imagine things going any better for Alonso - he's now into the top three, and second, you would think, is something for a formality.
What's happened here? Button was coasting around to second place, looked like he was having a very easy afternoon, and all of a sudden he grinds to a halt on the Parabolica.
Vettel could drop from fifth out of the points altogether after that incident.
DRIVE-THROUGH PENALTY FOR VETTEL! He has been adjudged to have pushed Alonso off the track. That's really put a dent in his race.
Massa's drifted out to 4.1 seconds behind Button. Alonso is gaining ground on him. Will the Ferrari team enact team orders?
Hamilton now moves the fastest lap down to 1:28.908 - he's having a supreme drive at the front of the field. The lead just over seven seconds.
Perez finally stops and comes back out in eighth. Hard to criticise a man having a good race, but if he'd gone a couple of laps earlier he might have come off even better.
The original move is under invesitagetion, however, and that could mean a penalty for Vettel. Depends on the stewards' interpreation now.
ALONSO PASSES VETTEL! It had been coming - the move comes at Curva Grande, and Vettel simply doesn't have the straight-lin espeed to fight it off.
The fun over for Perez - Hamilton breezes up to him and passes him with DRS. Time to pit for Perez?
Alonso lost a little ground on Vettel in that skirmish, but is closing the gap - and he clearly possesses the quicker car.
Hamilton lapping much quicker than Perez, who has still yet to pit.
Alonso not happy at all, feeling he was run wide. This has shades of last year's move at the same place - then, it was Vettel taking on Alonso!
ALONSO RUNS OFF! Looks to catch Vettel on the outside at Curva Grande - big risk, and he's lucky to survive it - a very bumpy ride on the grass before getting back on track.
Hamilton's stop measured at 2.7s - much sharper than Button's pit.
'Tyres are in very good condition - Plan A will work', Button told. Cryptic, but not that cryptic. One-stop the plan for Button. Should finish second today.
Hamilton now comes in and emerges three seconds behind Perez.
Vettel and Alonso now both past Senna as they charge on - Hamilton leads from Perez, and neither have stopped for now.
Button stops - 4.8s he is stationary - that's a bit slow, but he gets away with it and emerges in front of all his rivals.
Vettel almost clips Ricciardo! Awkward as the two jostle for track position, but he's through, and now safely joined by Alonso.
Webber, who had stayed out, pits frm fourth, but rejoins in 12th. Nico Rosberg, way down the field, has set wo fastest laps, including a 1:29.560.
Looks like plenty of two-stop strategies out on track, then - but not the McLarens, who are bossing this race.
Alonso goes in as well! They come out at almost the same moment, there might be a look to see if that was an unsafe release. Both rejoin just a whisker behind Massa.
Hamilton now leads Button by 6.6s - the second McLaren has a couple of seconds on Vettel, who's coming in...
Sure enough, Massa into the pits. The car should be fine, but missing out on the telemetry for the time being is a handicap.
Button ahead of Massa! Lovely move through to Curva Grande - that will do nicely for McLaren. Ferrari preparing a stop.
Problems for Ferrari - Button closing the gap to Massa, who's just reported a loss of telemetry!
Raikkonen into the pits - hard rubber for him.
No sign of the top five heading for the pits - Raikkonen has just gone 0.7seconds quicker than his previous lap now Schumacher is out of his way.
Alonso meanwhile has settled into a longer stint behind Vettel, not taking on the world champion, conserving the tyres.
New tyres for Schumacher - he defended sixth place and kept the train behind him but he also needed to stop more quickly than his rivals. Not a good sign on the Mercedes pace.
Button, meanwhile, told his pace is good and that he should 'hold'. That looks like a one-stop, perhaps?
Mercedes pit team are out - it's for Rosberg, who comes back into the race in 19th on hard tyres.
Sergio Perez just starting to make some progress with his hard compound tyres - a fastest final sector. But Hamilton has the fastest lap - 1:30.194.
First man to pit is Pastor Maldonado - he rejoins the race in 22nd place.
Webber spotted running wide, but he gets away with it and doesn't lose a place.
Schumacher doesn't appear to have the pace of his rivals. Now Raikkonen on his tail. He's asked to pick up his speed by his engineer, but that looks easier said than done.
Hamilton coasting at the front of the race, four seconds clear of Massa. The Brazilian has a narrow advantage over Button, who's clear of Vettel.
There's a bit to be decided by the teams - will it be one or two-stop strategies that dominate today? If it's the latter, they'll start to come in in the next three laps or so.
Maldonado, who started with a 10-place grid penalty, is making a move - up to 17th. Webber has also been undoing some of the self-inflicted damage, moving into the points places.
So everything settling down after a couple of hairy incidents. Vergne is unharmed, and walks away from the crash.
Yellow flags! Vergne loses the back of his Toro Rosso on the straight, and slams over the kerbs and out of the race at the first chicane. That didn't appear to be his fault, it looked mechanical.
Senna off! Went to take on di Resta for 10th, but the Scot defended stoutly and there was no room for the Brazilian.
Alonso well clear of Schumacher now. What a terrific start he's having.
But not for long! Out of the Parabolica the Ferrari gets side-by-side with Schumacher and the German can do nothing more to fend him off.
Alonso eyes a DRS move on Schumacher but cannot make it stick, and for the moment he is stuck behind the Mercedes.
Senna and Rosberg tangle at the first chicane - light contact and both drivers are able to continue.
Massa just out of range for Button as well - there should be overtaking opportunities for those drivers who do get close on these long straights.
Hamilton has opened up a 2.2s cushion on Massa - that keeps him out of the DRS zone.
Vettel up and past Schumacher - now Alonso is closing right up to the veteran's rear wing.
Rosberg told the cars around him need to be passed because they are all on one-stop strategies. The German sits 12th at present.
Massa and Hamilton have had their fair share of run-ins on the track in recent times, but they showed some respect for each other at turn one.
Top 10: Hamilton, Massa, Button, Schumacher, Vettel, Alonso, Raikkonen, Kobayashi, Di Resta, Senna
Alonso now sixth! Through Raikkonen and Kobayashi like a knife in warm butter - Alonso has a great car this weekend and will be a danger!
Webber had a horror start and has dropped to 14th. He'd make his life so much easier itf he could nail those starts - Hulkenberg up from 24th to 18th already!
Alonso picked up two places as well on lap one - terrific start, Massa able to hold off Button as he looks to get back through.
Button loses third place to Massa in the first corner - the Brazilian side by side with Hamilton but Lewis holds on!
Everyone takes their place on the grid...
The drivers are off on their formation lap. The weather set fair in Monza as it has been all weekend. Could be a cracker.
How do you see this race playing out? Can anyone stop Hamilton today? Will Red Bull surprise us all with their race pace? You can tweet me your thoughts @Mark_Eurosport
The championship: Alonso still leads, but is not in a good position to start today's race, and was closed down by his rivals after a first-lap crash in Belgium last weekend.
The story of qualifying - Hamilton quickest, Button slotting in behind him in second. With two poles and two victories in the previous two races, it looks like McLaren have got themselves back on track. But what happened to championship leader Alonso?
Hello and welcome to live coverage of the Italian Grand Prix from Monza - it's McLaren on pole, but Ferrari have a fast car - plenty of drama ahead at the fastest track of the season.