avant-match
Free Practice 1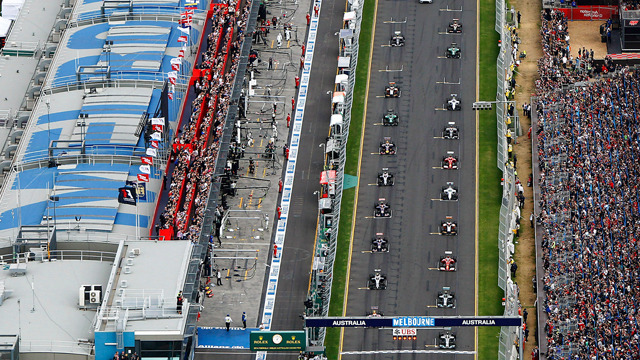 Follow the Italian Grand Prix live with Eurosport. The race starts at 09:00 on 6 September 2013. Find race results, standings, stats, scores and track info. Keep up with the top F1 drivers and teams including Lewis Hamilton (Mercedes), Valteri Bottas (Mercedes) and Max Verstappen (Red Bull Racing).
Formula 1 fans can read breaking Formula 1 news, interviews, expert commentary and watch free replays. Don't miss the upcoming Formula 1 events. Make Eurosport your go-to source for sports online from Formula 1 to football, tennis, snooker and more. Enjoy live streaming of this season's top sports competitions.
We'll be back from 1pm GMT with the second practice. Make sure you join us then.
The session is over. Hamilton tops the opening practice from Alonso, Rosberg and Vettel.
With the drivers getting their final few laps in, Perez makes a slight mistake as he skids over the gravel on the exit of the second Lesmo.
Grosjean misjudges the first chicane yet again. He locks his front tyres but manages to avoid any real problems.
Raikkonen continues to go fast in sector one, claiming another green light, but he fails to improve upon his time.
Hamilton has been trying to communicate with his team via radio but they couldn't understand a word he was saying, but they seemed happy enough with the Mercedes driver's pace.
Fernando Alonso clocks his 20th lap of the day whilst teammate Massa is still in the pits having completed just 12.
Maldonado's team have been on the radio to him. He's been told to "do an oil transfer" and "remember to go back to standard mode and KERS four"
Kovalainen sets his quickest time of the morning with a 1:28.9 but is still behind regular driver Pic.
Hulkenberg is out of the remainder of this session. His team were unable to fix the gearbox problem and his car conked out on the way out of the pits. Fortunately for the Sauber team, as it's FP1 there are no penalties for changing the gearbox.
Raikkonen struggles through Parabolica yet again and fails to improve upon his time despite setting a PB through sector one.
Raikkonen joins the action once more, with his teammate still in the pits. The Lotus driver is currently in fifth.
James Calado is doing a great job for Force India so far. It's his first taste in an F1 car and has currently set the 17th fastest lap of the day.
Gonzalez hits the 20-lap mark in his Marussia. It's the slowest time of the day, though, clocking a 1:29.5.
The top 14 drivers are currently within a second of each other. A consistent pace veing held here at Monza.
It appears that Hulkenberg had to complete the majority of that lap in third gear. He had no trouble shifting down gears and into neutral when he entered the pitlane, so it must have been a problem shifting up.
Hulkenberg is currently having an issue with his gearbox and is unable to change gear. He's heading back into the pitlane.
Button improves upon his time and closes is on his teammate, setting personal best first and final sectors with a time of 1:26.0.
Williams's Bottas is the next driver to have a problem with the chicane. A number of drivers have struggled so far this morning.
Grosjean puts his mistake in the final lap behind him to complete a solid lap with a green light in the final sector with a time of 1:26.2.
Hulkenberg looks to be flying but follows Grosjean's earlier example and runs straight on at the first chicane.
Every driver has completed around 9-12 laps in this opening session and it currently stands with Hamilton leading from Alonso, with Vettel in third.
After failing to record a time during his initial eight laps, Gutierrez continues to improve and sets a 1:26.9.
Hamilton looks quick through his next lap but, similar to Alonso, can't mantain the pace during the final section and fails to improve on his 1:25.5.
The Spaniard flies through the first two sectors but is slightly slower in the final section - catching a little gravel on the Parabolica - as he clocks 1:25.6.
Alonso, who had an adjustment made to his wing during his last pit, produced a couple of very average laps but now looks back to his best.
Massa's car is currently on stands at the moment. He's having a problem with weight distribution in his car so his team are currently moving around weights on the floor of his car. He'll be back out soon.
34'
Better from the Mercedes driver. Hamilton sets a session benchmark with a 1:25.5. Elsewhere, Button is back out on the track.
Hamilton has now been told that his teammate Rosberg is getting a better exit at Parabolica and is subsequently losing time.
Gutierrez does finally set a time, clocking a 1:27.1, and goes in front of teammate Hulkenberg.
Hamilton told to push by his Mercedes team and he does so instantly, promptly running wide at the second chicane.
Lewis Hamilton currently sits in sixth place with a time of 1:26.1.
Button's car has just had a large section of the floor taken out by his McLaren team. We'll see if the Brit feels more comfortable when he returns.
Kovalainen has been on the radio to let his team know that his downshift is causing instability. He'll be heading into the pits soon...
40'
Fernando Alonso posts a new session benchmark with a 1:25.8, knocking Vettel into second. Solid lap from the Spaniard.
Gutierrez is back on track for an eighth time. Will he finally set a time?
Jean-Eric Vergne clocks his quickest lap of the session with a 1:27.2, but that's only good enough to see him 13th.
Maldonado locks up as he enters turn one and is forced to skip the following two corners. I'll keep you updated as to what happened there as soon as I get any information.
Gutierrez, who has been on the track seven time, is still yet to set a lap time in his Sauber.
46'
Raikkonen then goes second fastest with a time of 1:26.003 before Vettel improves upon his time, setting a fastest lap of the morning with a 1:25.9.
Vettel first real lap of the morning sees him jump into second spot, clocking a time of 1:26.056.
Webber jumps up two places with a time of 1:26.6 as he continues to settle into this practice session, building up his pace.
Webber's first time of the morning is 1:27.6 which puts him in fifth. Kimi Raikkonen is now on track in the second long-wheelbase Lotus.
Jensen Button was complaining about his rear wing, saying that DRS wasn't closing as sharply as it should do. Not very promising for the Brit.
Nice response from Grosjean who gets round in 1:26.6, climbing back to second place and knocking Massa back into third.
Massa knocks Grosjean down one spot with a time of 1:27.9. Maldonado, Webber and Vettel are now also on the track.
54'
Perez goes quicker once more. He sets a quickest time of the morning with a 1:26.0. Gorsjean posts a time of 1:28.65.
More drivers make their way onto the track with Grosjean, Hulkenberg, Kovalainen and Massa all joining the fun.
Just before pitting, Britain's Button improves on his time with a 1:27.12 but still stays second.
Pastor Maldonado is getting prepared for some morning action in the Williams garage. Button has just expressed that he's not happy with his set-up and will now be pitting.
58'
And Perez goes quicker yet again, clocking a time of 1:26.6, leading Button, Chilton and Gonzalez.
59'
Perez does indeed go quickest - setting a 1:27.23. That's a new session benchmark.
Chilton returns from his installation lap with Button now backing off. Perez sets a quickest time in sector one but can he carry it through for a quickest lap?
62'
Button almost beats his personal best with a 1:27.2 as his teammate goes 2nd with a 1:27.8.
His teammate Sergio Perez has now joined him on the track and has started a lap. Marussia's Chilton also joins in the action.
65'
Impressive. Button goes 1:29.4 on his first timed lap around the track and sets a new session benchmark.
Button now joins the track in his McLaren, doubling the number of cars on the circuit.
67'
A quicker lap from Gonzalez now. He sets the benchmark with a 1:30.7.
A rather lacklustre lap from Gonzalez, that. But, as the first timed lap of the morning, it's not totally unexpected. He shows signs of oversteer under braking as he makes his way into the pits.
69'
1:34.9 is the first timed lap we have this morning and it is Marussia's Rodolfo Gonzalez.
Gutierrez is out there on his own once again, with Rosberg returning to the pits. We're still yet to see anybody set a time.
Gutierrez returns to the track in his Sauber as he looks to complete his fourth lap of the morning.
FACT: Monza is the most visited track in Formula One History, having hosted all but one Italian Grand Prix since 1950.
Vettel also completes his second run of the track and pits. Expect him to stay in there for a while.
Sauber's Gutierrez completes another circuit of the track, rounding Parabolic as he enters the pits yet again.
Nico Rosberg has a drag reduction device fitted to the rear of his car for this session.
All installation laps are now complete. It has been reported that Lewis Hamilton is not happy with the display on his screen and has asked for it to be changed before going back out.
Fernando Alonso appears and gives a wave to the crowd before taking his car back into the pits.
A number of drivers have emerged for their first lap but have come in without setting a time. Typically quiet in the opening stages but, as always, Monza is sure to entertain.
Mercedes driver Nico Rosberg heads out for his first lap to check the basic functions of his car.
Daniel Ricciardo, who will replace Mark Webber at Red Bull, makes his way onto the track in this first session.
Felipe Massa makes his way around the track whilst we still wait for Fernando Alonso to appear.
James Calado has his first opportunity in Force India's car this morning. Following the practice he'll be heading straight back to compete in GP2.
The two Marussias are out on the track. Sergio Perez in the McLaren has also just made his way out, as has Lotus's Romain Grosjean.
An expectedly slow start to the start of this opening session. Nobody immediately stormed out onto the track.
Autosport's Mark Hughes has said on twitter: Mercedes pinning hopes on a revised low-downforce package post spa.
The pit lane is now open and the hour-and-a-half-long session is underway.
Enjoy the ultimate race weekend guide, courtesy of James Frankland
Italian Grand Prix: The ultimate race weekend guide
However, Britain's Lewis Hamilton has said that he would like nothing more than to finish this weekend being booed.
Formula 1 - Hamilton: I'd pay money to be booed at Monza
Sebastian Vettel will be looking to continue in his fine run of form this weekend following his victory at the Belgian Grand Prix. The German currently has a 46 point lead over Fernando Alonso, who sits in second place in the driver standings, and a 58 point lead over Lewis Hamilton, who sits in third.
Welcome to live coverage of opening practice from the Italian GP at Monza.