avant-match
Free Practice 1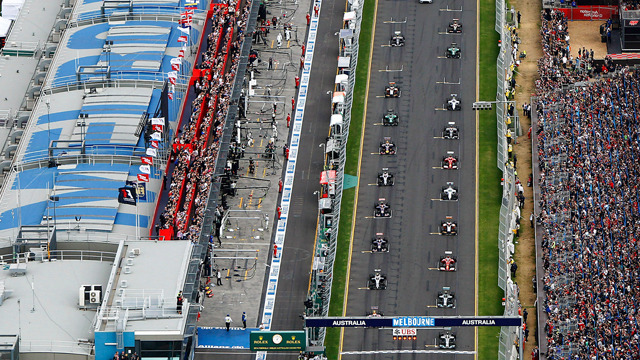 Follow the Japanese Grand Prix live with Eurosport. The race starts at 02:00 on 7 October 2011. Find race results, standings, stats, scores and track info. Keep up with the top F1 drivers and teams including Lewis Hamilton (Mercedes), Valteri Bottas (Mercedes) and Max Verstappen (Red Bull Racing).
Formula 1 fans can read breaking Formula 1 news, interviews, expert commentary and watch free replays. Don't miss the upcoming Formula 1 events. Make Eurosport your go-to source for sports online from Formula 1 to football, tennis, snooker and more. Enjoy live streaming of this season's top sports competitions.
We'll be back at 6am UK time for the second practice session - just us then for that one!
So the drivers in order after that session: Button, Hiamilton, Vettel, Alonso, Webber, Alguersuari, Massa, Buemi, Schumacher, Petrov.
Vettel watches on as the stewards recover his car. Meanwhile the racers are doing a few practice starts to round off the session.
In the meantime, Jenson Button shaved 0.014 seconds off his best time.
Vettel went wide in Degner one, got on to the gravel and couldn't help but go into the tyre wall at the next corner. Front wing broken, but other than that it doesn't look too devastating. Drama nonetheless, though.
Session over - and as it comes, Vettel crashes!
Only time for a maximum of one more lap - will we see any improved times in this session?
Kobayashi inching along in his Sauber - bit disconcerting with that many cars out on track.
Limited tyre allocations for the drivers mean that most racers are on old rubber - the medium tyres unlikely to get any better this late in the session.
Glock has had a miserable morning for Virgin, with the car sidelined for most of the session with gearbox troubles. But good news for the German - he's going to get a couple of laps before the 90 minutes is up.
All the top six drivers out on track in the final five minutes of the session.
Vettel unable to make any improvement on his best time so far this morning - but it's so often around this time in a session that the German has popped up with the day's best time.
Several racers coming out for a final tilt in this session, including Button, who has the leading time.
Vettel follows Webber out - and this will be the pair's third run of the morning session.
Into the final ten minutes - will there be any late twists? Webber is out on track, Alonso back in the garage.
Rosberg seems to have spent plenty of time on track for very little result. He's still languishing, relatively speaking, in 16th place in the Mercedes.
A word on Senna - the Renault man is as happy as can be at the moment after getting the opportunity to race again.
Alonso still lapping, currently about a second off his best time. Back down to a handful of cars still on the circuit at present.
Vettel dives back into the pits after easing off considerably in the final lap of a seven-lap stretch.
Perez goes a little too late into the first corner of the chicane at the end of the lap, and has to run off track for the second corner.
Senna has also moved up the leaderboard into 11th, but that's one place below his team-mate Petrov. The new arrival from Renault seems to have won plenty of admirers from his first three races with the team, however.
An improvement for Vettel, however - he's crept up to third with a 1:34.090.
After seven laps Webber is back into the pits. The Australian did not improve on his best time in that stretch.
Buemi pounding around - the Toro Rossos are in a decent spot on the leaderboard as is stands, and the Swiss enhances his standing by going up to 8th.
Ferrari have half an eye on 2012 in these warm-up sessions. They are targeting a much more ambitious car for next season so they can hit the ground running and be competitive with Red Bull from the beginning.
Alonso going round at a similar pace to D'Ambrosio at present - but unlike the Belgian, the twice world champion is capable of a big step up.
A familiar tale for the Virgin of Jerome D'Ambrosio, who's so far off the pace - best time 7.5 seconds slower than Button's mark.
Schumacher back in the pits after four laps without improving his time. Hamilton now out for McLaren.
Vettel also coasting around the track at the moment for Red Bull, who are watching on under a canopied pitwall.
Webber on a decent lap, but loses time as he encounters an HRT ahead of him at just the wrong moment.
Massa's car looks a little bit more recognisable after losing the flo-vis paint on the front wing, but he's still a couple of seconds adrift on the timesheets.
So half an hour still remaining in the session, and the leaderboard looks like this: Button, Hamilton, Alonso, Vettel, Webber, Alguersuari, Massa, Buemi, Schumacher, Petrov
Interesting sector times from Button he was quickest on sector one, but eased off afterwards, and opted to pull in to the pits rather than complete the lap.
Button back out on track, still on the same tyres. First complete lap a couple of seconds off his pace-setting time.
Whatever Rosberg is testing, he looks unconcerned by pace - yet to go above 15th in the standings. Schumacher by comparison is 9th.
Some more improvement from Petrov - up to 11th place now. Schumacher also set to begin a new run.
Petrov has finally put in a flying lap, and it's good enough for 14th place. Critically, that's quicker than his team-mate.
Alonso is about seven-tenths of a second behind the McLarens at the moment - but hard to draw conclusions from these times so far as to which teams and drivers are strongest for the weekend.
Plenty of data for the teams to analyse. Only a handful of drivers on track at the moment, with the highest-placed of them being Kobayashi.
All the running has so far been on harder tyres - no sign of the racers switching to the soft qualifying-style option tyres.
Vettel the only one of the elite racers out on track now. Di Resta is on the road after that early hold-up, and has set the 11th-best time so far.
Tough day for the Renaults so far - Senna a mere 16th at the moment, well adrift - while Petrov has yet to post a time.
Vettel running a DRS wing - he's left it open and puts in some wobbly oversteer as he comes around the final corner.
Will be worth watching over the weekend how the Japanese crowd embrace this race. They love the sport here, but have lost home suppliers like Honda and Toyota, and the tyre suppliers too. Can Kobayashi keep the crowd's attention?
So as it stands (potentially very briefly) McLaren have their drives in P1 and P2 - that's happened all too rarely for the team's liking this season.
Hamilton's times keep creeping down - 1:33.7 - before Button pips him and goes a tenth of a second quicker.
Maldonado's team-mate Barrichello complains about how dirty the track is - perhaps the Venezuelan can blame that on his little error of judgment. He's been very ginger since that wobble.
We have the weekend's first off track excursion! It's Maldonado who goes off at the S-curves and endures a bumpy ride to get back on to the tarmac.
Hamilton now leaps up the leaderboard to post the morning's best time - a 1:34.372.
Vettel is also underway after a quiet start to the day, but he's not pushing too hard. He's a couple of seconds behind Alonso and Webber, and takes fifth for the moment.
Hamilton and Massa are next to each other again - on the timesheets, at least. McLaren man third, with the Brazilian one behind.
Alonso pulls out a second on the leading mark - a 1:35.181. Webber improves in second place, but still three-tenths adrift.
1:36.194 - that's a bit more like it! Webber lays down a bit of a marker to go top, while Alonso is off to a good start on this lap.
The Sauber of Kobayashi has lowered the best time down to a 1:37.760 - Alonso meanwhile is at a crawl, perhaps talking to his engineers.
Webber out - the first of the big guns set to post some meaningful lap times - Alonso has a lap to his name, but the time is meaningless - currently slower than the HRT cars.
Pastor Maldonado out in his Williams, and it will be interesting to see whether they can compete with the other midfield runners after a trying season.
News from Di Resta - the Scot reported a brake pedal vibration on his installation lap, hence the reason the mechanics are swarming over the car.
Perez through just behind the HRT of Ricciardo, who's now sliced his way down to a 1:41s lap.
Kobayashi's team-mate Perez is on a timed lap run of his own here - the Sauber has a fairly major upgrade package this weekend, and the team have high hopes for it. A lot of testing to be done in these three warm-ups, though.
1:39.381 for Kobayashi - another three seconds off the time. Half an hour through the session, and just three cars have times to their names.
Kobayashi looks as if he is now posting a proper lap time - he's got a couple of seconds on the HRTs already in the second sector...
Karthikeyan back into the pits after a five-lap run. Ricciardo has just nipped back ahead of him on the timesheets.
Kobayashi and Button are back on track. Big weekend for the Sauber racer - it's his home Grand Prix and he'll be the subject of extra focus from his home crowd.
That's if they go round for a full lap, though. Schu dives back in before he posts a time. Meanwhile the HRT pair are slowly reducing their times on the harder tyres, with Karthikeyan down to a 1:42.909 on his third full lap.
Schumacher and Petrov are the other racers on track - either of them could make a signficant dent on those HRT marks.
Ricciardo shaves a full three seconds off that time from his team-mate. But to put these laps into context, the lap record here at Suzuka was set by Kimi Raikkonen - a 1:31.5 back in 2005.
We have a lap time - Karthikeyan posts a 1:49.408 to get a time on the board. Expect that to drop significantly.
Button back into the pits without posting a lap time. The HRT cars are the next to get back out on track.
Di Resta's car up off the ground as Force India mechanics do some work to his axels.
Button out again, beginning with a simulated start on the edge of the pits.
In comes Massa, wheeled gently back into the garage. Even by the standards of free practices, it's been a very sedate opening to the session.
Flow-vis paint on the front wing of Massa's car, should tell Ferrari a little bit about the new wing that the team are trialling.
Want to know where the DRS zone will be for the Japanese GP?
Still yet to see a full lap time posted. Rosberg back into the pits, Massa now pootling around Suzuka.
For those of you living in a cave, Lewis Hamilton and Felipe Massa have been in a bit of a war of words since Singapore. The latest is that Massa says Hamilton will need to come to him if they are to bury the hatchet.
Rosberg makes a test start as he heads back on track.
As is quite often the case in these early moments of a free practice session, it's the Toro Rosso's which are still going - but as I type that the last of them, Jaime Alguersuari, heads back into the pits.
Chandhok looking very relaxed, already back out of the car after his installation lap and now pacing leisurely around the Lotus garage.
Our F1 blogger Will Gray took a look at Lewis Hamilton yesterday, and believes the McLaren man has to stay aggressive to succeed in the sport.
Webber and Vettel already back into the pits. Alonso doing some straight line constant speed tests.
Hamilton now out for his first tour of the track, slightly behind his main rivals.
Lots of ins and outs as you'd expect at the start of a free practice session. All the big guns have headed out on track, but they're not setting lap times yet - they're making sure everything is working as it should before getting into some longer runs.
A couple of testers out on track today - Chandhok is driving Kovalainen's Lotus this morning. Karthikeyan is back in action for HRT as well.
Odds very much in Vettel's favour, too - he's won in Suzuka in 2009, 2010, and is going for a hat-trick this weekend. Who'd back against him?
Several drivers out immediately for their installation laps, but all eyes are on Seb Vettel in the Red Bull this weekend. He needs just one point, remember, to seal the world title for the second year in a row.
Morning all, and welcome to live updates from free practice one of the Japanese Grand Prix!