avant-match
Qualifying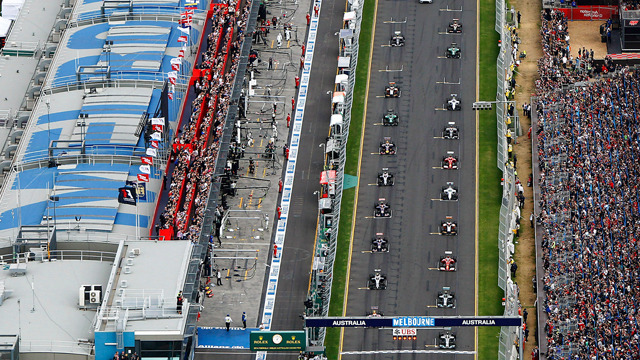 Follow the Japanese Grand Prix live with Eurosport. The race starts at 06:00 on 8 October 2011. Find race results, standings, stats, scores and track info. Keep up with the top F1 drivers and teams including Lewis Hamilton (Mercedes), Valteri Bottas (Mercedes) and Max Verstappen (Red Bull Racing).
Formula 1 fans can read breaking Formula 1 news, interviews, expert commentary and watch free replays. Don't miss the upcoming Formula 1 events. Make Eurosport your go-to source for sports online from Formula 1 to football, tennis, snooker and more. Enjoy live streaming of this season's top sports competitions.
We'll be back tomorrow for the race, which begins at 7am UK time. Join us then!
END OF Q3: Vettel, Button, Hamilton, Massa, Alonso, Webber, Schumacher, Senna, Petrov, Kobayashi
Looks messy at the back there - Schumacher reportedly eased off at the last chicane to get a bit of room, and that held both him and Hamilton up so they could not post a time.
NO! Button misses out by 0.009 seconds. Extraordinary - but Vettel's first once again.
Vettel on pole - but Button is on his pace and coming through....!
Vettel ahead of Hamilton after two sectors...
Time up - Vettel leads them through - did Hamilton and Schumacher get across the line in time to complete a flying lap?
Some drivers are going to be perilously close to missing out on a flying lap as the clock ticks down...
That's more like it - Red Bulls, Ferraris, and McLarens out on track. Could have an interesting finish yet!
The rules will have to be changed. You can understand the teams' logic to qualifying - why would Renault, for instance, come out to damage tyres to fight for 8th instead of 10th? But it's not right for the fans.
Well, nobody is out on track. There's time for a final tilt - but not much time.
And as the rest of the racers fall in, none can beat him. Button a tenth of a second behind, Vettel and nother tenth behind in third. Webber fourth, Massa fifth. So quiet on track - who wants pole?
Belting lap from Hamilton - 1:30.617 to put him on top!
Interesting - although cynical - Kobayashi puts in some sector times, but doesn't complete his lap. That means he'll beat anyone who chooses not to run, but it's hardly entertaining for the crowd.
Kobayashi begins his flying lap, and Button gets on track.
Kobayashi out instantly in the Sauber - the rest don't rush. Can Red Bull take pole today? McLaren look like they have a qualifying package capable of besting Vettel and Webber...
Q3 BEGINS: The men in the shootout are: Hamilton, Button, Vettel, Webber, Alonso, Massa, Schumacher, Senna, Petrov, Kobayashi.
END OF Q2: The men to miss out are Sutil, Di Resta, Barrichello, Maldonado, Buemi, Alguersuari, Perez
Late drama! Petrov and Kobayashi cement their places in the top 10, and so does Senna! Great effort considering the state of the Brazilian's car earlier this morning.
Good news for Kobayashi, he's on track from the first sector to break into the top 10...
Ninth for Maldonado - 1:33.224 enough to beat both Toro Rossos and edge out Alguersuari into 11th.
Di Resta out on track - he's still to set a time. Maldonado also going round, flirting with a top-10 time.
Not too many drivers on track. First seven drivers still in the pits - will we see them? Probably not.
Both Toro Rossos in as it stands. That would be some qualifying session for them if they could stay there. 9th and 10th very precarious though.
Looks like teams are saving tyres assiduously here. You'd normally expect racers to get out two times in this session, but several top and middle teams declining that and going for just one run.
Schumacher in and up to seventh. Kobayashi now edged out of the final session as it stands.
That's all changing, though - Senna and the two Williams both get times in, but none are good enough to advance.
Only 10 drivers have put down times so far - the men still to come: Senna, Barrichello, Maldonado, Schumacher, Alguersuari, Di Resta, Perez
Hamilton fastest of all! 1:31.139, while Alonso slots into 5th. Not much separating that top five, though - less than half a second.
Button second - but just one-hundredth of a second behind. And Webber a tenth behind that.
Vettel 1:31.424 - that's pretty quick! He can dive into the pits with job done if he wants.
After a quiet moment, the times are going to start coming in thick and fast...
And here comes Hamilton - but the first man's time to scrutinise closely will be the German. He's on a very gentle out-lap though, preserving his tyres.
Drivers out nice and early - Vettel making an instant arrival on to the track.
Q2 BEGINS: Another seven drivers to eliminate - the top three teams look safe, as does Michael Schumacher in the Mercedes. Who else can join them for the shootout?
END OF Q1: The men to miss out - Kovalainen, Trulli, D'Ambrosio, Glock, Ricciardo, Rosberg, Liuzzi
Rosberg will not get his lap in in time - and that's a disaster for the Mercedes driver, who'll start at the back of the grid.
Kobayashi goes top on the soft tyres with a 1:32.626. Slightly false stat, but the home crowd will enjoy their man topping the standings for a while.
Senna into 8th on the soft compound. A good result for him, he'll be safe for Q2.
Interesting - Di Resta up to 7th on the softer tyres. Senna out on track and looking pretty quick as well.
The top six: ALonso, Hamilton, Button, Vettel, Webber, Massa - are all in the pits, along with Schumacher in 7th. Schumacher is the last man within a second of Alonso.
Paul Di Resta sets out on the soft tyres. He's currently in 13th and needs to gain a bit of time to ensure his participation in Q2.
Concern mounting in the Mercedes garage as Rosberg has yet to get his car out on the track. There's still time, but it is whittling down quickly.
As it stands, the men to drop out of qualifying here would be the HRTs, the Virgins and the Lotus of Trulli, along with Senna and Rosberg - neither of whom have yet to set a time.
Hamilton desperately needs a good time here to pick himself up having been outpaced by Button all weekend - and he's found a decent one to surge up to second.
No improvements the second time around - Alonso still first, Button shaves a fraction off his time but remians second. Vettle back in the pits in third.
Button on top for a couple of seconds before Alonso shaves a couple of tenths off - a 1:32.817 for the Ferrari.
Hamilton runs wide at the Spoon corner - that means he is around in 16th place - precarious for the moment.
1:33.051 from Vettel - that's the leading time thus far - but there's plenty of room for improvement still.
Earlier today Senna had a nasty crash at the Spoon curve. He was unharmed, but the car was damaged. Happily for Renault, it looks as if Senna will be able to run in this session.
Here come the big boys - Seb Vettel is out on his first lap on medium compound in the Red Bull.
Petrov quickest so far with a 1:34.045 - that's the early benchmark, but should be beaten by some seconds.
Trulli one of the first men out and he's already on his first flying lap in the Lotus.
Top of the warm-ups - Jenson Button. He was top of all three practice sessions.
Qualifying begins in Suzuka! 20 minutes to eliminate the seven slowest cars - and the drivers are in glorious sunshine in Japan.