avant-match
Qualifying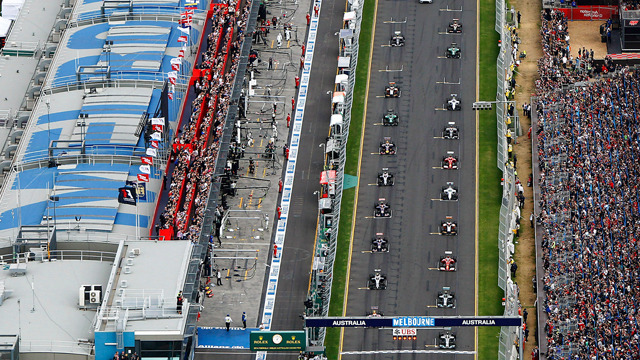 Follow the Korean Grand Prix live with Eurosport. The race starts at 06:00 on 15 October 2011. Find race results, standings, stats, scores and track info. Keep up with the top F1 drivers and teams including Lewis Hamilton (Mercedes), Valteri Bottas (Mercedes) and Max Verstappen (Red Bull Racing).
Formula 1 fans can read breaking Formula 1 news, interviews, expert commentary and watch free replays. Don't miss the upcoming Formula 1 events. Make Eurosport your go-to source for sports online from Formula 1 to football, tennis, snooker and more. Enjoy live streaming of this season's top sports competitions.
Thanks for joining us... we'll be back for the race tomorrow. Be sure to join us again then.
So, Lewis Hamilton claims pole position ahead of Vettel! Button and Webber make up the second row ahead of Massa and Alonso. Rosberg, Petrov, Di Resta and Sutil complete the top 10!
Hamilton improves with a 1:35.820 before Button slots into second place... Vettel cannot take pole as he splits the McLarens. Webber in fourth with the Ferraris following.
Here we go then... the final push for pole as the flag waves!
Eight cars are out there at the moment - no Sutil or Rosberg - and there could be some traffic to come as this session comes to a close.
Scrap that, a Force India comes out...
There is no action in the Force India garage - they're not going to come out this session and they appear to be happy with ninth and 10th on the grid.
Both Ferraris are back in the garages now... we're set for a thrilling shoot-out between the Red Bulls and McLarens at the death!
Webber is in third, Button in fourth with the Ferraris of Alonso and Massa in fifth and sxith.
Vettel looks good... he's fastest in the middle sector... but it's not good enough to depose Hamilton!
Rosberg completes a full lap but Hamilton goes top with a 1:36.130!
Rosberg starts his flying lap and he'll be the first to come up with a time.
Rosberg is the first out on track - he's on his own for the moment.
Can Lewis Hamilton continue his good form this weekend in this final push in qualifying? We'll know in 15 minutes... we are green and here we go with Q3!
So, the shoot-out for pole position will be contested by Hamilton, Vettel, Webber, Button, Massa, Alonso, Rosberg, Petrov, Sutil and Di Resta.
Di Resta squeezes in at the death, and Alguersuari is out. So too are, as we said, Schumacher, Buemi, Kobayashi, Senna, Maldonado and Perez.
There's the flag! Alguersuari flies into 10th and Schumacher is out!
Unless they can do something now... Maldonado can only go 14th though... Sutil goes ninth though! And that puts Schumacher's place in the shoot-out in jeopardy.
Buemi, Sutil, Di Resta, Perez, Senna, Kobayashi and Maldonado are set to drop out this session.
There's no one ahead of Schumacher on the track - he's out there on his own. But he can only go ninth.
Schumacher is asked if he is able to get a lap done and he replies in the affirmative. Here here goes...
Schumacher is out of the garage and about to set a time.
Vettel manages to survive a minor scare on the final bend to go second. Seven drivers still have yet to post a time.
Webber slips into second, ahead of Button and Alonso as this session begins to take shape.
Hamilton, on supersofts, heads into his first proper lap... and the McLaren man clocks a time of 1:36.526 to kick this session off.
Only eight cars out on track at the moment, including Hamilton.
Well, action possibly isn't the word to use at the moment as most teams opt to stay in the garages at the start of this session.
Here we go then in Q2. Another 15 minutes of qualifying action to come!
Going from the bottom, Ricciardo Liuzzi, d'Ambrosio, Glock, Trulli, Kovalainen and Barrichello, who was pipped at the death by his team-mate Maldonado, drop out.
There's the flag... Barrichello and Maldonado will be able to complete a final lap.
Ricciardo is still in the pits and he will start in 20th place on the grid after failing to set a time.
Just Ricciardo yet to set a time in Q1.
Maldonado follows his Williams team-mate to move into 16th.
Barrichello leaps into 14th place on his first flying lap and he might be safe with that.
Trulli, Glock, d'Ambrosio, Liuzzi, Ricciardo, Barrichello and Maldonado are currently below the drop zone.
The Red Bulls have opted to use supersoft tyres this session, rather than in Q3.... we'll see if that works for them.
Hamilton remains at the top of the order, but with an improved time of 1:37.525. He's followed by Button, Alonso, Massa and Rosberg with Schumacher, Webber and Vettel in tow.
Hamilton completes his first timed lap - it's not supremely quick, but it's enough to move into first.
Petrov is setting the pace with a lap of 1:39.406, followed by Senna, Di Resta and Perez.
After a relatively quiet start to the session, a glut of cars now head out onto track.
Here we go! Under way in South Korea in the 20-minute Q1 session.
Hello and welcome back to our live coverage of the Korean GP at Yeongam.