avant-match
Free Practice 1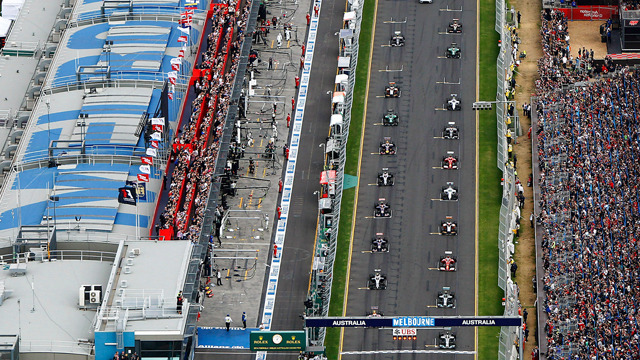 Follow the Malaysian Grand Prix live with Eurosport. The race starts at 03:00 on 8 April 2011. Find race results, standings, stats, scores and track info. Keep up with the top F1 drivers and teams including Lewis Hamilton (Mercedes), Valteri Bottas (Mercedes) and Max Verstappen (Red Bull Racing).
Formula 1 fans can read breaking Formula 1 news, interviews, expert commentary and watch free replays. Don't miss the upcoming Formula 1 events. Make Eurosport your go-to source for sports online from Formula 1 to football, tennis, snooker and more. Enjoy live streaming of this season's top sports competitions.
Friday's second practice session will start in two and a half hours - join us again then.
Completing the top 10 are Schumacher, Hulkenberg, Maldonado, Massa, Heidfeld, Barrichello, Alonso and Rosberg.
So, the first practice session belongs to Red Bull's Mark Webber with a time of 1:37.651, with McLaren's Lewis Hamilton is second.
And that ends the session!
The yellow flags are out again, this time for Virgin's D'Ambrosio after he went off at high speed on the final corner.
Hulkenberg goes third with a lap of 1:40.377 but Schumacher quickly trumps the Force Indian with a 1:39.791 in his Mercedes.
Webber improves again with a 1:37.651 as Alonso encounters a few problems as Turn 8.
The Ferraris begin to make their mark as Massa goes ninth with his first run and then Alonso moves up to sixth.
That should be that for Renault this session then, as Petrov tells team radio that it could have been a suspension problem.
Yellow flags come out as the cranes move in to shift Petrov's stricken car from the gravel.
Petrov's car has left pieces all over the track after his front left blew up! Disaster for Renault, off the back of Heidfeld's earlier problems.
Petrov slips off into the gravel trap on Turn 9!
HRT hero Tonio Liuzzi, for he can only be described as a hero for actually making it all the way around the track a couple of times, is getting quicker. He clocks 145.228 on his latest lap.
Alonso has posted a time but we're still waiting for his Ferrari team-mate Felipe Massa to clock something concrete.
HRT's Liuzzi is back out, but there's no sign of his team-mate Karthikeyan.
Ricciardo moves up to 10th but his Torro Rosso team-mate Alguersuari runs off track and into an extra area of asphalt.
Young Australian hope Daniel Ricciardo puts in a 1:41.134 in his Toro Rosso to go 11th.
Completing the top of the order are Rosberg in fifth, then Alguersuari, Schumacher, Barrichello and Button.
Half an hour remaining of this first practice session ahead of Sunday's Malaysian Grand Prix. Mark Webber is the current pacesetter, ahead of Hamilton, Maldonado and Heidfeld.
The brakes on Nick Heidfeld's Renault are being rebuilt, while the driver himself is cooling off in the drivers' room.
Maldonado goes third with a 1:40.443 to give some good news for Williams.
Jarno Trulli, who lost a piece of his rear wing earlier on, is back on the track after some repairs in the Lotus garage.
Maldonado is currently following the leading group in fifth.
So, with 50 minutes gone, the top four looks like this: Webber, Hamilton, Heidfeld and Rosberg.
Webber improves to 1:38.483 as Rosberg moves up to fourth.
Hamilton posts the second fastest lap of the day with a 1:39.747 before immediately improving to 1:39.316 - but it's still not quick enough to better Webber's earlier effort.
Ferrari have tweeted: "It will be a bit different Friday for both our drivers. This morning session will be mainly dedicated to aerodynamic tests. The crew is painting the front of the cars with the flow wiz, which is used to understand the flow of the air on the wings and bodywork. The weather is as usual, very hot and humid. At the moment we have 28 C of air temperature, 32 C track temperature."
Karthikeyean's smoking HRT (in the literal sense, not as in 'on-form') is now back in the pits and the team will be able to have a proper look at what went wrong. You really have to feel sorry for them.
Vettel's team-mate Mark Webber now posts a 1:39.870 to top the timesheets.
Here comes the first of the 'big guns' - world champion Sebastian Vettel. The Red Bull driver clocks 1:42.901 on his first proper lap of the day. Nice and easy to start with for the German.
The Renault team are furiously working on Heidfeld's car, which suffered from the brakes locking and failing to unlock.
We're still waiting for the main contenders to post lap times today - so no Red Bull, McLaren or Ferrari times yet.
Just a quick word on the tyres this weekend - Pirelli have selected the same compounds as they did for Melbourne a fortnight ago which means we've got hard prime rubbers and a soft option variety.
Schumacher doesn't stick around in the garage too long and he's already back out to get some more laps under his belt.
Schumacher is back in the pits after a decent run-out and things are warming up nicely with just over half an hour of the first practice session gone.
Maldonado moves into second with a 1:40.854.
Heidfeld still boasts the best time of the session so far, but at what cost? His Renault is giving off smoke and sparks as he rolls back into the garage.
Schumacher posts a 1:41.309 to go third as Liuzzi completes a lap for HRT! That'll come as a huge relief for the team!
Heidfeld heads back to the garage after locking up his front right wheel.
Alonso is out as Heidfeld improves with a 1:40.823.
1:45.332 for Maldonado - third best time of the day
Renault's Heidfeld goes quickest with a 1:42.285s as Maldonado gears up for his first proper run of the day.
Oh dear, HRT are in trouble again, this time as smoke enshrouds Karthikeyan's car at Turn 3 before he pulls off at Turn 4.
Hulkenberg follows that effort up with a 1:42.475 as he quickens his pace.
And it looks like Hulkenberg will now be the first driver to set a time today.
After a moment of calm with not a single car out on the track, Hulkenberg in his Force India breaks the serenity once again.
Red Bull's Mark Webber is also back in the garages now, minus helmet and balaclava. He's not going back out for a while.
The sun has got his hat on and its rays are beaming down on the Sepang track.
Schumacher is his fancy new Mercedes has been out on track and now he's back in.
Nick Heidfeld's Renault is back in the garage and his car is being given a good once over by his mechanical team.
None of the teams have felt the need to complete two consecutive laps so far, as McLaren pair Hamilton and Button head out for an installation lap.
Maldonado, Sutil, Liuzzi, Vettel, Barrichello and Rosberg follow suit and are all out on the track.
And out come both Ferraris to join Alguersuari, Hulkenberg, Perez and Kobayashi.
Karthikeyan heads out in his HRT for an installation lap - let's hope he can actually complete it!
Ok then, here we go! The first practice session is under way!
Nico Hulkenberg (Force India), Daniel Ricciardo (Toro Rosso) and Davide Valsecchi (Lotus) will all get a chance to showcase their skills this morning.
A high of 33 degrees Celsius is expected later in the day, meaning track temperatures may reach as high as 50 degrees for FP2.
The big question this weekend is: how will the new Pirelli tyres hold up in such humid conditions? We're about to find out.
Forecasts indicate Friday will remain pretty dry though, with it likely to stay that way for FP3 and qualifying too. Sunday's race might be a different story though.
The weather has been hot and sticky in Malaysia this week with thunderstorms hitting sporadically to cool things down.
Hello and welcome to our live coverage of this weekend's Malaysian Grand Prix, starting with the first of three free practices!