avant-match
Free Practice 2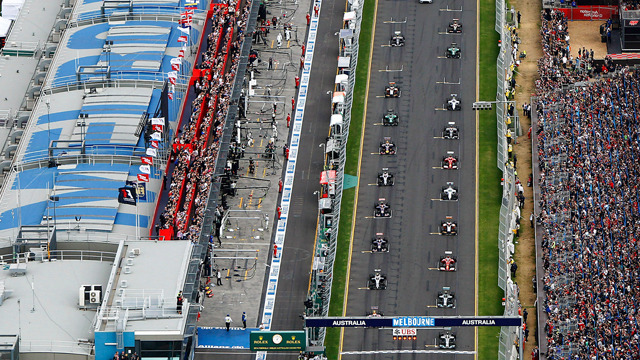 Follow the Malaysian Grand Prix live with Eurosport. The race starts at 07:00 on 8 April 2011. Find race results, standings, stats, scores and track info. Keep up with the top F1 drivers and teams including Lewis Hamilton (Mercedes), Valteri Bottas (Mercedes) and Max Verstappen (Red Bull Racing).
Formula 1 fans can read breaking Formula 1 news, interviews, expert commentary and watch free replays. Don't miss the upcoming Formula 1 events. Make Eurosport your go-to source for sports online from Formula 1 to football, tennis, snooker and more. Enjoy live streaming of this season's top sports competitions.
Thanks for joining us today. Plenty more action to come tomorrow. Make sure you join us again then.
So, Webber makes it two sessions out of two, clocking a time of 1:36.876 for Red Bull. He's followed by McLaren duo Button and Hamilton, with the rest of the top 10 looking like this: Schumacher, Massa, Rosberg, Heidfeld, Alonso and Alguersuari.
No more late improvements at the top and that concludes the second practice session!
The day ends in disappointment for D'Ambrosio failing to make it out.
Seventeen has become 20 cars out on track as we near the end of the first day of action at Sepang.
Vettel is currently fourth as bits of rubber build up at the side of the track.
Indeed, it's a crowded track at the moment with 17 cars out there.
Both McLarens are out there, attempting to better their times as the session draws to a close.
D'Ambrosio might not make it out at all this session. He's still in the Virgin garage.
Fifteen minutes left and still Webber leads, following on from his dominant performance in the first practice session this morning.
Massa is out on the softs at the moment with Ferrari team-mate Alonso on hards.
So, with 20 minutes remaining this session, it's Webber who leads from Button, Hamilton and Vettel.
Hamilton, on his soft tyres, storms into third with a 1:37.010.
There's a bit of a lull in the session at the moment with just six drivers out on track.
Belgian D'Ambrosio still hasn't set a time - he's the only man yet to do so.
Schumacher comes out on track but it's a brief appearance as he encounters problems at Turn 6.
Karthikeyan's car has smoke pouring out from its back end once again, but he nevertheless manages to complete the lap and go 18th.
As Liuzzi heads back to the pits, Karthikeyan pulls out on track with soft tyres on his HRT.
The track is clear once again and Button flies through to post a 1:36.881 - but it's not enough to beat Webber for the moment.
Yellow flags come out as Maldonado spins onto the grass before gently bumping the front end of his Williams into the barriers. The driver climbs out and his car begins its journey back to the pitlane.
Liuzzi's car cut out as it landed hard on the track after it had been run wide at Turns 7 and 8.
That bad news for HRT comes off the back of a punishment for Karthikeyan for a pitlane speed limiter offence.
Oh no! Liuzzi's HRT has stopped dead and the driver is lifting himself out of the car! And to think he was doing so well!
Here comes Renault's Petrov for the first time this session. The team must have a bead on what went wrong during the first practice session.
Webber responds with 1:36.876s to usurp his team-mate from the top of the timesheet. It's the Red Bull show all of a sudden!
The Red Bulls are also on the soft options, and it shows as Vettel goes top with a 1:37.090.
The Red Bulls are back out - let's see what they can do to improve this run.
Schumacher switches to soft option tyres and goes top of the timesheets with a 1:38.088s.
But, having just said that, it looks like Renault may send out Petrov, who has his helmet on.
Renault have tweeted: "No running for LRGP at the moment as we try to fully understand our suspension issues from this morning. Best to be on the safe side."
These dry conditions are likely to remain in place for the remainder of Friday's practice session, with a good chance of FP3 also staying dry on Saturday. Qualifying however may get a little wet.
Barrichello's time is bettered by Alonso, as the Ferrari man posts a 1:39.122 on the standard hard compound.
Most teams are now switching to the soft tyres. Barrichello is on them and he moves into third with a 1:39.187.
Button jumps up to third with a 1m39.550s, while fellow Briton Paul di Resta moves up to 12th with a solid time of 1:41.299. The Scot really is one for the future.
So, Maldonado leads, followed by Hamilton, Schumacher, Rosberg and Button.
We've only seen hard compound tyres so far, so when Pastor Maldonado gets out on the softer one, he jumps straight to the top of the timesheets with a 1:38.968.
Webber and Vettel have both now pitted, the Australian in 16th with the reigning world champion in 15th.
Webber and Vettel are struggling to improve on their time sufficiently. Something for the team to work out later.
Sutil's out of control but he regains it soon enough and is able to continue in his Force India without inflicting any damage.
Tyre degradation is becoming an issue here now in the heat as those Pirellis are put to the test in hot conditions.
Hamilton's McLaren team-mate Button goes third fastest as his compatriot heads back to the garages.
Hamilton looks quick in the first two sectors and the McLaren man goes on to set the early pace with a time of 1:38.987.
Massa briefly goes quickest before Barrichello takes over at the top of the timesheets with a 1:40.441.
And Alonso joins the big guns out on the track now.
Webber, both McLarens and Massa are all out there early on.
Di Resta gets on the board with a 1:44.139 while Liuzzi gets round in 1:47.453 - well done again that man!
Alguersuari is the first man to post a time this session - a 1:43.663 - and we're properly under way!
HRT send out both drivers immediately, probably to give them the longest possible time to complete a lap.
And we're off! Under way in the second practice session at Sepang!
Renault will not run in this session after the team suffered a nightmare first practice. They need more time to understand fully what happened to the cars of Nick Heidfeld and Vitaly Petrov.
It's 31 degrees in Malaysia today, with the track temperature touching 50 degrees. The good news is that humidity is lower than this morning's session.
So, Paul di Resta comes into the action in this second practice session as Force India's Nico Hulkenberg, who finished fourth this morning, steps aside. Sebastien Buemi takes over from Daniel Ricciardo for Toro Rosso and Heikki Kovalainen comes in for Lotus as the expense of Davide Valsecchi.
It's still dry at Sepang, but the mercury is rising, making conditions sticky for the drivers.
It's nearly time for the second practice session of the day, Mark Webber having paced the opener this morning.
Hello and welcome back to our live coverage of the Malaysian Grand Prix.