avant-match
Race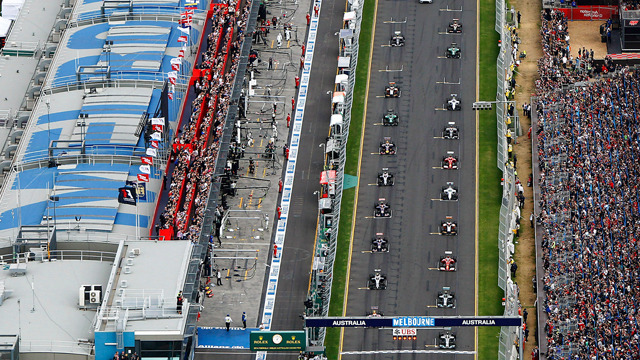 Follow the Malaysian Grand Prix live with Eurosport. The race starts at 08:00 on 29 March 2015. Find race results, standings, stats, scores and track info. Keep up with the top F1 drivers and teams including Lewis Hamilton (Mercedes), Valteri Bottas (Mercedes) and Max Verstappen (Red Bull Racing).
Formula 1 fans can read breaking Formula 1 news, interviews, expert commentary and watch free replays. Don't miss the upcoming Formula 1 events. Make Eurosport your go-to source for sports online from Formula 1 to football, tennis, snooker and more. Enjoy live streaming of this season's top sports competitions.
What a fabulous race. Thanks so much for your company this morning.
-
Long time since we've heard this one!
-
Vettel looks exhausted as they play the German national anthem.
Vettel jumps into the midst of the Ferrari crew, who are hugging everyone they can get hands on. He seizes a Ferrari flag and leaps all over the place in parc ferme.
Good stuff from Merhi, holding on to finish the race for Manor Marussia.
Raikkonen takes fourth, Bottas and Massa are fifth and sixth, the kidlets are seventh and either (Verstappen the youngest man ever to take points in F1), and the Red Bulls are ninth and tenth.
He then transitions into, "Grazie! Grazie! Grazie! FORZA FERRARI!" and I suspect there is going to be a lot of weeping very shortly.
"Ferrari is BACK! Fantastico!" say the team. Vettel just screams.
Hamilton and Rosberg take second and third for Mercedes. I am expecting the HamiltonTyreGate post-mortem to commence almost immediately.
There's whooping and fist-pumping as Vettel takes the chequered flag.
Great drive from Vettel to take this win, after that hideous season last year.
And Bottas makes that final move, taking fifth from his team-mate. Great inter-team battles today.
The Williamses of Massa and Bottas are battling for fifth - fierce and competitive driving.
The Toro Rossos are still well ahead of the Red Bull big boys, mind.
Vettel is easing through now; and meanwhile Kvyat takes the opportunity to go past his team-mate. Not a bright start to the season for Ricciardo.
Vettel's cruising now. Barring disaster, this is his victory, a great car, a great drive, a great race.
Hamilton's got that gap under ten seconds, Rosberg is eight seconds behind Hamilton - but with five laps left, that's not enough!
Ferrari's team have their heads together and are conferring wildly. Meanwhile, Vettel is told, "Keep your head down." He's about to lap the Red Bulls.
Kimi Raikkonen is in fourth - remember he had that incident earlier, and despite that he's still clinging on to that position.
Oh, Pastor Maldonado. So near and yet so far - a retirement six laps from the end.
Toro Rosso kids Sainz and Verstappen are having a little battle for seventh - fantastic to see.
Everyone is ready to race till the end. Hamilton isn't going quick enough to get Vettel now - but lower down the pack there are likely to be some late place-changes.
The heat haze out there is so intense it's distorting the TV footage.
Rosberg asks for information about the race. What does he want to hear? His team tell him that everyone has finished their pitting.
Hamilton and Rosberg are recording similar lap times - both faster than Vettel. But are they fast enough?
The gap between Vettel and Hamilton is 11 seconds, and another 11 seconds to Rosberg. It's tight.
Vettel is singing, "Blue flag! Blue flag! Blue flag!" over the radio, wanting to get past Grosjean and Hulkenberg.
Rosberg - on the appropriate tyres, remember - is closing in on Hamilton!
Not a good day for McLaren. Again.
Hulkenberg tells his team that he's not going to make it till the end - Button is already retiring.
Hamilton is going quicker than Vettel - there's a 14-second gap at the moment though.
Hamilton's in a right strop, now, unsurprisingly. His team tell him he's scheduled to catch Vettel in ten laps' time; he tells them not to speak to him through the corners, which is fair.
And poor Jenson Button is reporting a loss of power.
Rosberg is called in to the pit now - Verstappen's in there as well, driving via the verge. Unconventional choice.
Vettel, meanwhile, is enjoying this, recording another fastest lap.
What an exciting race this is so far. Hamilton's just realised that he's on the slower tyres - "These are the wrong tyres, man!" His team explain they think it's the best option. It's going to be a tough drive for him to the end now.
He sure is. There's his final pit stop, then, moving on to the hard tyres - the slower tyres - for the final 17 laps. Will it be enough?
Hamilton says he's feeling really good. Well, of course he is. He's still going to need to pit before the end...isn't he?
Not a bad stop for Ferrari, not a great one either. Vettel is out right next to Rosberg! And the Ferrari then moves away to claim second place and begin to move in on Hamilton.
His lead is still big enough for him to emerge in front of Rosberg, assuming all goes well in the box.
And Vettel is being called into the pits!
Perez and Button pull into the pits together - but Perez has that ten-second penalty to serve. Button moves out back on to the track while his opponent has to watch.
Of course, Hamilton's on the fresher tyres, and both will need to stop again, as will Rosberg.
Hamilton quietly eating into Vettel's lead - down to 15 seconds now.
That flag must have been meant for Mehri, surely?
Blue flag being waved in the direction of Verstappen, and nobody seems to know why. He and Bottas are having a fabulous little duel for sixth place.
Perez gets a ten-second penalty, as does Hulkenberg.
Alonso seems quite pragmatic about the forced withdrawal, describing himself as "quite happy".
Grosjean is not a happy man about that incident - he feels that Perez should have given him more space.
More contact! Grosjean spins off after clipping Perez, but he's back on the track.
Hamilton is told that he's still on target to win - Rosberg is told he's on course for second but needs to overtake Vettel in the latter stages.
Button, with his sarcastic head on again this morning, is in 15th, by the way - he'll be in the mix with that pack shortly.
Rosberg reclaims third from Raikkonen - and the stewards are investigating that little incident between Kvyat and Hulkenberg.
Jenson Button's puzzled by the number of cars bunched up in front of him and that he seems to be catching - his team explain that they're all in a chain behind Hulkenburg in 10th.
Hamilton's lapping quickly, cutting into Vettel's sizeable lead.
Kvyat looks to make his move - and makes contact with Hulkenburg, holding his line through the outside. He spins, but regains control.
Ricciardo is told that the damage to his car is getting worse - and not to hold up Kvyat just behind him.
Well, it wasn't a quick stop - just over three seconds - so looks like a spontaneous call. Plus Hamilton will have to pit again.
Vettel has gone past Hamilton into the lead - and immediately the Mercedes pulls down the pit lane. Was that the plan, or was it a last-ditch decision after losing the lead?
And with the gap less than two seconds, Hamilton is sending increasingly rattled messages about his tyres.
"My rears are dropping off!" Lewis Hamilton tells his team, under pressure from Vettel.
"Good boy, good boy!" enthuse Vettel's team to him.
Alonso is wheeled back into the garage after making it through over a third of the race.
Vettel makes his move! And Rosberg attempts to reclaim, but the Ferrari is already too far ahead. Hamilton is next in his sights.
Poor Fernando Alonso - he's been called in and told that'll be the end of his race.
Vettel is giving Rosberg a tough time - Hamilton is seven seconds ahead in front.
Vettel is closing on Rosberg already - and the German is sounding frantic about the speed of the Ferrari lurking behind him.
Button is asked to last ten more laps to allow his team to enact "Plan A". He doesn't seem convinced.
Daniel Ricciardo pits for new tyres - he's obviously having some real problems today.
Red Bulls and Toro Rossos alike are tormenting Daniel Ricciardo, who's going backwards.
Vettel pits! It's a quick stop, and he's out into third, allowing Hamilton to resume the lead.
A ten-second penalty doled out to Maldonado.
Where's Alonso? He's down in ninth at the moment - and Jenson Button's just overtaken Perez to take tenth.
More tricky braking from Ricciardo - clouds of dust pluming up.
And the stewards are investigating Pastor Maldonado's speed during the safety car spell.
So the Mercs are second and third - but Vettel is still lapping fastest at the front.
Rosberg darts past Hulkenburg - all sorts of overtaking between the first and second turns.
Vettel's team advise him, "Keep doing this." Well, that's fair enough.
Daniel Ricciardo brakes late under pressure from Sainz, but does at least manage to hold off Massa as he drops a place.
Hamilton's past Nico Hulkenburg - and has ten seconds to make up on Vettel.
Massa is giving Rosberg a little more trouble further back, but eventually has to concede.
Hamilton sneaks up on the inside of Sainz to take third place!
Sebastian Vettel leading the field by five seconds - but he hasn't been in to the pits yet.
Verstappen dives past Perez - very neat.
Massa complains he's losing power, and he has Nico Rosberg right behind him.
Everyone's getting snippy. Vettel's complaining about the Mercedes pair not going fast enough behind the safety car; Raikkonen wants to overtake the pack. Er, you can't do that, Kimi.
Poor stop for Bottas - a delay getting his left rear tyre on.
Hamilton is asking if his wing is OK - not clear what he thinks might have happened to it.
Everyone taking the opportunity to pit, and it's getting rather crowded in there.
And now Marcus Ericsson has spun off the track and simply can't shift himself as his wheels spin uselessly. Safety car.
That puncture was caused by Nasr, by the way - he's damaged his own wing in the process.
Raikkonen has literally no tyre left as he pulls into the pits.
Aggressive driving from Verstappen, making contact with Marcus Ericsson in the opening lap, but he's being chased now by his team-mate.
Kimi Raikkonen has a puncture too and his rear left tyre is disintegrating all over the place.
Nico Rosberg gets a good start and Sebastian Vettel moves across to block his move. Meanwhile, Lewis Hamilton is moving away at the front already. Carlos Sainz tears through from 15th and up to 11th, and Pastor Maldonado has got a puncture. How very Maldonado-esque of him.
The cars are assembling on the grid, and we're about to start.
Remember those hot conditions I mentioned? Lewis Hamilton is complaining that his steering wheel has been left out in the sun and it's scalding to the touch.
Of course, the driver who's grabbed the most headlines so far this weekend is 17-year-old Max Verstappen, starting in sixth.
Will Stevens's Manor hasn't made the grid after a fuel problem, which is hugely disappointing for them.
Remind yourself of what happened in qualifying if you missed it.
Formula 1 - Lewis Hamilton pips Sebastian Vettel to pole position in Malaysia
Lewis Hamilton starts from pole - but Sebastian Vettel sneaks ahead of Nico Rosberg to take the other place on the front of the grid.
Absolutely sweltering conditions out there as the cars prepare for the race. A real range of conditions testing the drivers this weekend.
Good morning, all, and welcome to our LIVE coverage of the second race of the 2015 season - Malaysia.