avant-match
Race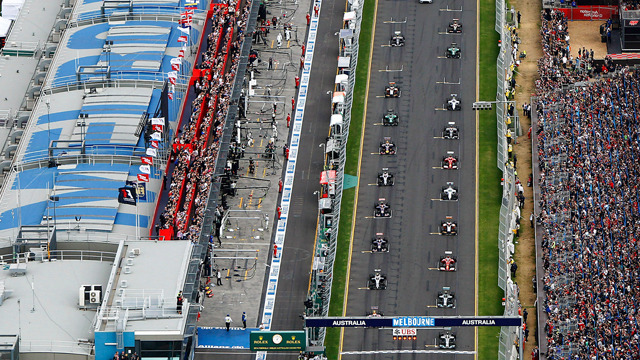 Follow the Russian Grand Prix live with Eurosport. The race starts at 12:10 on 29 September 2019. Find race results, standings, stats, scores and track info. Keep up with the top F1 drivers and teams including Lewis Hamilton (Mercedes), Valteri Bottas (Mercedes) and Max Verstappen (Red Bull Racing).
Formula 1 fans can read breaking Formula 1 news, interviews, expert commentary and watch free replays. Don't miss the upcoming Formula 1 events. Make Eurosport your go-to source for sports online from Formula 1 to football, tennis, snooker and more. Enjoy live streaming of this season's top sports competitions.
Final race classification... 1) Hamilton 2) Bottas 3) Leclerc 4) Verstappen 5) Albon 6) Sainz 7) Perez 8) Norris 9) Magnussen 10) Hulkenberg 11) Stroll 12) Kvyat 13) Raikkonen 14) Gasly 15) Giovinazzi
HAMILTON WINS THE RUSSIAN GRAND PRIX! It's a one-two for the Silver Arrows and there's a mood of celebration in the Mercedes garage. Leclerc takes the final place on the podium, but Ferrari will be disappointed.
FINAL LAP! Mercedes are just one lap away from a one-two. Leclerc is going to try for the fastest lap bonus because top spot on the podium has slipped away from him this afternoon.
Leclerc is twitching as he pushes his Ferrari as hard as he can, but time has surely run out for the 21-year-old to get past Bottas and challenge Hamilton. It's been a frustrating day for him.
Albon into top five! It will be a four-five finish for the two Red Bulls should these positions hold to the chequered flag. That was a brave move from Albon around the outside of Sainz to be on the inside heading into Turn Four.
It feels like Hamilton might have this one in the bag. Leclerc says he's trying everything he can to close the gap to Bottas and get past the Finn, but time is running out for the Ferrari.
Time penalty! Magnussen has been handed a five-second time penalty by the stewards and that will surely cost him his place in the points. The Haas left the track at Turn Two. That's a shame.
PICTURE: Is this your race victor in-waiting?
"Mags is the car in front. He's struggling. Let's go get him," the instruction comes across the McLaren team radio to Norris. The youngster has Magnussen in his sights for a P8 finish.
Hamilton is really pushing. He was told over the team radio to put his foot down and that's exactly what he's doing. The world champion has just set a new fastest lap and has a lead over four seconds over his teammate, Bottas.
Albon into P6! That was a good move from the Red Bull, jumping late on the brakes to get past Magnussen. This has been a good race from Albon who is making a mark in the Red Bull seat.
10 laps to go... 1) Hamilton 2) Bottas 3) Leclerc 4) Verstappen 5) Sainz 6) Magnussen 7) Albon 8) Perez 9) Norris 10) Hulkenberg 11) Stroll 12) Kvyat 13) Raikonnen 14) Gasly 15) Giovinazzi
Hamilton is constantly on the team radio to ask about the sector and lap times of Leclerc, but also to check on how many laps there are left! He's desperate to see the chequered flag.
Are Mercedes heading for a one-two here? That certainly didn't look likely before the start of the race, but Bottas is doing an excellent job of keeping Leclerc from passing him into P2.
That was close! Gasly was way too hot coming into Turn Two and he very nearly wiped out his teammate Kvyat. In the end, the Toro Rosso has to give up a place to Raikkonen.
Leclerc is all over the back of Bottas, he's using the DRS to have a real look at the Finn, but the Mercedes is showing just how good he is at defending. This is all helping Hamilton.
What will the strategy be from Mercedes here? Do they allow Bottas in P2 to attack Hamilton or do they use the Finn to protect his teammate from Leclerc? There's only 1.5 seconds between the three.
We're racing again! The safety car has dived back into the pits and that has released Leclerc on to the tail of Hamilton. We might actually get a duel between the Mercedes and the Ferrari for P1 now.
So now we've got Hamilton trying to last until the end of the race on the soft tyres while Leclerc is directly behind him on the mediums and very, very fast in a straight line. This could be interesting.
PICTURE: Vettel was having such a good race.
Russell out! We were under a virtual safety car after the retirement of Vettel, but now Russell has lost his breaks and ended up in the wall. He's okay, but we now have a full safety car.
So has that retirement handed Hamilton the race? The world champion is now in P1 having pitted with Leclerc six seconds behind him. Has Mercedes' strategy worked? Is this race now theirs?
29/53
VETTEL OUT! Disaster for the German! He was leading this race, but the Ferrari has suffered a technical issue and he won't finish! Oh dear. Just as it seemed we might get a real race between the two Ferraris.
Vettel pits and... Leclerc is ahead again! Ferrari have finally switched their drivers around that will keep Leclerc from complaining over the team radio, which he had been doing for the first 27 laps of the race.
Albon passes Gasly! That's great driving from the Red Bull on the man who held his seat for the first half of the season. That was personal and Albon gets ahead of Gasly on a section of the track that isn't really made for overtaking.
So with the fresh set of tyres can Leclerc make up any ground on Vettel? Of course, he now has traffic in front of him, but this is the chance for the 21-year-old to steal back a couple seconds on his teammate.
Leclerc into the pits! The Ferrari has been shifted from the softs on to the mediums. It was a bit of a sluggish stop, to be honest. That won't improve the mood of Leclerc, who is already annoyed at his team's strategy.
Leclerc is really struggling to get anywhere near Vettel. The German now has a four second lead over his teammate and that gap seems to be getting bigger with every single lap.
PICTURE: Does Hamilton have the pace to catch the Ferraris?
"Target plus 15," comes the instruction across the Mercedes team radio to Hamilton. Does that mean the world champion is going to try and stay out on the mediums for another 15 laps?
On the charge! Verstappen is working his way through the pack. The Red Bull is up to P5 and is starting to become a factor in the shuffle for the podium. Bottas is next up ahead of him.
Ferrari are now saying to Leclerc that he needs to push. Does that mean he's coming in for a pit stop at the end of this lap? He is a full 4 seconds behind Vettel as the race leader.
It's at this stage of the race that those at the front of the pack are starting to think about opening up gaps further down he pack for them to re-emerge after pit stopping. Vettel might have one in front of Sainz.
Hulkenberg gets past Perez! That was a nice pass from the Renault. Up near the front, Hamilton is pushing hard, but he's struggling to catch the two Ferraris. "They have some serious pace," he says on the team radio.
Vettel has now built up a lead of 3 seconds over Leclerc. The German certainly has a point now - there's no way Ferrari can switch their two drivers the way they are racing right now.
While we were monitoring the Ferrari situation, Raikkonen was handed a drive through penalty for a jump start getting away from the grid. That will cost the former world champion dearly.
PICTURE: Leclerc is in P2. He'll be unhappy at his team's strategy. Again.
Vettel has just set a new fastest lap and he's now 1.6 seconds ahead of Leclerc. The German is making the point that his teammate isn't close enough to allow him to pass. Make no mistake, he's pushing.
Ferrari drama! Leclerc is getting very tetchy about the strategy from Ferrari. It doesn't seem that Vettel is about to let his teammate past. Leclerc is making clear that he doesn't think this is fair. It's happening again!
"Sebastian will let you by next lap," comes the strategy over the Ferrari team radio to Leclerc. So it was a switch around to squeeze Hamilton out of the picture down into the first two turns.
How things have shaked out... 1) Vettel 2) Leclerc 3) Hamilton 4) Sainz 5) Bottas 6) Norris 7) Perez 8) Verstappen 9) Magnussen 10) Hulkenberg
We're back racing and the two Ferraris are stretching their legs in one-two. Leclerc is doing his best to stick with Vettel as the German tries to prove he's the fastest of the two Scuderia to avoid a switch back.
We're under yellow flags right now as the stewards recover Grosjean's car. Kubica has also dived into the pits to shift on to the hard compound tyres. That's tactical from the Williams.
2/53
Vettel past Hamilton and Leclerc! The 21-year-old will be furious! His Ferrari teammate got the slingshot on him, pushing him past the Mercedes, but also past Leclerc out of Turn Two!
LIGHTS OUT! We are racing in Sochi as the pack heads down into Turn One and Turn Two!
Formation lap! We're just minutes away from lights out in Sochi! This is a track that allows for overtaking, which is refreshing given that we've just come from Singapore. Let's race!
The last Ferrari driver to register four poles on the spin? Michael Schumacher. Leclerc is really making a name for himself in his first season in the famous red of Scuderia. What a talent.
I'm Graham Ruthven and you can catch me on Twitter ahead of the race to let me know your thoughts. Can Ferrari make it four victories in a row? Or will Hamilton and Bottas have the pace? Tweet me!
The Grid... 1) Leclerc 2) Hamilton 3) Vettel 4) Bottas 5) Sainz 6) Hulkenberg 7) Norris 8) Grosjean 9) Verstappen 10) Ricciardo 11) Perez 12) Giovinazzi 13) Magnussen 14) Stroll 15) Raikkonen 16) Gasly 17) Russell 18) Kubica 19) Kvyat 20) Albion*
*Albion will start from the pit lane after a change of floor
Good morning and welcome to Eurosport's LIVE coverage of the Russian Grand Prix. Charles Leclerc is on pole AGAIN with Lewis Hamilton in P2 behind the Ferrari. We'll bring you all the action as it happens in Sochi. Lights out is at 12:10 GMT.