avant-match
Free Practice 3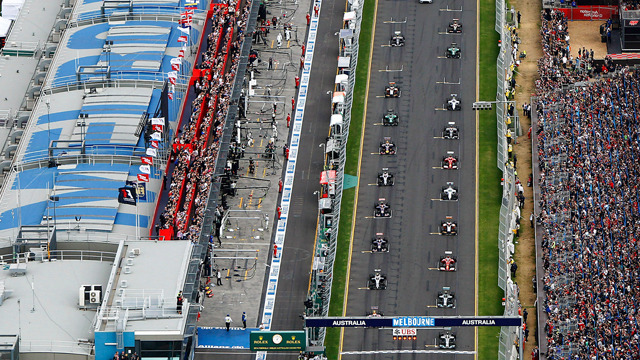 Follow the Singapore Grand Prix live with Eurosport. The race starts at 11:00 on 22 September 2012. Find race results, standings, stats, scores and track info. Keep up with the top F1 drivers and teams including Lewis Hamilton (Mercedes), Valteri Bottas (Mercedes) and Max Verstappen (Red Bull Racing).
Formula 1 fans can read breaking Formula 1 news, interviews, expert commentary and watch free replays. Don't miss the upcoming Formula 1 events. Make Eurosport your go-to source for sports online from Formula 1 to football, tennis, snooker and more. Enjoy live streaming of this season's top sports competitions.
Join us again at 14:00 for live coverage of the qualifying session.
So, that's the end of the session, with several drivers having their final laps halted by Petrov's crash. Vettel is quickest yet again with the quickest lap of the weekend - 1:47.947. Hamilton is next fastest 0.325 behind then ALonson, Hulkenberg and Raikkonen all within a second of the world champion.
Vitaly Petrov crawls to a halt in the pit lane after clattering into the wall on turn 21. The red flag is out and that could well be the end of the session.
Hamilton goes into second. Now Button is off on a flying lap.
Hamilton goes a little bit too close to Massa for comfort. Let's not ignite that whole thing again please!
That lap from Alonso is still enough for him to go second. Vettel still the only sub-1:48 driver though.
Alonso is out on his super soft tyres. The track is pretty empty at the moment, but the Spaniard doesn't let rip completely.
Great drive from Bruno Senna as the Williams driver is second quickest with a lap of 1:49.715. Vettel still on top.
Webber is about to go out again. That's a great advert for the sturdiness of the Red Bull suspension there!
Webber bumps into the wall in the tunnel! The Australian slid into the side with the main impact on his rear right wheel. He's sustained a puncture, but now the Red Bull pit crew will assess the car for any suspension damage.
Alonso may be leading the drivers' championship but it's all about Red Bull in the constructors' standings. They lead second-placed McLaren by 29 points.
Vettel's quickest time today is 1:49.614. The German and Alonso are the only two drivers to go under 1:50 so far today.
Vettel is now the fastest man in Singapore once again. He's justifying the disco lights on his helmet. That's right, battery-powered disco lights. The stardom has finalyl gone to his head.
Good ride from Sebastien Grosjean who cracks the top 10 with a lap of 1:51.709.
The yellow flags were out after Timo Glock had come off in the final sector after his throttle jammed, but normal service has now resumed.
As we approach the halfway point it's Hamilton leading the way with a fastest lap of 1:50.223 then it's Webber, Button, Vettel, Hulkenberg and Maldonado.
Hamilton is once again the quickest, but now Red Bull's Mark Webber leaps up to second with 1:50.362.
Mind you, that's still a way off Vettel's 1:48.340 from FP2.
Both McLarens stay out ont he track and they are now the two fastest cars. Button usurps his team-mate with a 1:50.524 whizz around the circuit.
After Nico Hulkenberg topped the timesheets for a few minutes, Hamilton is now the fastest man in FP3 with a lap of 1:50.730.
Di Resta has gone quickest over the first sector than anyone else so far. The Force India driver continues to impress.
For all this talk about Alonso, he is currently sat int he Ferrari garage looking very cheesed off! The pit crew are hard at work on his machine, but he would just rather be out on the track.
Alonso is the only driver to win in Singapore not starting from pole. The Spaniard, then driving for Renault, claimed victory in 2008 after Felipe Massa starting at the front of the grid.
Kimi Raikkonen is the quickest so far with a lap of 1:52.594. Kobayashi had previously been quickest. A long way to go yet though.
Fermnando Alonso currently leads the world championship by 37 points, despite only winning three races so far this season. After Singapore, there are only half a dozen races left, so another win for the Spaniard would be a huge step towards him claiming a third world title.
Vettel is back into the garage after one lap and Red Bull have put a new front wing onto the champion's car.
Paolo Di Resta is complaining to his Force India team that he is struggling with visibility in the twilight. As a night race Singapore offers such a rare challenge.
Now Jenson Button is out. He runs pretty wide on a chicane, but he's not goign for time at the moment. The 2009 world champion was second fastest in FP2, 0.311s behind Vettel.
Formula One's 2013 season will kick off in Australia on March 17 and finish in Brazil on November 24, according to the provisional calendar.
Away we go and a lot of cars going right out onto the circuit. No messing about. Vergne, Ricciardo, Di Resta, Karthikeyan, Senna and Maldonado all on the track.
The conditions at track level will be so testing for the drivers. They are less than 100 miles from the equator and the humidity will be stifling for them. Each driver can expect to lose about three kilograms over the course of tomorrow's race.
We're just a few minutes away from the drivers taking to the track. They have one more hour to tune up on this spectacular circuit, and then a two-hour break before qualifying begins.
Reigning world champion Sebastian Vettel was quickest in yesterday's second practice session. Vettel recorded a time more than three tenths faster than his nearest rival - Jenson Button's McLaren. Championship leader Fernando Alonso was third quickest for Ferrari ahead of Mark Webber, Lewis Hamilton, Force India's impressive Paul di Resta and Nico Hulkenberg.
Welcome to Eurosport's live coverage of the third and final free practice session ahead of the Singapore Grand Prix at Marina Bay.