avant-match
Qualifying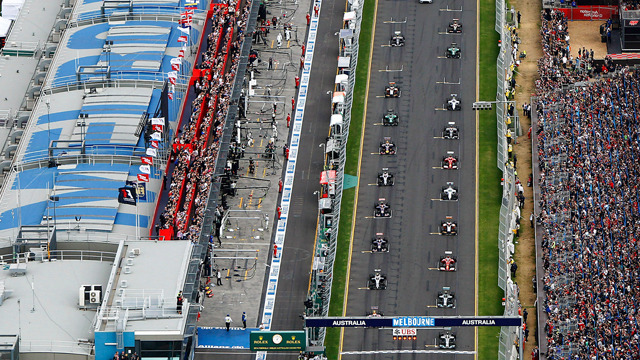 Follow the Singapore Grand Prix live with Eurosport. The race starts at 14:00 on 22 September 2012. Find race results, standings, stats, scores and track info. Keep up with the top F1 drivers and teams including Lewis Hamilton (Mercedes), Valteri Bottas (Mercedes) and Max Verstappen (Red Bull Racing).
Formula 1 fans can read breaking Formula 1 news, interviews, expert commentary and watch free replays. Don't miss the upcoming Formula 1 events. Make Eurosport your go-to source for sports online from Formula 1 to football, tennis, snooker and more. Enjoy live streaming of this season's top sports competitions.
Thanks for joining us today, the coverage continues tomorrow at 20.00 Singapore time for the race, that's 13.00 UK time.
Webber's seventh place is in doubt as he's being investigated by stewards for an incident earlier.
Schumacher and Rosberg opted not to set a time in that last qualifying mini-session, saving tyres for Mercedes and settling for ninth and tenth respectively.
So Q3 ends and Hamilton has his third pole in four races. The Briton was quickest by 0.442s, ahead of Maldonado, Vettel, Button, Alonso, Di Resta, Webber and Grosjean.
In the final stages Maldonado puts in a great 1:46.804 time to go second, still almost half a second slower than leader Hamilton who looks like he's going to take pole.
An untidy lap for Grosjean sees him very close to hitting a wall, but he survives the scare and is in fourth.
All the remaining drivers are now on track fighting for grid positions on their final or penultimate laps. Hamilton still leads.
Not long to go now and Alonso has been waiting in his garage, he goes out now and has perhaps just one lap to register a pole time.
Vettel is into third but is over a second slower than the McLaren pair at the top.
Button and Hamilton fighting for P1, with Hamilton fastest at the moment with a 1:46.362 time.
Vettel, Webber, Schumacher, Rosberg and Di Resta looking for space on track, Alonso and Grosjean in the garages waiting.
Q3 starts and Vettel will be looking to overcome Hamilton, Alonso and co in the final minutes.
Hulkenberg, Ricciardo, Vergne and Senna have also missed the cut. Q3 starts shortly.
Massa, Perez and Räikkönen are out.
Q2 ends with Hamilton leading and Vettel, Webber, Grosjean, and Alonso in the top five. Button and Di Resta are seventh and eighth.
So Senna is eliminated by his crash, now we'll see if anyone else goes out...
News filters through that Pic received a penalty for passing under red flags and will have 20s added to his race time tomorrow.
Di Resta is trying to hold on to 10th place with Schumacher and Hulkenberg trying to challenge him.
Hamilton still leads, followed by Vettel second, Button third, Alonso fourth, Webber fifth and Raikkonen sixth. Grosjean hit a wall and returned to his garage but his Lotus is ok and he's back out on track.
7'
Now Hamilton responds with a 1:46.665 flyer top go into the lead. Senna has hit a wall damaging his rear suspension and his session is over.
8'
Vettel storms to the top, beating the rest of the field by 1.2s. Wow!
The super soft tyres are nearly 1.5s faster than the softs so everyone is using them now.
Grosjean's hit a wall at turn 14 but continues, meanwhile Alonso is in P1 with a 1:48.058 and the Spaniard is looking strong in the final sector.
Stewards are looking into something which happened between Glock and Webber in Q1.
As we mentioned earlier Alonso is the only driver to have won in Singapore having not started on pole, as he took the win for Renault in 2008 after Felipe Massa started at the front of the grid. So we know that the 2005 & 2006 champion has the experience to ask Vettel some big questions tomorrow.
The broadcasters showed some amazing aerial shots of some lucky spectators earlier watching this session from a rooftop hotel pool. They will be keeping much cooler than the drivers. What an experience!
Vettel is still in control as he was the fastest of those to just use the soft tyre in Q1.
After a short break Q2 gets underway at Marina Bay.
Red Bull, McLaren, Ferrari and Mercedes have not yet used super soft tyres, with Kobayashi, Petrov, Kovalainen, Glock, Pic, Karthikeyan and De la Rosa are out.
Grosjean on top then at the end of Q1, it looked like Massa had been eliminated but he's in.
The clock ticks down to end Q1 as several drivers complete the flying laps they are on.
2'
Grosjean then takes control with a 1:47.688 lap, going 0.4s in front of Di Resta and edging down Raikkonen by 0.5s.
2'
Raikkonen briefly goes top before Di Resta uses the super soft tyre to take P1.
The full field of 24 drivers have now registered a flyng lap, De La Rosa is the unlucky man in last place at the moment.
So our current top five is Hamilton, Vettel, Webber, Button and Alonso. Can any of the other drivers challenge them here at Marina Bay?
8'
Hamilton is not letting the heat affect him as he takes the lead with a lap of 1:48.285s, whilst Vettel is only 0.002s behind him.
Driving in the heat and humidity of Singapore is also a big test, where the drivers lose significant body weight during each session and during the race – but they are all well equipped to keep themselves hydrated.
Now championship leader Alonso goes back into P1 with a 1:49.391s effort to beat Rosberg by 0.1s.
Maldonado briefly leads with a time of 1:49.494s, before Rosberg beats his time by a fine margin.
Paul Di Resta, who was seventh in FP3 and is currently fifth was complaining about visibility in the twilight earlier, as the session took place as the sun was going down. There are no such problems now as these are full night conditions, but driving under the floodlights offers its own challenges.
14'
Alonso leads the way at the moment with a time of 1:49.511s, dislodging Maldonado by 0.4s from the top of the timesheet.
The Marina Bay street circuit is looking as resplendent as ever under the floodlights. Just watching the drivers working their way around the circuit gets the adrenaline pumping… imagine what it must feel like to be doing the driving.
No major incidents yet with Maldonado, Schumacher, Hulkenberg, Ricciardo, Rosberg, Vergne and Di Resta amongst the early runners.
Weather check: it is partly cloudy in the night sky, but conditions are dry, with a dry track and the air temperature has dropped slightly to 28 degrees Celsius.
The green light shows and we're already away with the first mini session!
Or if you prefer to see how we saw FP3 live here is the minute by minute report. Be quick though, we're about to get started!
Here is our full report from FP3.
The Red Bull driver set the quickest time of FP3 earlier, with a 1:47.974 lap, which put him 0.325s ahead of his nearest rival Lewis Hamilton, with championship leader Fernando Alonso 0.676s slower than the German in third.
The local time is 20.47 and we're just minutes away from the start of this crucial session. World Champion and last year's Singapore race winner Sebastian Vettel has been quickest in all three practice sessions thus far this weekend.
Welcome to our LIVE coverage of the Qualifying session for the Singapore Grand Prix at the Marina Bay Circuit.