avant-match
Free Practice 1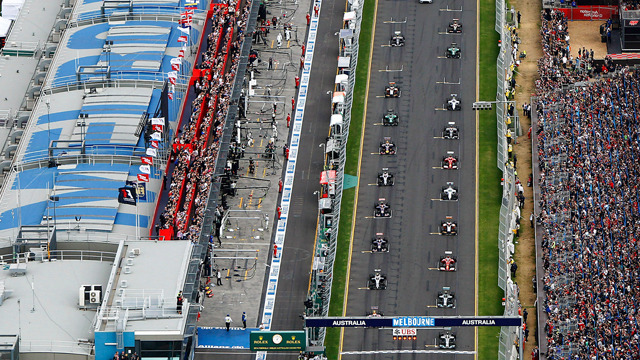 Follow the Spanish Grand Prix live with Eurosport. The race starts at 09:00 on 10 May 2013. Find race results, standings, stats, scores and track info. Keep up with the top F1 drivers and teams including Lewis Hamilton (Mercedes), Valteri Bottas (Mercedes) and Max Verstappen (Red Bull Racing).
Formula 1 fans can read breaking Formula 1 news, interviews, expert commentary and watch free replays. Don't miss the upcoming Formula 1 events. Make Eurosport your go-to source for sports online from Formula 1 to football, tennis, snooker and more. Enjoy live streaming of this season's top sports competitions.
Thanks for joining us for coverage of the opening session - come back at 1pm (UK time) for FP2!
The report.
Ferrari lead way in Barcelona practice
Perez finally set a time for McLaren late on, but Button did not manage it...
Alonso finishes top of the order with 1m25.252s.
The top spots are changing all the time as the session winds down. All the drivers out there pushing.
2'
Raikkonen second... and Massa goes top with his next lap of 1m25.618s!
Massa off at turn seven! He lost control briefly and couldn't rectify it before heading into the gravel trap.
5'
And now Bottas leads the way with a 1m26.456s.
5'
He isn't there long - Alonso now top with a 1m26.804s.
6'
Bottas goes second with Di Resta now third. And Hamilton takes over top spot with a 1m26.918s. The times falling rapidly.
Maldonado third. Ricciardo improves to 1m27.904s at the top.
Rosberg goes second with 1m30.333 while Vettel is now out for a final run in the session.
10'
Ricciardo with a far quicker 1m29.602s.
Vergne back in after running off track on a hot lap.
Massa now just two-tenths off Vergne's pace.
Massa runs wide but guides the Ferrari back on to the circuit at the final turn.
Vergne on dry tyres - and it shows! His time of 1m34.710s puts him almost two seconds clear.
16'
Massa leading the way now with 1m36.005s.
@InsideFerrai: A little more than 20 minutes to the end..for the moment its still not possible to switch to dry tyres..maybe someone will be brave enough..
20'
Hamilton goes from 10th to fourth then top! No messing about from the Briton... 1m36.159s his time.
24'
Alonso fights back with a 1m36.645s as the benchmark keeping on falling with the track drying out. Still a few damp patches around.
@MyCaterhamF1: Floor on, bodywork on, @H_Kovalainen in the car and we're ready to go. Final adjustments being made before Heikki heads out again
28'
Ricciardo now top of the pops with 1m37.987s.
Button finally out on track after just the solitary lap at the start of the session.
32'
Alonso goes top with 1m38.732s - easily the best time - then Ricciardo beats Webber's mark to go P2.
Home driver Alonso now second, a tenth of a second slower than Webber.
Australian Webber looking in good nick, improving again to 1m39.614s.
Webber improves the benchmark time to 1m40.845s.
The order changing all the time.
1.Webber 2.Ricciardo 3.Hulkenberg 4.Raikkonen 5.Grosjean 6.Vergne 7.Massa 8.Gutierrez 9.Alonso 10.Bottas 11.Maldonado 12.Bianchi 13.Van der Garde 14.Sutil 15.Di Resta
40'
Webber puts the Red Bull in P1 with a 1m41.658s.
41'
Vergne now fastest with 1m42.667s. There are some dark clouds on the horizon...
Kimi Raikkonen now fifth in his Lotus, with a time in the high 1:44s.
Or tweet me your favourites.
So who will win the Spanish GP this weekend? Vote in the poll on our F1 page - just scroll down.
F1 page
Nico Rosberg and Hamilton believe their chances of a good result in the Spanish Grand Prix have been boosted.
Mercedes expects boost from tyre tweak
49'
Alonso now leads the timesheets with a 1m43.630s.
@WilliamsF1Team: Air temp 17C and track temp 19C
Hamilton back in the pits without setting a time as Esteban Gutierrez goes third with 1m45.069s in the Sauber.
55'
Grosjean now top of the pile with a 1m44.714s, three-tenths better than Massa.
Grosjean's first timed lap is just under 1:46. He then runs wide on his next lap, while Vergne posts a 1:48.
Hamilton and Vettel out there now as well as Massa, Vergne and Grosjean.
59'
Massa sets a time! 1m45.023s.
Seen this from a few weeks ago? No? You'd better watch it...
Broken tap sounds just like Formula One car
@MercedesAMGF1: We have movement... Lewis is back out on track!
Felipe Massa emerges in the Ferrari. They got restless after all.
Sergio Perez back out for a second run. @InsideFerrari: The circuit is slowly drying up, a little more to wait before going out again.
Have a read of Will Gray's blog on the top engineers in F1 - and their importance to the teams.
Gray Matter: Formula 1′s big backroom players
70'
Hulkenberg lays down the first marker of the day, a 1m48.508s in the Sauber.
Plans for Formula 1 to introduce a licence penalty points system for drivers have been approved by the teams.
F1 penalty points system to go ahead
Formula 1 teams remain divided on how to plan pre-season testing next year, but have rejected a proposal for extra in-season running.
No agreement over 2014 F1 test plans
Quiet time... Formula 1 teams will be handed an extra set of tyres for the first 30 minutes of practice from the start of next year.
F1 practice tyre rules to get revamp
@WilliamsF1Team: #BOTTAS back from his first run for a front wing change
Jenson Button and Sergio Perez the only drivers yet to emerge from the garages.
Ferrari chief designer Nicholas Tombazis says that despite a strong start the team are targeting improvements in Spain.
VIDEO: Ferrari seek step up at Spanish GP
All the cars tentative as they embark on their first runs of the weekend. Plenty of spray being thrown up.
Romain Grosjean the first car to spin at turn 10. Nothing serious.
Jules Bianchi was the first driver out on track. Adrian Sutil, Mark Webber and Jean-Eric Vergne follow for their installation laps.
@OfficialSF1Team: FP1 is go and the track is wet. Inters on both cars. (Sauber)
@InsideFerrari: Start of FP1 with a wet track, it stopped raining few moments ago.
@Lotus_F1Team: Wet track means a wet box, so we've deployed the driers
@McLarenF1: The wet #FP1 weather means we're unlikely to see a busy start to this morning's session...
Off we go in the 90-minute session.
All you need to know about this weekend's race - track tech, highlights from past races, records, track characteristics and quotes.
F1 Spanish Grand Prix: The ultimate guide
It is expected to dry out a bit later in the morning when this light rain finally stops.
It is RAINING in Barcelona - that throws a spanner in the works of those teams looking to test out updates this weekend such as McLaren and Williams.
Welcome to live coverage of the opening practice for the Spanish Grand Prix in Barcelona.