avant-match
Race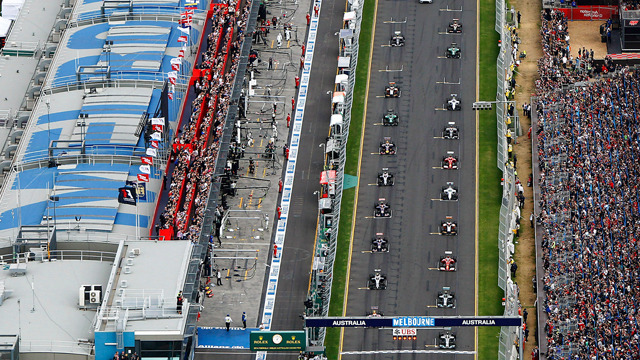 Follow the Spanish Grand Prix live with Eurosport. The race starts at 13:00 on 12 May 2013. Find race results, standings, stats, scores and track info. Keep up with the top F1 drivers and teams including Lewis Hamilton (Mercedes), Valteri Bottas (Mercedes) and Max Verstappen (Red Bull Racing).
Formula 1 fans can read breaking Formula 1 news, interviews, expert commentary and watch free replays. Don't miss the upcoming Formula 1 events. Make Eurosport your go-to source for sports online from Formula 1 to football, tennis, snooker and more. Enjoy live streaming of this season's top sports competitions.
In two weeks the drivers are back out in Monaco for the showpiece street circuit - join us then!
Hamilton 12th, behind Esteban Gutierrez in the Sauber. That's a pretty miserable afternoon.
Vettel, Webber, Rosberg, Di Resta, Button, Perez, Ricciardo round out the points.
Raikkonen, Massa complete the top three.
ALONSO WINS THE SPANISH GRAND PRIX!
Alonso cheered on through every last turn by the Spanish crowd...
Three-tenths of a second now the gap between Rosberg and Di Resta - but still no way through for the Scot. He will be the highest Brit today, though.
Alonso, despite his remarkable record as a driver, has only won this GP once - it will be an emotional victory for the Ferrari man.
The first five places are just about set in stone - Alonso, Raikkonen, Massa, Vettel, Webber.
There's some traffic up ahead of both men, which could be a curveball in these final laps.
Di Resta, however, is not giving up the chase on Rosberg, and he's still right on the back of the Mercedes in 6th.
Looks as if Perez has eased off on McLaren - perhaps the team is judging that given the trials of this weekend a double-points finish, even if only 8th and 9th, is not to be risked.
'When I say DRS, Paul, use it' - that's a fairly basic instruction for the Force India man....
Button is holding off Perez, too - for now. Passing not easy in these final stretches.
Massa now loses a second to Raikkonen - Vettel will be watching with interest if the Brazilian blows his tyres.
The gap between Riakkonen and Massa now holding steady at nine seconds. Might be a step too far to keep pushing.
Di Resta now looking in good shape, but still behind Rosberg, who's fighting on.
Raikkonen's lead over Massa now trimmed back to under 10 seconds. Can he sustain it?
Looks as if Button is going to have to give up eighth place to Perez, who is closing on him and on fresher tyres.
The Spanish crowd are going to go absolutely crazy for an Alonso victory today. It's all they want to see.
Although that lap has just been beaten - by Gutierrez in the Sauber. He's not in the points, but this is his best race in Formula One so far.
Massa sets the fastest lap of the race. He's just testing out whether he can take the fight to Raikkonen.
Rosberg told that he is 'racing Di Resta' - Rosberg sounds dubious about whether his tyres will allow that, the Force India looks in better shape.
Massa in such space that he's told a fifth stop is an option. He almost has enough of a gap on Vettel, and would doubtless get past him on fresh rubber.
Alonso stretches the lead out by a couple of seconds. Everyone in the top five in formation.
Di Resta has to pit from sixth, which has cost him one place - to Rosberg. He could yet get it back.
54/66
Vergne being told to retire - the left-rear tyre is damaged. That's the clash with Hulkenberg coming back to bite him.
Webber gets himself ahead of Di Resta to take fifth, and finally we're starting to see exactly where everyone's true position is...
10 seconds separate Alonsso from Raikkonen, who has 17 seconds on Massa. Those positions look pretty settled now.
Massa in for a stop - will he come out ahead of Vettel? Yes, because the German is stopping too.
Button passes Hamilton - not exactly at the sharp end of the grid. That's for 10th.
Alonso less than rapid through that first lap as he rubbers in - Raikkonen took about five seconds out of him on that lap. But that was the Spaniard's outlap.
Hamilton now passed by a Sauber - so that's just about every team on the track which has pulled a move on Hamilton today.
Massa and Raikkonen are on the same straight, but some way down. Long way back for the Finn, and Massa will surely lose second place when he makes his own stop.
Raikkonen not exactly flaying the car around the track, and Alonso takes the opportunity to pit.
Rosberg in from sixth. He will at least have the bragging rights if he comes out ahead of his team-mate.
Alonso has a 30 second lead over Raikkonen - the time taken for a complete stop is around 18 seconds so he has a healthy gap to make his final stop.
Button also in for his third stop, and he might just have got his strategy call right. Some points possible for McLaren after a grim weekend.
Hamilton is about 80 seconds down on the leader, in 11th, and stil less than happy.
Raikkonen out on fresh, hard tyres. That should get him to the end - he rejoins just ahead of Vettel, who must still stop.
'Box this lap,' is the instruction for Raikkonen.
Vettel pulling out time on Raikkonen now as well. Not electric pace from the German, but he is moving now.
'You can ease up on your tyres,' Vettel is told. Are we about to see Seb wake up in this race?
Two-thirds through the race and the top 10 is: Alonso, Raikkonen, Massa, Vettel, Webber, Rosberg, Button, Gutierrez, Di Resta, Perez
Raikkonen's tyres have gone. Seven seconds now the gap. The question is now whether he can nurse the tyres and get around for one more stint.
Paul di Resta as confused as anyone about strategy - has to ask the pits how many stops he'll be making! Four is the answer.
Vettel is out of the picture for the win - potentially out of the podium shuffle as well. About half a minute down on Alonso, and on the same strategy.
Alonso about three seconds up the road on Raikkonen and easing away. Both drivers, it would seem, have one stop left.
Fastest lap of the race from Sutil in 15th - a 1:26.654 - if only he hadn't spent 74 seconds int he ptis earlier on.
Gutierrez slips past Button for seventh. Hard to tell exactly whether either driver is in the mix for points when the strategies shake out.
Vergne's tyres delaminate! That's not the first time we've seen it, and it needs addressing - there could be a very dangerous incident if Pirelli don't get to the bottom of the problem...
No great shocks - penalty for Hulkeberg.
BUT THERE'S NO STOPPING ALONSO! Whips through on the home straight, and Raikkonen powerless to stop it.
Alonso is gaining on Raikkonen here - only a couple of seconds the difference. Raikkonen needs to ward the Ferrari at bay, hold him up a bit.
Hulkenberg back in the pits for a new front wing. I suspect he'll be back again shortly for a penalty after Sauber's unsafe release.
Webber also came in there, quietly up to fifth and looking pretty good.
Alonso pits! As does Massa! So Raikkonen leads this race. What can he do with that chance?
Goodness me - Hulkenberg clips a Toro Rosso in the pits after an unsafe release. Something came off the car there - that's a very poorly-judged release. Was Vergne affected as well?
Raikkonen probably in front IF he's working on a three-stop strategy. Alonso is on a four-stopper,
Both Ferraris lock up the left-front - and as the cameras keep watching Raikkonen, there's no such dramas. No doubting which the fastest car on the track is.
Raikkonen just took a 1.5-second chunk out of Massa on the last lap. No messing around here from the flying Finn.
And as I say that we hear a messsage from Vettel's engineer telling him to concentrate on his own race - in other words, don't try to fight Raikkonen.
GOT HIM! Raikkonen up to P3 with a move through turns one and two. He needed that - he's pulled a huge gap already.
RAIKKONEN SO CLOSE! Almost gets Vettel around the outside, and if he could have made it stuck it would have been spectacular!
Vettel borrows a tow from Bianchi, and that holds Raikkonen off for another DRS zone.
Alonso bossing this race at present - 9 seconds clear of Massa, with Vettel and Raikkonen around twice that distance.
Raikkonen right within range of Vettel, but can't find a way past yet.
If your job is to keep Lewis Hamilton pepped up this afternoon, you'll be earning your money.
'OK Lewis, your rear right tyre nearing its window, be careful' - 'I can't drive any slower!'
Hamilton just gets that place back from Maldonado.
Raikkonen on some better tyres now and taking chunks out of Vettel's three-second lead. Already halved. How long will the German be able to hold him off?
'Can't have it - overtaken by a Williams' - that's what Hamilton thinks of losing out to Maldoando. Yikes.
Second stop for Rosberg, and he drops out of the points as well. That says it all about Mercedes' afternoon.
Maldonado now past Hamilton. This is pretty wretched for Mercedes. They knew the problem of tyre wear, tried to address it, and have singularly failed, from the looks of it.
Raikkonen pits! Couldn't get his pace up and that has cost him. He rejoins fourth - the top four now Alonso, Massa, Vettel, Raikkonen. Rosberg a way down from all that in fifth.
Hamilton rejoins in 14th. Ouch. Button, meanwhile, has clambered up to eighth, but is due a stop.
More woe for Hamilton. Passed by Gutierrez, Webber and Di Resta in quick succession, and now out of the points. This is pretty miserable.
Same equation for Lotus - if they can do one stop fewer than Ferrari, they're a good bet for victory.
Vettel into the pits! And that gives Raikkonen free track in the lead. How quick can he really go?
Just half a second now between Vettel and Raikkonen! The Finn eager to pass the German as the Red Bull looks to coast...
Giedo van der Garde has lost a tyre! Somehow, the Caterham makes it back to the garage on three wheels.
Alonso already back up to third now in the reshuffle, overtaking Rosberg. He's lapping seven-tenths of a second quicker than the German - it depends whether the Red Bull can manage one fewer stop.
Massa sweeps past Vergne as his third stint begins.
In comes Alonso! Hard tyres for the Spaniard, back out in space.
Alonso stretching out that advantage - now past four seconds. Starting to look in very good shape.
Some slow-motion replays show some heavy graining on the tyres of the leaders. Massa, meanwhile, is coming in for a set of hard tyres. Has that hurt his chances?
Massa eager to make the second of his four stops - he'll call in at the end of this lap.
Ricciardo storming through the field at the moment - Di Resta swept away and he now is 8th.
Alonso settling into a pattern with a three-second cushion on Vettel. What can the German do to get back on terms?
The gap from 1st to 10th is less than 20 seconds. Only meaningful gap is the five seconds Rosberg has on Webber.
'Webber and Rosberg are struggling on their tyres', Perez is told. Go after them, is the message from McLaren.
As a flurry of messages about tyre management come through, talk turns to the fact that the tyres are playing too big a role in this race. Not many drivers at full pelt out there.
Perez doing a very decent job in seventh - a dark afternoon for Button in 14th in comparison.
Alonso driving like a man possessed - he's up on Vettel by a couple of seconds.
Ouch - meanwhile Dan Ricciardo has just coasted past Lewis Hamilton in a Toro Rosso for ninth.
No dramas! Raikkonen through! Meanwhile Webber has risen swiftly to sixth, and that early stop has paid dividends.
Raikkonen is on medium tyres, and should have little trouble going past Rosberg as well.
The hard tyres are looking particularly difficult for Mercedes - they just haven't cracked tyre wear yet. When they do, they'll be hard to beat. Until then, it's meat and drink for the Ferraris and the Red Bulls.
HE CAN! Sharp driving - and Massa through as well! Once again, the Mereces is going backwards.
...And he does! Shimmies one way, then whips around the outside into turn one. Over to you, Vettel - can you follow past?
Alonso stepping out and looking for a way past Rosberg - he is desperate to get ahead...
Top four all in a row: Rosberg, Alonso, Vettel, Massa - only 1.5s between all four! Raikkonen a couple of seconds down from that battle, but closing.
Pastor Maldonado gets a stop-penalty for speeding in the pitlane. As Martin Brundle wryly observes, it's about the only place he has been speeding this weekend.
That's paid off big time for Alonso. The Spanish crowd love that, but Rosberg by the skin of his teeth retains the lead.
Rosberg, Vettel and Raikkonen all pit. Where will they be in relation to Alonso?
That has helped Di Resta, who has eased into eighth.
Sutil back on track, but only after 74 seconds in the pits.
Here comes Alonso into the pits, and Hamilton follows. Alonso rejoins just behind Button.
Have Grosjean and Sutil tangled? Neither driver's car in good shape, Sutil overheating, Grosjean's suspension busted.
Massa passes Hamilton now, who's struggling - but he's straight into the pits and on to hard tyres!
Webber, who had a poor start, heads into the pits. Told that he needs to push early in the stint to make the strategy work.
Raikkonen gets past Hamilton! Huge, huge move for his race.
Top 10: Rosberg, Vettel, Alonso, Hamilton, Raikkonen, Massa, Perez, Sutil, Grosjean, Di Resta
A lot of drivers are within the DRS zones, but there's very little overtaking at present. And if you can't overtake, strategy becomes everything.
Hamilton is reporting brake issues to the team. In that case he's doing well to hold off Raikkonen - those two just starting to slip back.
Button lapping almost half a second slower than Perez. Complaining to the pits that he can't find any grip.
Just three seconds between the top six. Tightly-bunched, probably because Rosberg is at the front in one of the slower cars.
Replays show Hamilton and Vettel touched wheels at the start, as he was locking up. Scintillating stuff from Vettel and Alonso in particular - the Spaniard skimmed past Raikkonen on the outside at turn two.
Button, by the way, has had a shocking start, and has dropped to 17th. Could be a long afternoon.
'Really important to look after the left rear tyre' is the message to Rosberg. F1 is a tyre management game these days - they've only raced for a couple of minutes!
DRS enabled - that will apply on the main straight and the back straight.
Rosberg has done well, and is holding the lead. But Vettel is right with him.
'Beautiful - now you're in the pack, go for it', Massa told.
That said, Perez gives one place back as Massa sweeps past him. No DRS yet for the drivers.
Raikkonen the next on Hamilton's rear wing, and it's gone very well for Alonso and Vettel so far. Perez has jumped four places to sixth!
More woe for Lewis! Alonso jumps him at turn four! Has Hamilton black-spotted his tyres already?
Vettel gets second after a Hamilton lock-up into turn 1!
Right - here we go.. everyone ready?
'They're going ridiculously slow' says Vettel of the Mercedes ahead of him. 'We need to bunch the field' says the engineer to Rosberg. Could be a fun afternoon on the radios...
Every driver int he top 10 starts on the medium tyres - so the strategy calls will only start to emerge once the first stops are made.
The drivers are getting ready for the formation lap. One thing to note - Lotus have been busy with the medium tyres in qualifying and have only one unused set. Might that affect them in the race? The medium is certainly the faster tyre, and we may see three or four stops today.
I'm Mark Patterson, and I'll be seeing you through this race. You can find me lurking on Twitter @Mark_Eurosport. We can discuss McLaren falling apart if you like, or whatever brilliant thing Kimi Raikkonen goes on to say in the next couple of hours.
Time to take a quick look at the driver standings before the race begins:
There's still time to get yourselves completely up to speed with the Spanish Grand Prix, by reading up on the race in our ultimate guide.
Take a look
Itr's sunny out in Spain today, if not especially hot. Temperature in the air around 19C, so not dissimilar to the sorts of conditions the teams will know from pre-season testing. Will that take the surprises out of the race?
QUALIFYING: Mercedes are the kings of a single lap at the moment, and they were mighty impressive in Spain to lock out the front row. The big three - Vettel, Raikkonen and Alonso - are right behind them. As for Button, there was misery...
Full story
Hello and welcome to live text commentary of the Spanish Grand Prix in Barcelona. The race is just half an hour away.