avant-match
LIVE
Race
Spanish Grand Prix - 10 May 2015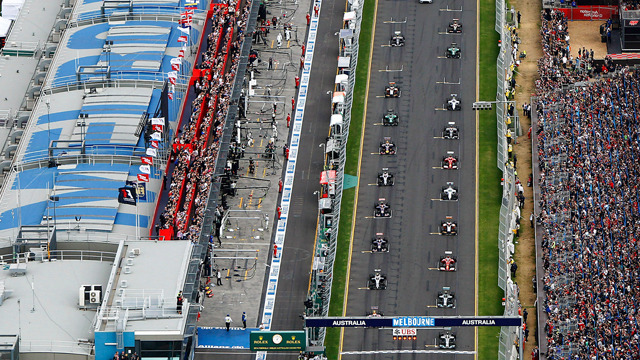 Spanish Grand Prix – Follow this F1 race live with Eurosport. The action starts at 13:00 on 10 May 2015. Our live coverage lets you follow all the key moments as they happen.
Get all the latest on Formula 1: calendar, results and standings.
Right, that's that for this weekend. Thanks for your company - see you in Monaco!
-
Time for Nico Rosberg to look happy on the podium.
Hamilton congratulates his team-mate. Nice to see.
A grumpy Sebastian Vettel finishes over half a minute behind the pair of them, with Valtteri Bottas in fourth and Kimi Raikkonen in fifth.
Rosberg takes the flag, and Hamilton follows behind him.
And there's contact between Sainz and Kvyat!
And the pack cruise into the final lap, with the Merc one-two looking nailed on.
It's going to be a bit of a procession in these final two laps barring mishaps. Raikkonen is still poking at Bottas, but a second behind.
Massa, in sixth, is a minute and 15 seconds behind Rosberg in first. The chasm in car capacity is overwhelming.
And Sainz is past his team-mate and into tenth - and the points.
Sainz and Verstappen are having a good little fight in the playpen for tenth place.
Hamilton is now less than 13 seconds behind Rosberg - but unless he can lap three seconds quicker than Rosberg from now until the end, he's still going to finish second.
Raikkonen is now less than half a second behind Bottas - does he have enough laps left to make the final move?
Hamilton is still lapping faster than Rosberg, though, still fastest on the track.
Raikkonen is in DRS range of Bottas. He's less than a second behind.
Hamilton's team tell him he's not going to catch Rosberg, and to consolidate the position. "Is it impossible?" he keeps asking. They keep saying yes. He doesn't seem to want to accept it.
Maybe Bottas and Raikkonen can add some interest into these closing ten laps. Everyone has been lapped up to Massa in sixth.
Vettel is shouting about blue flags again, but at least he isn't singing.
And now a 1:28.270. He's 18 seconds behind Rosberg.
Fastest lap for Hamilton - 1:28.401.
Vettel is sad about losing time in traffic, as if it's the backmarkers' job to help him with his strategy.
Right, it's a race to the end. Let's go.
And he comes out into second, well ahead of Vettel.
That's a good solid stop, 2.6 seconds.
Yep, and he's called in to box.
Rosberg, on newer tyres, is cutting into Hamilton's lead - it's near enough time for the Briton's final pit.
The heat haze builds as we head into the final stages of the race.
Hamilton's burning through the laps at the moment, with Rosberg three seconds behind, attempting to build enough of a cushion to protect himself prior to that third pit stop.
A third pit stop of the day for Felipe Massa.
Oh, and some lovely driving from Kimi Raikkonen there, moving into fifth.
Ah, Pastor Maldonado's team call him in to box again and subsequently retire.
So Hamilton is now into the lead for the first time, with Rosberg a couple of seconds behind and on newer tyres.
Rosberg is called in for his second stop. Meanwhile, Maldonado comes into the pits and opts not to hit his front jack man, which is apparently de rigeur today.
So we have the Mercs in first and second now, two-thirds of the race gone.
Oh goodness. Back into the Lotus garage, and the poor technician has grazed knees and an ice pack on his...well, slightly lower than his midriff.
Another farcical pit stop! Romain Grosjean also overshoots the marks, and hits the jack - the technician holding it is knocked up into the air and to the floor, but seems OK.
There's Hamilton into second as Vettel heads into the pits!
"I was worried for him [the technician] after I saw that I had no pedal," says Fernando Alonso on his brake failure in the pits.
Hamilton now lapping one and a half seconds quicker than Bottas.
Raikkonen is told that Bottas's tyres are going and to push for that place.
Obviously he's on fresher tyres, but he's making them count.
Hamilton is lapping nearly three seconds quicker than Bottas now. That's impressive.
Hamilton's slicing into Bottas's advantage, now, though - just six seconds behind him.
Bottas, now in third, and ten seconds behind Vettel, has plenty of space in front of and behind him - there are twenty seconds separating second and fourth.
Hamilton, after his second pit, gets past Raikkonen with ease, moving into fourth.
Fernando Alonso has donned his sunglasses and is striding off into the distance. What a disappointment for him.
Lewis Hamilton is briefing his team to do a better pit stop this time round. Great advice.
Raikkonen is making calm, collected progress round the track, sitting in fifth.
Well, after that drama, it's all a little quieter on the track.
Just a tyre change for him, and that goes smoothly.
Jenson Button will be next in, then.
Oh, there's Fernando Alonso, heading into the pit - and he doesn't stop! He doesn't hit anyone, thank goodness, but hits the jack - the technician jumped out of the way immediately. The car has been switched off and he's being rolled back into the garage. He's retiring - and that looks like a brake failure.
Button is still complaining about his car, and Pastor Maldonado is lurking on his shoulder.
Hamilton now nearly a second and a half behind Vettel.
Maldonado, basically now driving the skeleton of his car, is down into 18th.
Hamilton is still behind Vettel - by about a second at this point.
And there he goes, into ninth, in a shower of sparks.
Dany Kvyat is told that he needs to get past Verstappen. He's probably thought about that, to be fair.
Grosjean is being told that he has to adjust his technique moving into fourth gear, which sounds like it's damaged.
Kimi Raikkonen is apparently not happy with one of the Marussias as he's looking to overtake them at the back of the field.
Hamilton is looking to make that attack for second place now.
After all that fuss, Hamilton's now less than a third of a second behind Vettel.
The Red Bulls and Toro Rossos are going backwards - Ricciardo leads the herd.
Hamilton now in a strop over the radio about people speaking to him in corners.
Rosberg-Vettel-Hamilton lead the pack now again.
He's obviously cross with the bad pit stop, but he also had a poor start, so some of his problems are self-inflicted.
Hamilton's in a strop, telling his team to come up with a better strategy than "attack Vettel".
They've tried to fix Maldonado's car in the pits, by ripping bits off it, but it's still looking rather bad.
Raikkonen is now in the lead for the time being, but he's not yet pitted.
Maldonado's Lotus, meanwhile, is falling apart, with the rear wing flapping about.
Good stop for Vettel, still ahead of Hamilton.
Rosberg is being called in to the box now.
TERRIBLE stop for Hamilton - the left rear won't go on, and he'll be out just behind Pastor Maldonado. Definitely not what he wants.
"Do the opposite to Vettel," say Hamilton's team - so he'll be coming in to the pit now.
Hamilton's down to half a second - "it's Hammer time," say his team.
Bottas and his team are going for "Plan C". What on earth would that be, then?
Hamilton's about nine-tenths of a second behind Vettel, and looking to cut into that some more.
Ricciardo takes the spot and then concedes it again, giving Grosjean the chance to join in the battle.
The most interesting battle at the moment is further down the field, with Verstappen and Ricciardo tussling hard.
Rosberg is extending his lead over Vettel now, and the top six are well clear of the looming Maldonado.
"We're thinking of Plan B," say Hamilton's team. "It needs to be, I can't get close," replies the Brit. Three stops for him, then.
There's Maldonado in seventh, and making a dash for the big boys now.
Pastor Maldonado is now closing in on young Verstappen. What even is happening?
...and Jenson Button is reporting car issues.
Massa is into sixth - past both Toro Rossos.
Vettel is firmly in second, and really going for it.
Maldonado is now past Romain Grosjean and into ninth, and Ricciardo overtakes him as well. Is there a car problem there?
Pastor Maldonado has overtaken both the Red Bulls. Dear me.
Nasr is reporting vibration on his front right - not clear whether that's through contact or anything else.
Sainz has dropped down to seventh - Verstappen is in sixth.
Valtteri Bottas is giving Hamilton some problems as well, and Raikkonen is sitting just behind them.
What a dreadful start for Lewis Hamilton! He's dropped down behind Sebastian Vettel, and Nico Rosberg is stretching his lead!
Tyre blankets coming off - looks like everyone is starting on mediums as we begin the formation lap.
The cars are just lining up on the grid in this lovely sunshine.
12:45
Jenson Button on whether he will win any points: "Doesn't really matter, to be honest." Fair enough.
A breezy Max Verstappen on whether he can challenge the Ferraris or the Williamses: "We will try!"
Here's the latest on the new directive on fuel flow.
Beautiful weather out on track, by the way.
Carlos Sainz has had a brilliant weekend so far - the young'un starts fifth in his Toro Rosso, with the equally puppylike Max Verstappen just behind him. Where are the grown-ups in their Red Bulls? Eighth (Kvyat) and tenth (Ricciardo).
More from Hamilton: "There is no real policy. The policy is the same as it was last year, we're allowed to race. The guy who is in front gets the optimum strategy and the guy behind gets a slightly different one. It's generally always the same so it's down to you to utilise it and to make up for the disadvantage of being behind."
Lewis Hamilton: "It's not very easy to dive down the outside at this circuit; it is for the cars behind because a car will stop and slow down the cars that are behind him. So here it is really about getting down the inside off the line. We've both got the exact same clutches so naturally we should have the same start. If I'm fresher and have a slightly better reaction time it might make a difference by the time we reach Turn 1, so that will be the goal."
We're in Spain, of course, and that eternal optimist Fernando Alonso thinks McLaren might win some decent points this time round.
Check out the full report from qualifying.
Once again we have a Mercedes on pole - but this time it's Nico Rosberg. Yep, he's finally taken Lewis Hamilton's advice to go faster if he wanted to overtake him, and he starts from the front of the grid, with his team-mate just behind him.
Good afternoon, all, and welcome to our LIVE coverage of the Spanish Grand Prix.