Black History Month was founded in the UK over 30 years ago and its central ethos is to celebrate the contributions made by black communities and individuals to this country.
So each day across October, in conjunction with Team GB, we are celebrating a different athlete's achievements at the Olympic Games - via a Twitter thread on @eurosport_uk and also right here on eurosport.co.uk.
Olympics
Black History Month: McDonald Bailey - British world record holder
British Olympic Association chief executive Andy Anson said: "We take great pride in the rich history of successful black athletes who have represented Team GB, dating back to Harry Edward who became Great Britain's first black Olympic medallist in 1920.
"The campaign we are running in partnership with Eurosport throughout Black History Month celebrates 100 years of black athletes being an integral and important part of our team through to the present day where we look forward to seeing athletes create their own history at the upcoming Tokyo and Beijing Olympic Games."
Come back each day in October as we pay tribute to a different athlete who helped make GB's Olympic history what it is today.
October 21: Louis Martin
Louis Martin won Olympic medals in weightlifting at Rome 1960 and Tokyo 1964, claimed four world titles and set two official world records.
Black History Month: Louis Martin, weightlifting sensation
October 20: Joshua Buatsi
Joshua Buatsi took bronze as a light-heavyweight at the 2016 Rio Olympics and remains unbeaten since turning professional.
Black History Month: Joshua Buatsi - Olympic and European bronze medallist
October 19: Jessica Ennis-Hill
Jessica Ennis-Hill is a world, European and Olympic champion, who crowning glory came at the London 2012 Games.
Black History Month: Jessica Ennis-Hill – Olympic legend
October 18: Anita Neil
Anita Neil is a three-time European Championship bronze medallist and a pioneer of British sprinting.
Black History Month: Anita Neil – A Sprinting Legacy
October 17: Andrea Lynch
Andrea Lynch competed at two Olympic games and is a former British 100m record-holder.
Black History Month: Andrea Lynch - GB Speedster
October 16: Joe Joyce
Joye Joyce won super-heavyweight silver at Rio 2016, losing out in the final on a split decision, and remains unbeaten since turning professional.
Black History Month: Joe Joyce, silver star
October 15: Dina Asher-Smith
Britain's speed queen Dina Asher-Smith has already won 13 major championship medals, including three at the most recent World Championships.
Black History Month: Dina Asher-Smith - Future Olympic Queen?
October 14: Jack London
The legendary Jack London made history by winning two medals at the 1928 Olympics in Amsterdam - silver in the 100m and bronze in the 4x100m relay.
Black History Month: Jack London - The Legacy
October 13: Linford Christie
Linford Christie is sprint royalty. His crowning glory was Olympic gold in 1992.
Black History Month: Linford Christie - Sprint Royalty
October 12: Christine Ohuruogu
Christine Ohuruogu is an Olympic immortal, who competed at four Olympics, winning four medals, most notably gold in Beijing in 2008.
Black History Month: Christine Ohuruogu, Olympic Immortal
October 11: Nicola Adams
Nicola Adams became the first woman to win a boxing gold medal at an Olympics during London 2012, then followed it up by successfully defending her flyweight title in Rio.
Black History Month: Nicola Adams, the first champion
October 10: Dan Norton
Dan Norton was a key part of the GB sevens team that won silver at the 2016 Olympic Games in Rio, scoring his nation's first-ever try in the inaugural tournament.
Black History Month: Dan Norton, GB sevens history maker
October 9: Dame Kelly Holmes
Dame Kelly Holmes won double Olympic gold at the 2004 Olympic Games in Athens, winning the 800m and 1500m. Holmes later won the BBC Sports Personality of the Year award that same year.
Black History Month: Dame Kelly Holmes, double champion
October 8: Anthony Joshua
Anthony Joshua won GB's 29th and final gold medal of the London 2012 Olympic Games on August 12. He has gone on to become a two-time unified heavyweight champion.
Black History Month: Anthony Joshua, the champion
October 7: Ellie Downie
Ellie Downie was the first British gymnast to win a major All-Around title – at the 2017 European Artistic Gymnastics Championships in Romania.
Black History Month: Ellie Downie, first all-around champion
October 6: Lutalo Muhammad
Lutalo Muhammad is the most successful male in British taekwondo history and is the current Olympic silver medallist.
Black History Month: Lutalo Muhammad - Taekwondo's Best
October 5: Katarina Johnson-Thompson.
Katarina Johnson-Thompson made her Olympic debut aged just 19. She has since picked up the heptathlon mantle from Denise Lewis and Jessica Ennis-Hill and has won both Commonwealth and World gold in 2018 and 2019 respectively.
Black History Month: Katarina Johnson-Thompson, The Rise
October 4: Audley Harrison
Audley Harrison was the first ever British boxer to triumph in the super-heavyweight division when claiming gold, and the hearts of a nation, at the 2000 Games in Sydney. He would go on to be European heavyweight champion, and had a shot at the world title when losing to David Haye in 2010, during a mixed professional career. But his Olympic exploits will never be forgotten.
Black History Month: Audley Harrison the trailblazer
October 3: Denise Lewis
Denise Lewis was the first European to win the Olympic heptathlon when she won gold at Sydney in 2000 after winning bronze in 1996. Also a European champion in 1998.
Black History Month: Denise Lewis, Heptathlon legend
October 2: Harry Edward
A bronze medallist in the 200m in the Antwerp Games of 1920, Harry Edward was Britain's first ever black Olympian. For more on his remarkable story, read here.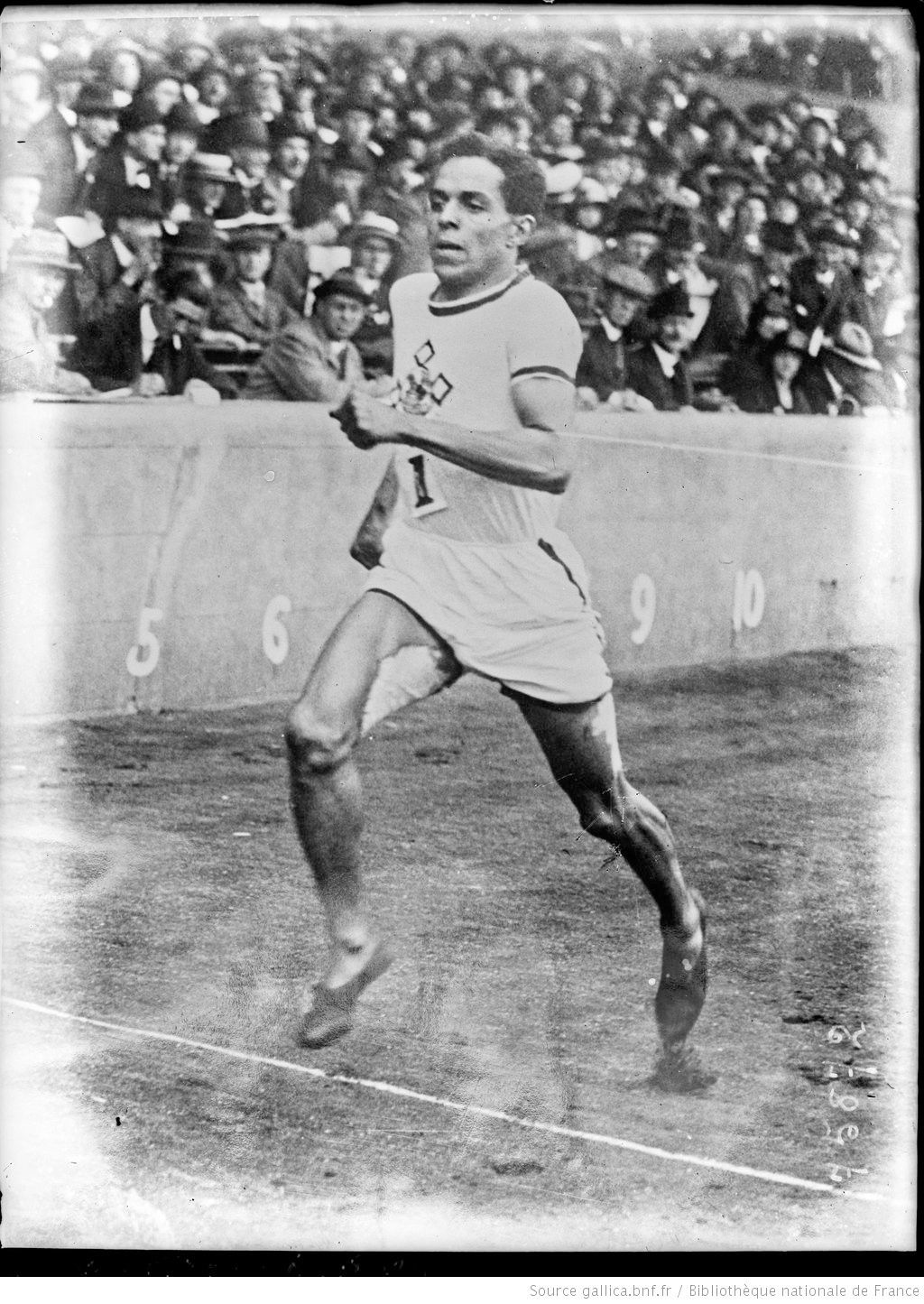 October 1: Darren Campbell
A silver medallist in the 200m at the 2000 Sydney Games, Darren Campbell went one better in 2004 in Athens when he helped GB win a famous gold in the 4x100m relay along with Jason Gardener, Marlon Devonish and Mark Lewis-Francis.
Black History Month: Darren Campbell, sprint royalty
Olympics
Black History Month: Louis Martin, weightlifting sensation
Olympics
Black History Month: Joshua Buatsi - Olympic and European bronze medallist