avant-match
LIVE
Dominic Thiem - Grigor Dimitrov
ATP World Tour Finals - 13 November 2017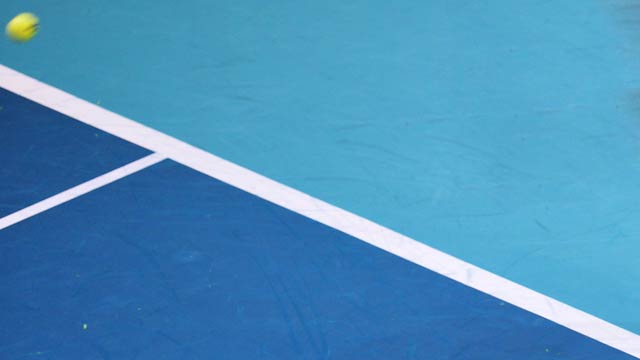 World Tour Finals – Follow the Tennis match between Dominic Thiem and Grigor Dimitrov live with Eurosport. The match starts at 14:00 on 13 November 2017. Our live coverage lets you follow all the key moments as they happen.
Head-to-head: see historical stats and visit our detailed profiles for Dominic Thiem vs Grigor Dimitrov. Get all the latest on Tennis: fixtures, results and tables.
Read the match report here!
Winner Dimitrov is struggling to express himself on court afterwards.
"It's not the same practicing on this court," he eventually says. "It's not easy to come here and play for the first time. Entering this tournament was a dream but it's not just about competing, it's about winning.
"I'm living my dream right now."
THIEM 3-6 7-5 5-7 DIMITROV
Two match points squandered for Dimitrov and you have to wonder if his failure to clinch five MPs when they met in Madrid will be haunting him. But he sets up a third MP and converts after a flurry of big forehands which finally force Thiem to fire long.
Tense, tight, thrilling encounter. Heartbreak for Thiem but joy for Dimitrov on his first visit to the O2.
THIEM 3-6 7-5 5-6 DIMITROV
Incredible. Thiem worked so hard to get back into the match but he donates his serve to Dimitrov, who breaks to love after the Austrian double-faults. Credit to Dimitrov, who could have been distratced by his failure to have won this match already. That's poor from Thiem, though. His worst game in this match by far.
THIEM 3-6 7-5 5-5 DIMITROV
Huge drama! At 30-15, Thiem clinches a pulsating rally to level the game but replays show one of his shots was comfortably out! It should be two match points! Naturally, Thiem goes on to win the game as Dimitrov fires a backhand long. All square again.
THIEM 3-6 7-5 4-5 DIMITROV
Dimtrov will serve for the match after Thiem does well to hold.
THIEM 3-6 7-5 3-5 DIMITROV
Dominic Thiem stares at his box looking thoroughly cheesed off after a soft backhand error at 0-30 lets Dimitrov back into the game. The Austrian follows it up with two groundstrokes that land an inch wide -- unlucky! -- and Dimitrov consolidates the break when Thiem nets. So many big moments in that game. Dimitrov a game away...
THIEM 3-6 7-5 3-4 DIMITROV
What a way to break! A moment of genius from Grigor Dimitrov, who delicately stoops to chip a stunning dropshot into the corner, leaving Thiem floundering. The Bulgarian, making his debut here, moves ahead in the decider.
THIEM 3-6 7-5 3-3 DIMITROV
Dimitrov runs forward to the net to calmy finish a lengthy baseline rally with an elegant volley -- clinching another hold. Great attacking tennis from the Bulgarian.
THIEM 3-6 7-5 3-2 DIMITROV
Dimitrov sees a second serve on break point, but can't convert & Thiem pulls out a solid hold for 3-2. Still not much between these two. Thiem nudges ahead again.
THIEM 3-6 7-5 2-2 DIMITROV
Wow. Brilliant tennis from both men at 40-15 as Thiem twice fends off powerful groundstrokes at the net before rushing to reach an inch-perfect lob. The Austrian gets his tweener all wrong though as Dimitrov levels up the decider at 3-3.
THIEM 3-6 7-5 1-1 DIMITROV
Dimitorv is up against it now but he responds emphatically, rushing into a 40-15 lead and creeping to the net to cushion a volleyed winner and take the game.
THIEM 3-6 7-5 1-0 DIMITROV
Thiem holds to love as Dimitrov fails to return a serve. The tide has turned at the O2.
THIEM 3-6 7-5 DIMITROV
Out of nowhere, the Austrian has his first three break points of the match and he levels things up as Dimitrov fires wide with a forehand. He showed great character and class in the final two games of the second set and, from a BP up, Dimitrov lost his way slightly. All to play for in the decider.
THIEM 3-6 6-5 DIMITROV
From nowhere, Dimitrov has a break point after a couple of sloppy errors from the 4th-seed. Thiem shows great courage to welly a forehand winner into the corner to save it and a 134mph serve -- his fastest of the match -- sets up MP. He clinches the game with another serve of real quality. He showed what he is made of there.
THIEM 3-6 5-5 DIMITROV
Dimitrov shows his mettle with a nerveless volley on the opening point and races into a 40-0 lead. Thiem goes on the attack but he's overzealous and loses a first point at the net as Dimitrov holds.
THIEM 3-6 5-4 DIMITROV
Thiem's total dominance on serve continues with another love hold. That has been the biggest chance in this second set.
He clinches a fifth hold by nudging a drop shot beyond Dimitrov, who reaches it, but can only spoon his return out of play. Pressure now on the Bulgarian.
THIEM 3-6 4-3 DIMITROV
After the disappointment of failing to break again, Thiem responds with a fine hold to love, clinching the game with a high-kicking second serve that wrong-foots the Bulgarian. Still with serve in this second set and anyone's guess at the moment.
THIEM 3-6 3-3 DIMITROV
Dominic Thiem looks a little despondent as he blows a 0-30 lead after Dimitrov had rushed to the net and missed a big shot. The Bulgarian managed to drag himself level with a big forehand winner before holding on, mainly thanks to his serve, to clinch the game.
THIEM 3-6 3-2 DIMITROV
Thiem has so far dropped just three points on serve as he clinches another hold to 15. It's a completely turnaround from the first set, where he has so shaky,
THIEM 3-6 2-2 DIMITROV
For the first time in the match, Dimitrov faces a BP. But he passes the first test with some powerful hitting and clinches the game with a powerful first serve that Thiem spoons into Row Z. It feels like both men have gone up a level in this second set.
THIEM 3-6 2-1 DIMITROV
Another confident hold to 15 from Thiem, who is starting to find his rhythm on serve. But when Dimitrov gets that backhand swinging, he really does make it look easy. He clinches his only point of with a brilliant winner on the return but it is Thiem who holds confidently.
THIEM 3-6 1-1 DIMITROV
Still no sign of a break for Thiem as Dimitrov keeps the pressure on with a hold to 30.
THIEM 3-6 1-0 DIMITROV
Dimitrov starts the second set as he finished the first, moving to 0-15 with a fine approach and smash. But Thiem is not lying down yet and he responds with four straight points to clinch a hold.
THIEM 3-6 DIMITROV
Dimitrov, by contrast, has served so well in this first set and he has three SPs after another fine wide serve. He clinches the opener when Thiem fires long in the following point. Just the one break, but a confident and deserved lead for the Bulgarian on his debut here.
THIEM 3-5 DIMITROV
Thiem does well to hold that service game and stay in the set. Still just 37% of first serves going in for the Austrian, though.
THIEM 2-5 DIMITROV
Dimitrov finds himself in a spot of bother at 15-30 but he levels the game with his best Federer impression, following up a pinpoint forehand with a stunning backhand volley. Another single-handed backhand forces Thiem into an error as Dimitrov consolidates the break.
THIEM 2-4 DIMITROV
First blood Dimitrov! Thiem is still massively struggling on first serve and as the pressure builds, he double-faults to give the Bulgarian two break points. Thiem saves the first but fires long on the second to give the 6th-seed the impetus in his first set.
THIEM 2-3 DIMITROV
There's alotta love for a bearded line judge as he makes a second impeccable call on a Dimitrov backhand that missed the line by a hair's breadth. Dimitrov does go on to hold though, keeping this opening set on serve. Cracker so far.
THIEM 2-2 DIMITROV
What a game. The first magic point of the match is Dimitrov's as he somehow claws a forehand off the deck before reaching Thiem's drop-shot and converting with a deft touch. Thiem responds immediately with a brilliant winner of his own but there's Dimitrov with another trademark backhand return!
Thiem eventually clinches it when the 6th-seed fires another backhand an inch wide. The audience are getting their money's worth so far.
THIEM 1-2 DIMITROV
Dimitrov underlines his strong start with a rapid hold to love. Despite failing to convert that BP, he'll be pleased with how he has started against the young Austrian.
THIEM 1-1 DIMITROV
Thiem eventually gets through his opening service game, saving a break point in the process, but he looked a bundle of nerves at times, landing just three of 12 first serves and missing the first seven.
Debutant Dimitrov has settled more quickly here.
THIEM 0-1 DIMITROV
Dimitrov clinches a hold with one of those gorgeous single-handed backhand winners down the line. But his opening service game was not without nerves, including a double-fault at 40-15.
Welcome, friends!
Grigor Dimitrov and Dominic Thiem are warming up on court for the first match of the Pete Sampras Group. It's the Bulgarian's ATP Finals debut and it looks a tasty contest on paper.