avant-match
LIVE
Roger Federer - Marin Cilic
ATP World Tour Finals - 16 November 2017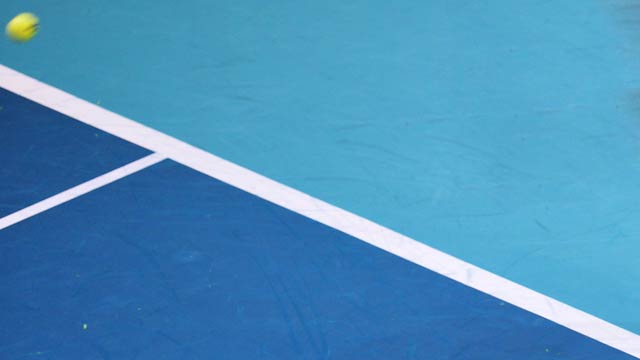 World Tour Finals – Follow the Tennis match between Roger Federer and Marin Cilic live with Eurosport. The match starts at 14:00 on 16 November 2017. Our live coverage lets you follow all the key moments as they happen.
Head-to-head: see historical stats and visit our detailed profiles for Roger Federer vs Marin Cilic. Get all the latest on Tennis: fixtures, results and tables.
GAME, SET AND MATCH! - FEDERER 6-7 6-4 6-1 CILIC. Roger Federer maintains his 100 per cent record at this tournament after coming from behind to sink Cilic in one hour and 54 minutes. The Swiss misfired off the backhand for long spells but eventually got the job done, serving out to love, to head into Saturday's semi final with another win. Cilic bows out with three straight defeats, despite being competitive throughout the week.
BREAK! - FEDERER 6-7 6-4 5-1 CILIC. The SABR makes an appearance and forces Cilic to try a lob attempt that drops just wide. It provides Roger with another break point. Cilic battles to save it but can't deny the Swiss when a second one comes along. Federer will now serve for the match.
FEDERER 6-7 6-4 4-1 CILIC. The 19-time Grand Slam champion stays well on course for victory with a routine hold to 15.
FEDERER 6-7 6-4 3-1 CILIC. Marin stops the rot as Roger starts to produce some party pieces. The Swiss makes deuce with the help of a sublime angled overhead off the backhand, but Cilic unloads the big serve when he needs it to get on the board.
FEDERER 6-7 6-4 3-0 CILIC. The Swiss Maestro consolidates to love and looks to have finally broken Cilic's spirit.
BREAK! - FEDERER 6-7 6-4 2-0 CILIC. Make that four on the spin for Federer! The Swiss senses the moment and gets the break with a supercharged return winner off the forehand. Cilic looks deflated.
FEDERER 6-7 6-4 1-0 CILIC. A good few moments for Fed as he makes it three games in a row and snares the scoreboard advantage in the decider. Does Cilic still believe? We're about to find out...
SET! - FEDERER 6-7 6-4 CILIC. We are level! Federer cranks up the heat - and Cilic can't handle it. The Croatian had been untroubled for much of the set, but wobbles all over the show at the worst possible time. Federer earns double break point and Cilic hands it to him with a wayward backhand approach that lands way wide of FedEx's left flank.
FEDERER 6-7 5-4 CILIC. An important hold for Roger after Cilic had posed a question with some good depth in the rallies to make 30-30. The Swiss has that scoreboard advantage and knows a break now will win him the set.
FEDERER 6-7 4-4 CILIC. How Marin must wish he had played like this in his previous matches at the O2. The Croatian did well in both of those, but this is a different level. His forehand has been painting lines and clipping corners all afternoon, while the serve has crunched into gear more often than not. The result here? A rather impressive love hold to level.
FEDERER 6-7 4-3 CILIC. Another service game, another solid hold. Are we hurtling towards a second-set TB or can one of these players halt the serving masterclass currenly on show?
FEDERER 6-7 3-3 CILIC. Federer spent a fair bit of time looking at the floor in contemplation prior to this service game. Whatever he was thinking doesn't result in a solution as Cilic canters to a love hold.
FEDERER 6-7 3-2 CILIC. A thumping forehand winner seals a similarly comfortable hold for Fed. A couple of quick-fire games fly by as if the players are already eyeing the business end of the set and are eager to get to it.
FEDERER 6-7 2-2 CILIC. Marin takes his ace tally to eight with more assured serving to easily move level.
FEDERER 6-7 2-1 CILIC. It's a case of Jekyll and Hyde from Federer as he comes through a rollercoaster service game to sustain the scoreboard advantage. The Swiss goes from 40-0 up to saving a break point before edging out Cilic after toiling at deuce. It's not vintage Fed by any means, but he has an innate knack for finding a way.
FEDERER 6-7 1-1 CILIC. Federer conjures up a pair of return winners to earn another break point, but once more Cilic survives. The No.5 seed unleashes a couple of brutal forehands and an ace to get on the board.
FEDERER 6-7 1-0 CILIC. Federer, aka RF19 according to Brad Gilbert, has looked rather grumpy at times. He's clearly frustrated by missed opportunities and some uncharacteristic errors, but regains his composure to get the opener to Set 2 off to a bright start with a hold to 15.
SET! - FEDERER 6-7 CILIC. Marin survives a Federer fightback to take the tie break 7-5 and the opening set in 53 minutes. The Croatian has played superbly and edged out the world No.2 with a lovely angled volley and a slick forehand winner to seal it.
TB LATEST: Cilic leads 4-2 at the change of ends. A Federer double fault gave Cilic the impetus but an ace down the middle T has just got the Swiss back into it.
FEDERER 6-6 CILIC. A big first serve and an ace get FedEx out of dodge and into a tie break after a double fault from the Swiss and a wonderfully angled forehand winner had given Cilic a glimmer of hope.
FEDERER 5-6 CILIC. Marin almost takes out a spectator with a long first serve, but stays focused to deliver a nice one-two punch with a crosscourt forehand. Federer is keen to get to deuce, but snatches at a low forehand and slaps it into the net. Game to Cilic who will at the very least play a first-set tie break now.
FEDERER 5-5 CILIC. The No.5 seed goes for it, but Federer just about comes out on top in a forehand to forehand showdown.
FEDERER 4-5 CILIC. That's a splendid recovery from Marin. He dumps a very make-able volley into the net to offer up break point, but then gets a similar attempt right in the next rally to make deuce. The Croatian refuses to buckle and edges back in front with a brilliant forehand right into postage stamp territory.
FEDERER 4-4 CILIC. No look-in for Cilic as Federer saunters through a love hold by finishing it off with some dominant play at the net. All square as the stakes are raised in the latter stage of the set.
FEDERER 3-4 CILIC. Federer has muttered in irritation to himself on a couple of occasions so far this afternoon. He does it again as he fails to press from 30-30 and then hooks a tame backhand approach into the net to concede the game.
FEDERER 3-3 CILIC. The crowd will be pleased with how this has start to shape up. It's similar to a dead rubber, but there have been some nice exchanges from the baseline. Cilic twice fires long after nicking the first point and pays the price as another ace helps the Swiss stay on serve.
FEDERER 2-3 CILIC. Aces three and four finish the job for Cilic after a quite brilliant crosscourt backhand winner halted a good start from Federer.
FEDERER 2-2 CILIC. A lovely wide, slice serve bamboozles Cilic as Federer cruises to an easy hold to 15. Both players showing good rhythm now.
FEDERER 1-2 CILIC. No sign of Cilic seeing this match as an obligation before a well earned break. He looks hungry and eager to claim Federer's scalp. The big serve will be key to any joy he has today, and it duly gets him out of a potentially awkward scenario at 30-30.
FEDERER 1-1 CILIC. Fed teases Marin with a 0-30 starter - but then notches up four points in a row with some big serving, a corking crosscourt forehand and a disguised dropshot that the Croatian can only stab wide on the pick-up.
FEDERER 0-1 CILIC. That will feel rather good to Marin Cilic. He comes under real pressure, fending off three set points as Federer's psychology at the coin toss almost pays dividends. A crisp wrong-footing forehand and a timely wide ace help him over the line in an opening game lasting over five minutes.
14.12
Federer won the toss but chose to receive. He did that against Jack Sock and broke immediately. Can he do it again as Cilic steps up to the service line and gets us underway?
DID YOU KNOW? Federer has qualified for his 14th semi-final in 15 appearances at the season finale. That's magnificent longevity.
HEAD-TO-HEAD: This is the ninth meeting between the players. Federer has won seven, with Cilic's solitary success coming in the 2014 US Open semi final. The Croatian went on to lift the title.
Federer may have won both of his matches so far, but they were both tough encounters. The Swiss edged out Jack Sock before coming through a real test against Alexander Zverev in what was the match of the tournament so far.
Federer hails Zverev as next superstar
Cilic is already out of the tournament and playing for pride. He saw promising situations in narrow defeats to both Alexander Zverez and Jack Sock go begging and admits it was disappointing to falter when it mattered most. He said: "Definitely disappointing in both matches in that third set, being in a good position, putting myself in a good position. But, yeah, unfortunately I didn't close it… It's part of the sport, so I'm just going to try to regroup, get a little bit refreshed, try to play another good match."
Hello and welcome to LIVE updates from day five of the Nitto ATP World Tour finals. First up, world No.2 and red-hot favourite to lift this trophy for a seventh time, Roger Federer meets No.5 seed, Marin Cilic in a repeat of this year's Wimbledon final. FedEx is already through to Saturday's semi finals as the winner of Boris Becker group, but he'll be aiming to maintain his 100 per cent record to accumulate the points to close the gap on year-end No.1, Rafael Nadal heading into 2018.