avant-match
LIVE
Simona Halep - Serena Williams
Australian Open women - 21 January 2019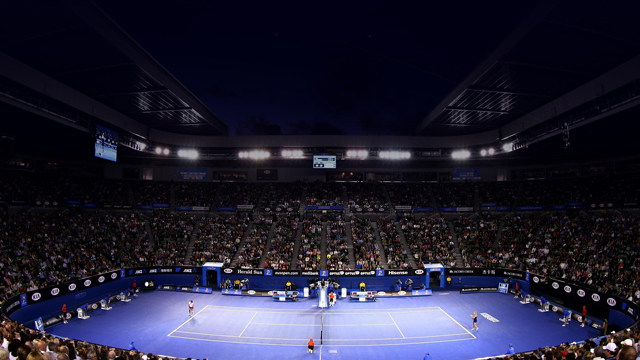 Australian Open – Follow the Tennis match between Simona Halep and Serena Williams live with Eurosport. The match starts at 08:00 on 21 January 2019. Our live coverage lets you follow all the key moments as they happen.
Head-to-head: see historical stats and visit our detailed profiles for Simona Halep vs Serena Williams. Get all the latest on Tennis: fixtures, results and tables.
"She's the number one player in the world, there's a reason why...she's just a great player," says Williams, paying tribute to Halep. "I'm such a fighter, I just never give up. I don't know. It's definitely something that's innate...It's a miracle that I'm here." That's a nod to how poorly she was after giving birth to daughter Olympia.
"It was a really intense match, some incredible points. I love playing tennis, I love being here, I love this court," says Serena.
Serena pats her vanquished rival on the shoulder as they head to their chairs. They know how well the other has played today.
HALEP 1-6 6-4 4-6 WILLIAMS: Two match points as Williams sends Halep across the court once more, and a loose return from the Romanian hands her the match. Wha a brilliant encounter. The pair shake hands at the net and beam at each other - tremendous respect between the pair evidently.
HALEP 1-6 6-4 4-5 WILLIAMS: Tremendous first serve from Halep in this game, holding to love. If she'd had that in the first set maybe we'd have a different kind of match on our hands.
HALEP 1-6 6-4 3-5 WILLIAMS: A squeal as Halep has to stretch to get anywhere near the Williams serve, and the American is within one game of the match.
HALEP 1-6 6-4 3-4 WILLIAMS: There is the break. Serena is playing magnificently, Halep is playing magnificently. This is such a great match, get Eurosport Player on if you can.
HALEP 1-6 6-4 3-3 WILLIAMS: What a forehand down the line from Halep, and some great movement from her too. And then another net cord winner, which triggers the response, "That's not fair!" from Serena, with a wry expression. But Williams is the one who takes the game, hitting the line with accuracy.
HALEP 1-6 6-4 3-2 WILLIAMS: The determined face of Halep is something to see. A bit of a fist-pump here as she holds to love.
HALEP 1-6 6-4 2-2 WILLIAMS: A hold to love for Serena and who'd bet against a tiebreak now?
HALEP 1-6 6-4 2-1 WILLIAMS: This is great from Halep. This is also the longest WIlliams has been on court so far this tournament - a whole hour and a quarter.
HALEP 1-6 6-4 1-1 WILLIAMS: Serena roars as Halep makes her work to hold serve. This is becoming a really tough duel and both players are stepping up the effort and the brilliance.
HALEP 1-6 6-4 1-0 WILLIAMS: Incredible return speed from Serena Williams, but even so it's not enough to break the serve of Halep, who's stepped it up and hoicked up the volume.
Serena has put her hair up now. She is focused.
HALEP 1-6 6-4 WILLIAMS: Tremendous down-the-line hitting from Halep gives her set point, and she does so well to take that chance! Williams is on the back foot as the world number one turns up the aggression.
HALEP 1-6 5-4 WILLIAMS: Halep is managing the court much better than she was in the first set, taking her time to make her shots, and she's benefiting from it.
HALEP 1-6 4-4 WILLIAMS: You've got to smile, unless you're Simona Halep. Serena Williams challenges an out call on her serve, but the line judge was correct. So Williams just sends down an ace to wrap up the game.
HALEP 1-6 4-3 WILLIAMS: The noisy Romanian contingent in the crowd are cheering on their girl. She's benefiting from lucky let cords in a way her opponent isn't.
HALEP 1-6 3-3 WILLIAMS: Well, that's one way to level up in the set. What can you say about the Williams serve today? Pick your own superlative.
HALEP 1-6 3-2 WILLIAMS: Ah, now there's an excellent Halep service game! She's striking the ball with much more convinction.
HALEP 1-6 2-2 WILLIAMS: Ooh. Serena looks to have lost her footing at the back of the court slightly, and it seems to throw her for the rest of the game. Halep's luring her into rallying.
HALEP 1-6 1-2 WILLIAMS: Serena is not here for anything to do with Simona Halep's serve. A fully fit, fully mobile Halep might have more variety and more ideas against this barrage, but at the moment she's looking more than a little lost.
HALEP 1-6 1-1 WILLIAMS: Williams is sending winners from about a metre behind the baseline. Hold to love.
HALEP 1-6 1-0 WILLIAMS: Oh, and there's the lob. Halep is trying so hard to chase it down. The pair put together a great couple of rallies, as the Romanian chooses to work the angles and has some success with it.
HALEP 1-6 WILLIAMS: Wow. Well, that was...a first set. Williams just sends down that serve, holds to love, and takes it in just twenty minutes. Twenty minutes!
HALEP 1-5 WILLIAMS: Halep is struggling to respond as Williams uses the angles and the court width so well. She finishes off by snaffling the second serve and sending across a diagonal.
HALEP 1-4 WILLIAMS: A very nice directed cross-court backhand from Williams has Halep utterly stuck. The world number one has no answer to this at the moment.
HALEP 1-3 WILLIAMS: Halep's opting to go down the line away from Williams on the baseline, but the 23-time champion isn't fazed. She's returning extremely well, and she's helped by the weakness of Halep's second serve.
HALEP 1-2 WILLIAMS: First hold of serve. The Serena serve is a beautiful thing on form.
HALEP 1-1 WILLIAMS: A break back! Halep is trying to run down the shots as Williams moves her across to the flanks, but she can't reach.
HALEP 1-0 WILLIAMS: Wow. Halep breaks to love to begin with. Serena has her hand on her hip - unclear whether that's frustration or an injury.
We're about to start. Excited?
Halep is laughing so hard I'm surprised she can still stand.
Oh my goodness. Serena was about to walk out on to court first. No, Ms Williams, Halep goes out first! She got called back.
The players are out and hitting up.
Serena's on the quest for her 24th Grand Slam title in the Open Era, and has been ominous so far.
She's already taken out one Williams sister - can the world number one complete the double?
Good morning, and welcome to our LIVE coverage of Simona Halep against Serena Williams.