avant-match
LIVE
Gilles Simon - Robin Söderling
French Open men - 30 May 2011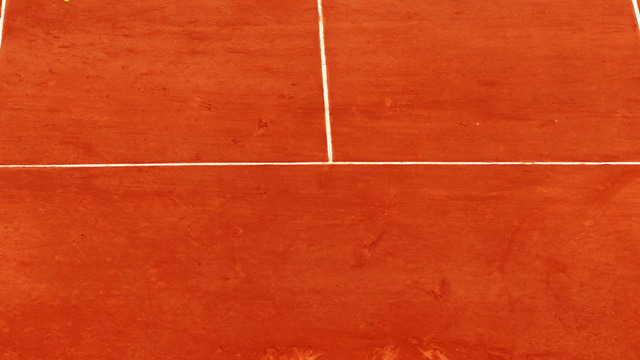 French Open – Follow the Tennis match between Gilles Simon and Robin Söderling live with Eurosport. The match starts at 10:00 on 30 May 2011. Our live coverage lets you follow all the key moments as they happen.
Head-to-head: see historical stats and visit our detailed profiles for Gilles Simon vs Robin Söderling. Get all the latest on Tennis: fixtures, results and tables.
Well that's it and Soderling will play Nadal in the quarter final in a repeat of last year's final.
SODERLING 6-2 6-3 7-6 (7-5) - Soderling extends his lead and is two points from the win. Simon completely misses a serve, perhaps slipping and the Swede has four match points...one goes as Soderling hits a forehand long. Wildly off course from Soderling and he misses again. Down to two...he hits just wide again! Umpire's call...but finally he hits the winner down the line and Soderling looks incredibly relieved.
SODERLING 6-2 6-3 6-6 (4-2) - Simon can't volley back the pass from Soderling. A backhand down the line just drifts wide from Simon and the Swede takes the first three points. Soderling next hits long, Simon follows suit to keep the gap the same. Simon with a good serve and they swap sides with the Frenchman down.
SODERLING 6-2 6-3 6-6 - Big serve and saved by Simon...awful, awful return from Soderling and Simon eventually holds. Tie break time...
SODERLING 6-2 6-3 6-5 - Soderling beats ball into submission, but is wasting a chance here to break and is hitting errors. Simon double faults then nets an easy forehand though and Soderling is two points from victory. Another terrible netted backhand and it's match point...he saves it with an inside-out forehand. Classic Soderling; hitting right then left and another match point. Poor volley when he should have buried it. Same again! Backhand into net from Simon...match point...
SODERLING 6-2 6-3 6-5 - Well played from Soderling who hits a tough backhand up the line. Not so great on the next point as he hashes a backhand wide. He replicates his previous backhand though to level and comfortably sees out the game.
SODERLING 6-2 6-3 5-5 - Simon catches the line with a backhand winner. He gets a bonus point as Soderling nonchalantly hits long. Easiest hold of the match for Simon and pretty awful from the Swede.
SODERLING 6-2 6-3 5-4 - Soderling's doing his 'walkabout' at the moment. He can't hit a winner for his life. Hang on, as I type this he responds with his classic inside-out forehand and a big serve to take the game and move within a game of the match.
SODERLING 6-2 6-3 4-4 - Soderling shanks a forehand miles long, and nets a backhand the next point. Simon overpowers the Swede - pretty novel today - and takes the game.
SODERLING 6-2 6-3 4-3 - BREAK! A slightly tight looking Soderling goes down 15-30. Another error and Simon has double break point. He hits an ace down the tee, and as good as in the next point as Simon can only get his racket to the ball. Long from Soderling, but a contemptuous forehand crosscourt winner gets the game back to deuce. He can't end this game though and Simon with break point...broken by Simon.
SODERLING 6-2 6-3 4-2 - The Frenchman into the net, and he repeats himself to go 0-30 down. He works his way back into the game and draws level. An unforced error as Soderling hits long and he does hold.
SODERLING 6-2 6-3 4-1 - Soderling has picked up a hand injury and has the physio on, who straps up Soderling's right hand forefinger.
SODERLING 6-2 6-3 4-1 - Long from Simon and Soderling has the chance to extend his lead...without fail when Simon needs to guess which way to go, he will guess wron. Exactly that happens here and Soderling takes the game.
SODERLING 6-2 6-3 3-1 - Simon pumps his fist as a Soderling return travels long. More of the same and Simon holds serve.
SODERLING 6-2 6-3 3-0 - Soderling looks comfortable until a couple of errors brings the game to 30-30. An inside-out forehand winner, which has been a feature of Soderling's game today, gives him game point. Simon draws level, but Robin smashes a short reply. An ace puts paid to any Simon hopes of Simon in this game and probably the match.
SODERLING 6-2 6-3 2-0 - BREAK! Simon has no answer and Soderling gets a break point. A backhand whizzed up the line from the Swede can only be deflected off Simon's racket for the break.
SODERLING 6-2 6-3 1-0 - Simon is failing to change his game, which will end up going in one direction and that's an early shower. He's just hitting the ball back and Soderling is powering winners all over the place. Soderling holds after yet another big serve.
SODERLING 6-2 6-3 - Better from Simon as he takes on the backhand down the line and makes it brilliantly. Wild forehand from the big Swede, but an overhead put away gets him level. A couple of loose groundstrokes from Simon and Soderling gets the set.
SODERLING 6-2 4-3 - BREAK! Soderling gets a glimpse of a break, and he's getting a proper look at it now as he gets two break points. He moves Simon left and right by finding the corners and he buries the final crosscourt.
SODERLING 6-2 3-3 - Soderling stays focused on his own game though and racks up three quick points. His trusty serve wins him the game as it's too hot for Simon to handle.
SODERLING 6-2 2-3 - Simon argues a ball that wasn't called out by the line judge, but to no avail. It doesn't matter though as Simon lays down a backhand winner. He continues arguing with the umpire though about that earlier non-call.
SODERLING 6-2 2-2 - Simon hits a simple backhand wide and Soderling can take the game to love. He doesn't do so as Simon hits a brilliant return crosscourt. No mistake on the next point though as the Swede angles a backhand past the scampering Frenchman.
SODERLING 6-2 1-2 - Simon is right back in this match. He holds his service game to love as they walk back to their chairs, with Soderling not hitting winners at all as often as he was in the first set.
SODERLING 6-2 1-1 - Simon drops a lovely top spin lob over Soderling's head and he has break point. Big forehand rescues it for the Swede. Second deuce, but boomers off his forehand give him the game.
SODERLING 6-2 0-1 - Simon needs to hold this to get a foothold in the match. A poor start for the Frenchman, but he claws his way back to deuce. A good serve and he can take this...and he does.
SODERLING 6-2 - Brilliant pass from Simon and he gets to another break, but the big serve again saves it. Massive forehand and this back and forth game can be won by Soderling...huge first serve and he has the set.
SODERLING 5-2 - Simon gets the first two points of the Soderling service game. He has a real chance to grab a third when presented with an opportunity to pass down the line, but he hits into the net. An ace from Soderling and it's level. Break point for Simon as Soderling limply nets. A backhand from Simon and deuce...another ace and set point...but double fault and deuce...
SODERLING 5-2 - Simon retaliates by going 30-0 up in his own game, but double faults to let Soderling back into it. The Swede narrowly misses a forehand and Simon lays down the ace to grab a second game.
SODERLING 5-1 - Simon hits long and it's a love service game for Soderling.
SODERLING 4-1 - Nice pass from Simon as Soderling has him on the run. Two game points for the Frenchman and he finally gets on the board.
SODERLING 4-0 - Soderling isn't putting a toe wrong, let alone a foot. His first serves are too heavy for Simon and he's getting most of them in. The only way Simon registers is with luck, as the ball hits the net and trickles over. Another lengthy rally won by Soderling for the game.
SODERLING 3-0 - BREAK! Double fault early doors, a netted forehand as the Frenchman fails to move his feet. Just brutal from the Swede; he batters Simon into submission and it's three break points. Soderling with the double break after more of the same flawless tennis.
SODERLING 2-0 - Very poor play from Simon, but Soderling is raining down some massive serves and accurate groundstrokes.
SODERLING 1-0 - BREAK! Double break point for Soderling in this opening game after a 36 shot rally. The Swede does take it easily, with Simon only registering with an ace at the start of the match.
Soderling holds the upper hand in their head to head matches, winning four games to the Frenchman's two.
Hello and welcome to LIVE comments from this fourth round clash between French Open finalist Robin Soderling and home favourite Gilles Simon.