avant-match
LIVE
Jirí Veselý - Aljaž Bedene
French Open men - 31 May 2017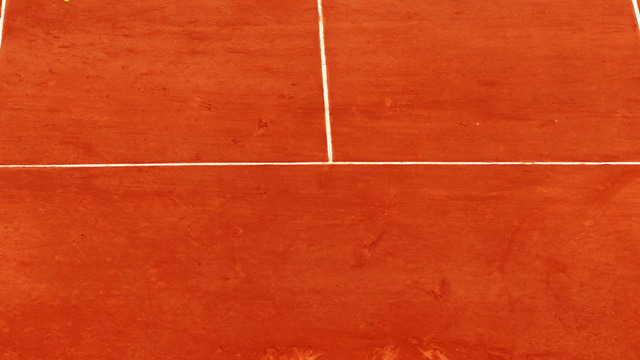 French Open – Follow the Tennis match between Jirí Veselý and Aljaž Bedene live with Eurosport. The match starts at 10:00 on 31 May 2017. Our live coverage lets you follow all the key moments as they happen.
Head-to-head: see historical stats and visit our detailed profiles for Jirí Veselý vs Aljaž Bedene. Get all the latest on Tennis: fixtures, results and tables.
GAME, SET AND MATCH! - BEDENE 3-6 3-6 6-4 3-6 VESELY. Bedene bows out! The Brit can't make three break back points count and pays the price for not taking his chances throughout the fourth set as a visibly tight Vesely somehow came through an epic final game. The giant Czech dominated the first two sets but found an improving Aljaz tricky to deal with as the match wore on. It could easily have gone to a decider, but it wasn't to be for the British No.3 who screamed in dismay as his attempt on the run flashed wide to conclude the match after two hours and 52 minutes.
BREAK! - BEDENE 3-6 3-6 6-4 3-5 VESELY. Alarm bells ringing for the Brit as Jiri finds some form on his return game to break at a decisive moment. The Czech will now serve for the match.
BEDENE 3-6 3-6 6-4 3-4 VESELY. No major issues for Vesely this time. Bedene can't quite crank up the heat and it's the Czech who has the scoreboard pressure in the business-end of the set.
BEDENE 3-6 3-6 6-4 3-3 VESELY. More good work from Bedene. He levels with a hold to 30. Can Jiri fend off the rejuvenated Brit or are we destined for a fifth set and a potential overnight delay?
BEDENE 3-6 3-6 6-4 2-3 VESELY. Deja vu for Bedene. His frustration levels must be off the chart. He has double break point as an out of sorts Jiri makes a series of flat errors. But he hits back with two huge serves and raises his level to get over the line from deuce. How costly will this inability to make these opening count be for Aljaz?
BEDENE 3-6 3-6 6-4 2-2 VESELY. All square. Bedene looking the better player at this point. He's serving smartly and applying heat on Vesel's deliveries, but needs to make that breakthrough while the impetus is with him.
BEDENE 3-6 3-6 6-4 1-2 VESELY. Bedene chases an exquisite lob in vain before crashing into the microphone at the back of the court. He's more bothered about another missed opportunity as Vesely finds some big serves at key moments to deny the Brit the break.
BEDENE 3-6 3-6 6-4 1-1 VESELY. Fist pumps all around as Bedene holds to 30 to level.
BEDENE 3-6 3-6 6-4 0-1 VESELY. A real missed opportunity for Bedene. He has three chances to break again, but can't get the job done. Jiri survives and is first on the board in the fourth.
SET! - BEDENE 3-6 3-6 6-4 VESELY. Bedene's back in it! The Brit maintains his fine serving in this set to force the match into a fourth. Comeback on?
BEDENE 3-6 3-6 5-4 VESELY. That was a bit of a wake-up call for Vesely who dusts himself down to pose the serve out question of the Brit.
BEDENE 3-6 3-6 5-3 VESELY. The British No. 3 lands another ace as he consolidates to give himself a great chance of reducing the arrears.
BREAK! - BEDENE 3-6 3-6 4-3 VESELY. Finally! It's a breakthrough for Bedene as he takes advantage of a rare lull on serve from Jiri to snare the initiative in the third. The Czech gifted it to him in the end, firing down a double fault at 30-40.
BEDENE 3-6 3-6 3-3 VESELY. Still on serve as a ninth ace of the encounter helps Bedene through a solid hold.
BEDENE 3-6 3-6 2-3 VESELY. Same old story. Vesely dictates the play on serve and edges in front once more.
BEDENE 3-6 3-6 2-2 VESELY. Still on serve. Bedene needs to try something different on his return game. He needs to make an impact soon if he is to turn this into a fight. as it stands, Jiri is firmly in control.
BEDENE 3-6 3-6 1-2 VESELY. A delightful sliced drop shot bamboozles Bedene as Vesely proves too good once again on serve.
BEDENE 3-6 3-6 1-1 VESELY. Aljaz responds for the loss of one point. He's had some really good games here, but Vesely continues to play the big points better.
BEDENE 3-6 3-6 0-1 VESELY. A hold to 15 gives Jiri the scoreboard advantage at the start of the third. This is very comfortable for the Czech.
SET! - BEDENE 3-6 3-6 VESELY. The towering Czech takes a commanding two-set lead as he breaks Bedene once again. It's a subtle fist pump from the world No.57 who has outclassed the Brit so far.
BEDENE 3-6 3-5 VESELY. A simple but highly effective love hold for Jiri. Bedene staring down the barrel now...
BEDENE 3-6 3-4 VESELY. A delicious crosscourt backhand gets Bedene off the hook at 30-40 and he rallies from there to stay the one break behind. Time running out for the Brit to avoid the mountain of a two-set deficit to climb.
BEDENE 3-6 2-4 VESELY. Same old story for Aljaz as Vesely continues to keep him at arm's length.
BEDENE 3-6 2-3 VESELY. Excellent service game from Bedene. The Brit has played well in patches, but Vesely has been better when it has mattered most.
BEDENE 3-6 1-3 VESELY. Aljaz struggling to make enough impact on the Vesely serve. The world No.57 holds to 30 and maintains his break advantage.
BEDENE 3-6 1-2 VESELY. Aljaz crunches down a fifth ace from deuce. He needed that.
BEDENE 3-6 0-2 VESELY. And the big Czech consolidates despite serving a first double fault of the match. Bedene needs to halt this momentum fast.
BREAK! - BEDENE 3-6 0-1 VESELY. A dreadful start to the second set for Bedene as he is broken immediately. Vesely looking imperious.
SET! - BEDENE 3-6 VESELY. A setback for the Brit as Vesely coolly serves out the opener to 15 and gives a nod of approval to his team in the stand. #Gameplanworking
BEDENE 3-5 VESELY. A timely love hold for Bedene but it probably won't be enough in this set. Vesely will now look to serve it out.
BEDENE 2-4 VESELY. Bedene stops the rot to remain just the one break behind. No doubt the Czech has been the more consistent player thus far.
BEDENE 1-4 VESELY. Aljaz left frustrated as Jiri hits back from triple BP down to consolidate. Great aggression and desire from the Czech.
BREAK! - BEDENE 1-3 VESELY. Bedene gets lucky with a first BP against him when Vesely corks a backhand inches down the line - but not on the second. The Czech piles on the pressure from deuce and the Brit cracks as he fires a tame shot into the net to hand his opponent the early advantage.
BEDENE 1-2 VESELY. Jiri with a love hold to maintain this excellent opening on serve for both players. Still early days - yet to ignite.
BEDENE 1-1 VESELY. Solid response from Bedene as he holds to 15 to get on the board.
BEDENE 0-1 VESELY. Confident start from the Czech as he clocks up a decent hold. These players may not be well matched in height, but they are in ranking. Bedene is at No.52 in the world, five places higher than his opponent.
Next up on court three, it's GB's Aljaz Bedene against giant Czech, Jiri Vesely.