avant-match
LIVE
Milos Raonic - Jo-Wilfried Tsonga
Indian Wells Masters - 13 March 2013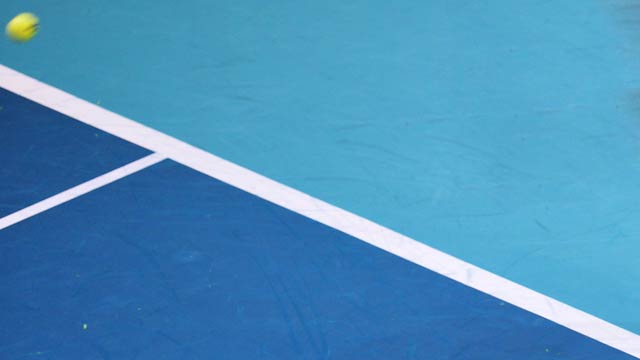 Indian Wells – Follow the Tennis match between Milos Raonic and Jo-Wilfried Tsonga live with Eurosport. The match starts at 18:00 on 13 March 2013. Our live coverage lets you follow all the key moments as they happen.
Head-to-head: see historical stats and visit our detailed profiles for Milos Raonic vs Jo-Wilfried Tsonga. Get all the latest on Tennis: fixtures, results and tables.
Next for Tsonga is one of Djokovic or Querrey. Which means another epic with Nole for the Frenchman!
-
TSONGA 4-6 7-5 6-4 – GAME SET AND MATCH! A terrible miss from Raonic gives Tsonga a match point and the fans groan in unison! The first serve is long... and he double faults it away! Shocking finish for Raonic! And he's forgotten the score, indeed so has Tsonga! They didn't realise it was over and were set to play on!
TSONGA 4-6 7-5 5-4 – In no time Tsonga has held serve again, once more leaving Raonic serving to stay in the set. This time though the match is on the line!
TSONGA 4-6 7-5 4-4 – Raonic with another swing and miss but Tsonga was on serve so no major harm. Still with serve this third set. The Canadian responds with some clean deliveries of his own, finding power and precision as usual.
TSONGA 4-6 7-5 3-3 – Tsonga returns but is blasted away by Raonic's next service game. Again, this will be completed by a late nervy break or a TB.
TSONGA 4-6 7-5 3-2 – Tsonga holds easily again but at a cost as he hobbles to the chair for more treatment.
TSONGA 4-6 7-5 2-2 – Raonic with some monstrous first serves, and he moves 40-0 with a cool open volley at the net, holding to love with yet another booming delivery.
TSONGA 4-6 7-5 2-1 – As with the second set, Tsonga is serving rather well, and he cruises through that service game too.
TSONGA 4-6 7-5 1-1 – Tsonga had a chance there but Raonic is able to compose himself and win the next few points to get on the board in the third and final set.
TSONGA 4-6 7-5 1-0 – The deciding set is underway with Tsonga, buoyed by his comeback, holding easily and pegging Raonic to 30-30 on the next game.
TSONGA 4-6 7-5 – SET! First blood to Tsonga against the Raonic serve, and second too as the Canadian messes up a turning backhand, low into the net after a flat crisp return from the Frenchman! Superb call by Tsonga to challenge as Raonic was an inch long and it's three set points! But the next first serve is massive, Tsonga scuffing the return to net. And he takes them as Raonic overcooks his follow up with Tsonga on the run! A collapse in that game!
TSONGA 4-6 6-5 – Another easy hold for Tsonga and Raonic is serving to stay in the second set, although given how this has gone so far I can see it going to a TB.
TSONGA 4-6 5-5 – Tsonga did really well to keep in that point but Raonic was toying with him and when he sees the space thunders away a diagonal forehand. 40-0 now as his latest scud flies past the Frenchman, and the Canadian holds to love with an ace down the middle.
TSONGA 4-6 5-4 – Raonic pulls one back after dictating the next point with a cleanly hit return, and it's level as a backhand error from Tsonga gifts him a way into this game. Tsonga raises his level though and holds to 30.
TSONGA 4-6 4-4 – Raonic dispatches another service game in no time at all, while Tsonga follows that by moving 30-0.
TSONGA 4-6 4-3: Both men are serving incredibly well – Raonic's turn to batter his opponent to love, while Tsonga responds with another dominant hold. This one looks headed for a tiebreaker.
TSONGA 4-6 3-2: Tsonga is right back in it now though, murdering a half-volley away from Raonic before holding to love with a brutal first serve. Chapeau.
TSONGA 4-6 2-2: While Tsonga has got back on track after that fall, Raonic is playing the crisper, more adventurous tennis as he pounds another cross away for 40-0. Easy hold to love with a pinpoint drive into space down the right.
TSONGA 4-6 2-1: Tsonga moves 30-0 with some accurate deliveries but he can't cover a brutal double-handed pass from Raonic. Tsonga responds with a rush to net and volley, and he holds to 15 thanks to a wild Raonic return off second serve. More treatment for Jo-Wilf.
TSONGA 4-6 1-1: Tsonga with a good return on the right baseline after a big second serve, but Raonic gobbles up a brutal forehand drive down the line. He holds with another meaty shot.
TSONGA 4-6 1-0: Tsonga is still moving gingerly but he has enough about him to move 40-30 as Raonic undercooks a forehand into the net after the Frenchman underhit his backhand. And he holds as Raonic returns long.
Tsonga has called for the trainer for treatment to that problem. It's his knee.
TSONGA 4-6: SET! Another set point as Raonic, following some determined saves by Tsonga, flicks one off the baseline. Ballsy. And he takes this one with a flashing forehand cross, so much pace as Tsonga mis-hits to the sky.
TSONGA 4-5: Two set points for Raonic as Tsonga fails to deal with the big man's movement across the net, the winner a spinning backhand volley. But Raonic misses a sitter for 40-30. One more chance for Raonic, his first serve is to net, and the second serve is good but he misses the follow-up! Deuce!
TSONGA 4-5: In the end Tsonga holds as a serve and volley is followed by a Raonic return to net. Big game for the Frenchman.
TSONGA 3-5: Raonic with a successful challenge as his return is shown to catch the line. He drops the point anyway, his return on the replayed serve wide. His next forehand return flicks off the net to drop dead, lucky shot for 15-15. Now Tsonga is having trouble as Raonic bring up a set point, which he almost takes with a fabulous backhand return that just flies out! Deuce.
TSONGA 3-5: Raonic is happy with Tsonga's aggressive returns, a couple of which set up big winners for the Canadian as he holds comfortably. Tsonga serving to stay in the set.
TSONGA 3-4: Tsonga is still in this, toiling a touch but able to hold serve so soon after that injury. Probably just a knock to the ankle then.
TSONGA 2-4: Tsonga says he's okay to continue. Raonic on serve, Tsonga has probably lost this set but could shrug that knock off. Fairly straightforward hold for Raonic now, although Tsonga was able to pull one point back so he's not out of it.
TSONGA 2-3: BREAK! Great stuff from Raonic as he fizzes a forehand pass away from a stretching Tsonga for 0-30. The Frenchman pulls one back but Hawkeye shows his next one was out and it's two break points! And Raonic takes them as Tsonga falls heavily at the next point... He looks hurt...
TSONGA 2-2: Some big serves and some booming forehands give Raonic control of this service game, which he takes to 15.
TSONGA 2-1: The Frenchman delights the crowd with a nippy rush to net to volley clear of Raonic for 40-15, but an even bigger cheer greets the Canadian as he powers a forehand down the line. And now Tsonga double-faults to deuce! And now break point as Tsonga nets off a crisp Raonic return, but he doesn't take it, pumping an over-excited leaping winner long. Tsonga has been given a chance and he takes it with two excellent serves.
TSONGA 1-1: Raonic responds with a vicious service game of his own, outmuscling the pretty-big-himself Tsonga.
-
TSONGA 1-0: Easy hold for the Frenchman, who is not as popular as he usually is. We can assume Raonic has a combination of Canadians and Balkan-Americans on side.
H2H: Jo-Wilfried Tsonga is up against Milos Raonic, the eighth seed against the highly-rated big-serving young Canadian. Tsonga leads their head-to-head 1-0 thanks to his Olympic win over the 6'5" Montenegro-born right hander.