avant-match
LIVE
Novak Djokovic - John Isner
Indian Wells Masters - 17 March 2012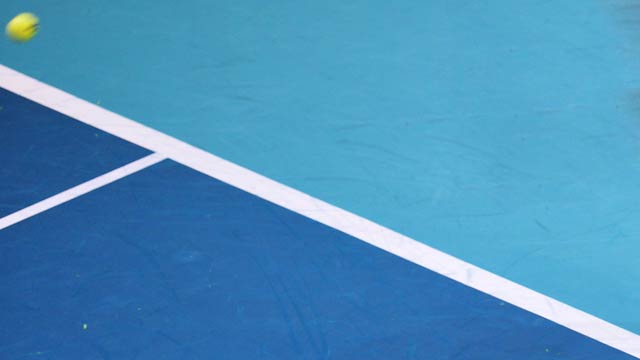 Indian Wells – Follow the Tennis match between Novak Djokovic and John Isner live with Eurosport. The match starts at 18:00 on 17 March 2012. Our live coverage lets you follow all the key moments as they happen.
Head-to-head: see historical stats and visit our detailed profiles for Novak Djokovic vs John Isner. Get all the latest on Tennis: fixtures, results and tables.
Next up for Isner will be either Roger Federer or Rafael Nadal, who are up on court next
DJOKOVIC 6-7(7) 6-3 6-7(5) - GAME, SET & MATCH - ISNER TAKES THE WIN. A huge bullet of a serve out wide once again from Isner goes for a winner and it not only sees the American through to the final with victory over the world number one but it also sends Isner into the world's top 10 for the first time in his career!
DJOKOVIC 6-7(7) 6-3 6-6(5-6) - TIE-BREAK - Djokovic saves the first with an ace down the centre of the court while the second goes begging when Isner hits a forehand return into the net. But the third match point will be on the Isner serve ...
DJOKOVIC 6-7(7) 6-3 6-6(3-6) - TIE-BREAK - A reactionary backhand return from Isner drops just short into the net to hand Djokovic a point back again but an off-forehand winner across court takes the American to 5-3 before he earns himself THREE MORE MATCH POINTS with another huge serve ...
DJOKOVIC 6-7(7) 6-3 6-6(2-4) - TIE-BREAK - Another ace from Isner, a 143mph out wide, steadies the ship for the American before he again gets the mini-break with a huge forehand return of serve winner down the line after running around the ball. Isner 4-2 up at the change of ends ...
DJOKOVIC 6-7(7) 6-3 6-6(2-2) - TIE-BREAK - Isner opens the breaker with an ace out wide before sneaking further ahead when Djokovic misses a forehand approach shot long. Djokovic gets on the scoreboard with a backhand passing shot that dips just inside the baseline before levelling up with a sensational flicked backhand lob. Still nothing to choose between the two ...
DJOKOVIC 6-7(7) 6-3 6-6 - TIE-BREAK - A backhand return long from Isner squanders the chance and Djokovic goes on to hold with a couple of very solid serves that the American can do nothing with
Isner rips a forehand past Djokovic after seemingly drawing the Serb into the net with a mis-hit. The American finds himself 0-30 up against the Djokovic serve before the top seed gets one point back with a forehand winner. Isner drills a backhand long down the baseline before putting a backhand return into the net and it looks like the chance is gone before Djokovic misses a backhand. MATCH POINT ISNER ...
DJOKOVIC 6-7(7) 6-3 5-6 - Again Djokovic takes the first point against the Isner serve, but again he can't make it tell as the American holds to 15 once again to leave Djokovic yelling at his camp in frustration. The world number one will have to serve to stay in it for a second time after the change of ends. Remember there are final set tie-breakers in Indian Wells and we could well be headed for that next
DJOKOVIC 6-7(7) 6-3 5-5 - Blanket coverage of the net from Isner as he finds a backhand volley winner across court to take Djokovic to 15-15. It gives the American a bounce in his step but Djokovic doesn't give him another chance and roars back to hold just three points later
DJOKOVIC 6-7(7) 6-3 4-5 - A mesmerising backhand passing shot from Djokovic, down the line for a winner, sees him take the first point against the Isner serve again. But again the American bounces back, earning a game point with another foray into the net and going on to hold with a huge serve once again. Djokovic will have to serve to stay in the match after the change of ends
DJOKOVIC 6-7(7) 6-3 4-4 - Djokovic looks fairly happy to slow things down and try and take Isner's legs away from him towards the end of this match. The Serb slows to a crawl in between service points before holding to level up again
DJOKOVIC 6-7(7) 6-3 3-4 - The first really bad volley that Isner has missed in this match as he dumps a relatively straightforward backhand into the net to allow Djokovic to level up at deuce, before the Serb produces an inch-perfect drop shot to earn himself a break point. Isner saves it with a service winner out wide before going to hold two points later with a backhand volley winner
DJOKOVIC 6-7(7) 6-3 3-3 - Djokovic does not look like he is going to blink as Djokovic once again makes fairly light work of his service game to hold and level up
DJOKOVIC 6-7(7) 6-3 2-3 - Isner's serve, as ever, doing pretty big damage as he races through another easy service hold. He's clearly not going to fade away in this final set, Djokovic is going to have to come up with a fantastic game again, like he did to break in the eighth game of the second set
DJOKOVIC 6-7(7) 6-3 2-2 - Djokovic also posts a comfortable service hold to 15, when Isner sends a forehand return long of the baseline. There's a bit of a vocal war developing in the crowd now as the Serbs try to rally their man only for the Americans to respond in kind and drown them out. This is getting tense now, both in the crowd and you can see it in the players too!
DJOKOVIC 6-7(7) 6-3 1-2 - Two huge crunching forehand winners from Isner (the latter threaded down the line to seal the game) combined with a booming serve that almost bounces over Djokovic's head, see the American hold to 15 and sneak back out in front once again
DJOKOVIC 6-7(7) 6-3 1-1 - Djokovic thinks he's won the game easily but super-tall, 6 foot 10 Isner comes up with an amazing pick-up that catches the outside of the line and extends the game for an extra couple of points. The Serb does go on to hold though and level up again
DJOKOVIC 6-7(7) 6-3 1-0 - An amazing forehand lob from Djokovic whilst he is falling over takes the first point of the final set. But Isner bounces back with three huge serves before a cross court backhand wide from the Serb sees the American hold
DJOKOVIC 6-7(7) 6-3 - SET - Djokovic races through a love service hold to take out the second set and level up this clash. A very solid end to that set from the world number one as Isner drops his head slightly on the walk back to the chair
DJOKOVIC 6-7(7) 5-3 - BREAK - A forehand into the net, a forehand passing shot and another error from Isner hands Djokovic three break points. The first goes begging when the Serb sends a forehand just long of the baseline while Isner saves the second and third with great points up at the net but Nole earns himself a fourth with a great backhand pick-up that draws a backhand error from Isner. And this time he does break when Isner hits long
DJOKOVIC 6-7(7) 4-3 - Djokovic also races through an equally service hold to sneak in front once again. A great challenge from the world number one sees the second point of the game overturned when the ball is called out but hawkeye shows it to have actually just caught the outside of the line
DJOKOVIC 6-7(7) 3-3 - A quick and booming service game from Isner as he levels up at 3-3 without too much trouble. A forehand passing shot pushed down from the Isner seals the game and keeps the pressure firmly on the world number one
Djokovic is a set down, having dropped the first set 7-6 in a breaker. And it is on serve in the second set with the world number one leading 3-2
Good evening, folks. Massive apologies for the late start to this match from us but we will bring you LIVE comments from now on, as well as covering the Federer semi-final coming up later