avant-match
LIVE
Thomas Schoorel - Roger Federer
ATP Doha - 4 January 2011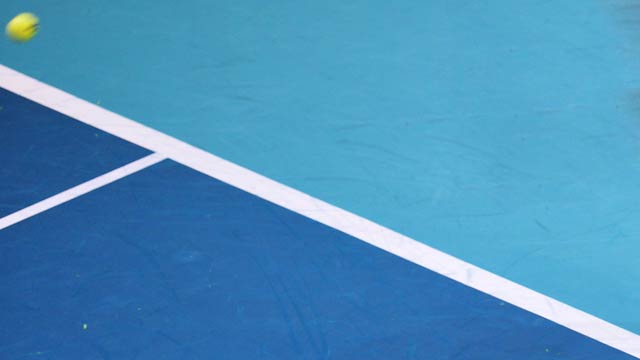 Doha – Follow the Tennis match between Thomas Schoorel and Roger Federer live with Eurosport. The match starts at 08:00 on 4 January 2011. Our live coverage lets you follow all the key moments as they happen.
Head-to-head: see historical stats and visit our detailed profiles for Thomas Schoorel vs Roger Federer. Get all the latest on Tennis: fixtures, results and tables.
Thanks for joining our live coverage from Doha!
WINNER! Federer wraps up the match with a quick-fire hold to love - world number two advances to the second round of the Qatar Open! Schoorel made a real fight of that match, particularly in the first set, but that shot in the penultimate game pretty much sums up what Federer's capable of.
Schoorel fires himself to 40-30 up on serve, and Federer's footwork looks to have deserted him as the world number two hits a couple of lazy-looking shots. Schoorel hammers a flat forehand right onto the baseline, and again Federer seems to lack a yard of pace as he approaches it, BUT HE'S HIT IT THROUGH HIS LEGS FOR A STUNNING WINNER! Schoorel hits a couple of well-placed serves to win the game, but the pair share a chuckle after that stunning winner from Federer.
Well, that's not exactly what Schoorel would have hoped for in his last chance to break! Federer took little over a minute to breeze through the game, barricading himself behind that metronomic serve, and time is running out for Schoorel!
Schoorel has completely collapsed now, dropping his shoulders and swinging for the rooftops. In contrast, Federer is his usual calm, composed self - quickly finding himself 40-30 up against serve. Schoorel manages to save with a solid volley for deuce, and manages to pull himself together to serve out the game. Decent recovery from the 21-year-old, but can he finally break Federer to get back into this match? He's got two more chances...
Federer sneaks his ace-tally into double-figures with another blistering, flat serve right onto the corner of the service box, and fires his way up to 4-1 without any fuss. This match has, suddenly, become totally one-sided, which is such a shame for Schoorel, who is clearly on the wane
BREAK! Oh, that's cruel. Schoorel completely loses his rhythm - and his accuracy - on the groundstrokes, and suddenly Federer has his first break points of the match. He needs only one, as a brilliant defensive forehand barely keeps him in the point, and Schoorel wastes the opportunity by hitting long from the net.
... and a couple more wayward shots from Schoorel hand Federer another shakey hold of serve! That's six break-points for Schoorel, and and not a single one converted. He's playing some spectacularly powerful tennis at times, Schoorel, but he just can't pull off the shots when they really count. Let-off for Fed.
Federer starts well enough on serve, but three shocking groundstrokes - under little pressure - later and Schoorel has his fifth break point! He's not managed to convert any of the first four... and he fails to convert again, as Federer races into the net to dispatch a poor drop-shot. Schoorel and Federer contest the best rally of the match from deuce, before the Dutchman thunders a spectacular winner down the line for another break point! Federer saves again, with his ninth ace of the match...
That's just brilliant from Schoorel though, going 30-0 up with a beautiful serve out wide, and an even better crosscourt forehand to leave Federer floundering. Federer hits a floating, sliced return on the next point, almost challenging Schoorel to hit the winner, and Schoorel duly replies with another stunning forehand. A double-fault lets Federer back into the game, but it's a false dawn as Schoorel's massive serve saves the day again.
Federer picks up where he left off at the end of the second set, playing the percentages and watching Schoorel throw away points with that increasingly wayward backhand. 1-0 Federer
SET! Federer forces Schoorel wide left with a massive backhand, before picking him off with a crosscourt forehand for 4-3. Schoorel hits his first real mis-hit off the backhand for 5-3, and follows it up with a backhand approach long of the baseline. Federer has three set-points, but he needs just the one as Schoorel batters a backhand down the line on the wrong side of the sideline. Federer takes the set, but he really had to scrap for it!
Federer picks up the first point - on Schoorel's serve- before surrendering a mini-break of his own with a diabolically skewed backhand into the tramlines. He wins the next point to go 2-1 up, before Schoorel draws level with another ace
TIE BREAK! You wouldn't have bet on it before the match, but we're into a tie-breaker as Federer holds serve comfortably - dragging Schoorel around the court and watching the Dutchman's returns drift wide into the tramlines.
This is such a cool performance from Schoorel! He quickly blasts his way to 30-0 before firing a tremendous serve right down the middle for 40-0. Federer pulls one point back, before forcing an unforced error from Schoorel with some determined crosscourt backhands onto the baseline. The pair exchange groundstrokes in the next point and, once again, Schoorel thunders a flat, powerful, angled winner to hold serve again!
Federer examines Schoorel's groundstrokes with some lengthy baseline hitting, but twice comes up short as the big Dutchman goes 30-0 up on the world number two's serve! Schoorel plays a lovely approach to drive Federer back to the baseline, before hammering his attempted lob back over the net for three break points! That's enought to shake Federer from his passive slumber, however, and the former champion refinds the rhythm on his first serve to win the next five consecutive points, and the game
They're still getting to grips with each other out there, but Schoorel is more than holding his own. He goes 30-15 up as Federer just misjudges the movement of his opponent, before earning two game-points with an unreturnable serve. Federer claws a point back, before batting another looping, kicking, left-handed second serve well wide of the left sideline to surrender the game.
Cracking serve from Federer to start the eighth game, but he follows it up with a looping forehand beyond the baseline for 15-all. Schoorel picks of Federer's second serve for 30-15, but Federer draws level with another ace. Another poor second serve from Federer is hammered back into the right baseline corner to give Schoorel a break point, but Federer manages to serve his way out of trouble with some perfectly timed, and immaculately placed first serves.
Schoorel thinks he's hit a decent approach at 15-0, but Federer somehow digs it back with a stretching forehand. It hangs in the air for an age, and Schoorel smashes it straight into the net. Schoorel makes amends with a thunderous ace on his next serve, before seeing a flat forehand clip to net and drop agonizingly beyond Federer's reach. Federer surrenders the game with a wayward backhand.
World number 168 Schoorel is a mere spectator on the opening three points of this sixth game - as Federer whips the ball perfectly onto the right sideline. Schoorel returns the next serve beyond the baseline, and that's a rapid hold of serve for Federer!
Schoorel almost gets an ace on his second serve as he goes 3-15 up - firing a massive kicker which Federer only just manages to bat wide of the tramlines. Federer scraps back to 30-30, before Schoorel nonchalantly hammers a limp Federer return onto the left sideline for game point. The 21-year-old mis-cues a forehand to let Federer back to deuce, before sealing the match with two rifled, crosscourt groundstrokes.
Schoorel nicks another point against serve, before Federer draws level with a vintage, effortless groundstroke straight into the right baseline corner. The 16-time Grand Slam winner eases to 40-15 with his second ace of the match, before watching Schoorel's return drop beyond the baseline
This can't last, can it? More brilliant serving from 6'7" Schoorel to blast his way to 40-0 with barely a whimper from Federer. The Swiss finally picks up a point against serve by dragging Schoorel into the net, but another mis-hit return from Federer secures a second utterly comfortable service game for the little-fancied qualifier. Early days, though
Wonderful serving from Federer to go 30-15 up on serve - driving Schoorel out wide with a fierce, flat serve, before whipping the ball low crosscourt with his famous one-handed backhand. Federer hammers a couple more vicious serves to finish off the game. Comfortable start from both men on serve
Perfect start to the opening game by Schoorel - hammering three massive serves down Federer's throat and watching the ball float out of play on the return. Federer gets the fourth serve back on the forehand, but whips a forehand into the right tramlines to hand Schoorel an opening service game to love! 1-0 to the young Dutchman
This is Federer's sixth appearance in Doha tournament, which the Swiss has twice won - in 2005 and 2006
Good afternoon and welcome to our live coverage of Roger Federer's opening Qatar Open match against Thomas Schoorel!